---
---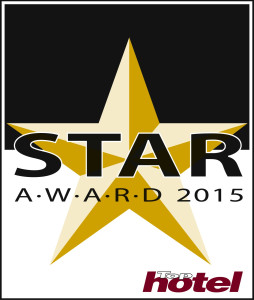 London, UK – SiteMinder, the world's leading cloud platform for hotels, has this week been recognised for its best-in-class technology solutions, receiving a coveted Top Hotel Star Award in Germany in the category of IT.
The announcement – made at an awards ceremony held at Empire Riverside Hotel – placed SiteMinder's Channel Manager in Bronze position, as voted on by subscribers and affiliates of Top Hotel, Germany's most-read hotel magazine.
Speaking on the goals of the awards program, Top Hotel editor Thomas Karsch said, "When evaluating a hotel stay from the guest's perspective, the friendliness and service of hotel staff are usually placed at the fore. The hotel's hardware, facilities and equipment often go unnoticed or are taken for granted."
As the hotel industry's leading platform for online room inventory and rate management, SiteMinder's Channel Manager was recognised for its easy-to-use design, unique pricing model and self-enabling capabilities, including the self mapping tool which empowers hotels to have greater control over their rooms online. As a cloud platform, it also enables quick and simple setup, with full flexibility and scalability to reduce hotel staff training and maintenance.
SiteMinder's Channel Manager allows hotels to reach both local and global markets through its deep integrations with more than 250 of the world's top distribution channels – such as Expedia, Tomas, Ctrip and Ostrovok – and more than 120 property management system, central reservation system and revenue management system partners, such as MICROS-Fidelio and HS/3 Hotelsoftware GmbH & Co. KG. Combined with the product's real-time capability, this reach has attracted the likes of Germany's GCH Hotels and Derag Livinghotels over the past year, to facilitate more than US$7.4 billion in revenue and more than 18 million reservations for hotels worldwide.
Dai Williams, Managing Director – EMEA at SiteMinder, said, "It is an honour to be named a recipient of a Top Hotel Star Award and to be recognised by all our hotel customers, partners and industry peers who voted for us. SiteMinder's product solutions are specifically designed with the hotel in mind and this award is a reflection of the unique role we play in the German hotel market."
The Top Hotel Star Award program attracted nominations from more than 100 companies this year, for 12 categories, including hotel design, services and food & beverage. Only three nominations from each category reached the final judging stage, as featured in the December 2014 edition of Top Hotel, and together generated more than 2,400 votes before voting closed in early February.
For more information or to arrange an interview, please contact:
Maria Franco
+61 2 8031 1287
media@siteminder.com
About SiteMinder
As the leading cloud platform for hotels, SiteMinder allows hotels to attract, reach and convert guests across the globe. We serve hotels of all sizes with award-winning solutions for independents and groups alike, wherever they are in the world.
SiteMinder's products include The Channel Manager, the industry's leading online distribution platform; TheBookingButton, a wholly-branded booking engine for direct bookings via the web, mobile or social; and GDS by SiteMinder, a single-point of entry to a six-figure network of travel agents and the world's major GDSs. With more than 16,000 hotel customers and 350 of the industry's top connectivity providers as our partners, today we have presence in more than 160 countries on six continents.
For more information, visit www.siteminder.com.