Recruiting, training, and managing a team of staff is a huge undertaking, especially for mid to large scale businesses such as hotel groups, chains, or even bigger independents.
Given the time and resources it takes to get all the cogs (so to speak) in place and working, it's crucial to hire the right people, train them well, and keep them at your business long term.
This is indeed a challenge in high churn industries like hospitality, where turnover can be as high as 70%, but your enterprise can certainly meet this challenge successfully by following best practices and making a concerted effort to optimise how you manage this side of your business.
This blog will take you through everything you need to know about hiring, training, managing, and motivating your whole team of staff.
Hotel recruitment: How to hire the right people
Naturally it all starts with recruitment; hiring people who have a passion for hospitality, possess the necessary character traits to excel, and who are enthusiastic about building a career in the industry and within your business.
Sifting through piles of applications isn't always fun and splitting one candidate from another can be difficult. This means you need some clearly defined objectives in mind so you can quickly identify who to interview. There's an art to writing job descriptions in a way that will attract the right people for the role.
General tips to attract suitable applicants
Be as specific and transparent as you possibly can in terms of the role description, employee expectations, and even the salary
Post your ads in places that will attract the right people – such as hospitality specific job boards
Look internally first to see if your current staff can refer someone they know for open roles – candidates recommended by current workers tend to be someone reliable and personable
Have your own checklist of required skills and traits so you can quickly and accurately score a candidate's potential
Consider asking candidates to do a video application, answering questions and talking about themselves, you can get a quick sense of how they might fit in at your business
Prioritise candidates with 'people skills' above all else, since personality is untrainable and is crucial when liaising with guests
Look to industry schools or apprentice programs to hire when possible
Consider using social media to source candidates – You can create a job post on your Facebook business page for free
Don't be generic – customise your messaging for different roles to ensure the requirements are clear and the right people apply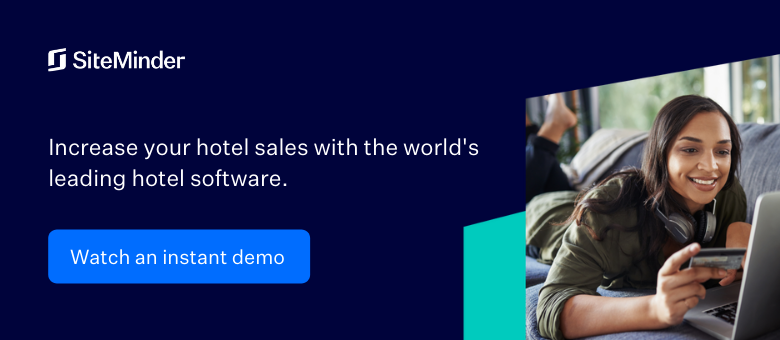 Perhaps the best way to think about your recruitment is to approach it the same way you approach trying to win over potential guests. Target the right people and show them the benefits, and incorporate your brand identity into your advertising! Check out examples like this one from a hotel in Hawaii.
How to interview effectively
Once you have some appropriate people lined up for interviews, you need to turn your attention to asking the right questions and paying close attention to how an applicant answers them.
You should get a general idea of their personality, which will go a long way in your decision making but you need to know how they think and how they might approach the role.
Give them role specific questions and scenarios, including:
Asking about things they are likely to deal with on a day to day basis at your business.
How they will respond to adversity, such as operation breakdowns
What their approach would to dealing with conflicts between staff
How they would resolve complaints from guests
If they have ideas on how to improve or boost results
How have they gone above and beyond for a guest
Depending on the role you might also want to go through a second round of interviews, assessing anything you missed the first time or giving the applicant a test to do. For example in the first interview if you focused mainly on their skills and experience, the second interview might be a way for you to ascertain if they are a good culture fit for your team. Ask them what they like to do in their free time, any hobbies or passions they have, and what they love about working in a team environment.
Setting your employees up for success: 9 tips to use at your hotel
Once you think you've found the perfect employee to join the team, the job is far from done. We know that staff churn is a major problem. For example, in Australia the hospitality industry has the highest turnover rate at 17.9% per year.

Knowing that every worker who leaves within two years is probably costing you money; due the resources you spent advertising, hiring, and training; you need to give them every chance to succeed at your business.
Here are 9 tips to ensure your new employees get off on the right foot:
Try to make new employees feel part of the family the second you confirm their application is successful
Create an onboarding program that is designed to educate employees fully, before you send them into the field
Customise onboarding to suit different departments in your business
Address potential friction from the start – offset any negatives of working in the hospitality industry by displaying all the positive aspects clearly
Ensure your management structure is effective – many people leave managers, not jobs
Establish a work culture that is healthy, fun, and engaging
Make employees aware of where they can go to ask questions, seek help, or discover upskilling
Strive to offer fair and competitive pay, work-life balance, and working conditions
Acknowledge and appreciate early milestones – even if it's just training completion
Setting your employees up for success will make training them much easier – which in turn will allow them to thrive in your business and stay long term.
Do's and don'ts for effective hotel staff training
Training is easily one of the most important factors in being able to succeed – in every realm of life. One cannot be expected to perform at a high standard without training or preparation.
At your hotel, it's important to set high standards and demand that your staff meet them – but only after you have trained them adequately. It requires a lot of work to put an effective training structure in place at a business and there are probably just as many things you shouldn't do as there are that you should.
Here are some ideas to get your started on training your staff to be the best they can be.
DO:
Share your vision and ideas with employees – It helps their application to training if they know they'll be working for a big picture outcome
Ask for feedback – Feedback on training processes is important so you can make improvements if needed
Collaborate with other hospitality businesses – By looking at how others train their employees, you can really focus on what's best practice
Train all employees equally – Even those with prior experience in a similar role could need refreshing or will need to learn processes specific to your business
Keep training days engaging – Give employees adequate time to take breaks or move around during training as this will help keep them fresh and process the information they're taking in
Present training material in multiple formats – Everyone learns differently so you need to accommodate both visual and aural learners
Check in with employees – Once employees have completed a training course it might be valuable to debrief and see what they learned, and how they can apply it to their role.
DON'T:
Treat training as 'once and done' – Training should always be offered on an ongoing basis
Let training become overwhelming – There will be a lot for new employees to take in and a lot for the onboarding team to cover so work how to manage this comfortably
Isolate new employees – If possible, perform training in groups so new employees can learn together and spark up a team environment
Forget physical examples – Nothing teaches someone better than performing a real-life example of what you are explaining
Get too philosophical – It's important to outline your mission but you should also make sure your training is grounded. If your venue is striving to be the world's number one pet friendly hotel, show employees some of the ways you achieve this
Always remember the training phase is also a great way to get to know your staff on a personal level and build positive relationships from the start. If you invest in your staff with some conviction, they will return the favour.
What does successful staff management look like?
Some people are natural leaders, but even those who aren't will often find themselves in management positions. Anyone can be a good people manager with some hard work and practice.
Successfully managing your staff comes down to balancing their needs with the needs of the company to achieve the desired results. The day-to-day intricacies of this can get quite complicated, which is why you need to be fully prepared to be a quality manager or leader.
Often you need to be very honest with yourself in terms of your strengths and weaknesses, and remain measured in every interaction you have with your staff, especially during stressful times.
Here are some tips to help manage your staff effectively:
Keep your door open – It's important that you are approachable and that staff know they can come to you with questions or ask for any help they need.
Be specific – Your staff will perform better when they have clarity. If there is a problem with customer service for example, be specific about what needs to improve so all staff can address the issue head on
Don't micromanage – An obvious one but important nonetheless. When you assign tasks to staff, you need to trust in their ability to get them done.
Be available to help in any way but don't stalk their every move.
Promote a team environment – It always feels good to achieve and celebrate with others by your side so make sure that any wins you have are shared with the whole team.
Take accountability – When something goes wrong, it's easy to point the finger at someone down the line but a leader needs to be humble enough to recognise when they themselves have not lived up to expectations too.
Give individual direction – As a team, you all need to be on the same page but each individual will have their own personality and their own specific role, so you need to communicate on this level to get the best out of everyone.
Measure and communicate results – No one wants to work blindly, not knowing if their efforts are making a difference. Regularly share results and let employees know their work is appreciated.
Try to be transparent – There will always be a 'need to know' basis on some topics but generally staff know when you aren't telling them the whole story. Try to be as open as possible to alleviate and stress or doubt within your staff ranks when it involves something that might affect them.
These are all things that you need to do – but what kind of person do you need to be? No matter the industry or situation, great leaders often have some common traits.
Here are some characteristics you might like to work on to ensure your staff are happy:
Lead by example to be a good motivator
Be an active listener and accept ideas that aren't your own
Be decisive and clear in any communication or decision making
Be flexible and don't panic when things don't go to plan
Have the courage to be creative and try new things
Perhaps the most important point to note is that the best businesses don't treat staff engagement as a buzzword, but know that it is a crucial part of success.

How to keep your hotel staff motivated
Motivation is a vital ingredient in making sure your staff are performing to a high standard on a consistent basis. If motivation drops, performance is immediately pulled down with it.
Some staff are easier to motivate than others. There are those who genuinely love their job and coming to work everyday is enough. Others are more ambitious and want to progress their careers quickly. Some just want to see that their efforts are going towards something worthwhile.
With this in mind, you need to cover all bases to keep your hotel staff motivated. Consider the following tips:
Provide ample opportunities for staff to upskill, learn, and gain varied experience
Give staff regular access to a range of development opportunities via courses, webinars, podcasts, workshops etc
Put aside time to regularly acknowledge the efforts of your workers, even when are no big milestones to celebrate – often the hardest work is done when times are tough
As staff grow in experience, give them more responsibility and more trust, so they can be proud of their progress
Be supportive and flexible when your employees need help or have requests – everyone has a life outside of work
It also pays to never overlook the obvious. If you're not exactly sure what motivates each individual in your team – ask them! Talk to them about what motivation has looked like for them in previous roles or what motivates them in their personal life.
10 strategies for retaining staff
What all the above adds up to is the ability to retain your staff for as long as possible. Reducing turnover is highly beneficial for you financially and from a brand perspective. If you have long-term staff, they can build better relationships with guests, potentially helping to create loyalty from customers who know they will receive a personalised experience every time they visit.
The more long term staff you have the more your brand values will be instilled in everything you do, and the less money you'll spend on hiring and training new employees. It will also mean you continue to operate at a high level with minimal disruption.
So to wrap up, here are the best strategies for retaining staff at your hotel:
Put the effort into hiring right to begin with
Invest adequate resources into setting your staff up for success
Train your staff comprehensively
Enable your staff opportunities to develop, grow, and upskill
Learn how to be an effective people leader
Get staff on board with the big picture mission of your brand
Recognise, acknowledge and celebrate the efforts of your employees
Constantly look for ways to keep staff motivated
Place trust in your staff and delegate responsibilities
Be approachable, accessible, and flexible to ensure staff are happy