What is Amenitiz compared to SiteMinder?
Amenitiz and SiteMinder are both leading platforms in the hotel management software industry, each offering a unique set of tools and features tailored to the needs of hoteliers. But how do they differ?
At its core, Amenitiz is a hotel management system designed to simplify the daily tasks of hoteliers. It provides a centralised platform where hotel owners and managers can oversee reservations, manage their property's online presence, and create a website for their establishment – its website builder is its standout feature, though the platform also provides integrations with various online travel agencies (OTAs), allowing for broader visibility and reach in the online booking landscape.
Meanwhile, SiteMinder positions itself as more than just a hotel management system. It offers tools for reservations and property management, but its strength lies in its comprehensive suite of solutions aimed at maximising a hotel's revenue potential.
SiteMinder's platform is built on the foundation of driving more bookings, both direct and through OTAs, and providing unparalleled insights into the hotel's performance metrics. With a global presence and partnerships with leading OTAs, SiteMinder ensures that hoteliers have the tools they need to stay competitive in an ever-evolving industry.
While both an Amenitiz login and SiteMinder offer robust solutions for hotel management, the distinction lies in their approach and the breadth of their offerings. Amenitiz is a great choice for hoteliers looking for a straightforward, basic platform to manage their online presence and bookings.
SiteMinder, with its focus on revenue optimisation and a broader set of tools, is ideal for those who want to delve deeper into the intricacies of hotel management, drive more bookings, and gain insights to make data-driven decisions.
Amenitiz and SiteMinder comparison
Both Amenitiz and SiteMinder offer robust solutions for hotel management, but when it comes to delivering results and ensuring the best guest experience, SiteMinder has the edge. Here are a few reasons why:
Unbeatable revenue results
While the Amenitiz PMS provides a platform that aids in increasing visibility across various online travel agencies through the Amenitiz channel manager, SiteMinder's platform is designed to ensure that hoteliers achieve the best possible revenue results. It has more connections to leading OTAs and a guarantee of 100% connection quality, providing hoteliers with the assurance that they can trust in the reliability of their bookings, be seen more often by guests across more platforms, and optimise their revenue streams.
Comprehensive platform
Amenitiz promotes itself as an all-in-one solution, primarily targeting independent hoteliers. On the other hand, SiteMinder offers a more comprehensive platform, suitable for more than only this limited audience. SiteMinder isn't just about centralising operations; it's about providing a holistic solution where hoteliers can manage distribution, reservations, payment processing, and more, all seamlessly integrated.
Superior guest acquisition
Though Amenitiz focuses on offering a manageable booking experience to entice more guests, SiteMinder does this and goes several steps further, as it equips hoteliers with valuable insights that can be leveraged to understand guest preferences, competitor pricing, and market trends. These insights, combined with SiteMinder's powerful booking engine, ensure superior guest acquisition and loyalty. Hoteliers can craft targeted marketing strategies, optimise pricing, and ultimately drive more bookings.
Unlock the full revenue potential
SiteMinder's booking engine is a standout feature for the software. It's designed not just to facilitate bookings but to drive them. By encouraging more direct, commission-free bookings and integrating with a wide range of distribution channels (including its built-in website builder), SiteMinder ensures that hoteliers can truly unlock their full revenue potential. The platform's analytics and reporting tools further aid in understanding revenue sources and optimising strategies.
Optimised guest spend
Reaching a global audience is crucial in today's interconnected world. SiteMinder recognises this and offers a website builder that supports over 20 languages, ensuring that hotels can cater to international guests effectively. While Amenitiz reviews reveal that the platform's website builder is adequate, why aim for just adequate? By providing a localised experience through SiteMinder, hoteliers can optimise guest spend, offering tailored packages and promotions that resonate with diverse audiences.
Benefits of choosing SiteMinder over Amenitiz
While both platforms offer commendable features, SiteMinder's commitment to driving revenue and providing a superior user experience makes it the go-to choice for many.
Global recognition – SiteMinder's channel manager is a globally recognised solution that ensures hoteliers have the most reliable connections. With its vast network of OTAs and direct integrations, hoteliers can trust that their inventory is always up-to-date and that overbookings are a thing of the past.
Stellar reviews – Trust is paramount in the world of software solutions, and SiteMinder has earned it. With consistently high reviews on platforms like Google and Hotel Tech Report, it's evident that users not only trust SiteMinder but are also highly satisfied with its performance.
Data-driven insights – In today's digital age, data is king, which is why SiteMinder offers actionable insights as part of its packages. These insights empower hoteliers to understand market trends, competitor pricing, and guest preferences, enabling them to make informed decisions that drive revenue.
Metasearch functionality – SiteMinder's metasearch functionality integrates with platforms like Google Hotel Ads, ensuring that their hotels are prominently displayed and can drive more bookings on the world's most popular hotel search platforms.
Comprehensive product offerings – SiteMinder is not just a one-trick pony. With its 10 comprehensive product offerings, it ensures that hoteliers have a solution for every challenge they face. From channel management to distribution to marketing and guest management, SiteMinder has it all.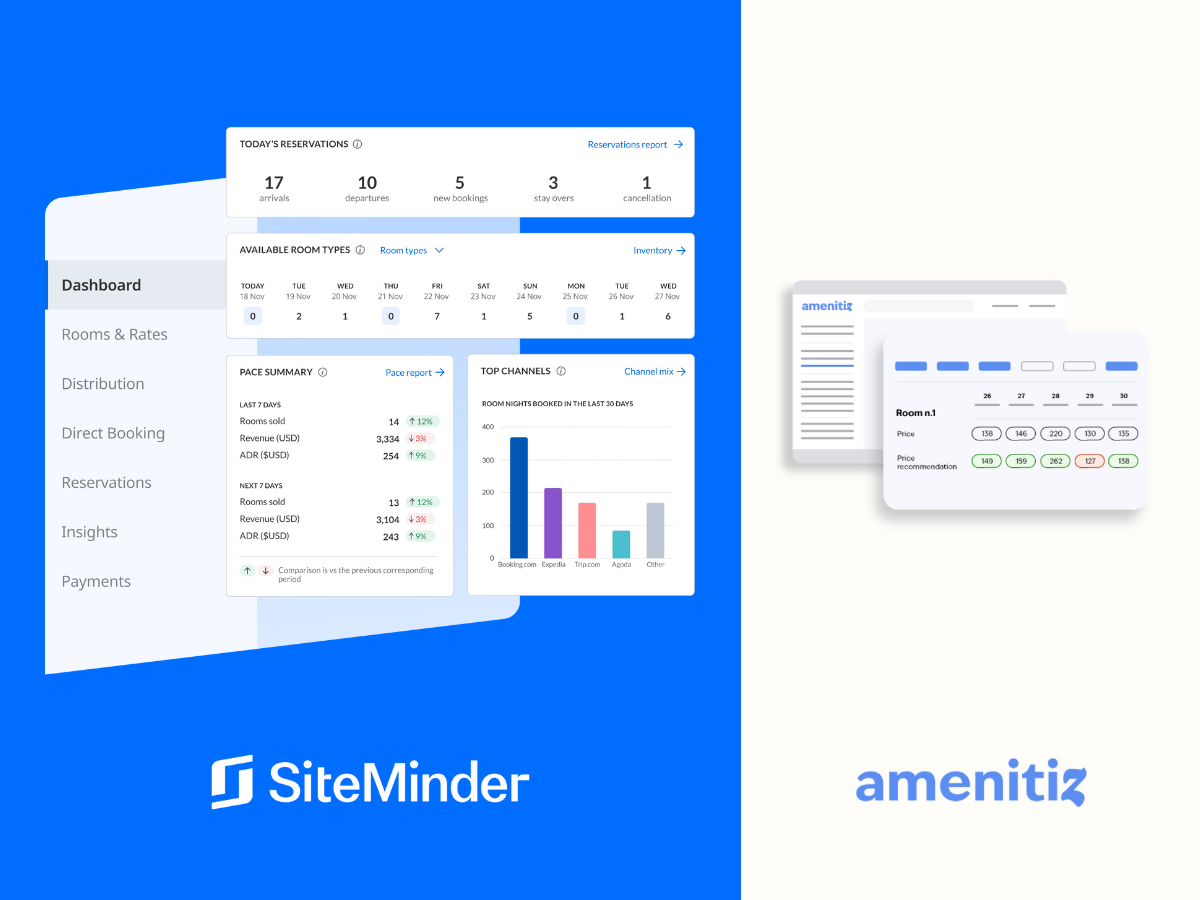 Amenitiz vs SiteMinder: Which one to use?
At its core, Amenitiz provides a platform that centralises hotel operations, making it easier for hoteliers to manage their properties. It offers features like a booking engine, property management system, and website builder. While these are essential tools, they cater more to the operational side of hotel management.
SiteMinder offers a comprehensive suite that not only streamlines hotel management but also focuses on revenue maximisation. With SiteMinder, hoteliers get tools that help them tap into new markets, optimise pricing based on real-time data, and ensure that their rooms are always visible to potential guests across various platforms.
More channels, more time, more growth – fewer problems
"SiteMinder is continuously adding channels that allow us to cover new markets and different customer groups. If we had to do this on our own it would be impossible because we don't have the means nor the resources," – Raul Amestoy, Hotel Gran Bilbao.