What is the Squarespace website builder?
The Squarespace website builder is a platform that offers a user-friendly interface for creating and customising websites. It provides website templates and layouts that users can choose from to design their websites according to their preferences. Users can add and arrange various elements such as text, images, videos, and forms using a drag-and-drop interface.
Overall, Squarespace is a popular website builder for a range of businesses, including hotels. However, that doesn't necessarily mean that it's the best website builder for your hotel; and it certainly isn't the only option for your website.
Should hotels use the Squarespace website builder?
If you're considering using Squarespace as your chosen website builder for your hotel and pursuing an internally created website rather than a custom-built one, there are a few important considerations before you settle on this specific platform. Here are a few of the major considerations:
Simplified building process (but with major limitations).

The Squarespace platform is designed for a wide range of users, including those who are unfamiliar with the technical side of building a website. This means that the user interface is simple and easy to use – but it also means that there are significant limitations in what you can do on the platform. Hotels with specific design requirements or unique needs may find it challenging to make a Squarespace site do what they need it to do.
Easy templated designs (that can end up generic).

Standing out in the crowd is crucial for success in the competitive hotel industry. Squarespace provides a good number of templates to kick start your website build without a drawn-out design stage, but there's a good chance that one of your competitors is using the same or similar template. This can make your website end up boring and generic – not the engaging, unique site that you really need it to be.
Integrated features (but not always hotel-relevant).

Squarespace offers some built-in tools around e-commerce, blogging and basic SEO tools. However, they are more limited around their ability to integrate booking engines and channel management. Often, you'll need to rely on a third-party tool for hotel-specific features.
Ultimately, while Squarespace is a popular option for businesses looking to build a professional website, it has not been designed specifically for hotels. Hotels have unique needs for their digital presences, and while Squarespace can tick many, perhaps even most, of the necessary boxes – they don't always tick all of them. Compared to a purpose-built website builder like SiteMinder's offering, the process of building a website on Squarespace starts simple but can quickly become overly complicated with underwhelming results.
Squarespace website builder review
Here are a few examples of reviews for Squarespace: 
"Squarespace was ok for a beginner because you can use templates. As long as you don't mind a very simple, clean design with not many options, you are good with Squarespace."

"Squarespace makes it easy to get websites up quickly — we've built three, and all went from zero to launch within three days. If you just need some standard startup landing pages, Squarespace is for you. Their customer support is great if about the basic blocks."

"While Squarespace excels in simplicity and hassle-free website creation, it may not meet the advanced needs of web designers. "
How to use the Squarespace website builder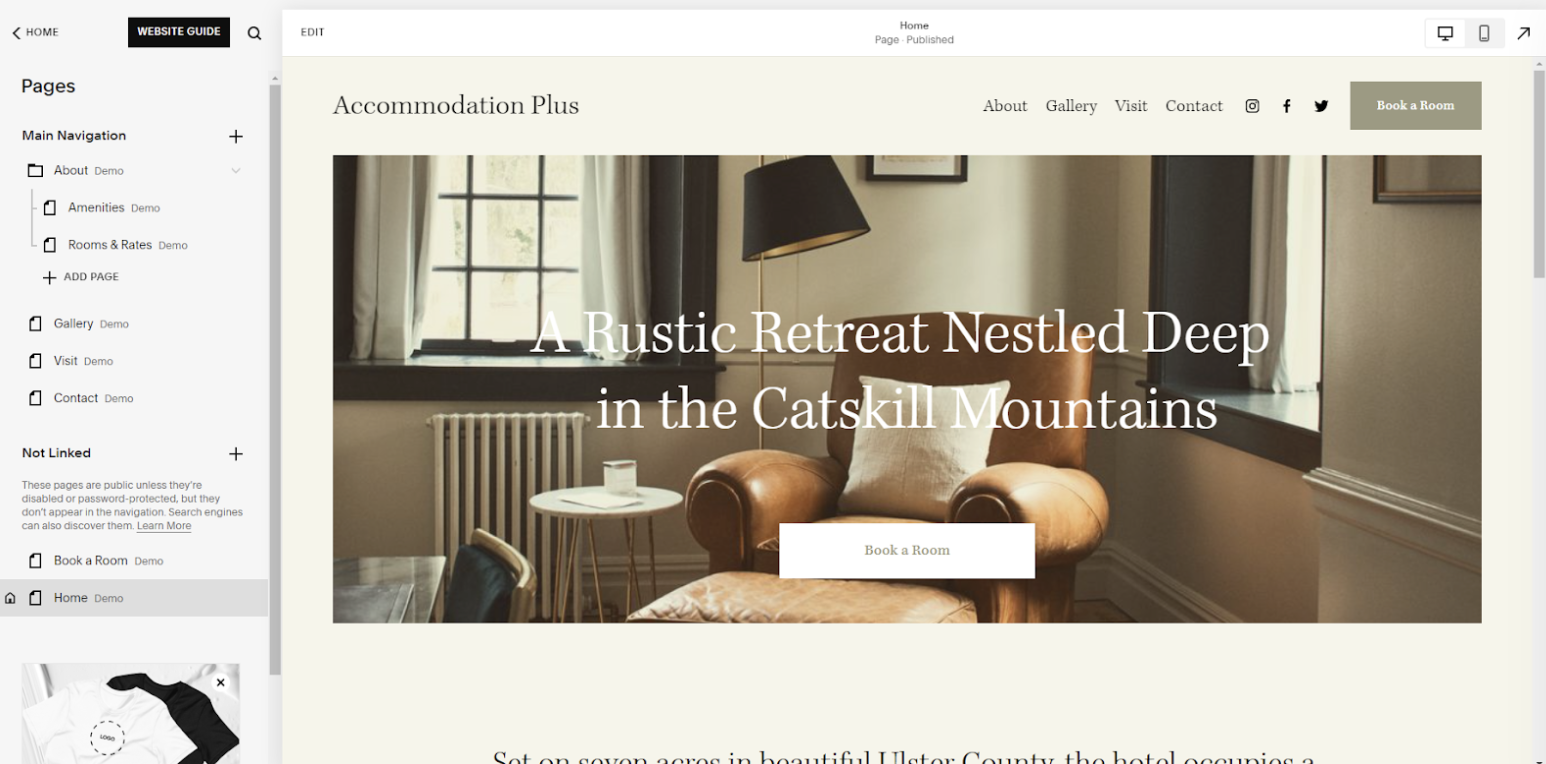 Building a website with Squarespace is a similar process to many other website builders, such as WordPress and Wix. The basic steps are:
Choose a website template.

Build your website by creating and designing important pages.

Customise each page with the drag and drop builder.

Add apps and add-ons for booking, payments and channel management.

Choose and pay for a custom domain.

Optimise your website for SEO so it can be found by search engines.

Choose your paid plan (after the 14-day free trial).
While the building process is relatively standard, the Squarespace website building experience is in the detail.
For example, while it does have an intuitive user interface that results in a fast, pain-free website build, the fact that Squarespace isn't built for hoteliers means that you can run into problems both early on in the process and, potentially, many years down the track.
The worst part for a hotel website is finding, installing and customising the necessary third-party add-ons for basic hotel functionality, such as direct booking. This can turn what appears to be a simple process into a long and time-consuming slog – particularly when compared to tools built specifically for medium- to large-sized hotels like SiteMinder's hotel website builder.
Squarespace website builder cost: Worth it?
Squarespace offers several different payment tiers, depending on the features that you want to access:
Business: $35 per month.

Basic Commerce: $40 per month.

Advanced Commerce: $61 per month.
It's important to note that these prices do not include your custom domain, as well as all the hotel-specific functionality you'll need to add. This means that adding your  booking system and channel manager may inflate those prices even further. 
Compared to Siteminder's website builder, which is designed specifically for medium- to large-sized hotels, Squarespace falls short in a few areas. Our solution is far more than just a website builder – it comes with all the features and functions that you need as a competitive hotel. That includes channel manager software, a booking engine, a payment processor, and even a digital front desk. That's all wrapped up in the same price; no nickel-and-diming.
We also offer a 30-day free trial – more than twice as long as Squarespace – so you can check to ensure that our website builder ticks all the boxes you need it to. Combined with 24/7 phone support, you get one of the best website builders for hotels on the market with no money down.
Is Squarespace the best website builder available for your hotel?
Squarespace is a popular choice for many different businesses, alongside WordPress, Wix, and other familiar names. However, familiarity doesn't spell suitability.
SiteMinder's website builder is purpose built for hotels experiencing the unique challenges of building an online presence for a medium- to large-sized property.
Is Squarespace the best website builder out there? Maybe. But is it the best hotel website builder out there? Not necessarily.
Create a professional hotel website with SiteMinder and attract more direct bookings online
SiteMinder means business. We bring together everything you need to succeed in the world of online hotel commerce. This includes a dedicated hotel website builder, designed exclusively and explicitly for the needs of large accommodation businesses that need excellent performance combined with a user-friendly interface.
Here's a taste of what you can expect from the SiteMinder website builder:
Make your website your most profitable booking channel. With easy integration with the rest of the SiteMinder suite, a free website domain, and the ability to display promotions and optional extras to convert last-minute bookings, our website builder helps you turn your website into a powerhouse of direct bookings.
Be seen where it matters most.

With SiteMinder, your listings are more visible on sites like Google Hotels Ads, Trivago and TripAdvisor, but our website builder ensures that your hotel appears in the top results on search engines too through SEO-friendly design.
Turn heads and earn guest loyalty.

Our website builder uses modern templates and design with full customisation options for your chosen design. You can even embed a TripAdvisor widget on your website to quickly earn positive guest feedback and attract more guests with powerful social proof.
SiteMinder is the #1 Hotel Commerce Platform. Whether you're managing a single hotel, a hotel group or a large chain, SiteMinder gives you a single place to manage everything—with access to real-time insights, bookings, guests, distribution and payments.