Given how popular '5 of the best must-watch TED talks for hotel managers' proved to be, we at SiteMinder decided to go hunting for an equally helpful resource for hoteliers.
This time we landed on podcasts.
Podcasts can be incredibly educational and they cover almost any topic over a very accessible time-period. They're a perfect way to spend a commute or to put on while performing other tasks.
For busy hoteliers, podcasts are a fantastic opportunity to learn more about managing a hospitality business and optimising hotel revenue.
Podcasts can help hoteliers learn more about managing a hospitality business.
Click to tweet
Here are the five best websites we came across that all offer actionable advice on a broad range of hotel topics:
#1
Hospitality Academy Podcast
Headed by the 30+ years experience of Susan Pannozzo, Hospitality Academy features interviews with other top industry professionals discussing topics such as guest experience, profitability, and training.
The show also delves into how hotel professionals can rise to the top picking up useful tips, like memory tricks and handling difficult customers, along the way.
SiteMinder's Recommended Episode: 'Social media's influence on hotel marketing'

#2
Lodging Leaders Podcast
Lodging Leaders is a publication that brings together the best minds in the hotel industry to share their stories, insights, and advice. Each week features an interview with a professional who can give example to how hoteliers can maximise profits, protect investments, and scale their portfolios.
The aim is to pull together a collective intelligence that will lead hoteliers to achieve better results.
SiteMinder's Recommended Episode: 'A Look Inside JD Power's 2017 North American Hotel Study'

#3
BookGreener for Hotels Podcast
Perhaps the most niche podcast on this list, BookGreener is directed at those hotels who are striving to become more eco-friendly. Forbes has stated almost 25% of Americans are consciously trying to make eco-friendly choices when booking a hotel, so it's a good time to make environmentally conscious business decisions.
This podcast gives hoteliers the chance to learn valuable lessons from owners and managers who are already successfully running an eco-friendly hotel business. The main point to remember is that your hotel can be environmentally-friendly without sacrificing guest experience.
SiteMinder's Recommended Episode: 'Interview with Sarah Farrell from Hotel Verde, the greenest hotel in Africa'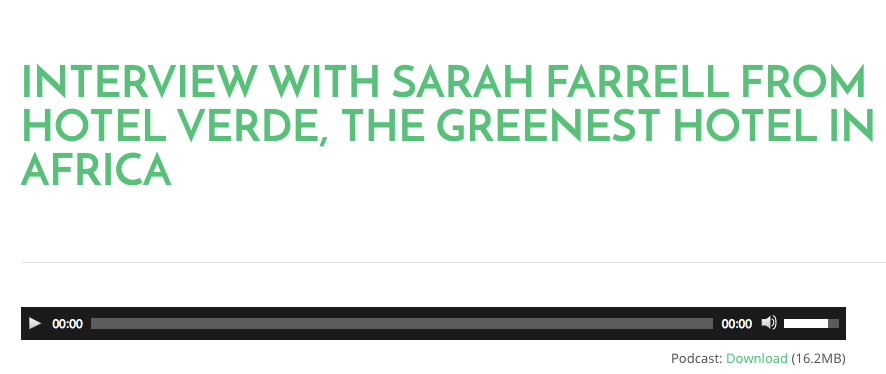 #4
Fuel Hotel Marketing Podcast
Fuel are masters at providing high-value and reliable insights into the world of hotel marketing. They cover the topic in a depth many other publications don't, going beyond social media staples such as Instagram or Twitter. Weekly discussions may include tips on how to put more heads in beds, reducing reliance on OTAs, and general hotel marketing operations.
Their latest programmes focus on social media practices, travel news, the value of having a hotel blog, and what they learned at the 2016 Hospitality Industry Technology Exposition & Conference (HITEC).
SiteMinder's Recommended Episode: 'How to market your hotel on a shoestring budget'

#5
StayNTouch Podcast
StayNTouch offers extremely relevant and specific podcasts for hoteliers on a range of topics. These include: hotel technology trends, hotel PMSs, cloud technology, mobile, self-service, and more.
The best thing is the majority of their podcasts are less than 10 minutes long meaning you can learn a lot in a short amount of time.
SiteMinder's Recommended Episode: '4 hotel technology trends here to stay'

Even if you learn just one new thing from each hotel podcast episode, that's a lot of fresh ideas you can bring to monthly strategy meetings to improve your hotel business.
Sign up to the SiteMinder Industry Newsletter today for even more educational content.