What is the Airbnb host login?
An Airbnb host login describes the process of logging into Airbnb to be taken to the Airbnb dashboard. In order to log into Airbnb you need to create an account. If you have previously created a traveller account, you can use the same details for your host account.
It should be noted that Airbnb sells itself as a more social, personal booking platform – it doesn't allow large hotel chains to create listings. All properties are represented by an individual's profile, complete with a photo and name, and you are unable to create a listing under a business or brand.
Where can you access the Airbnb host login page?
The Airbnb host login page can be found by navigating to the Airbnb homepage (which displays your guest profile as a default) and clicking the "Switch to hosting" button found in the top right corner of the page, or by navigating directly to your Airbnb dashboard.
If you attempt to navigate to the hosting dashboard without having posted a listing, you'll be directed to 'list your space', which will send you straight into the process of uploading a listing.
Features within the Airbnb host login dashboard
Through its host login Airbnb offers you a number of unique tools and features to help you enhance the guest experience, bookings and profitability of your property. Three of the most important and useful are:
Calendar
Offering a complete view of your reservations, the Airbnb calendar lays your bookings out in a clear and concise way in a scrollable calendar. When you click on a reservation the booking details, pricing and availability will be displayed in the side panel. When you click on an available date, the side panel will display editable pricing and availability information.
Insights
Learn all you need to know about how your listings are performing and how that performance might be improved in the 'Insights' feature, which offers up actionable information about earnings, reviews, views, Superhost performance and any listing issues. Airbnb more or less tells you exactly what you need to do to succeed on the platform, so it's important to review this information regularly.
Professional hosting tools
Professional property managers would be wise to switch on the optional 'professional hosting tools' feature, which grants you access to deeper insights, and offers a simpler way to manage multiple listings. You'll gain access to a large number of tools, such as a multi-calendar, a listings page, 'Pro marketing' tools, and dedicated tax, teams and tasks tools.
How to log into my account as an Airbnb host: a step-by-step guide
As an Airbnb host, it's simple to login to your account. The process of creating, logging in and using Airbnb as a host is much the same as a guest.
Step 1: Sign up to Airbnb
If you already have an Airbnb account you can skip this step, but if you don't, navigate to the Airbnb homepage and click 'Sign up'. Follow the prompts to create your account, either with your email or by using your Facebook, Google or Apple login details.
Step 2: Navigate to Airbnb.com
Armed with an active account, head to Airbnb.com or open the Airbnb app. On the website you'll find the 'log in' button in the top right corner of the homepage. You'll be asked to log into the app when you open it for the first time.
Step 3: Enter your details
When the login screen pops up, enter your details – either your email address/phone number and password, or by clicking 'continue with Facebook/Google/Apple' if you chose to use those details. When you log in from a certain device for the first time, a 2FA code may be sent to your phone or email to verify the login.
Step 4: Head to your hosting dashboard
You may be directed straight to the hosting dashboard on login, but if you are instead shown your traveller profile (which will show a range of properties that you can book), you can navigate to your hosting dashboard by clicking on the 'Switch to hosting' button in the top right corner.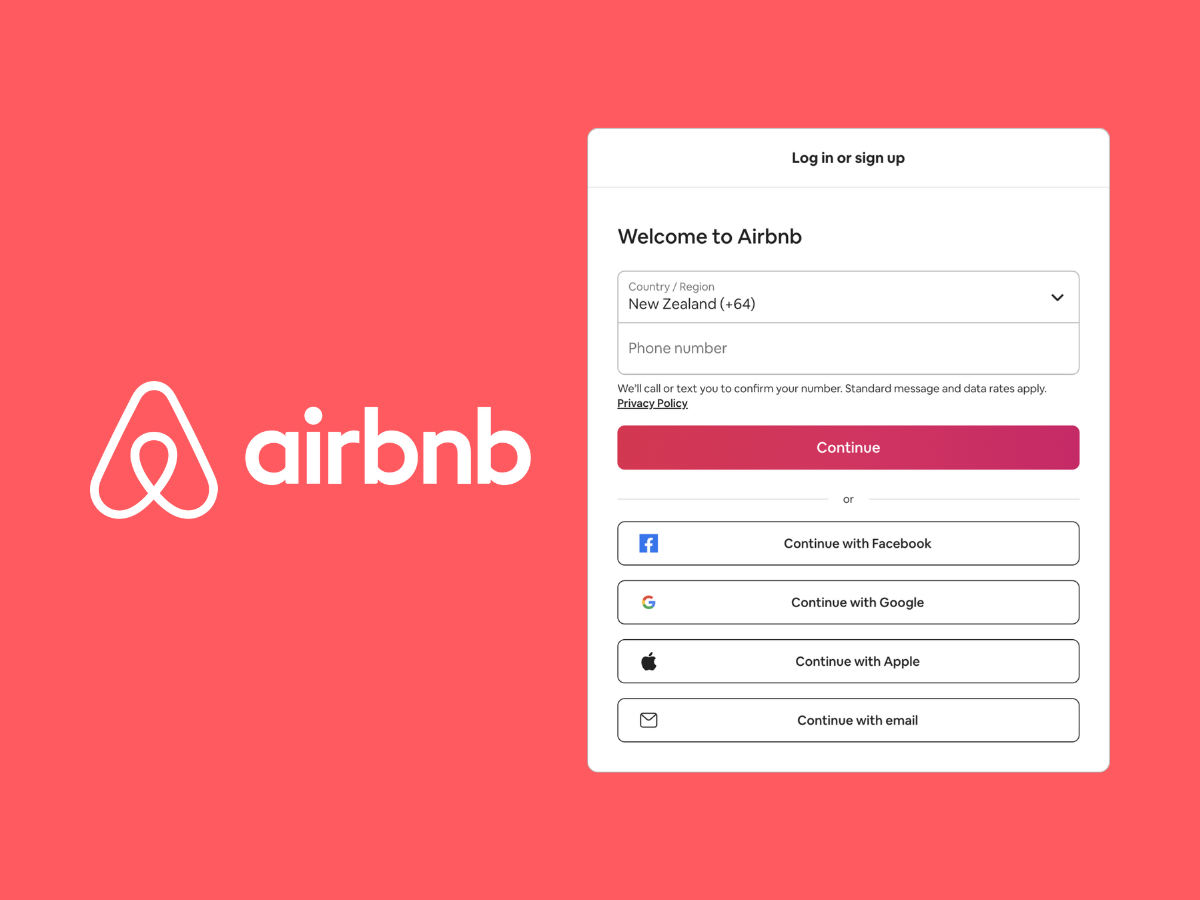 Ways to secure your Airbnb login as host
1. Secure your login details
Avoid leaving your login credentials where others can find them, such as a Post-It note stuck to your computer screen. It's wise to avoid writing them on paper altogether, unless you keep that paper under lock and key.
2. Use a password manager
Perhaps the most efficient and effective way to keep your login details safe is in a password manager like LastPass or the tool built into Google Chrome.
3. Two-factor authentication
Always use 2FA for all important online accounts. Airbnb uses multi-factor authentication as standard – it will ask you to verify your identity whenever you log in from a new device or location.
4. Use trusted networks
Wherever possible avoid logging in to Airbnb on open and/or public Wi-Fi. Use private, password protected networks instead.
5. Review your account activity
While Airbnb is good at identifying and preventing suspicious logins, it's wise to review account logins regularly to ensure unauthorised users haven't snuck in. Head to Account > Login & Security > Device History to check yours.