Hotel industry trends
Talking about trends, trying to predict them, and attempting to foresee the future is very much a trend in itself. Trends are often powered by new consumer behaviour, new technology, and the new business theories that are powered largely by the former two factors.
The way that hotels capitalise on new trends is vital to how successful their business remains. This blog will take you through all the key trends to be aware of today.
Current and emerging hotel trends to be aware of
Generic or impersonal hotel companies will struggle to survive in the future. Your hotel must have a personality that connects to both existing and prospective guests who are looking for a unique travel experience. Obviously this personality must be conveyed via your staff and the property itself, but it should also permeate your online presence.
Here's a list of some commonly heard initiatives that are increasing in their application around the world.
Smart hotel technology
Incorporating the Internet of Things (IoT) into a property is something that excites guests. It offers them a high level of convenience and efficiency, and also a sense of luxury. People are starting to incorporate tech like this in their own homes so the demand for it in hotels continues to increase.
Sustainable hotels
Generally, society is becoming more environmentally conscious as it becomes clear sustainability is an important issue. These changing attitudes are filtering into the way travellers choose their hotel. Sustainable hotels look at eco-friendly construction, energy saving, and waste management as priorities.
Robot staff
Some travellers may find it confronting to be served by a robot, others may welcome the chance not to have to interact with humans when staying at their hotel. More and more hotels are using robots in some capacity, to help automate check-in and check-out, carry luggage and act as concierges, or for room service.
Virtual Reality and Augmented Reality
These technologies are no longer the niche segments they once were. Extremely popular already in gaming and entertainment as well as attractions, they can also be quite useful to hotel customers. Virtual reality replaces the real world with visual and audio input while augmented reality layers virtual elements onto the real world. Customers who want to try before they buy can take virtual tours of your property and even parts of the destination. With AR, a hotel might use an interactive map to provide information to guests.
Unique brand experiences
Many hotels are now starting to differentiate their brand by doing something unique with the way they design, layout, or outfit their property. Travellers are looking more and more for cool, experiential hotel stays so anything a hotel can do to provide a novelty factor is going to be at an advantage.
All of these trends are influenced and informed by greater societal trends. There'll always be a place for good old fashioned hospitality but the way it's delivered probably will need to be altered.
Trends in the hotel industry that lasted
Not all trends have to be new. There are many that reshape the industry and become an integral part of it, continuing to grow over time.
Examples of this include:
Sharing economy
Airbnb represented a major disruption in the travel industry and it certainly stuck – but it didn't kill hotels either. Just as Uber hasn't killed taxis. Rather it's contributed to a growth in the industry which can only be a good thing.
Online travel agents
Obviously OTAs changed the entire landscape of the hotel industry. They made it so much easier for travellers to find and book hotels, and much easier for hotels to reach target audiences. Hotels were able to brand-build and occupy their rooms like never before. It did come at a price however, with hotels needing to pay OTAs for the privilege of accessing their guests.
Digital guest experiences
Digital marketing has been a way to reach travellers for a while but it continues to grow. Customers themselves are interacting with digital experiences more than ever before and are now expecting to be communicated to via digital formats. Apps in particular are seeing a huge rise in usage and there are tonnes of ways hoteliers can use apps to manage the relationship they have with prospective and existing guests.
Boom of global tourism
Global tourism has grown steadily year on year, especially as more nations become developed and low cost carriers have enabled people to cross the world at a reasonable price. Pre-COVID, travellers from locations like Korea, China, and India now represent a large body of potential guests for hoteliers. Their demand has a big impact on what the hotel offers.
Young markets
Young people have always had a sense of adventure and desire to travel. In today's climate they are a huge consideration for hoteliers. Generations Y and Z live for the opportunity to getaway and undertake life-changing or life-enriching experiences. They also bring a new focus to travel, with older generations thinking about hotels and car rentals while the younger group are starting to think about Airbnb and Uber.
Power of social media
Since the launch of Facebook and other social media platforms, the power to influence travellers has soared – and will continue. The amount of media that can be pushed to global audiences is vast and extremely incentivising. Brands can market much better and are constantly finding new ways to use social media to collect loyal customers. Meanwhile, when travellers share videos and photos of their trips with friends and family, this is one of the most impactful factors in inspiring others to take a trip. The other advantage of social media's growing dominance is that it makes your property available to travellers 24/7 with chatbots and automated messaging.
Instagram in particular is the place to be for hotels and travel brands given it has one billion monthly users and 500 million users of stories each day. Meanwhile, TikTok also has one billion active users, 61% of which are female.
Hotel industry market trends
The COVID-19 pandemic threw market trends into disarray. Everything that was being predicted and forecast could no longer be relied upon. Now new trends are emerging, especially when it comes to traveller behaviour, motivations, and booking trends.
SiteMinder produced a report on changing traveller trends in 2021 and is preparing another for 2022.
Generally, traveller markets are:
Expecting higher standards from their accommodation providers
Being more careful about choosing their destination and hotel, in regards to health and safety
Looking to tick off bucket list items and make up for less time by taking truly meaningful trips
Leaning towards booking independent or boutique hotels rather than big resorts or chains
Heavily influenced by family and friends, and the promise of memorable first-time experiences
Intending to combine work and leisure during their trips, taking advantage of flexible work policies around the world
Becoming more comfortable with their data being used to enhance their experience
On top of this, the events of the past few years are driving wellness travel to even bigger heights. Wellness as a movement is transforming into a $1.5 trillion market. Naturally, this means more and more travellers will have wellness in mind when researching and planning their trips.
Most country markets are still recovering from the pandemic, with much change still to come in the months and years ahead. However, pre-covid numbers can give us an idea of what to expect when things are back to 'normal', with Europe boasting 12 of the top 20 destinations.
For international travel, the top 10 markets are:
France
Spain
US
China
Italy
Turkey
Mexico
Thailand
Germany
UK
With some border restrictions still in place, much more short-haul travel has occurred in the past two years, increasing domestic tourism and boosting certain destinations in Europe which are easily reached by neighbouring nations.
Economic trends in the hotel industry
There's no doubt the ongoing pandemic has significant negative effects on the economy, not least of which is travel and tourism.
In Australia, Deloitte reported that the nation lost $147 billion in domestic and international tourism expenditure between March 2020 and the end of 2021. Globally, 2022 still sees plenty of hurdles. With COVID infections ongoing, global conflicts, supply chain issues, and inflation the outlook could be more promising. For hotels in remote areas, this is particularly hard to combat since those who do decide to travel are looking to visit 'bucket list' destinations or attractions.
Experts in the hotel sector have said these areas will play crucial roles in how the industry fares economically in the future:
Bleisure travel – Make it easy for travellers to combine work and pleasure on their trips. This means adequate work spaces in your room or hotel, along with charging ports, quiet areas, and even meeting rooms.
Virtual travel considerations – This is not intended to replace real travel, but rather increase the hunger for real experiences through virtual ones. By letting guests virtually explore, it will fuel their imagination and anticipation of being fully immersed in a hotel or a destination.
Sustainable conscious travellers – The buzz around this won't die down as more and more young people become concerned with how environmentally friendly their travel and accommodation is – choosing brands that actively advocate for sustainability.
The importance of small businesses – Without small accommodation providers, small retailers, and small service providers, many destinations would cease to be attractive travel options. Small operators bring a uniqueness and a level of personalisation that travellers love. They are also popular options when people are travelling for events or festivals etc, which are set for a rebound.
COVID as an influence and experiential travel as a motivation – The choices travellers are making have changed. The majority are still choosing destinations with low COVID-19 infections rates, while they are also looking to engage more strongly with the history and culture of their destination. This could be another reason smaller hotels are being preferred.
Access to regularly updated data and being able to analyse and understand their own performance, will help hoteliers keep on the right of pricing and revenue management. It's likely much change will still occur over the next 24 months, so having systems in place that allow for quick adjustments will be hugely beneficial. Utilising a hotel commerce platform will aid these endeavours, by allowing hotels to control all aspects of their hotel from one central, integrated, interface.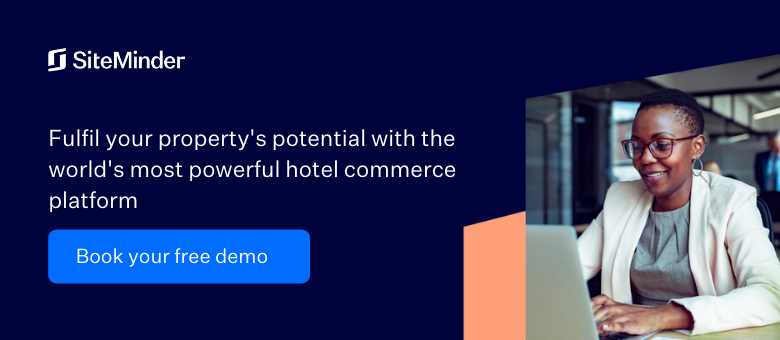 Popular digital and technology trends for hotels
Technology is an area of the industry that is showing the greatest and most accelerated development, both in terms of technology the hotel uses and technology the guest uses before, during, and after their stay.
Digital media and the unhalting march of technology means the way you present your hotel business and get people interested will need to revolve around online activities.
The increasing popularity of video marketing and the rise of virtual reality (VR) will give guests a whole new opportunity when researching travel and exploring the hotels they want to stay with. To this end you need quality content to host on these platforms and show off the unique selling points (USPs) of your property.
The most important digital and tech trends
With the amount of data in the world, voice search is another aspect with the potential to really narrow things down. Amazon's voice assistant is now in hotels, from chains to vacation rentals. The system can be customised to include key guest information, like checkout time or pool hours; allows guests to request services like housekeeping or room service; and can be configured to control "smart" hotel room functions, like adjusting the thermostat, controlling the TV and entertainment systems, or raising the blinds.
However, the greatest impact may come from travellers using Alexa in their homes to find them a hotel, or organise a trip.
Using drones for photography and videography has become extremely popular and will only grow. Individuals are using it on days out, on trips, and to help sell properties or products. Many travellers now use drones to document their trips and to post breathtaking pictures to social media, giving friends and family a true example of a destination's beauty.
In an age where travellers are looking for as much information as possible, this extra exciting point of view could be the factor that seals a booking for your property.
Demand for flexible check-in and check-out
The more time-efficient travellers become, the more time-efficiency they crave. The more convenience they're offered, the more they want. With huge efforts being made around the world to personalise and improve guest experience, travellers will now only settle for the best. Check-in and check-out are one of the most important places where this can be improved.
One of the greatest bug-bears for guests is any delay or friction at the front desk and when arriving and departing for their trip. One of the reasons for this is that many hoteliers around the world rely on manual methods for managing their property. The good news is that technology exists to allow for much smoother check-in/out experiences for guests.
Payment should be seamless, easy, and fast. In other words; hassle-free.
Being one of the more progressive areas of technology, the main points to focus on are emerging and alternative forms of payment, and new developments in integrated payment systems. Integrated payment solutions are now making it much simpler for hotels to accept and process transactions. With payment portals housed within the property management system, clunky hardware is eliminated, and paperless transactions are enabled.
Again, convenience is king. Customers will always look for, and choose, the payment method that's easiest for them. If you can satisfy a guest's need for quick and easy payment you're more likely to be rewarded with loyalty. It's also important to keep track of any trends that might allow you to drive repeat business. Channels such as Expedia previously opened the door for cryptocurrencies, allowing travellers to purchase flights, hotels, and vacation packages with their completely digitised tender, ushering in a new era for the travel industry.
Chatbots have been well and truly established in customer service. Very few websites now don't involve some kind of interaction with a notification pop-up asking if you need assistance. In hospitality, this trend is especially strong, where 24/7 support is often required. This type of artificial intelligence is proving very useful for helping visitors with their enquiries, processing bookings, and checking guests in and out.
Coupled with this is recognition technology – which will allow guests to enter their room, or even check-in and out, via face or fingerprint recognition. This kind of enhancement to guest experience will be a point of difference to the hotels that implement it first.
You don't need to be told twice how important it is to make sure travellers are finding and booking your hotel. Distributing your rooms to the right channels is vital for the success of your business, as is managing distribution and reservations in an effective manner. As time goes by an increasing pool of distribution channels will become available, and we'll see an increasing number of hotels adopt technology to help with this.
As more online booking channels announce their presence across the industry, and more travellers visit these platforms in large numbers, hotels have started to expand their distribution network by partnering with more OTAs and other platforms in order to ensure maximum visibility. Managing this in real-time, seamlessly alongside other vital hotel systems, for maximum profit will be benefited by using a hotel commerce platform.
This phenomenon is of particular interest to hotel marketers. It's a practice that travellers are using to combat the uncertainty caused by COVID-19. It involves them booking two or three trips for the same time period, in case they get hit by cancellations. This way, they can be assured all their plans won't fall through.
Hotels will need to think about how they make themselves the number one choice, perhaps by sending especially helpful or personalised pre-arrival emails or by upselling particularly attractive incentives and value-adds.
Future trends in the hotel industry
Everyone wants to know what's going to happen in the future, but most lasting trends are incremental, so it's likely that future trends are trends right now that are simply on a smaller scale than they will be as more time passes.
Here's a full list of what's expected to be a strong trend in the years ahead:
Smart rooms
Travellers will pay a lot for convenience and what's more convenient than a room that doubles as your personal assistant? With wireless charging, smart controls such as Amazon Alexa and Google Nest, the internet of things, soundproofing etc travellers will be able to do anything they want in their hotel room and barely have to move a muscle to do it. Smart rooms will enable guests to be as relaxed as they possibly can be on a trip.
Green hotels
The world is quickly becoming more environmentally conscious, to the point where it is starting to impact the traveller's choice about where they stay. Hotels are reacting by using solar power, conserving water, reducing plastic, adopting motion sensors, and adding meat alternatives to menus. It's what guests now expect so hotels need to join the sustainable movement.
Multicultural employment
Hospitality is especially strong in this area, making many hotels truly international. This adds another dimension to the guest's stay. They might be served by someone from their own country or learn about a culture they've never visited before while staying somewhere they haven't visited before either.
Technology on every front
Technology is advancing to the point where no part of a trip or experience is without it, and hotels rarely operate without it. Artificial intelligence can be used for pricing rooms, to checking-in guests, to online help, room service, and more. Transport technology is being upgraded, search engines can now be voice operated, and there's literally a mobile app for everything. On the whole, technology makes it much easier to personalise the guest experience and remember their preferences.
Traveller priorities
It's never been more true that travellers are looking for experiences over materials. They are constantly looking for something unique or something that speaks to what they are passionate about. To give you an idea of what this means, there are people who will travel for their love of coffee alone for instance. Or there are those who will visit sports-themed hotels just because of their love of baseball or basketball for example. Other influences on traveller experiences that are on the rise include glamping, cannabis tourism, medical tourism, social media influencers, and – pets.
Hotel designs and business strategy
Driven by the changing preferences of travellers, many hotels are attempting to take up the challenge. 'Cool' luxury brands are starting to pop up in increasing numbers, along with 'instagrammable' brands, micro-rooms, a focus on local design and flavour, and experiential social spaces.
The reason so many hotels are striving to be 'different' is because globalisation continues unabated. There are changing demographics as some rising nations get more money to travel, and the gap between the upper and middle class keeps widening. Wealthy travellers crave even more novelty, creativity, and over-the-top experiences for their money.
Travel industry trends: How to stay relevant
Clearly the most important trends are the ones which will impact whether or not a traveller chooses your hotel. Where should you be concentrating your efforts to capture bookings?
To stay relevant and ensure the regular flow of bookings, don't ignore the following:
Mobile booking – Online bookings via mobile are increasing exponentially.
Social media – The prevalence of social media in decision making is increasing, particularly instagram.
Growth in Asia and Asia Pacific travel – These guests come with their own set of ideals and preferences.
Multi-channel distribution – As traveller markets become more diverse, so must your ability to reach them.
Technology is a driving force – It's now a significant disadvantage not to be tech-led in your business strategy.
Transport is becoming cheaper – More people are being freed to travel, bringing new markets into play. Do you have an offer for them?
People want travel to be enriching – The experience of visiting another destination should be fulfilling and exciting. You need to make sure a stay at your hotel is not a forgettable one.
Money talks – Travellers are now willing to spend more if it means they get a unique experience. The value for money is the most important thing.
Hospitality trends: Prominence of wellness travel
One of the biggest trends in recent times has been wellness travel; people travelling to make an improvement in their bodily and mental health to achieve an overall sense of well-being. Travellers are certainly becoming more health-conscious, with technology able to help people keep a closer track of their health.
Beyond COVID-19, there's every sign this will grow so hotels should be doing what they can to enable those guests who are seeking wellness to stay fit of body and mind while travelling. This might include changing your hotel menu, upgrading amenities, putting on classes, or renovating rooms to give guests the freedom of choice they want, and the ability to stick to the same routine they have at home if they choose to.
Some examples of how wellness travel fits into the grand scheme of things:
1. Stop smoking retreats
Going cold turkey is hard enough but doing it within the confines of work and other life related stress is near impossible. So taking valuable quiet time away at a health-conscious retreat will help assist a therapeutic dispelling of bad habits and cravings.
2. Men's health
Even though men are still considerably less likely to visit a doctor than women, they're beginning to open up and wellness retreats present a less confronting option for addressing health needs.
3. Healthy mind and emotion healing holidays
A growing realisation that a healthy life is made up of a balance between mind and body sees retreats offering wellness coaching in mindfulness, meditation and yoga to help people combat burnout.
4. Eat-well detox holidays
'I'm going on a detox' is a commonly heard phrase between friends and workmates but how many people stick to their plan? Combining a detox with a holiday at a healthy-eating retreat will assure the traveller gets the physical cleansing they were hoping for.
5. Zen and adrenaline
Two things that may not seem like they go together are relaxation and adventure sports but combining both encourages a traveller to live in the moment and let go of any worries they are suffering.
6. Family-wellness holidays
Once off-limits to children, retreats and spas now encourage quality family time, with some treatments specifically designed for children. These are often treated as a tech switch-off trip where the family can bond over new adventures and activities.
7. Workplace wellness
It's become commonplace for work 'teams' to take weekends away together to bond and enjoy each other's company without the stress of work. Often, these are physically active trips.
8. Eco-friendly wellness retreats
The affinity with mother nature that is encouraged by wellness travel is resulting in the emergence of more environment-conscious travellers who want to relax without feeling guilty about it.
As wellness grows as a social movement overall, there are always new trends emerging to change the way people interact with their health and daily lives.
Here are four more wellness travel trends that were uncovered, which hotels could pay attention to:
1. A new era of transformative travel
Transformative travel, the concept of travelling to find a new perspective or to undergo some self-reflection, is set to take a step further. New ideas are forming on the basis of stories or narratives. Instead of one destination and experience to change perception, a new trend will be about multiple linked chapters taking a traveller through an emotional saga of transformation.
By blending storytelling with wellness experiences the emotional power can be much stronger. In this situation the wellness and the art/performance are happening together – like soaking in hot springs while taking in a play or meditating in the galleries of art museums.
An example includes Iceland's The Red Mountain Resort, where travellers can experience the emotional and sensory voyage of an ancient hero, while enjoying all the wellness amenities the property has to offer.
2. Wellness in the kitchen – what's the impact on travel?
Society is starting to move away from an embrace of processed and long-lasting food. People now want living, healthy, organic local food. The trend is poised to turn kitchens into a better reflection of themselves, using advancements in technology to foster a healthier lifestyle.
Given one of the biggest factors for travellers is to enjoy rare, unique, and wonderful dining experiences, a more authentic experience in their own homes only raises the stakes for accommodation providers. Hotels and resorts must focus more than ever on sourcing local produce and preparing meals for guests in a traditional manner.
3. Extreme travel as a path towards wellness
The idea of pushing the body to the limits to produce both physical and mental benefits is gaining popularity. Taking extreme challenges, treatments, and experiences goes some way to redefining what humans can do and giving people more control over their health and wellness.
Many travellers are now taking the view that relaxing by a beach or staying at a yoga retreat should not be the extent of a wellness trip. Instead, one-of-a-kind challenges are taking centre stage. This might mean hiking eight hours along a glacier or rafting down the Amazon, whatever might scare off the ordinary person. Logging-off from the world is a tie-in to this, with a key part of the experience being to abandon Google maps, social media, work emails etc.
An example is UK travel company Black Tomato, which takes travellers out of their comfort zones on tailor-made trips that take six months to prepare and cost upwards of $30,000.
4. Feminist wellness and travel grows more powerful
Many women are finding empowerment through travel, and most wellness travel happens to be aimed at women. However, these days there is a more creative, wild transformation happening, where women will travel on solo adventures to challenge themselves.
Many travel companies are now positioning challenging adventure holidays as a chance for women to experience personal growth. Another trend for women's wellness travel is on the subject of healing pain, targeting women who want to take a transformative trip after experiencing some kind of grief or trauma, and helping them get past it.
While many of the hotels employing wellness marketing techniques are quite unique to each other, they're all an answer to the travellers' increasing desire to maintain a healthy lifestyle whether they're at home, on a holiday, or on the road for business.
Hotel front office trends
Whether you call it a front office, front desk, reception, lobby desk, or check-in desk, the frontline of your hotel is the control centre for all guest experiences. If you aren't keeping up with the trends here, you could be losing both money and reputation.
With guests always looking for a fast and easy transition from travelling to settling into their hotel room, speed and convenience are much needed. Recent trends to achieve this have included:
Property management systems – Moving from manual management to automated, cloud-based, software has allowed hoteliers to save hours of time, boost revenue, gain access to priceless data and performance metrics, and enhance guest communications and experiences.
Mobile apps – Mobile capabilities are expanding worldwide and guests expect your mobile experience to be on par. This means allowing guests to check-in remotely, access their rooms with mobile access, and order room service. There's a world of easy-to-use apps your hotel can plug-in to your guest experience to help with this. Check them out on the SiteMinder hotel app store.
Increased personalisation – Having as much personal data on record at the front desk as possible will help your hotel staff deliver memorable and personalised experiences. A guest mentioned they have an allergy? Curate a room service menu just for them.
Staff optimisation – With staff and skills shortages a prominent issue, hoteliers will need to turn to technology – not to replace staff or eliminate the need for hiring, but to allow all staff to do more with less time. By enabling staff to automate and save time, guests will benefit from the extra attention being paid to them.
Safety and hygiene – An emphasis on health and safety guarantees will continue. Guests are conscious of it, so hotels must be too. This means increased cleaning activities and more resources on site for customers, such as hand sanitiser.
Social media marketing opportunities – Social media can be a cheap and effective marketing method, especially if content is customer-generated. Many hotels are actively seeking to put a centrepiece in their lobby or common areas that is 'instagrammable'.
We hope this blog helped you keep on top of all the trends your business needs to be aware of! If you want to chat about anything you've read feel free to give our experts a call here.