What is a hotel virtual tour?
A hotel virtual tour is an immersive, interactive experience that allows potential guests to explore a hotel's premises without physically being there. Utilising 360-degree panoramic photography or video, this digital tool offers a comprehensive view of various areas within the hotel, such as guest rooms, lobbies, restaurants, and amenities like swimming pools or fitness centres. The virtual tour is often embedded on the hotel's website and can be easily accessed through desktop or mobile devices.
With technology on an exponentially advancing trajectory, it's never been more important to keep up-to-date with how a hotel can incorporate the latest innovations into their business.  Virtual Reality (VR) is currently one of the most progressive tech sectors and it's something hotel's should be using to attract more guests and secure direct bookings.
VR made its first big splash in the gaming world to immerse players in new worlds and onto amazing life-like adventures. The hotel and travel industry quickly realised the potential selling points this technology offered.
Hotels are tapping into this phenomenon by using Google technology to create 'virtual tours', a method by which a hotel can give their potential guests a 360-degree walkthrough of their room options and facilities.
Rather than still photos and 2D imagery, viewers can now fully immerse themselves in the property, moving within the rooms as if they are actually inside them. The saying 'a picture tells a thousand words' no longer applies because a virtual tour is much more valuable, offering guests complete transparency in the features a hotel has to offer.
This blog will discuss the what, how and why of creating a hotel virtual tour, including best practices, best methods, and common pitfalls to avoid.
Why are virtual tours effective in attracting more guests?
Travellers not only prefer a virtual tour, but they are expecting one, and often won't book a room without gaining access to a tour first.
Statistics show that:
Virtual tours reduce the amount of wasted viewings by 40%.

Properties with a virtual tour included are clicked, on average, 10 times more than those without one.
On top of this, a staggering 92% of internet users say the ability to view a 360-degree panorama is essential when they are browsing online.
This alone will give you an indication of how important the technology is for cultivating bookings. The most powerful aspect of a virtual tour is that it submits all control to the viewer.
They can move through at their own pace, looking in every direction from multiple angles to gain an unprecedented level of knowledge about what they're going to be paying for, all from their desktop or smartphone.
It adds a wow factor to your website, positioning your marketing as cutting edge and fun.
Additionally, adopting a Google virtual tour for your hotel will rocket you to the top of rankings on search engine results, with the tour front and centre on your profile summary and featuring heavily on Google Hotel Finder
Best Western has even gone a step further, converting stationary photo tours into YouTube videos that lead through the hotel. The possibilities even extend beyond the hotel to activities such as local restaurants and landmarks.
Where to display your hotel virtual tour
Displaying your hotel virtual tour in strategic locations is crucial for maximising its impact. One of the most effective places to feature it is directly on your hotel's official website, ideally on the homepage or within the booking funnel, where it can serve as a compelling visual prompt for potential guests. 
However, considering how valuable a virtual tour can be, don't be afraid to use it anywhere – or everywhere – else that may catch attention. This could include:
Social media platforms like Instagram, Twitter and Facebook.

Travel aggregator sites where your hotel is listed.

Email campaigns targeting prospective or returning guests 
If you have created an interactive experience, consider filming a non-interactive "walkthrough" where you or a staff member goes through the interactive tour, then hosting it on places like YouTube or other non-interactive platforms. That's two sets of collateral in one! See some examples a little further down the page.
By placing your virtual tour in these key digital touchpoints, you not only enhance its visibility but also significantly increase the likelihood of converting interested viewers into actual guests.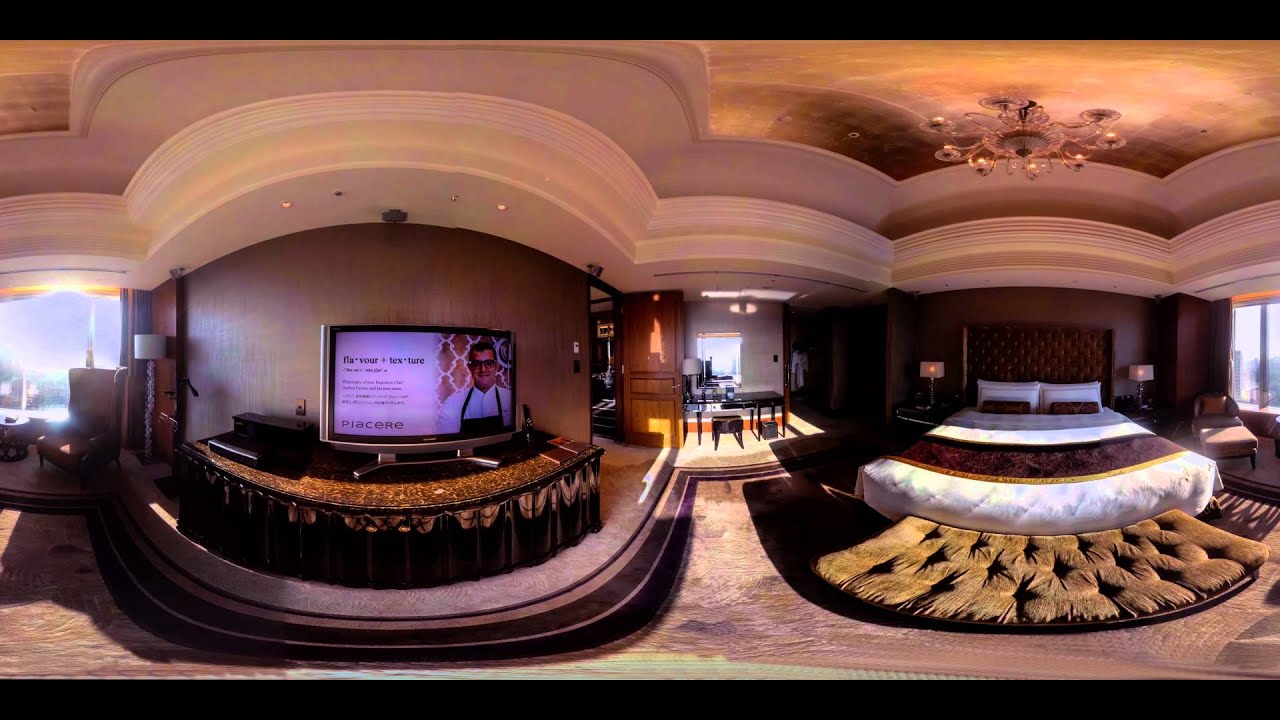 Benefits of hotel room virtual tours
A customer's desire for modernity, efficiency and simplicity can't be overstated.
Enhancing your website with a virtual tour helps to attract traffic and make it stick, increasing a customer's willingness to book with your hotel.
Why? A virtual tour will increase the amount of visitors you get, captivate them for longer and encourage them to return – effectively, intriguing new customers and keeping old ones interested.
Of course, all this will mean nothing if the guests don't have an easy and immediate way to book their stay. You've just excited them with your virtual tour, so you want them to carry that enthusiasm straight into a booking.
Hotels can benefit from using hotel virtual tours, here are some examples:
Boost sales
A well-crafted virtual tour can significantly increase your hotel's booking rates by providing potential guests with a realistic, immersive experience of what you offer. This level of transparency can tip the scales in your favour when guests are making their final booking decision.
Competitive advantage
In a saturated market, a virtual tour can set your hotel apart from competitors who only offer static images or text descriptions. This unique feature can be the deciding factor for guests comparing multiple options, giving you a competitive edge.
Showcase hotel amenities
Virtual tours allow you to highlight your hotel's amenities in their full glory, be it a state-of-the-art fitness centre, a luxurious spa, or a rooftop bar with panoramic views. This comprehensive showcase can attract guests who are specifically interested in these features, helping you target different market segments more effectively.
Time and cost saving
While the initial setup of a virtual tour may require an investment, it can save both time and money in the long run. A virtual tour reduces the need for site visits, which can be both time-consuming and costly for potential guests. This convenience can be especially beneficial for corporate clients or event planners who may need to approve the venue remotely.
Marketing tool
A virtual tour is not just a feature but a powerful marketing asset. It can be integrated into various promotional strategies, from social media campaigns to email marketing, enhancing your overall brand image and reach. The shareable nature of virtual tours also encourages organic dissemination, further amplifying your hotel's visibility.
Examples of hotel virtual tour 360
Virtual tours sound great – and they are – but they can also be intimidating, even for seasoned hoteliers. 
Matterport Hotel Virtual Tour

. In this example tour, the user is taken through a sample of rooms, amenities and features of the hotel, highlighting the best parts of the experience at the best times of day for maximum impact. It's a video version of a 360 degree tour, demonstrating how to use an interactive tour as a video.

Budapest Marriott Hotel Virtual Tour

. In this example tour, every aspect of the hotel is shown off and, true to its promise of "Iconic Beyond the View", the Marriott staff show off business conferencing facilities as well as sweeping, dramatic shots of the local scenery, in-hotel amenities, and recent events.

Holiday Inn Express Sydney Virtual Tour

. This video from the Holiday Inn Express demonstrates perfectly how a virtual tour doesn't have to be big and flashy. Using YouTube's built-in 360 degree feature, it shows a typical journey of a guest from the lobby to their room. We especially love how important amenity descriptions have been integrated into the experience, with "Power Shower", "Twin Room" and "Free WiFi" appearing over the relevant features! 
Increase room bookings and hotel revenue with a smart hotel platform
While virtual tours are powerful marketing assets, it's a fact that, no matter how good your marketing is, a poor booking experience will stop any but the most eager guest. A tool like SiteMinder's hotel booking engine, that provides a fast and simple booking process – and is fully integrated with your other systems – is essential to consistently turn your visitors into guests.
Integrated website builder:

Along with SEO-optimised templates and features tailored for hotels, SiteMinder's website allows seamless integration of your hotel's favoured content on your website.

Real-time analytics and reporting:

SiteMinder provides real-time analytics that offer valuable insights into booking trends, guest demographics, revenue performance, and which aspects of your hotel most deserve their own virtual tour.

Multi-channel distribution: SiteMinder's platform integrates seamlessly with various distribution channels, including over 450 OTAs while also driving direct bookings.
Get started with SiteMinder for free or watch a demo to learn more.