What is Pokémon Go?
Pokémon Go is a mobile game that…
Is free to use;
Uses the GPS and camera of a user's phone; and,
Augments the user's reality and surroundings.
The aim of the game is to capture and evolve 151 species of Pokémon. Users then train and battle their Pokémons in what's known as a gym.
A user has to physically travel to the pokestops or gyms to get to the Pokémon. This is what makes the game unique.
Initially it was released in Australia, New Zealand, and the USA – but 33 more countries have since been added.
It is so popular that an average user spends 43 minutes daily on the game, and the it generated US$35 million in revenue within the first 2 weeks.
Why is it relevant for hotels?
The game has skyrocketed in popularity, and is especially relevant for those in the travel industry.
In fact, Hotels.com surveyed more than 500 millennial travelers based in the U.S., and found that more than half of millennials (79%) plan to play Pokémon Go on their next vacation, while as many as 48% would consider visiting a new destination because of the popular new game.
Yelp and TripAdvisor have both added a filter for Pokéstops – Yelp allows users to search for businesses with Pokéstops nearby, while TripAdvisor suggests properties that are likely to have Pokémon around (which is usually in-sync with the property's surroundings of its flora and fauna).
Here's how Yelp's filter looks on iOS and Android: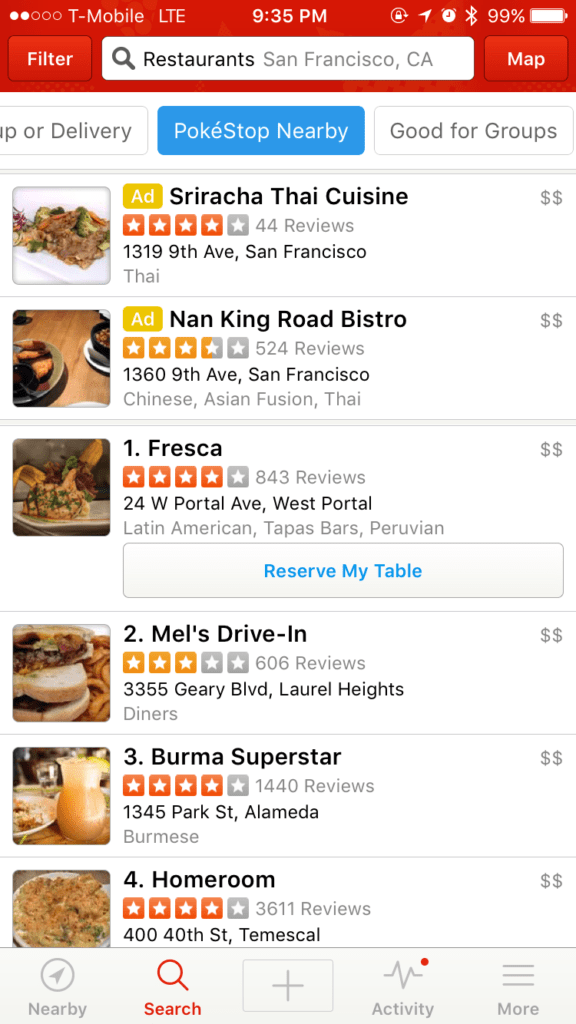 How are hotels responding?
Clever hotels are using Nintendo's LURE model to capitalise on the craze. A LURE will attract Pokemons to a specific location, and each LURE is active for 30 minutes. It costs 0.60$ each.
The Mantra Hotel Group has also created promotions around the game – for example, offering a free bowl of fries with any drink purchase at their Pokéstop, or happy hour drinks.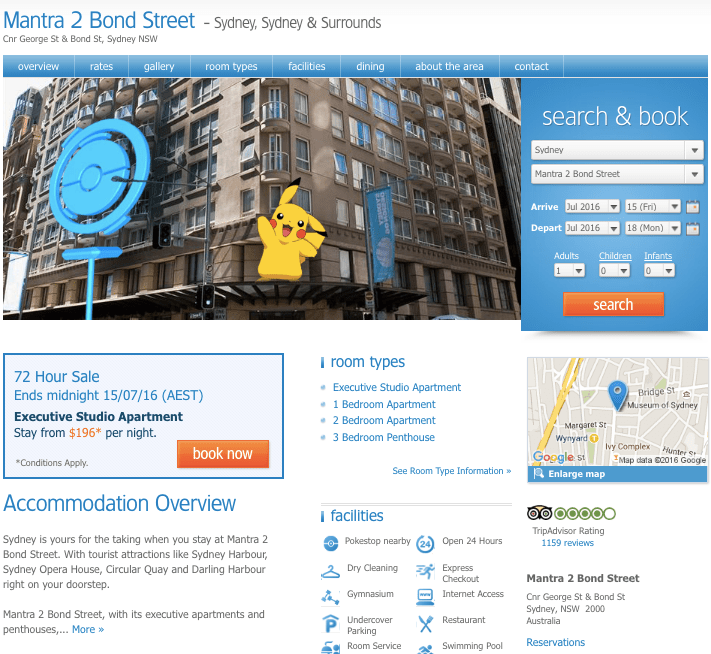 What can your hotel do?
First of all, make your hotel Pokémon Go-friendly. The game needs internet and battery power to run – so you could provide high-speed WiFi and phone-charging stations to encourage players to stop by and purchase food and drinks at your restaurant.
You could also use their LURE model to drive traffic and revenue from Pokémon Go players. eHotelier suggests that spending money on LURES could actually be more cost-efficient than traditional marketing efforts in the long run!
Whether or not you want to capitalise on this trend depends on what type of guest you are trying to attract at your property. Take a look at your current guest database to assess whether this segment is worth targeting, and experiment to see if it works for you.