What are Airbnb fees?
Airbnb fees are the charges that Airbnb imposes on guests and hosts when a booking is made. The platform works in a similar way to OTAs like Booking.com and Expedia, making money by charging an Airbnb commission on the reservations it facilitates.
Airbnb fees are becoming increasingly complicated. The platform is becoming more regulated across the globe, so fee types and rates can change drastically from country to country, state to state, even suburb to suburb.
How much are Airbnb fees? In this guide we'll attempt to bring a bit of clarity to what a hotel might face in terms of Airbnb taxes and fees.
How much does Airbnb charge hosts?
Airbnb host fees come in two forms:
Host-only fee: This fee structure is mandatory for what Airbnb calls 'traditional hospitality listings', such as hotels, hostels, serviced apartments, etc, and for any other owners that publish and manage listings through a PMS like SiteMinder.
Split fee:

This Airbnb host fee is usually applied to private Airbnb listings. It sees the Airbnb service fee split between the host and the guest.
What percentage does Airbnb take?
Airbnb hosting fees are always represented as a percentage of the booking price:
Host-only fee:

Usually 14%-16% (excluding Airbnb fees and taxes), automatically deducted from the host payout, though the specific rate will depend on a variety of factors, such as location and accommodation type.

Split fee:

Usually 3% of every booking, though the fee may be slightly higher for hosts with listings in certain areas of Italy, for Airbnb Plus hosts, or for those who opt for a 'super strict' cancellation policy. The guest then pays a fee of approximately 14%.
Airbnb hosting fees for hotels
As stated above, Airbnb will usually charge professional accommodation providers like hotels a hosting fee of 14%-16% of the booking total – but that's not the whole story. Airbnb has a number of other fees that can increase the divide between what the guest pays and what you earn, eating into your bookings and revenue.
Airbnb service fee
'Airbnb service fee' is a catch-all term for the Airbnb owner fees (split or host-only) mentioned above. On the guest side it is known as the Airbnb booking fee.
Airbnb cleaning fee
Airbnb cleaning fees are flat fees that are set by the host and paid by the guest. Airbnb will take a cut of the cleaning fee based on the Airbnb service fee. 
Currency conversion fee
If a guest chooses to pay for an international stay in their local currency they may be charged a conversion fee by Airbnb. This used to be a flat 3% of the total, but in recent years Airbnb has become more opaque on the exact rate. Hosts are unaffected by currency conversion fees.
Airbnb listing fee
Airbnb does not charge a fee to list on the platform, though a hotel may choose to invest in software like SiteMinder to simplify the task of managing listings on Airbnb and beyond.
Airbnb property management fees
If your hotel has six or more room listings on Airbnb you are eligible to charge extra fees, including a 'management fee' designed to cover general admin and business expenses. These fees are set by hosts and can be charged as either a percentage of the nightly rate or as a flat fee applied to every booking. Airbnb takes a cut according to the service fee.
Resort fee
Similar to the management fee mentioned above, the resort fee can be charged by an accommodation provider with six or more listings and can be a fixed fee or a percentage of the booking total.
Experiences host fee
Airbnb Experiences charges a service fee of 20% to hosts who offer experiences through the platform.
Cancellation fee
Depending on the cancellation policy you choose as a host, a guest may be charged a fee, usually 25% or 50% of the total depending on when the cancellation occurs, that you keep (minus Airbnb's service fee).
Are Airbnb fees refundable? Cleaning fees are always refunded for cancelled stays, while service fees are only refunded during the free cancellation period.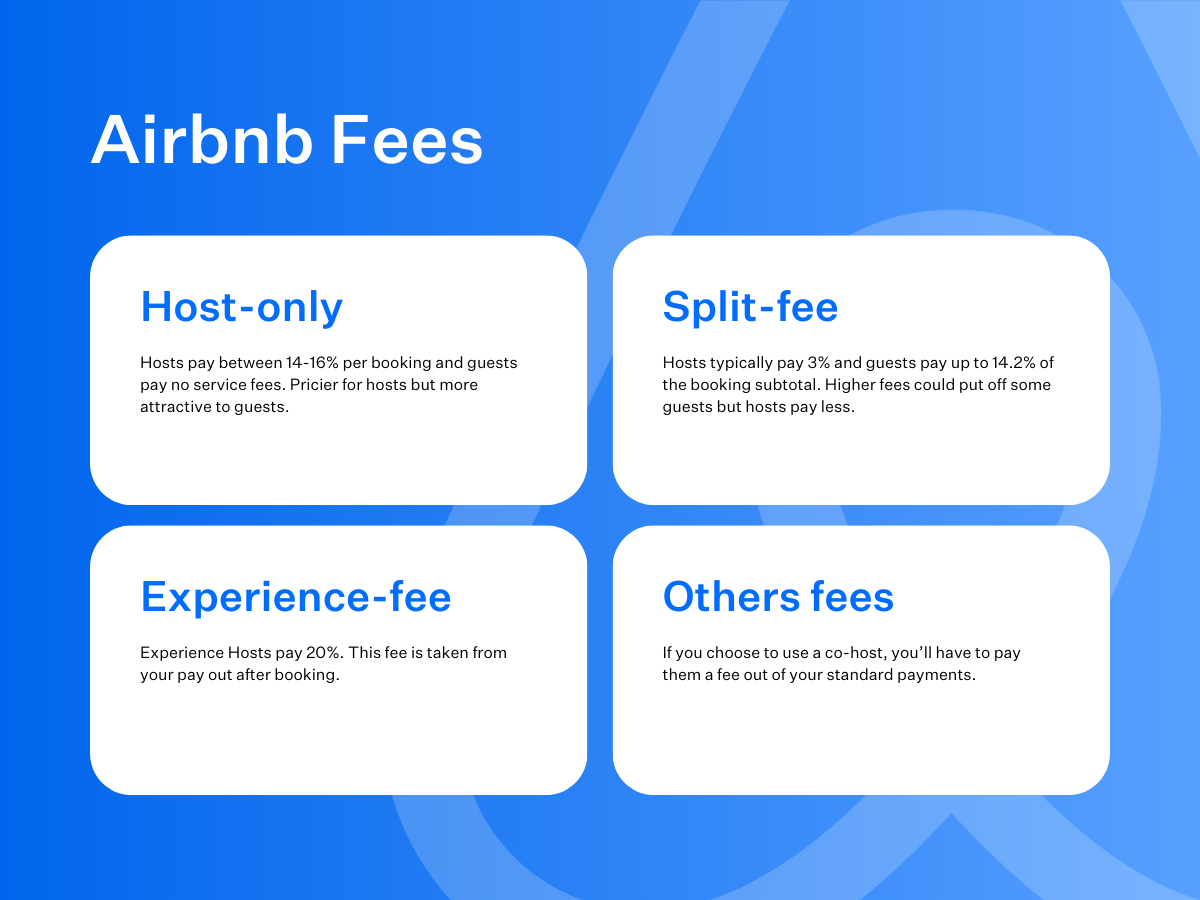 Airbnb guest fees
Airbnb booking fee
In a split fee situation, the guest will pay a service fee of up to 14.2%, called the booking fee. In a host-only fee situation, no booking fee will apply.
Airbnb cleaning fee
Cleaning fees are set by the host and paid by the guest. Airbnb takes a cut through the service fee. These are flat fees and are not compulsory.
Airbnb hidden fees
Airbnb has long been accused by guests of hiding fees until late in the booking process, such as currency conversion fees and local taxes. In 2023 they worked to address this with the release of a 'display total price' button that offers greater price transparency.
The impact of Airbnb fees to profitability
Discounts, deals and targeted rate strategies are key to attracting guests, managing yield and increasing hotel revenue. But Airbnb fees, like all booking channel commissions, eat into the already low levels of profit in these situations.
One of the most effective revenue management strategies available to a hotel is to limit booking channel fees. In fact, with the help of the right tool, you can do away with commissions altogether.