What is Eviivo compared to SiteMinder?
Both Eviivo and SiteMinder are popular hotel management software solutions. However, the nuances in their offerings, approach, and target audience set them apart.
Eviivo is a UK-based software solution primarily known for its channel manager software. This tool offers a full two-way sync of rates, content, and availability, allowing hoteliers to manage their listings across various online travel agencies (OTAs) efficiently. Eviivo's suite also includes tools like a property manager, website manager, promo manager, an Eviivo app, Eviivo's payments tool, and more.
One of the unique aspects of Eviivo is its emphasis on independent properties, catering to a wide range of accommodations from B&Bs to student lodgings. However, it's worth noting that Eviivo sometimes discourages direct bookings, pushing instead for its own OTA, TopRooms.
SiteMinder, on the other hand, offers a more comprehensive suite that goes beyond mere distribution. It positions itself as a holistic hotel management solution. From channel management and marketing to bookings and hotel commerce, SiteMinder aims to be the one-stop-shop for hoteliers. Its platform is designed to maximise revenue, not just through increasing bookings but by offering tools that enhance the guest experience, streamline operations, and provide actionable insights.
With connections to over 450 distribution channels, SiteMinder ensures that hotels have a global reach. Furthermore, SiteMinder's platform is trusted by a vast number of hoteliers, from boutique hotels to large chains, indicating its versatility and reliability.
While both an Eviivo extranet login and SiteMinder offer tools to simplify hotel management, their approach and emphasis differ. Eviivo leans more towards managing listings across OTAs and catering to independent properties, while SiteMinder offers a broader range of tools with a focus on maximising revenue and providing an integrated hotel management experience.
Eviivo and SiteMinder comparison
Both Eviivo and SiteMinder have made significant marks on hotel management software. However, when we dissect their features, capabilities, and overall value propositions, the distinctions become more pronounced. Here's a detailed comparison:
Revenue generator
Both Eviivo and SiteMinder offer tools designed to enhance hotel revenue. However, SiteMinder takes a more holistic approach. Eviivo's channel manager software focuses on synchronising rates, content, and availability. SiteMinder does all this and more, integrating marketing strategies, guest experience enhancements, and efficient payment systems into its revenue-boosting tools.
Commitment to excellence
SiteMinder's unwavering commitment to excellence is evident in every facet of its platform. Continuous innovation, regular updates, and a keen understanding of the evolving hotel industry landscape ensure that hoteliers always have cutting-edge tools at their disposal.
In contrast, while an Eviivo login offers a comprehensive suite, it sometimes lacks the agility and forward-thinking approach that SiteMinder brings to the table (which is reflected in Eviivo's pricing).
Guest reach
In today's globalised world, reaching a diverse and widespread audience is crucial. SiteMinder, with its connections to over 450 distribution channels, ensures that hotels can tap into global markets effectively. This vast network includes major OTAs, niche booking platforms, and the GDS. Eviivo, on the other hand, has a notable focus on promoting its own OTA, TopRooms.
While this can be beneficial in certain scenarios, it might inadvertently limit the potential for direct bookings and wider guest reach.
One centralised platform
The beauty of SiteMinder lies in its centralised platform. Hoteliers can seamlessly transition from each and every aspect of hotel management, all within a single interface. This integrated approach reduces the learning curve, streamlines operations, and ensures that every tool is interconnected. Eviivo, with its suite of tools, offers a range of functionalities.
However, the experience can sometimes feel segmented, requiring hoteliers to juggle between different modules (such as the separation of the Eviivo My Diary login)
Advanced insights
In the age of data, understanding guest behaviour, preferences, and market trends is invaluable. SiteMinder's platform is built with this in mind. It provides hoteliers with granular insights, analytics, and reports that can guide pricing strategies, promotional campaigns, and guest experience enhancements. Eviivo reviews reveal that, while offering some analytical tools, it doesn't match the depth and breadth of insights that SiteMinder provides.
With SiteMinder, hoteliers are not just reacting to data; they're anticipating trends and making proactive decisions.
Benefits of choosing SiteMinder over Eviivo
While both Eviivo and SiteMinder offer a range of tools designed to streamline hotel management, there are distinct advantages to choosing SiteMinder. Here's a more detailed look:
Real-time synchronisation: With SiteMinder, hoteliers benefit from real-time updates between the platform, distribution channels, and their property management system (PMS). This ensures that inventory levels, rates, and other crucial data are always current, reducing the risk of overbookings and other potential issues.
Broad integration capabilities:

SiteMinder's platform is designed to seamlessly integrate with a vast array of third-party systems, from revenue management solutions to guest experience platforms. This flexibility allows hoteliers to create a tech stack that perfectly aligns with their unique needs.

Customisation and flexibility:

Beyond just offering captivating visuals, SiteMinder's website builder is highly customisable, allowing hoteliers to create a digital presence that truly reflects their brand's identity.

Enhanced guest experience:

Integrated with over 100 hotel apps, SiteMinder's platform ensures guests have access to a range of services, from upselling opportunities to loyalty programs and guest messaging, enhancing their overall experience.

Maximising profit margins:

SiteMinder encourages direct bookings through its

optimised website builder

and

integrated booking engine

. This strategy ensures hotels can maximise their profit margins by avoiding third-party commission fees.

Global presence:

Over 39,000 hoteliers from various parts of the world trust SiteMinder. This global presence is a testament to the platform's reliability, scalability, and effectiveness.

Diverse property types:

SiteMinder is not just for traditional hotels. From boutique properties to large resorts and even B&Bs, the platform caters to a diverse range of property types, showcasing its versatility.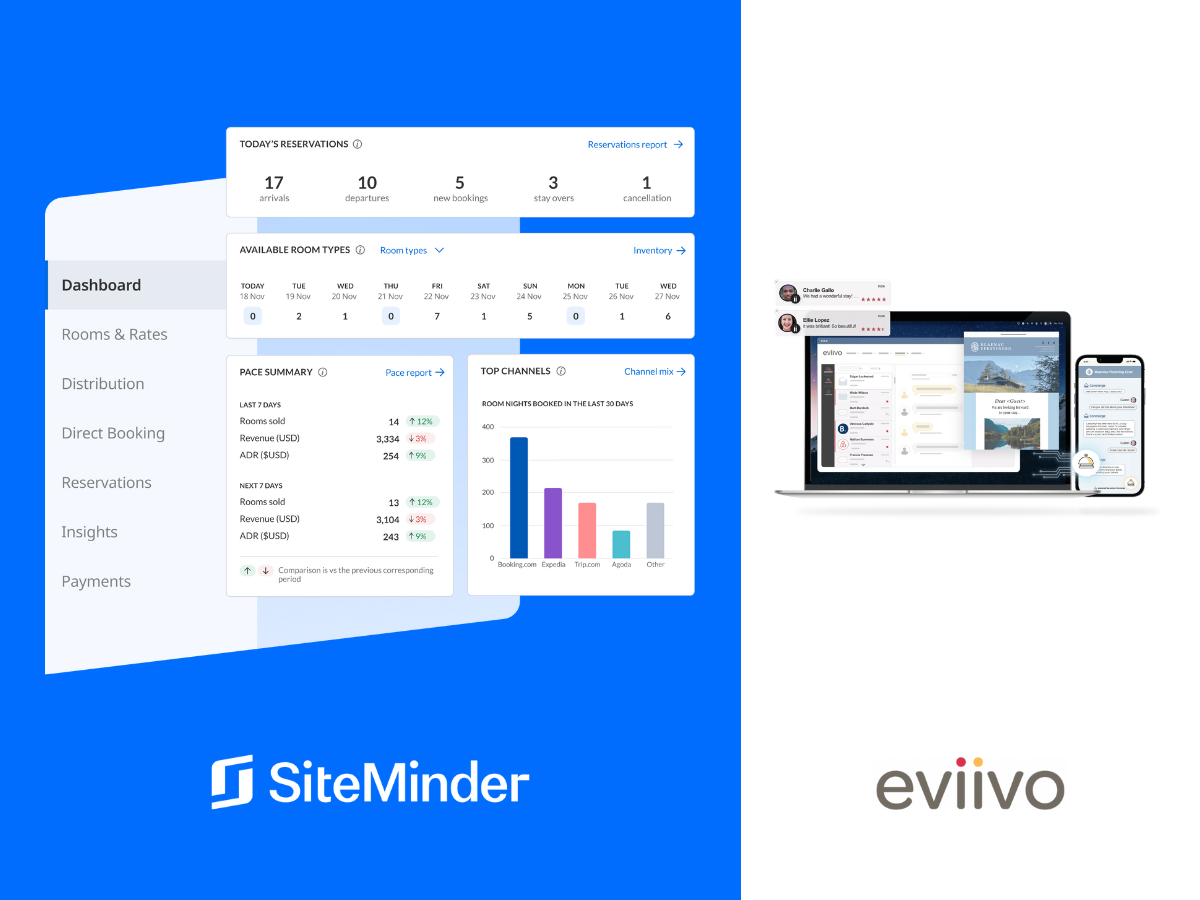 Eviivo vs SiteMinder: Which one to use?
Choosing between Eviivo and SiteMinder boils down to your specific needs. While Eviivo offers a suite of tools catering to various aspects of hotel management, SiteMinder's all-in-one platform approach provides a more integrated experience. Moreover, the emphasis SiteMinder places on boosting revenue makes it a compelling choice for hoteliers focused on growth as well as those who are futureproofing their hotel software for what comes next in their business strategy.
Hotel software done in one
"Getting all three in one product was a godsend. It made it even easier to keep on top of everything because we could manage all necessary distribution tasks in one single platform." – The Little Guesthouse in Salzburg.