Much is discussed in regards to guest experience in today's travel world, but often the guest experience and hotelier experience are inextricably linked.
Both inspire and feed each other through demand, expectation, and satisfaction.
In contemporary society, hotels are facing complex distribution, pricing, and guest contentment challenges. It sees them fighting to balance their own business needs with the increasing and dynamic nature of travel technology, and the savvy, resourceful attitudes of travellers.
Let's discuss some of the key developments in travel, guest experience, hotel challenges, a new economy and the future outlook of hotels and how they can adapt to stay on top of the modern hospitality landscape.
Guest bookings and hotel technology
The way travellers purchase and book travel has undoubtedly started to head towards a permanent shift in recent years; directly correlating to new technology advancements.
Once, guests would purchase travel via:
Now, it's very different:
Most guests are very aware of the new ways they can search and book their trip. In Australia, 51% are either early adopters of technology or in the early majority, with only 16% considered laggards.
As a result, hotels need to be led by traveller behaviour and combat their own slow adoption of technology. The majority rules. Early adopters are typically well-educated, have high incomes, and are willing to take risks.
Hotels are realising they need to be many places at once. Constant visibility is a cornerstone of booking success. However, this means delving into areas where they lack expertise.
Being a wonderful hotelier does not necessarily translate into being an outstanding tech user.
The rise of Google and online search has meant the need for a functional hotel website is paramount. Without one, guests either won't find your hotel or will look elsewhere for more user-friendly interfaces. This then extends to a hotel requiring a digital marketing strategy.
Furthermore, the exponential increase of mobile search and booking trends adds another dimension to the online sphere. The share of mobile bookings has grown year-on-year by as much as 56% in certain parts of the globe.
Guests want to be able to find you at any time, on any size screen and device. Simply a symptom of passing time, the standards of customer convenience are dramatically higher than they once were.
It's predicted by 2020 customer experience will have overtaken price and product as the dominant brand differentiator so a positive digital user experience is vital for a hotel's success.
Approximately 61% of guests will look elsewhere if they can't find what they want right away.
Negotiating online distribution
If there's one thing for sure, it's that hotels today need a diversified distribution strategy. It's not enough to attract guests through your directly through your website, or via a GDS, you must be connected to multiple OTA channels. With a channel manager, you can significantly increase hotel revenue with extra bookings.
In 2016, SiteMinder hotel customers with at least five connected channels have generated 2.5 times the number of reservations per room. OTAs and meta sites are much better at merchandising on their own direct websites.
A new economy of desire
Thanks to a major increase in access to information and technology, the global economy has jumped from an economy of need to an economy of desire.
Travellers are now able to make an abundance of their own research decisions and booking choices.
Additionally, attitudes have moved from starting from the basis of price to treating price as the cost of falling in love with an experience.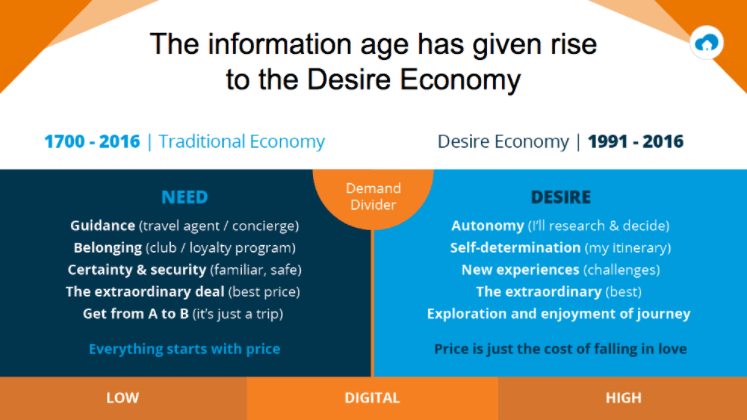 More and more, guests are craving authenticity, which has seen a steady increase in the popularity of independent accommodation providers.
A fully-integrated guest experience
This desire for authenticity means hotels need to create an online presence that is more hospitable – engaging with guests during their pre-purchase stage of discovery, before extending that graciousness at the property.
The collection and use of customer data will allow a hotel to effectively personalise their service for guests.
One example is automation. Both Google (Google Home) and Amazon (Echo) are developing synergetic products and systems for private residences that consumers can use to make everyday life much simpler. Both companies have introduced virtual assistants for the home which can complete a number of simple but useful tasks such as playing songs, adding calendar events, changing the thermostat etc.
The relevant fact is that if travellers have this in their own house, they'll expect it in hotels too. Already, evidence of this type of technology in hotels is emerging.
There's a huge opportunity for hotels to leverage automation in geolocation, room service, and transport systems to both improve the guest experience, and make logistics and service delivery easier for their own business.
Removing friction
With the industry as a whole consolidating its processes, hotels must do the same. Purchase to delivery has to be completed in as few steps as possible if customers are to feel properly catered to.
This means connecting to a technology provider that encompasses:
True rates and availability,
One integrated distribution system,
Real-time delivery of reservations,
Accurate and up-to-date market intelligence,
Functional and optimised website content, and,
Seamless direct booking capabilities.
All of these are priorities if hotels want to move smoothly towards 2020 and be set-up for another dramatic change in the future.