Optimising the guest experience and ensuring guest expectations are met is a constantly evolving challenge for hoteliers. With a veritable banquet of options at their fingertips, consumers are demanding more than ever before.
The accelerated progress of technology has in turn changed the behaviour of hospitality customers. Suddenly they realise it's okay to ask for more, it's okay to insist on perfection, and never settle for less.
It makes life harder for hotels but also gives them a greater opportunity to deliver an experience guests will never forget.
To give hoteliers a better understanding of how they can make things easy for guests and build a more successful business at the same time, SiteMinder's Dean Elphick spoke to hotel specialist Nicky Govender of Hotels & Tourism. The company is designed specifically to help accommodation managers implement business solutions, with Nicky at the forefront.
Here she gives us an in-depth lesson about guest booking behaviour, traveller expectations, enriching the guest experience, and the general management of a hotel.
---
Are you in tune with the contemporary traveller?
A new breed of tech-savvy travellers has emerged in recent years. Even older generations are now well-versed in the use of social media and mobile devices, two things Nicky says are vital considerations for hoteliers.
"Technology and social media have changed the expectations for travel. People are looking to spend more time on their mobiles, while seeking a smart and hassle-free experience when making a booking. Travellers expect and presume hotels are keeping up with technology. This means mobile-friendly websites, easy navigation, and simple-to-operate booking engines."
Even while gaining inspiration to travel, people are using mobile technology to browse Facebook or Instagram, so a constant presence is needed from hotels.
Technology and social media have changed the expectations for travel.
Click to tweet
How should you be meeting guest expectations?
The booking process is extremely important for guests. Once they've decided on a destination, their excitement will propel them into searching and booking a hotel. According to Nicky, guests expect the process to be fast with simple and flexible booking engine and payment systems that are accessible via mobile.
She lists five ways your hotel can meet the ever growing demands of travellers:
1. Assess your website experience
"The average attention span for a website visitor is eight seconds," says Nicky. "So you need a website that is clear, direct and has everything a traveller needs to make a booking easily."
This means hotels need to focus on:
Integration


Seamless integration between your

website

and

online booking tool

is a must if you want to raise conversions and accept more payments.



Rates and availability


Your rates need to be up-to-date and clearly displayed. Keep your packages simple and connect to

OTAs

to increase your distribution.



Mobile capability


Nicky reminds us that more than 52% of travellers are booking their hotel using a smartphone. Your website must be optimised for these devices and you should also add links for maps so travellers can find your hotel while they're out and about.



Design


The

design

of your website is one of the biggest advertisements for your hotel to travellers. Guests want a clear picture of what it's like to stay at your hotel. It's important to include

high quality images

and clear legible text to position your hotel in the best light possible.



Navigation


Ideally your website won't be too many pages deep with simple headings and a 'book now' button that is the first thing visitors see when they land on your homepage.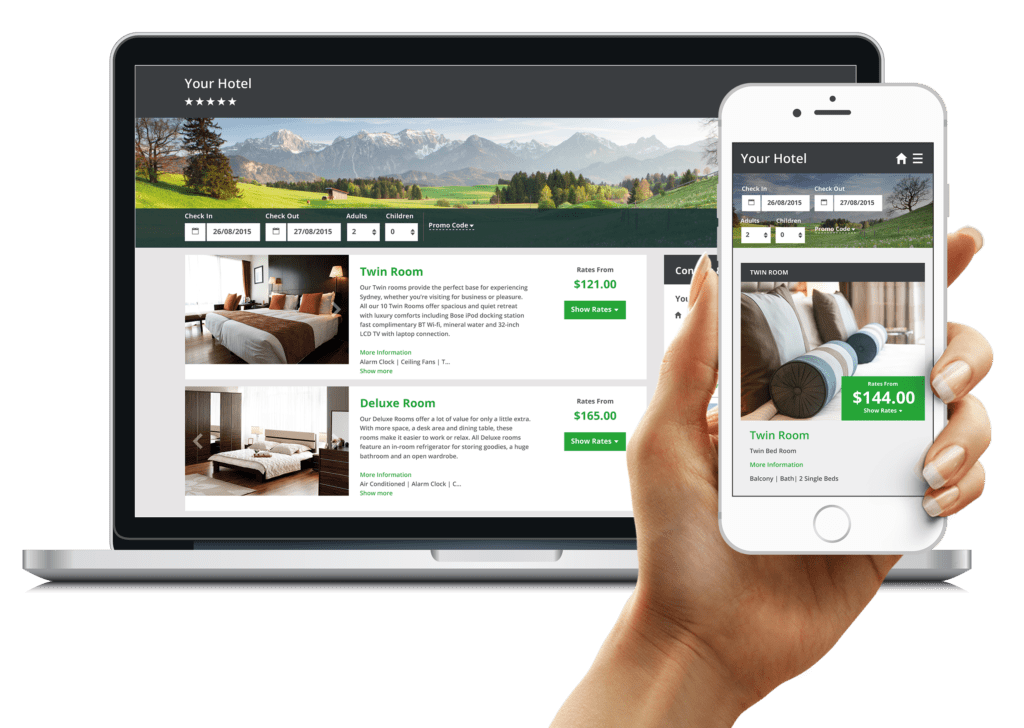 2. Introduce local and cultural experiences
Marketing your hotel as a unique accommodation option is a creative way to attract attention says Nicky.
"Attract leisure travellers by including local culture and authentic experiences. Hoteliers should offer more information and value on nearby attractions, classes, and restaurants celebrating regional culture."
3. Help foster personal connections
Hoteliers need to prioritise the creation of social spaces and designate specific times for social events so guests can interact with each other. This will also allow guests and staff to interact more, building closer relationships and hopefully creating loyalty.
4. Consider how you engage with guests
Being approachable and easy to communicate with throughout the entire booking journey will be much appreciated by guests.
"Guests should be able to chat with the hosts before making the booking. It's a more comfortable arrangement when you can talk to a real person rather than machines before booking your stay. Hotels must become more open to conversation during the online booking process," says Nicky.
Communication with guests needs to be multi-faceted if your hotel is going to please everyone.
"Hoteliers need to use social media and other communication modes – text messages, WhatsApp, phone calls and more to create a rapport which grows into a relationship with their guests," explains Nicky. "This is just another opportunity for hoteliers to offer value adds and upsell the experience to the guest."
5. Manage your hotel's online reviews and reputation
Travellers put a huge focus on reading online reviews before they make a booking. Sites like TripAdvisor are extremely popular and so you need to have a verified and positive presence on these sites. Nicky offers the following advice:
"Address all comments, negative or positive, in a considerate and timely manner. By showing that you've taken constructive criticism, your visitors will feel assured that their concerns are your top priority. Encourage guests to post about their experiences online, or ask if you can share their comments. By taking a proactive approach, your online reputation will remain positive."
How is the guest experience changing?
From a guest's point-of-view the ideal scenario is to receive the highest possible quality for the lowest possible price. This means hotels need to become the perfect vendors with value-for-money at the head of their strategy. Nicky also says plans need to be constantly reevaluated.
"Hoteliers need to remember that just because the way they have been running their hotel in the past 12 months has worked, that might not be the case in the next 12 months. The new traveller is wanting chic and basic, but at a great price, and some hotel rooms won't even need a key or a card to open.
"The savvy traveller also has new ways to score an upgrade. Demand for free internet connections in hotels is slowly falling due to increasing numbers of public wifi hotspots and broader cellular data plans. Nevertheless, the majority of leisure travellers also consider a free internet connection the most important amenity a hotel can offer, giving it higher priority than free parking or a swimming pool," she states.
And what if your guest has had a great experience? How do you amplify that to ensure you're capitalising on the travellers who think your hotel is amazing?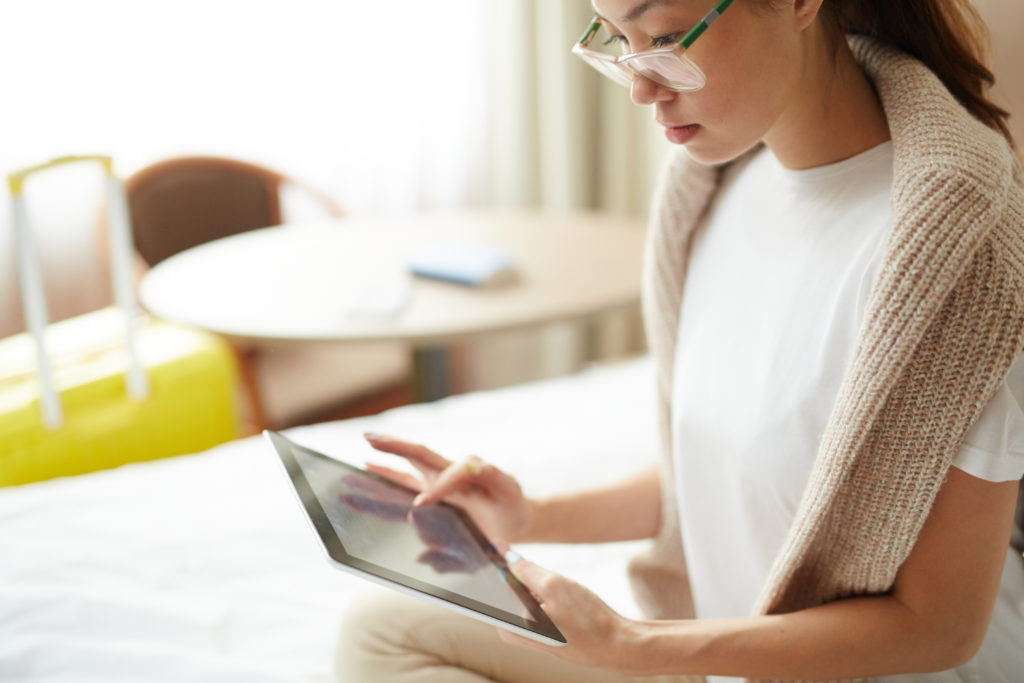 From post-stay emails to incentives, Nicky has some actionable advice to generate positive feedback:
Make it simple for guests to leave responses
Quite simply, if guests are unsure of where they can leave feedback or if they can do it quickly, it's probable they won't, says Nicky.
"Your property likely already sends post-stay emails to your guests. If you're not, then you should be! In that message you can include a link to leave a review. By providing that step so easily within the email, guests will be more likely to take action and your hotel will improve guest survey response rates."
Texting can be one of the most successful methods of communication at your disposal, according to Nicky.
"In a world of constant communication, texting remains one of the few messaging platforms where people open and read almost every single incoming message," she says.
"They're a great way to communicate with your guests before, during, and after their stay. You must first gain permission to text your guests, but then you can text them after check-out thanking them for their stay and prompting them to leave a review."
Who doesn't appreciate a discount? If you really need to increase your response rate, providing guests with a discount or promotion on their next stay may convince them to leave positive feedback and also visit your hotel again, giving you another opportunity to capture their loyalty.
Essential tips for hotel managers
Any manager will tell you that trying to run a successful hotel business is no easy job. There's always multiple tasks to juggle and constant pressure from guests to get everything right. Nicky advises it's important to take a methodical approach and first understand every facet of your hotel operations.
"Clean a room to see how long it takes and what tasks are essential. Work the front desk to understand how many customer complaints and issues are handled by your staff that you never hear about. Spend time with your maintenance manager, front office, conference team and your chef to learn what goes on in a typical day," she suggests.
"Having these experiences makes you a better manager in two ways: staff respect you more because they know you have the knowledge of what their day-to-day is like, and secondly, you have taken the time to get to know them, making it easier to handle staff concerns."
Additionally, Nicky offers five essential tips to make managing a hotel less of a chore and more of a pleasure:
1. Delegate tasks and responsibilities
To help remove stress, don't try to take on every task yourself. If you don't know how to do something, find someone who does.
"Find someone you can trust with your property, that can explain solutions in a way you understand and you have confidence in their ability," says Nicky. "The more you interact with the staff the more accountable they feel to do a good job every time."
2. Reward staff for good work
The sheer scope of running a hotel cannot be placed on the shoulders of one person. Your hotel will need trained staff to maintain high standards. If your staff are happy, then your guests will be too, states Nicky.
"Develop a reward system to keep your staff motivated. Have each department vote on a top performer of the week, or provide a small financial reward to any staff member who is mentioned in a review by a guest. The rewards don't have to be big; even small rewards go a long way towards making your hotel staff content with their jobs and motivated to work hard."
3. Know your local competition
It's important that you're able to benchmark your hotel against the rest of the industry. Nicky suggests visiting restaurants, hotels, and other businesses that appeal to your client base to see if you compare favourably or have more work to do.
4. Never stop trying to improve
Growth is an obvious sign of health, and it's your job to help your business grow.
"Regularly examine procedures and ensure systems always get input from employees. Be proactive in reputation management, always updating your website, new images for your gallery, new staff photos and profiles, new packages depending on the season, making sure all links on the website work, Facebook and Instagram feeds are appearing and all reviews have been answered," Nicky councils.
5. Plan your hotel's occupancy in advance
Bringing in new business is essential for success. Planning several months in advance will help you do this. Making long-term forecasts, of at least three months, for demand will help you price your rooms and run appropriate promotions to attract more travellers. Being proactive will prove much more effective than reacting to market fluctuations once it's already too late.
To seek more advice on running your own hotel, meeting guest expectations, and optimising the guest experience you can contact Nicky via her website or by email. Be sure to also check out SiteMinder's smart technology solutions for hotels of all sizes.