James Bishop, Senior Director Global Ecosystem at SiteMinder interviewed Mark Desborough, COO Hotel Divisions, at WebBeds to discuss the wholesale market and upcoming plans.
James: Mark, tell us more about WebBeds – What does a Wholesaler do exactly, and how do you differ from other platforms such as OTA's?
Mark: WebBeds is the world's fastest growing and second largest B2B supplier of accommodation to the travel industry. Simply put a Wholesaler sources content from accommodation providers, aggregates and then distributes inventory (via a website or API) to travel sellers – such as travel agents, tour operators and OTAs globally – who then sell to the travelling public. The global nature of our source markets means accommodation providers have access to sales markets anywhere in the world, and benefit further from the large client base we have selling tour operator packages, offline sales and in opaque channels, maximising distribution opportunities for all types of rates the accommodation providers can offer. Unlike OTAs, or some other platforms, we don't sell to travellers or use traveller data for marketing or sales purposes.
What challenges do you see for the wholesale market in 2021/22?
Unsurprisingly, the main challenge for the wholesale market – the entire travel industry – is going to be navigating the complexity and uncertainty as countries emerge from Covid19 restrictions. Every country is in a slightly different situation in regard to government policy, travel restrictions, vaccination roll out and levels of Covid19. The strong capital position of our parent company Webjet reassures our partners that WebBeds will be well-placed to support them and capitalise together on all the opportunities when travel rebounds. Unfortunately some companies – both on the supplier and distribution side – may not make it through which means the market will be challenging and unpredictable.
We've seen a lot of changes in consumer behaviour due to Covid19, from needing more flexible rates, to shorter booking windows and a shift to domestic reservations.  How are WebBeds and your buyers positioned to help accommodation providers in these times?
We have adapted the way we work to respond to individual market needs. Our contracting teams have pivoted to be laser-focussed on contracting additional and specific domestic product and more flexible rates based on feedback from our distribution partners to our Sales team. We are also seeing more bookings for longer booking periods, as well as very short lead times, as a result of uncertainty. The market feedback we have from our distribution partners, and rich search and booking pattern data from our systems, enables our buyers to work closely with all our accommodation provider partners to make sure they are delivering the best offers to our clients. And it's this diverse distribution partner base – both geographically and from a business model perspective – that means we are primed to help hotels take advantage of business as it returns initially to the domestic and leisure segments before a broader sector uptick.
Can you share with us what WebBeds priorities are for this year and how are these going to impact accommodation providers?
We have used the pandemic to focus on strategic projects that will help us meet our objective of becoming the industry's #1 B2B accommodation provider. Our goal is to be the easiest partner to do business with and multiple supplier and client-facing initiatives are underway to reduce friction and improve experience. We are well placed to benefit our accommodation providers as 75% of our bookings are intra-regional and our client mix provides strong exposure to the leisure market which has strong pent up demand and will be the first to open up.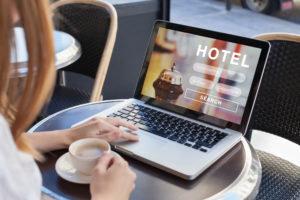 You've been longstanding partners with SiteMinder, which we are very happy about.  How has that partnership been for you, and what benefits does it offer to accommodation providers on the WebBeds platform?
We have also been happy with the partnership. We have been able to work closely together on the new connection that we have, meaning that accommodation providers have access to all functionality provided by SiteMinder. This in turn means that we can pass this to our distribution partners, leading to increased business for all of us.
SiteMinder and WebBeds have been working together to unify the various accommodation supply integrations you're supporting into a single platform. Can you tell us more about that project and what benefits accommodation providers will see from it?
As WebBeds has grown over the last few years we have bought other companies and until now have had multiple platforms where we are processing bookings. This has meant that many of our supplier partners have had multiple connections with us. Consolidating these leads to greater efficiencies and a lower cost of doing business for our supplier partners whilst continuing to have access to the global distribution partners that we work with.
Can you give us an insight into any other future plans for WebBeds?
We have a strong history of innovation and are identifying opportunities to further separate WebBeds from the rest of the industry. We are reviewing our current platforms to deliver the most robust, efficient and flexible technology offering which we will provide further details on later this year.
What do you most look forward to in the next 12 months?
Like everyone I am really looking forward to the world returning to some sense of normality. Both from a business and personal point of view. It is not going to be an easy 12 months but we feel optimistic about the future of the industry and our role in that. WebBeds' owner, Webjet Limited (ASX: WEB), has a very strong cash position and we are the lowest cost global B2B provider with a diversified, global customer base well placed to benefit as travel markets reopen around the world.