Increase direct bookings
Open your door to taking more bookings directly.
Welcome to SiteMinder, the world's leading open hotel commerce platform.
Try SiteMinder for free for 14 days. No credit card required. Cancel anytime.

SiteMinder opens your door to more direct bookings.
SiteMinder gives you everything you need to increase your hotel's direct bookings, and maximise your revenue.
Mobile-first, award-winning booking engine.
High-converting design with a simple three-step booking process.
Integrated payment processing.
Streamlined payment processing with a secure, PCI-compliant payment gateway.
Powerful plug-in apps.
Top-rated third-party apps, seamlessly integrated to maximise revenue and conversion.
Integrated website.
Seamlessly integrate with your website, or connect to SiteMinder Hotel Website Design, for up to 20% more conversions.
Competitor and rate parity insights.
Win in your local market with, real-time data to price your rooms just right.
Effortless metasearch bookings.
Be seen on top metasearch sites like Google Hotel Ads, Trivago and TripAdvisor with Demand Plus.
There are a number of reasons to work on winning more direct bookings – reducing OTA commission fees is just one of them!
Direct bookings are also valuable to your hotel for:
Building personal relationships – Direct bookings let you own the guest experience from start to finish.
Pre-stay revenue opportunities – Capitalise on the anticipation of your guest with pre-stay communication and offers.
Cementing guest loyalty – Utilise post-stay messaging to remind guests of their great experience and incentivise them for future stays.
Gathering data – Collecting guest feedback and creating guest profiles are vital to helping inform your marketing and targeting efforts.
So what are some ways you can capture more direct bookings and earn extra revenue in the process?
---
Table of contents
---
Make your offers unique.
While it may be tempting to increase efficiency by standardising your sales and marketing, it won't help you stand out in an age where guests want personalisation, customisation, and creativity.
You need to offer guests something outside the norm, but at the same time make it authentic to your brand and your property so guests will enjoy a genuine experience.
Some ways to achieve this include:
Understanding your audience – The more targeted you can get with your offers, the more likely it is that it will resonate with potential guests. Know who your most common demographic is and ensure your messaging aligns with their motivations.
Incentivise your guests to get them over the line – For example, most guests won't refuse the offer of a room upgrade if they book direct. This won't break your bank but will get the guest through the door, make them feel special, and allow them to spend extra money at your property.
Focus on what makes your property special – Every hotel has a drawcard – maybe it's the distinctive architecture, maybe it's the themed rooms, maybe it's the proximity to famous attractions. Whatever it may be, make sure your marketing zeroes in on what is most unique about your hotel and get guests excited to book with you.
Be original with your promotions – A percentage-off promotion isn't going to stop anyone in their tracks or make you stand out from the competition. Instead you could offer an itinerary package that comes bundled with pre-planned activities, so guests don't have to worry about a thing.
Use great content – Sometimes it's all about how you present something. Visual storytelling is especially important because it invokes the imagination of travellers and allows them to picture themselves in a scenario. Ensure you have plenty of high quality photos and show guests images and/or videos of the amazing things they can expect from a stay at your property. It's worth the expense to hire a professional to get you clean, crisp and creative imagery.
Have a clean and clear website – Guests are often scanning for features they want and deem essential. Make it easy for them to find the information they need, such as do you offer free Wi-Fi, parking options, laundry services etc? Also make sure your address and location details are easily seen.

Sweeten the deal with extras.
Extras are the perfect tie-in to direct bookings – they help enhance your guests' experience and also help you make a little extra profit via your booking engine.
Extras can come in the form of offering products, convenience, additional services, or just giving guests the luxury of choice.
Examples include:
Transport services – If guests are travelling long-haul or haven't been to your destination before, it can be stressful finding their way to your hotel. They may also not want to rent a car, so organising shuttle services for a small fee can really make things easier for them and they'll appreciate the consideration your hotel is showing them.
Products and gifts – These are great for guests looking for a special welcome or are travelling for a celebration. However you should try to source food or products from local suppliers to ensure every guest purchases something unique.
Tours and activities – Many guests appreciate the speed and convenience of one-stop shopping. Adding tours and activities to your booking options allows them to quickly purchase and organise the attractions they're most interested in. Look to build partnerships with other local businesses so everyone wins.
Choice of add-ons – When guests feel like they can customise their booking, it makes them feel like they are staying at a luxurious property. When guests are making a booking, you might charge a small fee for them to choose which view they'll get from their room, what kind of mattress and pillows they want, or brand of toiletries in their bathroom.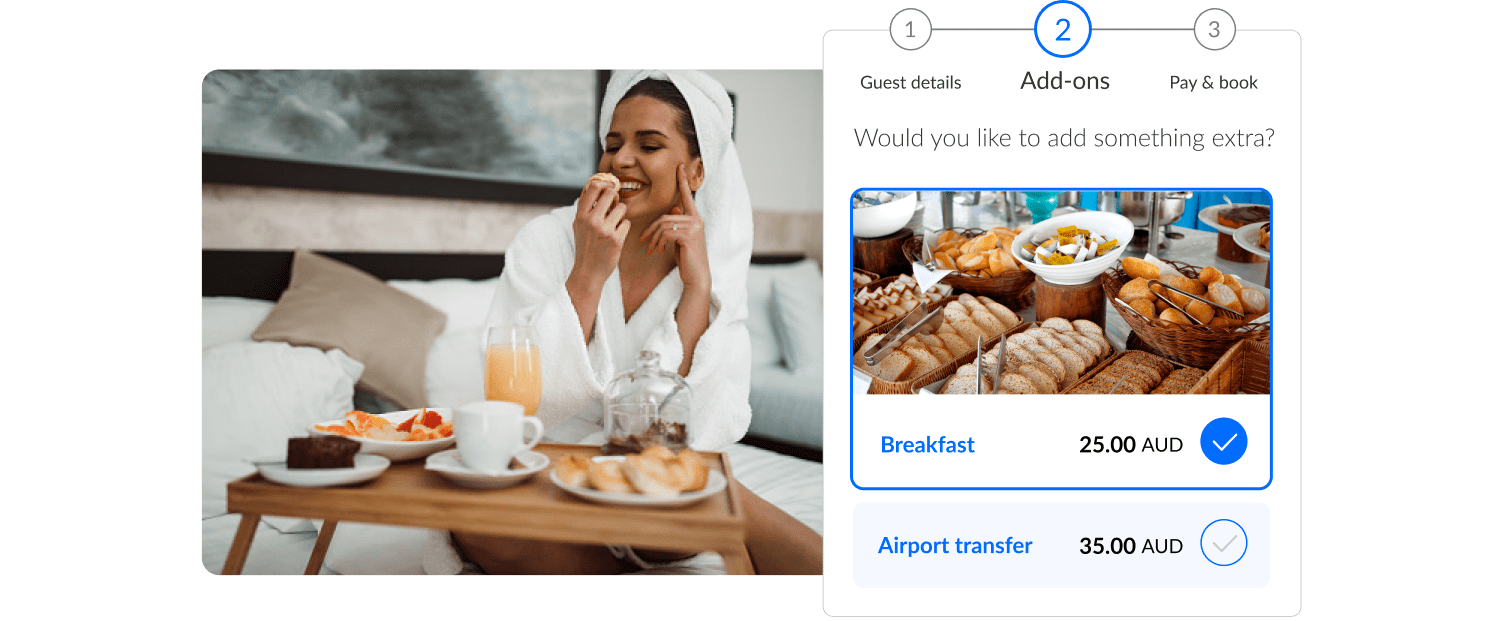 Streamline the booking process.
Guests have so many options today that it takes very little for them to abandon a booking. If a page takes one second too long to load or something seems slightly complicated, they will quickly seek better alternatives. This is why it's important for your website experience and booking process to be frictionless.
This means:
User-friendly touchpoints – It shouldn't take more than a few clicks for a guest to choose their room, add-ons, confirm, and pay.
Being mobile-friendly – A majority of guests are booking travel on the run or while commuting so it's vital that your website and booking engine are mobile optimised.
Integration – Your booking engine and website need to be seamlessly integrated to prevent any hassle for the traveller. No one wants to be redirected or be required to repeat any steps. You should also look at which direct booking plug-in apps you can use to make things easier for you or your guests. For example, you can use a plug-in that allows visitors to compare rates without leaving your site.
This is particularly important for people who are not coming directly to your website. Often travellers will find you first on your OTA profile before deciding to check out your website – otherwise known as The Billboard Effect – so they don't want to waste anymore time. They need to find information quickly and be able to make a booking easily.
Join over 39,000 hoteliers that trust SiteMinder to
grow their hotel business.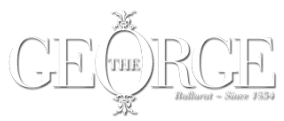 No credit card required. Cancel anytime.