Are you considering what will be the best booking engine solution for your property? Or perhaps concerned that you aren't giving your guests the best hotel booking experience and are losing direct business as a result?
Thankfully, the industry has plenty of outstanding booking engine solutions alongside Booking Suite's (or booking.com's) BookingButton, including SiteMinder's hotel booking engine.
Here's 8 reasons showing how SiteMinder's online booking engine can best meet your guests and properties website need compared to BookingButton:
1. Industry trusted online booking engine
Along with offering the industry's most powerful and popular award-winning channel manager, SiteMinder's booking engine is also among the best solutions on the market for hoteliers, backed by more than 100 reviews on HotelTechReport and ranked among the top three on the market..
Feedback speaks to ease of use, intuitive functions, modern interfaces, and helpful service. With dedicated customer support, SiteMinder's booking engine will be a welcome change from BookingButton.
2. Secure commission-free bookings
If guests choose your hotel, you can be rewarded in full. With SiteMinder's booking engine there is no commission paid on each booking, meaning you keep all the revenue you generate. You can also add value to your bookings using promo codes to give guests discounts, or create promotions such as early bird rates, package deals, long-stay discounts, or offer extras. This is additional functionality to what Booking.com's BookingButton offers.
3. Provide a seamless online experience
Your booking engine is designed to integrate perfectly with your existing hotel website and is set up for a customisable three-step booking process that makes things as simple as possible for guests, and creates faster turnover for you. Set up your rooms and rates and see it all in one easy view, and allow guests to book multiple rooms under one reservation.
Click here to see how BookingSuite's WebDirect compares with SiteMinder's website builder.
4. Attain global reach
SiteMinder connects your booking engine with Google Hotel Ads, meaning you can more easily attract the markets you want to attract.
Google Hotel Ads makes it much easier for guests to find, view, and book your hotel without ever needing to visit your website.
In addition, many international travellers prefer to book a room in their own language and currency when looking online. SiteMinder's customisable booking engine is both multilingual and enabled for multi-currencies, so there will never be any confusing translation or conversion issues.
5. Accept social media bookings
Social media is a huge factor for travellers now when researching and booking their trips. SiteMinder can easily connect with your social media pages, such as Facebook, to score you more direct bookings. This is coupled with a mobile-friendly interface to allow unrestricted access to your booking engine for any potential guests.
6. Eliminate manual entry
With complete integration with the world's top PMSs, CRSs, payment gateway options, and SiteMinder's channel manager, the booking engine will broaden your reach and save your time by automating your availability and reservation updates. It also has a direct payment gateway, making it even easier to process your direct reservations. Such integration is not enjoyed with BookingSuite's BookingButton.
7. Reporting and data analysis made easy
Knowing where your traffic is coming from, and discovering your direct booking trends is paramount to continued success for your hotel. Generate reports within your booking engine and Google Analytics to study your conversion rates and ROI to improve your targeting strategy. Rate parity reporting also allows you to ensure you are always promoting the best deal on your direct channel, and to take immediate action with an OTA should there be any pricing discrepancies.
8. Give guests the personal touch
You can build a really positive relationship with your guests through customisable automatic email nurture prior to their arrival, during their stay, and after their departure. You can also customise SiteMinder's booking engine to suit your brand. Choose your own banner image and gallery photos to make it your own. Furthermore, integration with Google Maps allows guests to easily locate exactly where you are.
To make the customer journey even smoother, you can connect to a variety of guest-focused applications via SiteMinder's Hotel App Store.
9. Boost your upselling revenue with extras & promotions
SiteMinder gives you the opportunity to offer your guests a whole range of enticing goodies. Common options hotels use include:
Shuttle services to and from your hotel for guests arriving by plane
Product and gift additions to a room such as champagne, local fruit, local wine, or chocolates
Tours and activities to capitalise on the local attractions that your guests would want to visit anyway
Urgency messages are another feature you can take advantage of, e.g 'Hurry! Only 5 rooms left.' All of this will appeal to guests who focus on one-stop shopping and those who enjoy being pampered.
Key comparisons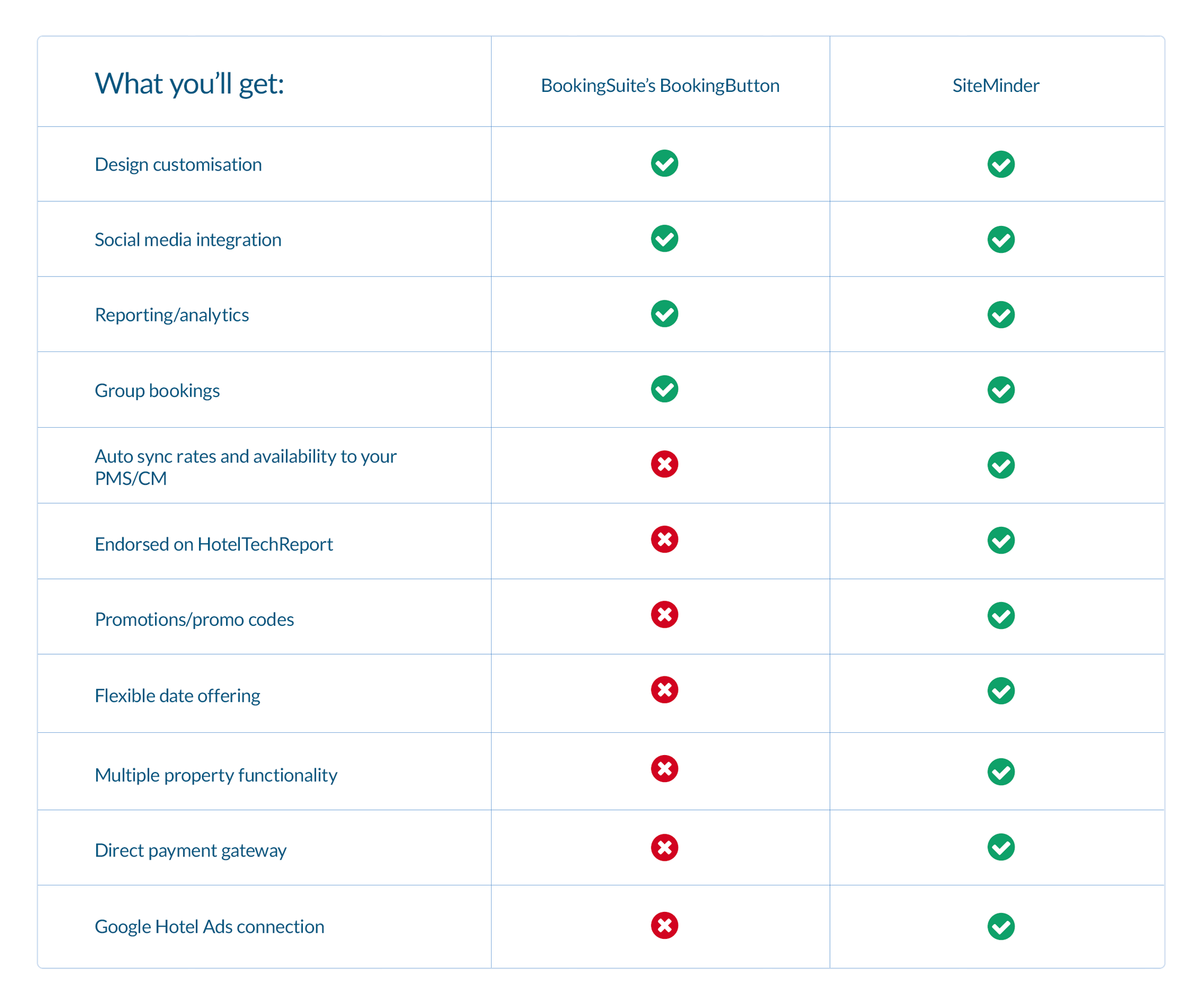 Click here to see a demonstration of SiteMinder's online booking engine
Click here to start a free trial of SiteMinder's online booking engine