What is a hotel booking engine?
In simple terms, a hotel booking engine is an application on hotel websites and social media pages to capture and process direct online reservations.
An online booking engine is your key to commission-free direct bookings; a way to optimise your property's sales strategy and maximise profit.
With most travellers today now booking their stays online, hotels have had to become reliant on online travel agents to deliver them reservations. Listing on them includes the benefits of reaching large, new, audiences and increasing bookings but each reservation requires a commission fee to be paid to the third-party. When this fee starts to creep up over 20%, it becomes incredibly frustrating for hotels, especially independent operators, as they see their profits melt away.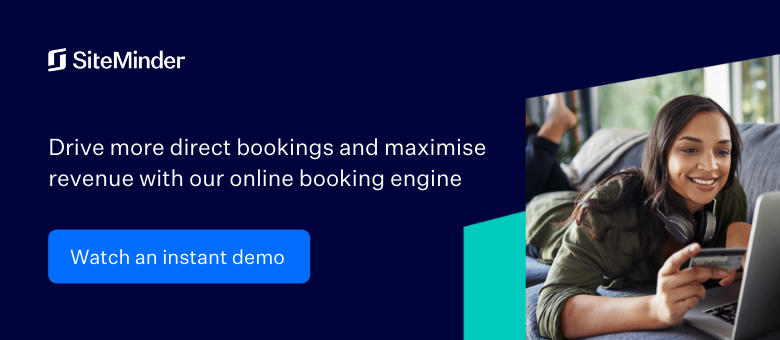 A hotel booking engine is a way for hotels to fight the OTA dominance, necessary though it may be.
This blog will give you a detailed rundown of booking engines in the hotel industry, including how they work, how your hotel can use them to advantage, and everything you need to know about providers, price, and features.
How does an online booking engine work?
An online booking engine works by plugging into your hotel website and processing secure online reservations made through the website. The data is then passed onto your property management system so you can access and manage the bookings.
It's a highly convenient way for travellers to make a reservation. The booking engine will display your rates and availability in real-time and allows guests to select their dates and finalise the reservation. Other features may come with it – for example, the automation of reservation confirmation emails.
A booking engine can also integrate with a channel manager, so it can operate and be managed in the same manner as the online travel agents you connect to.
Online booking definition
Online booking is a convenient way for travellers to research and book their holidays or work trips. They'll use the internet to browse travel websites and look for hotels, flights, car rental, guided tours, attractions, and more.
Using online booking methods, travellers can often book and organise an entire trip in one sitting – sometimes from a single website. They can also plan and build itineraries for their trip.
An online booking tool is a tool used by organisations to manage their business travel online. As well as making bookings, online booking tools usually allow organisations to view real-time data on their business travel spend, track their travellers online and enforce business travel policy.
Online booking is now the best way for travellers to book and securely pay for their travel. It streamlines the process for you and your guests. It's also vital for increasing exposure and gets you on the road to more bookings.
The necessity of an internet booking engine
No matter the size of your hotel, you need to allow guests to book rooms online if you want to remain competitive and stay open for business
Travellers have come to expect this functionality from modern-day accommodation providers, appreciating the convenience and security it provides.
This is because:
Guests can easily self-serve – Travellers can check which rooms are available when, and for how much, without ever speaking to you.
Guests trust online booking – When guests make a booking, your booking engine can securely accept credit card payments, and guest data is safely stored and accessible in one place.
Guests can book quicker – Online booking puts an end to games of phone or email tag, with travellers and hotels liaising for days before confirming a booking.
Guests look for direct booking perks – People will often head to your website in the hopes that if they book direct they'll get something a little extra added to their stay. This is a trade-off many properties will make to save on paying third-party commissions.
It's more professional – Modern guests will be surprised if they can't perform an online booking on your website. It's likely to give them the impression that you're not organised and they'll end up booking another property.
The outlet an internet booking engine provides your property for bookings that are all your own is invaluable. When guests book direct, you own all this data and you own the relationship. Once a guest books direct you can do everything in your power to make them a return visitor and ensure they book direct every time they visit you. Without an internet booking engine, this can't happen.
In a sense you can improve the profitability of every guest, one by one, just by securing their direct booking and earning their loyalty.

Benefits of booking engine software
While the core message around booking engine software is direct bookings, there's a whole lot more potential than that.
With the right booking engine in place:
You can increase conversions with a simple guest booking experience
You can save time with quick and easy setup
You can eliminate manual entry with instant integration
You can make better decisions with data
You can gain an advantage over competitors who don't have one
Here's a range of benefits in more detail that booking engine software can provide hoteliers.
It improves your efficiency as a business
With PMS and channel manager integration your availability is updated immediately upon receiving a reservation, not only in your own system, but across all of your channels.
It simplifies the administrative process for you and your staff
Rather than requiring you to respond to email inquiries and accept reservations over the phone, an online booking system does the work for you. You can then spend more time interacting with your guests and keep the rest of the staff more organised and efficient, because everyone will have access to live information about the current occupancy at the hotel.It allows you to collect valuable data about your guests
Data collection is absolutely critical, especially in the hotel industry where guests are demanding a more personalised experience. Guest data can help you tailor your marketing campaigns to attract the most motivated guests to your hotel brand.
It directly improves the guest experience at your property
A cloud-based system allows your guests to book their preferred room type on their computers, from their tablets or on their phones. With short forms and secure payment portals, it makes the process of online booking a room simple, easy and enjoyable. Remember, this is their first impression of your hotel and it will have a lasting impact on their perception of your brand. It should be user-friendly if your guests will complete the process and book online.
Why your website needs a booking engine
Think about every successful relationship, working or otherwise, that you've ever had. It's likely that a common denominator throughout all of them has been effective communication and cooperation.
The same principles should apply to your hotel business. If your systems are not syncing together seamlessly in real-time, the probability of them working as you'd like is low, at best.
The two most prominent cogs in the machine are your website and booking engine. Unless you want errors, erratic results, and confused or cranky customers, these two systems must sync with each other.
To be optimised:
An online booking engine must be synchronised with your website
Your website needs to display a 'Book Now' button
The experience of your website and booking engine need to align on functionality and performance
Design quality on your website must also be reflected on the booking engine and vice versa
Your website will be HTTPS secure with an updated SSL certificate
Benefits gained from website and booking engine integration are numerous. They include:
The ability to stay on par with the booking experience on OTAs, which is important if your hotel wants to remain a viable booking alternative to the third-party channels
A consistently mobile-friendly platform which will help reduce user friction
A quick and functional experience for guests given they won't have to repeat actions or input the same information more than once
A much easier way to manage rates and reservations since you won't have to do any manual processing between the two systems, eliminating accidental errors
Greater success with search engine optimisation because your content and functionality will be optimised on both your website and booking engine
More traffic, more regularly, to your booking engine flowing straight from your website in a single click
Integration is something you should always keep in mind, no matter what systems you're using.
Features to look for in a hotel booking system
As with any product you purchase for your hotel, quality will vary along with the price. Obviously you'll want the basics covered at a minimum.
Here's a number of booking engine features you should expect.
Up to 25 photos in your image gallery
After you have done all the hard work of doing up your beautiful hotel and its rooms, you'll want to showcase them. It's already an established fact that visual experience through image galleries is one of the top factors to get guests over the line when booking. Being able to add a lot of high-resolution images to your gallery is important if you want to entice guests to book.
Banner images
What is the first thing that you notice on a website? Isn't it the banner image that steals the show for first impressions? Your booking engine should allow you to display an exciting banner image.
Social media connection
A booking engine should connect with your social media pages, so you can effortlessly drive your social media followers to book via your direct channel rather than OTAs.
Room order auto optimisation
When you want your guests to have seamless and hassle-free booking experience, the best you can do is to present them with the options they searched for. This feature displays the rooms according to your guest's search criteria on the top of the search results, making it quick and easy for them to book.
Intuitive booking summary
Whenever a guest chooses a room that is not close to the search criteria, a booking summary can alert the guests with a message that the rooms they selected do not match what they were looking for. This way, your guests are constantly engaged and guided to make the best choices for them.
Google Analytics integration
When you have a hotel business and most of your bookings are coming from online, you need to know exactly where they are coming from, and where your website visitors are exiting from. Data can be crucial in analysing the success of your hotel website, so your booking engine should empower you with Google Analytics integration to keep track of your website visits and make decisions based on crucial data.
Promotion codes
You can always be a step ahead of your competitors by attracting more customers with the help of promotion codes. A booking engine should enable you to create your own promotions and give a code to your customers to avail discounts. You can have something special going on during school holidays, local festivals, or even corporate promotions, and sell your rooms much faster with value-for-money offers.
Multilingual
The hotel industry is one of the most diverse in the world. Since the hospitality business involves such a wide customer base from various regions and countries globally, your customers should be able to select the language they wish and have a smooth booking process without any language barriers.
Multi-currency
Where there are multiple languages, there are multiple currencies too! Setting up your booking engine to receive payments in your local currency should be easy.
Extras
Extras are a great way to upsell your rooms. These are the items or services that you can sell along with a room for an extra fee. You can actually keep the basic room rate low and earn from extras. Say your lowest rate is priced at $100, you can offer an extra massage worth $40 with the room for a more attractive offer for the guest.
Hide unavailable rooms
Sometimes, your customers can be turned off or navigate away from your hotel website because they see more unavailable rooms than available ones. Well, you don't always have to show what's not available – instead, present them with all you have and let guests choose from the list.
Quick and simple reservation process
Your booking engine should offer a short form for your guests to fill out when they are ready to book a room. They should not be redirected to a different site to complete their reservation or process their payment.
Mobile friendly
The number of mobile bookings throughout the industry continues to increase with each passing year so your hotel booking software needs to allow you to accept mobile bookings.
8 reasons you need an online hotel booking system
There's a lot of arguments for adopting an online booking system for your hotel and not many against. Let's cement the advantages and identify the issues you have at the property that can be solved by this technology.
You need an online hotel booking system:
1. So you your property is instantly bookable through your hotel website
Research shows that most guests will look at both OTAs and the property website to inform their decision. By presenting an easy way for them to book right on your page, you increase the chances that when they're ready to reserve, they'll do it directly with you.
2. So you're not entirely dependent on OTAs
OTAs are a great way of getting your name out there. Your property shows up on search results for your destination, and guests find your presence there trustworthy, but it can limit your revenue to have all of your bookings coming through a third party. Why not take charge of your earnings by getting some of your bookings from your own channel?
3. To pay far less commission
Bookings through your property website cost you much less commission than bookings through an OTA. This means that any direct bookings will have a big impact on your bottom line.
4. To increase your bookings
There are many reasons guests are more likely to book your property when you have an embedded booking engine. For one, your booking engine is open 24/7 while your front desk may not be, so customers can book regardless of personal factors like time zones. Secondly, once travellers land on your site, the engine makes it easy for them to just click and reserve – rather than going back to the OTA to book and getting distracted by other options.
5. So you can easily accept credit cards and process payments
A major plus of an online booking system is that guests can pay directly by credit card and the system will automatically process the reservation details – saving you time and hassle. This includes extra payments like deposits or charges for additional services such as breakfast and cleaning fees.
6. To control the guest experience through the entire customer journey
From the moment a potential customer lands on your property website, they only interact with the content you have chosen. That means you can use your own branding throughout the process, and play a key role in making their user experience a positive one.
7. To allow guests to pay in their own language and currency
An online booking engine can enable your customers to book in the language they feel most comfortable in, and pay in the currency that makes the most sense for them. This gives them the comfort and ease-of-use most customers hope for, and sets their expectations even before they arrive at your property.
8. So you have flexibility on the type of promotions you offer
Your booking engine can easily set up last-minute deals and extended stay discounts with the click of a button. These kinds of offers increase loyalty and the likelihood that your guests will have a positive experience and leave a good review.
How to choose hotel booking software
The hotel technology space can be quite a saturated market and many hotel booking system providers exist. You need to ask yourself questions about what you require, and then ask hotel booking software vendors if they can meet what you need. Value for money is always top of mind when making an investment of this kind.
There are the hotel booking engine best practices that you need to consider when you are comparing your hotel booking engine design with other booking engines that are on the market.
So what should you look for in your booking engine when surveying your options?
Customisation to your hotel's brand to ensure the reservation experience is seamless
A simple booking process (no more than two steps)
Multi-language and currency capabilities to convert international guests
Mobile-friendly and able to reach travellers on-the-go
The ability to upsell so you can offer a more personalised stay and increase revenue per guest
Google Maps integration so guests know how to find you
Customisable emails – confirmation, pre-arrival, during and post departure
Complete integration with PMSs and CRSs to instantly update your rates, availability, and special offers
Payment gateway options to facilitate real-time payments directly into your bank account
Integration with all of your booking sites through a channel manager
Google Analytics, Google Adwords and eCommerce tracking so you can analyse direct booking trends
There should be a visible, eye-catching 'Book Now' button that is followed by a short, simple form that includes a payment processing component
There are also a few non-functional features that can make a big difference such as the use of encryption to avoid bots from booking, users being helped to fill in mandatory fields, search results populating within a reasonable timeframe, and an easy way to keep track of documentation.
Free hotel booking software
Hotel booking software won't be free forever, but you can secure free trial periods through some providers.
A free trial will enable you to experience the full set of benefits of the software without committing to a payment. This allows you to drop off at anytime if you aren't satisfied.
Through a free trial period of 14 days your chosen provider should help you with setup, training, and support. The process shouldn't take more than a few days to get up and running. Ideally you'll be treated to around the clock support so your business never has to suffer a revenue loss.
Once the free trial is over, a good provider will give you the option of a flat monthly fee for the software – not a lock-in contract. The quality of the product needs to speak for itself and you need to feel comfortable using it and in the results it delivers.
Key takeaways
A hotel booking engine is an application on hotel websites and social media pages to capture and process direct online reservations.
An online booking engine works by plugging into your hotel website and processing secure online reservations made through the website. The data is then passed onto your property management system.
Travellers have come to expect this functionality from modern-day accommodation providers, appreciating the convenience and security it provides.
Unless you want errors, erratic results, and confused or cranky customers, your booking engines and website must sync with each other.
You should carefully research the features and benefits of hotel booking software.
You need to ask yourself questions about what you require, and then ask hotel booking software vendors if they can meet what you need.
A free trial will enable you to experience the full set of benefits of the software without committing to a payment.