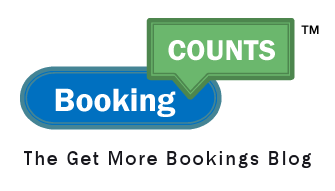 In the modern age of online hotel bookings, the battle for hotels to maximise the benefit from direct bookings is neverending. It's a fight that requires acrobatic balance, because hotels don't want to burn bridges with their 'frenemies'; the online travel agents of the world such as Booking.com or Expedia.
OTAs are extremely valuable in delivering a steady revenue stream to properties that connect and optimise a profile with them. However, some of the high commissions for bookings have long been a thorn in the side for hoteliers. Finding the perfect balance between the two is a delicate task but it certainly doesn't hurt for hotels to be always striving for as many direct bookings as possible. There are many methods to achieve this and many ways to execute them, sometimes making it difficult for hoteliers to develop a working strategy.
That's why SiteMinder's Dean Elphick spoke to Scott Petoff, founder of BookingCounts. Scott leverages his travel software development and trip planning expertise to deliver booking optimisation strategies to independent hoteliers. With the help of BookingCounts, properties can increase their look-to-book ratios and convert more bookings now and later.
In this interview Scott reveals the best practices hotels can use to convert more direct bookings than ever before.
The changing dynamic of direct bookings and first steps for hoteliers
In the current span of time, the rate of progress in any industry is almost exponential. The past five years have seen the hotel industry embrace technology and also find new approaches to direct bookings, Scott says.
"One major trend I've seen, and it's a welcoming sign, is that more hotels are offering real-time availability and integrated booking engines on their websites. Although, simultaneously, the OTAs are expanding their dominance of the hotel booking marketplace."
"I think this trend will continue into the future too," he remarks. "OTAs will do more to innovate and build loyalty, while smart hoteliers will be successful in driving more direct bookings. To take advantage of both channels, they must optimise for direct and OTA bookings in the same way they must optimise for Google SEO and TripAdvisor reviews."

So how should you kick-off developing direct bookings strategies at your hotel? According to Scott, you should start by strengthening your marketing and growing your pool of prospects so potential guests are not lost forever.
"It's about capturing leads via targeted email marketing. The goal is to engage website visitors who are not ready to book now and use the opportunity to get them to return later. For this to work, your email messaging has to promote real and valuable advantages," Scott says.
"Therefore the first step I advise is to implement an email capture form on what are called 'Exit Pages'. These are pages identified by Google Analytics as the most popular final web pages that visitors view before browsing to another website. With an embedded form or pop-up, a hotel can send out an instant email containing a hotel fact sheet with a link to return to book direct when they are ready. Whether the traveller needs to talk with their family, check their work calendar, book flights first, or just think about it, booking later happens more often than you think."
Hotels need to re-engage website visitors who are not ready to book now with remarketing.
Click to tweet
Knowing and responding to the preferences of travellers
More and more, getting to know customers on a personal level is the key to not only capturing their business, but keeping it. Understanding where to find data and analyse it is vital, Scott comments.
"Since email and remarketing are powerful tools when it comes to direct booking optimisation, we all have to understand how travellers search for hotels, which travel sites they prefer, and the typical booking conversion cycle. Many of these statistics can be gathered from booking and website analytics data, but others require that you pay attention to industry research reports and survey your past guests.

"For example, by knowing the average number of days between the hotel research phase and the hotel booking phase a hotelier can construct their email remarketing campaign to match. This might mean sending an email a day later, a week later, and two weeks later in addition to employing remarketing ad campaigns with Google or Facebook to further remind users to book a room direct."
Content can prove a powerful way of capitalising on traveller data and ensuring they stay interested in your hotel, providing you have an idea of what will resonate, Scott explains.
"I'm personally excited about travel blogs, which have come a long way and there are professional travel bloggers who are a good fit for any hotel brand. My advice is to search for travel blogs that cover your hotel's destination, or travel bloggers who write for the demographic you want to target, and follow them via email and social media. This way you'll know what content works.
"Starting a blog is a great idea because it proves the hotelier is a destination expert. Ideally, the blog will answer the most popular questions from trip planners, without ever getting stale or repetitive. As with all travel content publishing initiatives, you're going to have to share and engage on social media channels to expand your reach and deliver more qualified traffic," Scott advises.

Getting the most out of your hotel website and SEO
Despite the intense competition between hotels, there are certain website and SEO practices that are proven to give your hotel a better chance of attracting traffic – and subsequent bookings. For Scott, it's about combining multiple features for maximum impact.
"Placing focus on useful content, SEO, and social media engagement seems to be a winning combination to rank highly for the questions travellers want answered," he says. "For a hotel those questions might be ones like "Which hotel is the best in Sydney" or "book resort in the south of France near the beach" for example. Hotel SEO can't be done properly unless the list of targeted long-tail keywords are identified and tracked.
"As for the website, I believe we're at a point where an online booking engine which shows live room availability is essential for hotels. People are often busy and easily distracted when shopping online. It would be a shame for a hotel to pay for a stunning, optimised website that can convert, only to fail due to the lack of a booking button. If a hotel is interested in increasing their direct booking rate, a live booking engine is essential."
"Once that is done a hotel marketer can focus on the more challenging SEO, travel content marketing, and direct booking optimisation techniques."

The benefit of upgraded technology and looking ahead
At this point, halting or avoiding the onset of technological progress is like stopping a runaway train. That's what hoteliers need to realise sooner rather than later and embrace change, for the good of their entire business. Scott explains that the integration of systems is paramount when purchasing new technology.
"Always focus on integration. Not only software integration but business process integration. A simple example is a chat widget that allows website visitors to ask a question while browsing a website. If hotel management doesn't make new technology an integral part of staff responsibility across functions, bookings can be lost due to non-response. Digital solutions are a way for hotels to evolve and better serve the needs of travellers who want to book when they want and how they want, such as on mobile."
To make the most out of any direct bookings solution, Scott insists it's imperative to plan long-term and have specific goals in mind.
"It helps to write down where direct bookings are today and where you want them to be next year and in future years. Once a hotel website has reached the stage where it is well-designed, has quality content, is search engine optimised, and offers a 'Book Now' button, remarketing is always a smart next action to consider," he says.
"Any hotel direct booking business plan should document technology solutions, SEO techniques, social media campaigns, advertising programs, and email remarketing funnels. The average independent hotelier will not have the time or budget or ability to implement all these solutions, so prioritisation will be a key part of the business planning process."
You can read more of Scott's hotel booking optimisation advice on the BookingCounts.com blog.