The range of services you offer your hotel guests, and the quality of those services, is obviously crucial to the success of your business. This makes amenities an ever consuming consideration for you.
Amenities come in all shapes, sizes and functions. The form the amenities at your hotel take will depend on what demographics you target, what your guests are asking for, your budget, and competition within the local market.
This blog will take you through everything you need to know about managing amenities at your hotel and using them to improve the guest experience.
Why are hotel amenities so important?
Hotel amenities can make or break the stay for a guest, and can be the reason they leave positive feedback or even choose to book in the first place.
Your amenities can be what sets you apart from competition, and how you can provide a memorable experience.
With this in mind, it's vital to make the right choices around what amenities you install in your rooms or around your property. What will you charge? What will you class as an add-on, extra, or perk? What amenities should be free essentials?
Two things to remember are:
That an amenity can be something as simple as a microwave or as big as a gym
Don't overestimate the importance guests place on fancy or gimmicky amenities
This second point should be emphasised. The majority of guests will nominate cleanliness as their number one requirement when staying in a hotel room. Even years prior to COVID-19, some studies found 97% of guests considered cleanliness the most important factor. No amount of fancy, convenient, or luxurious amenities will make them look the other way if they're dissatisfied with the quality of their room. Another related factor is that guests today see a feature like Wi-Fi as a given, not something they should pay for or sign up to a loyalty program to access.
Always make it a priority to match the amenities you offer to the travellers you are targeting or expect to visit your hotel. If you provide guests with everything they want, their perception will be that they've had the perfect stay, resulting in better reviews, higher demand, and a chance to raise your rates.
Hotel amenities ideas for your property
The amenities at your hotel should always reflect your brand and your guest segments, but of course there's lots of flexibility within this framework.
Think about what your hotel stands for. Is it renowned for:
Quality on a budget?
Comfort and convenience for business guests?
Boutique luxury?
Family friendly?
A unique tourist attraction itself?
List out the defining qualities of your property and make sure your amenities align with them. This will ensure the guests you want to attract will be more likely to book and provide positive reviews. At the end of the day, you want to give your guests the perfect experience, and that begins with winning the right ones over. There may be nothing wrong with anything you do, but will a family care about heated bathroom floors if there are no parenting facilities? Setting expectations and marketing effectively is a crucial first step to your hotel amenities being a successful feature of your property.
Here are some general ideas (big and small) for amenities at your hotel:
Exercise facilities for guests who like to stay active while travelling. If you're not a hotel who can provide a gym space, maybe you could still offer exercise equipment such as weights or resistance bands in guest rooms.
Whitegoods such as a microwave or refrigerator. If guests go out to dinner or go shopping they may have food and supplies they want to reheat or store safely in their room. This isn't fancy but it's super convenient.
Various appliances such as hair dryers, hair straighteners, irons and ironing boards, and a surplus of charging outlets. Perhaps you also have phone chargers or toothbrushes available on request for those forgetful guests who packed in a rush. Again, not fancy but a convenience guests will really appreciate.
Spas, pools, saunas, and bars – afterall, most guests are excited to relax and unwind while at the hotel. Being able to sit back and enjoy their time will have them in a great frame of mind.
Creating packages with choice: To really give guests what they desire, offer them a shopping cart experience when booking. E.g let them upgrade to a room with a balcony, choose what floor their room is on, what they specifically want stocked in their mini-bar or fridge, choice of pillow and mattress firmness etc
Surprise and delight guests with novel touches. Try to partner with a local retailer and give guests a product in their room. This might be a pair of running shoes to go exploring in, hats and beach towels, or a backpack.
Keep in mind that post-COVID guests will want to have health promoting, calming, experiences.
Need help setting up offers and upsells? Visit the hotel app store to see who can help.

It's also a good idea to give guests plenty of information about your amenities beforehand so they know what they're paying for. Provide guests with great photographs of amenities, facilities and each room type, as well as an explanation of their features. Online bookers love slideshows and image galleries. It's important you are clear about your location; don't just provide an address as not all guests know the area. Let guests know where you're located in proximity to shopping districts, tourist destinations and other points of interest.
Luxury and high end hotel amenities examples
Luxury guests clearly come with their own set of expectations but just like any travellers they want to know their spend was worth it. They're paying good money and expect to be wowed and pampered during their stay.
They are probably less independent and hands-on than some guests so the basics a family or budget traveller will love are considered sub-par by a luxury traveller. They'll expect your staff to attend to every need. On the other hand luxury can mean different things to different people. Some guests may simply appreciate an extreme sense of comfort and timeliness, others will want ultimate decadence, and others will favour personalisation above all.
An example of small but powerful touches that can add to the luxury experience is done by Viceroy Riviera Maya in Mexico, which sends a soap concierge to each villa so guests can handpick the organic, fragrant soap they'll use in their room.
Some other ideas include:
Room purification to ensure guests with allergies feel comfortable
A taste of local flavour or history – leave something in your guests room that gives them an exclusive piece of the local community to savour or take an interest in.
Replacing the mini-bar with a cocktail bar
Handwritten notes and handcrafted goods will stand out in a world now dominated by online interactions
Organise private or VIP shopping experiences with local vendors
Put a tablet in every room for room service, make it as easy as possible for guests to make requests
Remember that choice is always a luxury and it doesn't have to cost your hotel a whole lot to instil a sense of luxury.
Cool and creative hotel amenities to try
It always helps your hotel amenities to stand out if you can think outside the box and do things a little different to your competitors – if it makes sense of course!
The easiest to do this sometime is to take advantage of where your hotel is located.
For instance:
If the community is well known for brewing or distilling, provide tasting samples in your guest rooms with discount vouchers for guests who want to go visit the local businesses.
If there are a lot of art museums around, give guests their own canvases and paint supplies setup near a window so they can try their hand at being creative.
If there are popular music or performing venues around, put a different instrument in guest rooms to give guests a unique experience.
It can also be a great idea to tie your amenities together into different experiences across your hotel. An example of this are the rooftop beehives at the Towers of Waldorf. Small groups can explore the beehives and the hotel also uses the honey in their three-course lunch.
Other ideas that might impress guests are blackout curtains allowing them to make the room pitch dark at any time, sound proofing measures so any outside noise is eliminated, and the ability to control remotely all of their room functions such as bed height, lights, heating etc.
Need a better way to sell your packages, extras, and drive direct bookings? Try an online booking engine.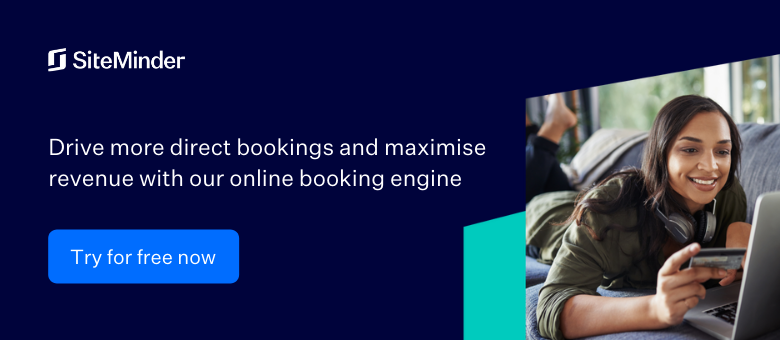 List of hotel amenities and services: From simple to sophisticated
Looking for a brain dump of amenities that you can pick and choose from to choose at your hotel?
Check out the list below for inspiration that can apply to all types of travellers and all hotel budgets, from big to small.
Mobile check-in
Tools such as ironing boards, hair dryers, hair curlers, hangars, charging ports
Complimentary coffee and water in the room
Desks and workspaces
Kitchen features such as microwave, fridge, blender
Spa and pool services
Free airport shuttle and transport services
Flexible check-in and check-out
Full range of quality toiletries
Complimentary luggage storage before and after check-in/out
Pet friendly facilities
Hands-on cooking, art/craft, or exercise classes
Communal spaces for meetings and social gatherings
In-house gyms and restaurants
Bikes and scooters to go exploring with
Locally sourced items and produce
Playgrounds and games rooms for children
You can always explore more specific ideas in the blog sections above too!
How your hotel facilities and features affect pricing
Your hotel amenities are there to enrich the guest experience and entice more bookings, but they can also directly result in more revenue for your property and impact the way you price your rooms or packages.
The way you approach it is your choice but you can charge more for in-room extras such as extra entertainment on the TV, upgraded toiletries, robes and towels, items like dryers, irons, kettles etc. Other premium offers you might charge for include priority parking, pool use, or fitness facilities. You might factor these into the room rate, put them into packages, or offer them as optional extras for purchase.
Your competitors are also a huge factor. You can price competitively by knowing what you can offer that your competitors can't! If you're the only hotel in town with a pool or restaurant for example, that's an easy and natural win in terms of increasing your rates.
Hotel amenities: Key Takeaways (TL;DR)
Your amenities can be what sets you apart from competition, and how you can provide an experience that sticks in the minds of guests
No amount of fancy, convenient, or luxurious amenities will make them look the other way if they're dissatisfied with the quality of their room
List out the defining qualities of your property and make sure your amenities align with them
You want to give your guests the perfect experience, and that begins with winning the right ones over
Give guests plenty of information about your amenities beforehand
Luxury can mean different things to different people
Remember that choice is always a luxury and it doesn't have to cost your hotel a whole lot to instil a sense of luxury
Tie your amenities together into different experiences across your hotel
There are amenities that will suit all types of travellers and hotel budgets
You can price competitively by knowing what you can offer that your competitors can't