By David Chestler, EVP, Global Enterprise Sales & Business Development
It's funny how novelties can become commonplace quicker than we expect.
No more than 15 years ago we were watching robots in sci-fi films that boggled the mind and tested the limits of our imagination. Facial recognition technology, fingerprint biometrics, intelligent phones and computers that talked to people, functional artificial intelligence; all of this seemed worlds away when Tom Cruise and Will Smith were in their action movie prime.
How things have changed.
The technology dreamed up for those blockbuster productions is the same as what we see entering our reality today. Seemingly, it's taken no more time than the transition from child to adult. To the average person, it still feels unimaginable that innovation like artificial intelligence (AI) is on our doorstep.
Apple's 'Siri', the intelligent computer program that also happens to be a personal assistant, has already been around for five years. She's now being joined, and in some cases surpassed, by developments like chatbots and actual robots.
This technology is applicable to almost every industry thanks to customer interaction – a prime area for smart tech to be implemented. The travel industry is a massive target for newer, smarter, more automated, personalised, and predictive processes. In fact, as progress continues, tourism could be a world leader for cutting-edge technology and advanced AI.
Let's take a look at how this technology is infiltrating the hotel industry…
The computerised hospitality world
Messenger applications
The popularity of apps has been on the rise for a while now and will only continue as developers introduce slicker platforms. Apps have already been appropriated by many companies to provide intelligent real-time customer service without the need to place a human in position.
Facebook has 'M', Amazon has 'Alexa', Apple has created 'Viv' in addition to Siri, and Google has announced its 'Assistant' service. There are some specific to travel too, like 'Lola' and 'Pana'.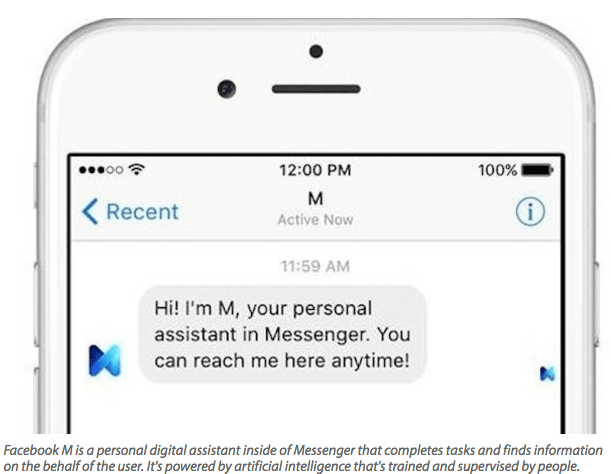 All of these apps are designed to deliver an instant concierge-style chat service to help customers plan and manage their everyday needs. They're smart enough to handle even some complex requests and they're constantly being refined to deal with more scenarios.
Parts of the travel industry are embracing them with open arms. Edwardian Hotels London employs the aptly-named virtual host Edward who can take amenities requests, give directory and review information, facilitate complaints and connect guests to an immediate call-back if they need human assistance. He's designed to respond within a few seconds.
Dutch airline KLM is using a Facebook messenger chat service to send passengers booking confirmations, notifications, and boarding pasess. This process is easily transferable to hoteliers who can maintain an ongoing dialogue with guests from the booking to check-out stages, and everything in between.
Chatbots as a service
Kayak CEO Steve Hafner believes voice and physical interaction are the only way forward, saying we'll see an increase in travellers being helped by spoken word and chatbots:
"There's a whole generation who are more familiar with text messaging and voice via Siri looking for a different interaction with an online travel agency. We've got a Facebook Messenger chatbot for example. We have voice interaction with Alexa, where you can actually talk to Kayak and say, 'Hey Kayak, what's the status of my flight to Denver later today? Where can I go this weekend for $300?'"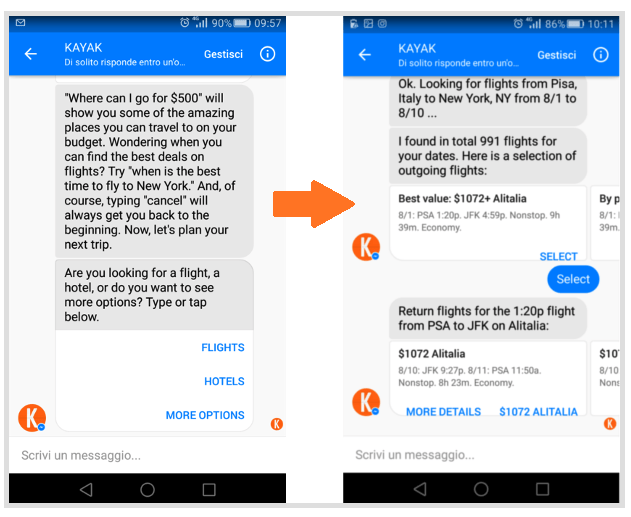 Chatbots are meant to engage customers in a 'live' scenario without the need to trade communication back and forth via email or phone. Facebook aims to use this technology to enhance its personal assistant 'M', who will be able to purchase items, have gifts delivered, and make various bookings and appointments.
Yahoo's Enrique Munoz Torres urges all companies to embrace this new opportunity: "Users are increasingly more comfortable with conversational interfaces, and they expect that systems will be able to handle complex requests."
In June, Booking.com launched a chatbot to connect hotels and travellers in two-way communication, which can be used from iOS and Android. The conversation is more natural, having been freed from templates or automated script. However, specific templates are provided to translate frequently asked questions into 42 different languages.
Robots…yes, actual robots
Here comes the fun part. Yes, real robots already exist in the travel industry.
Marriott has Mario welcoming guests, Hilton has Connie the concierge, and InterContinental has Dash transporting items between guests and staff.
On Mario, Ghent Marriott General Manager Roger Langhout says: "As soon as we saw Mario interacting with our guests we saw a smile. Nobody has seen it before."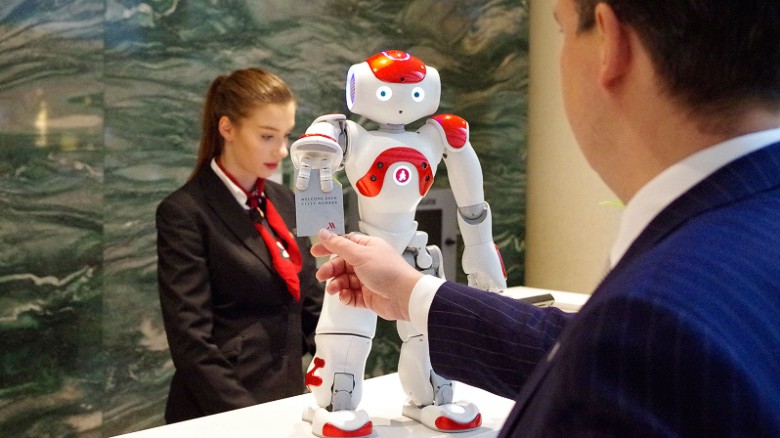 Mario spends his time helping guests check-in, giving speeches, inspecting rooms, discussing the menu, and giving presentations. Most intriguing is the effect Mario has on audience attentiveness when he is delivering speeches.
"We've found that content retention by participants is increased when Mario makes the presentation," says Langhout.
Another interesting example comes from Japan (where else?!). The Henn-na Hotel has over 100 rooms and features multilingual robots (one human woman, one dinosaur) at the front desk, a robot-arm locker service, a robot porter to transport your luggage, and facial recognition software so you don't have to worry about carrying a key.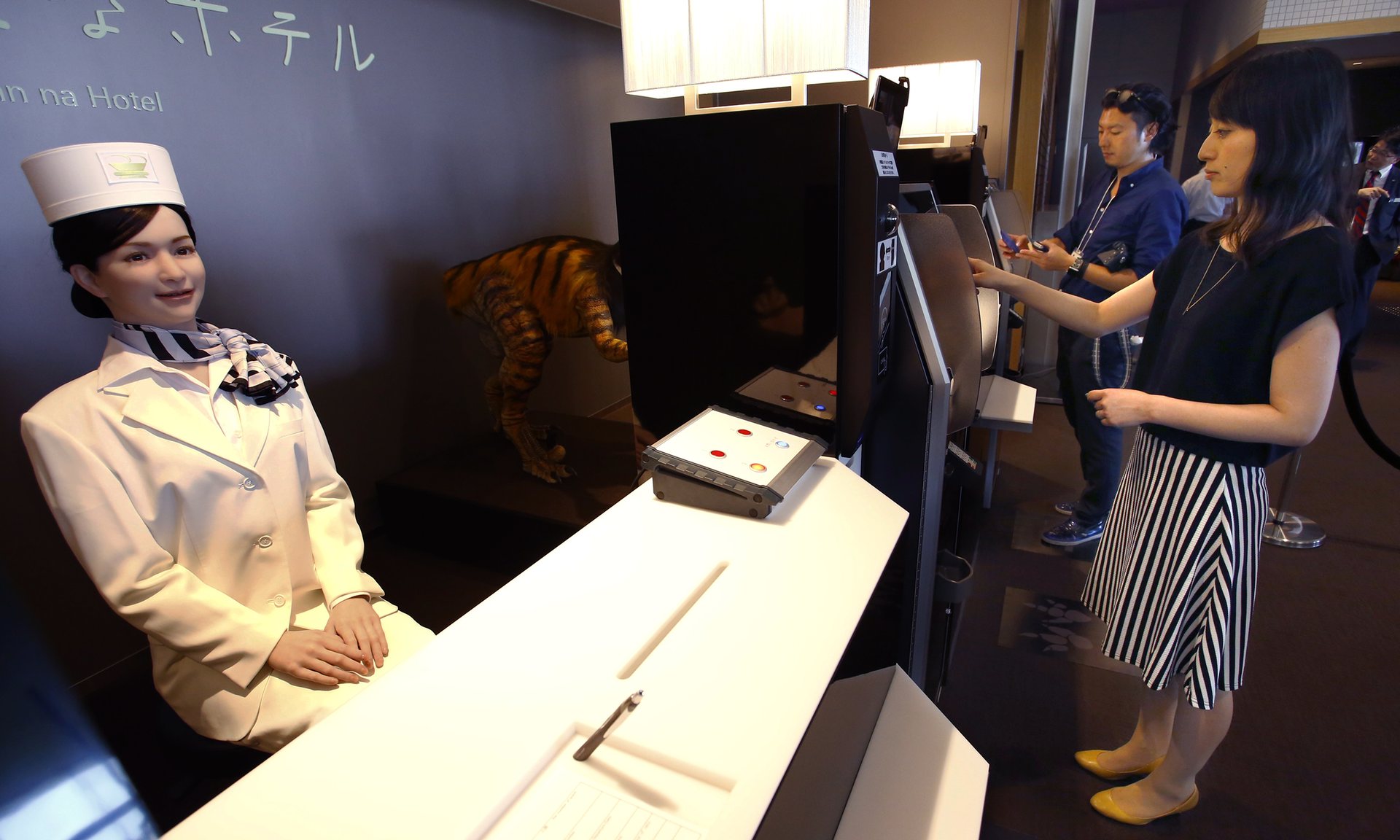 Inside the room, air-conditioning analyses your body temperature and adjusts accordingly, while you can control the other in-room facilities from a tablet device. If anything else is required you can ask the robot concierge named Tuly, who will impart a range of knowledge.
In the future, there are plans for drones to deliver room service too.
The best part? Rooms start from $80 a night making the experience available for budget travellers. Those robots clearly don't demand any wages!
How could smart technology impact the travel industry?
Obviously, any influx of mass change will have mixed reviews. Tour guides in particular may be worried about their jobs becoming automated. For instance, it's easy to imagine a robot at the front of a bus giving a history lecture – and probably without the need for a microphone.
But what about travellers? Will they still want to stay at your hotel if a human isn't there to greet them? Apparently, the answer is yes. Travelzoo conducted research and almost two-thirds of the survey respondents said they'd be comfortable being looked after by machines on their trips.
Even though AI is still in its infancy in the hotel sector, its potential is broad. With that in mind, let's look at the six major effects we think it could have…

1. A diversified booking method
Chatbots and conversational messaging will add yet another dimension to a customer's path-to-purchase. Imagine a traveller making a booking via their TV during an ad break, or on their hands-free mobile while driving. From a customer's perspective it could seem like an easier method for booking a trip, especially at the last-minute.

2. An improved pre-arrival experience
Gone will be the days of email back and forth and multiple phone calls. With a chatbot the hotel or customer need only make a conversation request and any requirements, such as booking additional services, can be finalised in an instant.

3. More on-site guest interaction
Virtual assistants will be able to fulfil any rudimentary requests from guests including food and beverage orders, amenity needs, basic complaints, and tour/directory information.

4. Sustainable teams of hotel staff
This will free up other staff to concentrate on optimising the guest experience even further and perhaps provide more luxurious features. Saving man hours will either mean increased profit or unbind money to spend on guest experience, leading to increased bookings and revenue. In seasonal lows, it may reduce the need to cut staff entirely.

5. Increased personalised data collection
If an AI is taking a traveller through the whole customer journey it will gather a raft of valuable data in the one place that can be used to incorporate more personalised services based on the preferences the guests have shown. This in turn increases the rate of return business and direct bookings.

6. Seamlessly integrated customer journeys
Messenger apps and chatbots will remove many pain points because the connection between online and offline services will become seamless. However, if it's something hotels want to take advantage of it's even more important that they have an optimised and mobile responsive website, as well as an integrated booking engine that can move with the guest throughout their complete customer journey.
The speed and innovation of technology, such as robots and AI, present hotels with a fantastic opportunity to become cutting-edge accommodation providers, giving guests an enhanced experience driven by forward-thinking service. Question is, are you ready for the robot revolution?