Hotel channel manager
Boost your bookings with the world's #1 channel manager.
The industry's most powerful channel manager, available with the world's leading hotel commerce platform. Opening up and optimising your distribution across the widest range of booking channels. At a time when every booking matters.
Tune in to the

right channels.
Be seen on Booking.com, Expedia, Airbnb and Agoda
Your bookings will surge with connections to over 450 distribution channels, including the GDS.
Say goodbye to double bookings
With instant updates between SiteMinder, your distribution channels and PMS, your available inventory will always be up to date.
Everything in one place
Save time and effort with a single place to manage your distribution, reservations and payments.
Pricing and channel insights
Leverage powerful insights to ensure your rooms are priced competitively and showcased on your best performing channels.
Take your
hotel business
to the next level.
Up to 40% more bookings*
Increase occupancy by advertising on as many of our channels as you like at no extra cost, in multiple currencies.
Voted #1 Channel Manager, 2022
Use Hotel Tech Report's Best Channel Manager, 2022 and have the world's most powerful hotel channel manager at your disposal.
Maximise revenue & keep commissions low
Take advantage of industry-leading features like yield rules and stop sells to ensure you always promote your most profitable rates.
The world's largest network of online booking channels
Easily distribute all your available rooms across the largest network of online booking channels.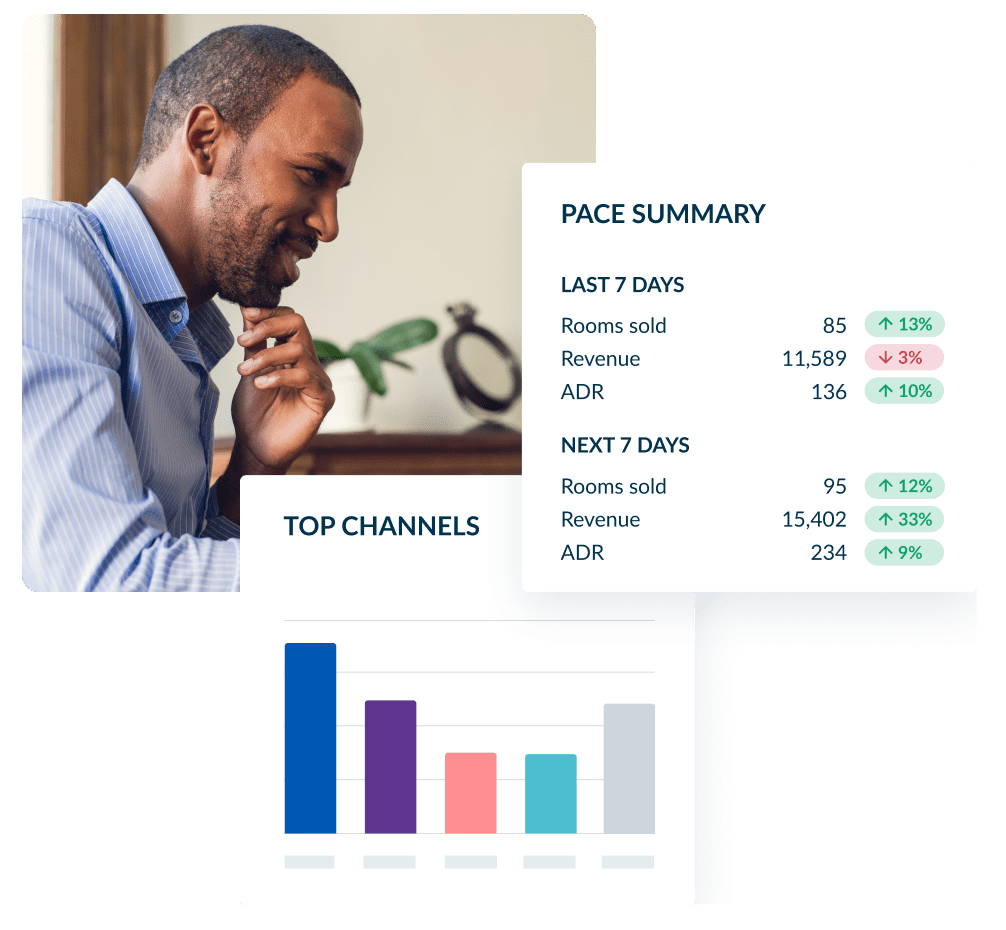 Move fast, stay in control.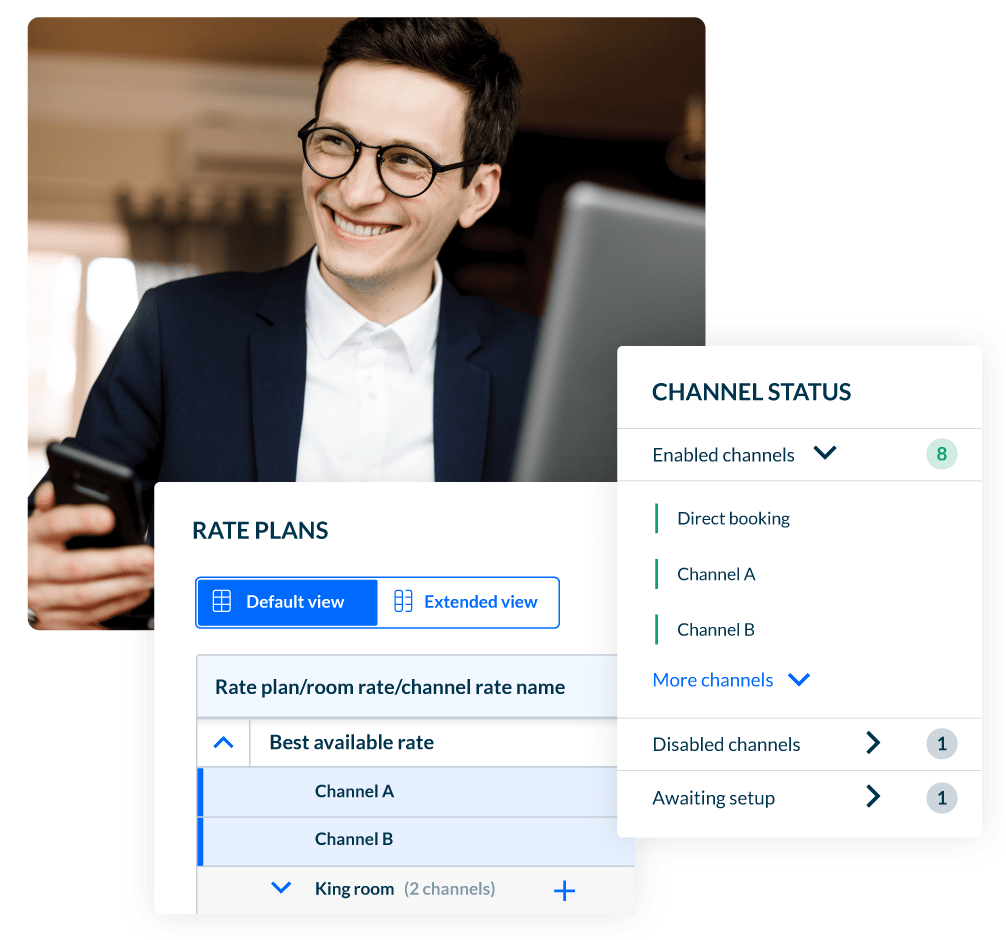 One central platform
Sell all your hotel rooms from one central location with our intuitive inventory grid and pooled inventory model, underpinned by seamless PMS integrations.
Easily update your rates
Save hours of manual work every week with intelligent rules that help you update your rates and availability in just a few clicks.
Integrated payment processing
Enjoy peace of mind thanks to automated, secure and seamless payments.
Adapt and grow, effortlessly.
Advanced insights and pace reporting
Grow faster by knowing where your bookings are coming from and what's working best for you.
Easy integrations
Already have a PMS or RMS solution? With over 350 reliable 2-way PMS and RMS connections, your systems will run in perfect sync, no matter which solution you use.
Hotel app store
Easily scale and grow with over 100 apps from best-in-class providers that integrate directly with SiteMinder.
Unparalleled reliability, scale
and performance.
Connectivity
---
2-way, reliable connectivity
Scale
---
Yearly, 105m bookings and over USD35b in hotel revenue
Uptime
---
99.95% channel manager uptime
Security
---
PCI DSS and GDPR compliant
"After choosing SiteMinder's Channel Manager all our rates are now in parity across the different OTA sites, helping their ranking, conversion and production. Choosing SiteMinder was one of the best work decisions we've ever made."

Stephanie Balazs

Managing Partner, South Beach Group

Miami, United States

"Siteminder's tools have been an incredible asset to the success of our hotel. The reporting and yielding tools are very effective and accurate. I highly recommend SiteMinder."

Sara Granito

Revenue Manager, Budget Inn Sanford Airport

Orlando, United States

"After we started using SiteMinder's Channel Manager and booking engine we saw a 30% increase in revenue. On top of that we save around 20 hours per week on manual updating. SiteMinder is an awesome product."

Ursula Dowd

General Manager, The Noble Suites

Ontario, Canada

"SiteMinder's Channel Manager has helped increase our Average Daily Rate, occupancy and overall revenue whilst reducing over-bookings and human error."

Sharath Shetty

Head of Sales and Revenue, The Central Park Hotel

London, United Kingdom

"SiteMinder's Channel Manager is efficient, intuitive and it allows for a multitude of actions to be carried out directly, without the need to request it from support."

Adrià

Hotel Ronda House

Barcelona, Spain

"The Channel Manager is easy-to-use for hotel owners of all sizes and its ability to make the difficult easy makes a big difference when it comes to online distribution."

Covadonga Rodríguez

Distribution Manager, Rusticae

Spain

"Choosing SiteMinder's Channel Manager has helped us to achieve cost and time savings as well as greater security in the reservation processes, as both human errors and overbookings were avoided."

Amaya Lacambra

Director of Commercial Strategy and Revenue Management

Vincci Hotels

"SiteMinder helped the Evidência Belverde hotel to be present in more distribution channels, to be closer to our guests and to have more visibility."

Mafalda Martins

Sales Executive, Evidência Belverde hotel

Lisbon, Portugal

"Although we haven't been working with SiteMinder's Channel Manager for quite a year yet, we have already seen a 35% increase in sales. We are very satisfied!"

Alessandro Cicconi

Managing Director, The Attimo Hotel

Stuttgart

"With SiteMinder's Channel Manager we have been able to increase our average rate, since the increased availability on all platforms has noticeably increased demand."

Chris Maitz

Innovations & Project Manager, Wombats Hostels

Berlin, Munich

"SiteMinder's easy-to-use solution allows a receptionist to modify our availability and rates, so we're immediately visible and open for bookings everywhere in the world."

Sanna Gehrke

Hotel Manager, La Malmaison

Nice, France

"SiteMinder has allowed us to automate many processes, optimise our technological infrastructure and increase sales. Honestly, a product like SiteMinder sells itself."

Angelo Vanoni

Owner, Hotel Villa Betania

Florence Italy

"SiteMinder's Channel Manager is very easy to use, fast and intuitive. The support team is always very kind and professional. I highly recommend this indispensable tool."

Gabriella Rossi

Owner, Hotel Tintoretto

Venice, Italy
See why channel management is a cornerstone of hotel commerce.
Learn why channel management is crucial for optimising your hotel's distribution, availability, and pricing.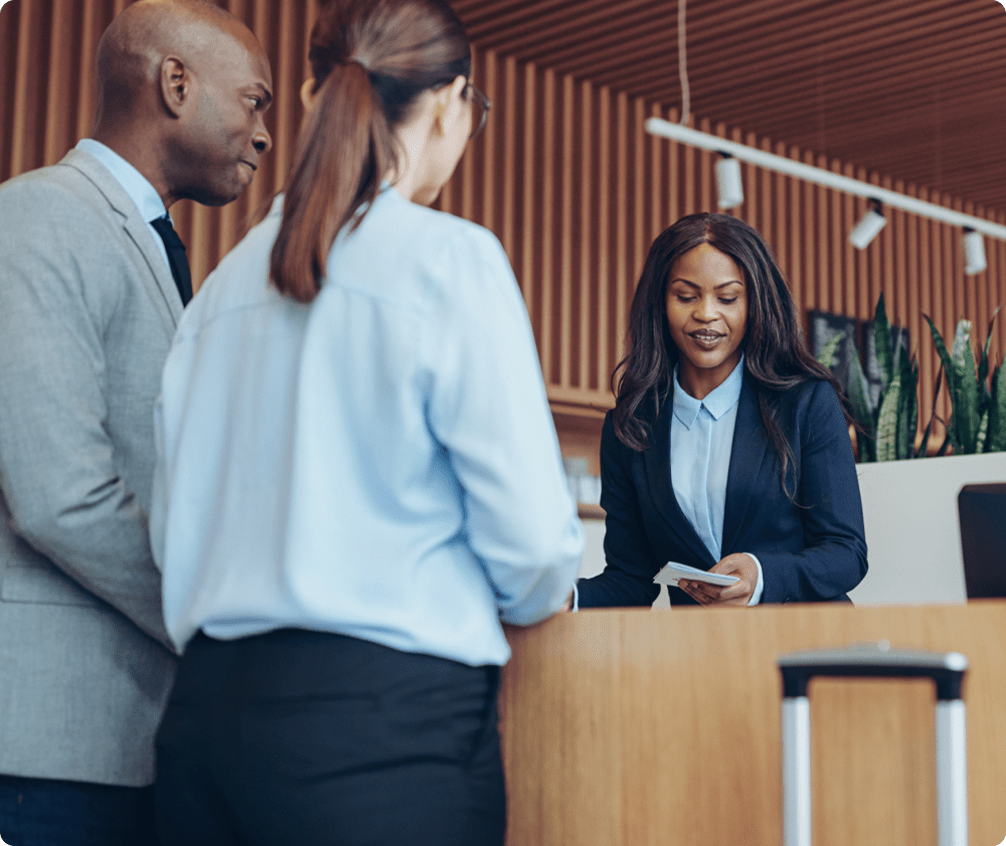 Frequently asked questions.
A channel manager allows you to sell all your rooms on all your connected booking sites (e.g. Booking.com, Expedia, the GDS, wholesale, your direct channel), at the same time. It automatically updates your availability in real-time on all sites and your PMS, when a booking is made, or when changes are made to your inventory.
Look for a channel manager that has a broad range of global connections and integrations. Seek out user-friendly, time-saving features, like bulk updates and derived rates, 2-way connectivity, easy channel mapping and insightful reporting.
We think it's a good idea. Not all channel managers have the same reliability, security, ease of use or quantity of connections and integrations for instance.
Ask questions like: Does this channel manager easily connect to the channels I need, integrate with other systems I use, have the depth and breadth of features I need? Does it make the experience user-friendly and provide the reporting I need to maximise revenue?
Importantly, you should consider the user-friendliness of the technology and service. Does it require advanced tech skills? Can you manage your direct and indirect channels from a single place? What support is available if anything goes wrong? A channel manager that meets these criteria will save you hours, minimise drain on your resources and give you the ability to quickly optimise your complete distribution strategy.
The cost will vary depending on the circumstances of your property. With SiteMinder, you'll have a fixed monthly cost based on your property's number of rooms with no additional charges to connect channels. A channel manager easily offsets its cost with the extra bookings that it will generate, the time it saves you each day and additional value-add such as channel performance insights and free-of-charge integrations with your existing software systems.