What is a channel manager?
A channel manager is a software tool that will allow your hotel to sell all your rooms on all your connected online booking sites at the same time, including online travel agents and your direct booking channel.
A channel manager will automatically update your availability in real-time on all sites when a booking is made, when you close a room to sale, or when you want to make bulk changes to your inventory.
If you are promoting your hotel rooms through multiple online channels – such as online travel agents and your own website – and are finding the task of constantly updating and adjusting your listings a nightmare, then a channel manager can help solve the problem.
With the explosion in recent years of travellers preferring to book their stays online and the rise of online booking agents such as Booking.com and Expedia, channel managers were created to help hoteliers negotiate the new marketplace without losing guests or revenue – in fact a channel manager can greatly increase the capacity for a hotel to attract bookings and maximise profit.
This blog will give you a complete rundown of hotel channel managers including definitions, uses, benefits, providers, and more.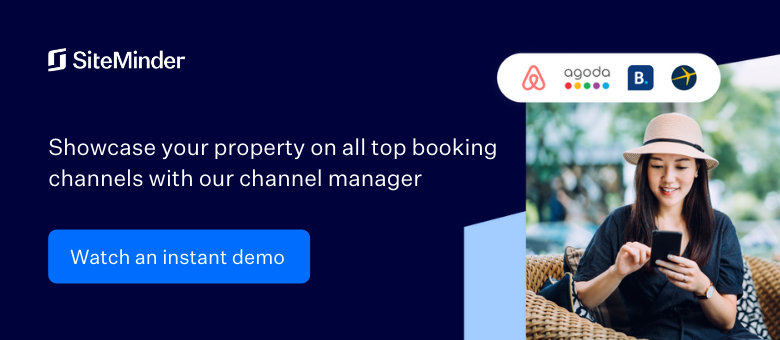 What is channel management?
Channel management in the hotel industry refers to the simple function of using a channel manager tool to list and manage your hotel inventory on a variety of booking channels.
Channel management also relates to the strategy of managing which channels you choose to list on, how you analyse the top performing channels, and how you can optimise your connections to make more revenue at your hotel.
If we take the simple approach, channel management is the process by which you will sell your inventory via online distribution channels around the world. These channels may include OTAs (Expedia), retail travel agents, metasearch engines (Google), global distribution systems (GDS), or direct channels (your website and social media pages).
This is facilitated by a single dashboard, allowing you instant access to live rates and availability without needing to access several individual extranets. In this context channel management is a process by which you can simplify and speed up the way you sell your products, namely your hotel rooms and the ancillaries you attach to them.
How does a channel manager work?
A channel works by automating and updating your hotel's inventory in real-time, sharing reservation data on a two-way basis with your property management system.
This means that when a room is booked on Booking.com, for example, the channel manager will send this data to your PMS and also update your inventory across your other connected channels, such as Expedia or Agoda.
Common hotel channel management companies
Technology, especially in the hospitality industry, is developing rapidly and there are now dozens, maybe hundreds, of viable channel management options for hotels to utilise.
These companies aren't one-size-fits-all however. The size and configuration of your hotel makes a difference when it comes to deciding what channel manager would be best suited.
It depends on factors such as:
How many rooms you have
How many different room types you have
How many channels you want to connect to
The audience you want to reach
The other applications you're already using, such as your booking engine or property management system
Your budget
SiteMinder is a world leading channel management company, perfectly suited to servicing independent hotels of 20 rooms or more and large hotel groups and chains.
The company connects to over 450 booking sites and integrates with more than 250 property management systems, making it the most well connected channel manager in the industry.
If you're a smaller property, with a smaller budget, there are also companies that specialise in servicing B&Bs, small boutique hotels, motels and guesthouses, and other small accommodations. Many of these channel managers come as part of an all-in-one system, like what is provided by Little Hotelier.
Generally, the biggest companies you come across in your research are the most reliable and are more likely to meet your needs if you do decide to look at making an investment. They've been in the game longer and operate the most sophisticated and secure technology, with global support.
How can a hotel channel manager be used to improve your hotel business?
A channel will not only make it quicker and easier to sell your hotel's rooms and manage inventory, but it will also deliver key performance reports that you can use to inform your marketing and sales strategies.
You can use it to perform many tasks when managing your hotel and its benefits are two-fold in how it can increase bookings and revenue, and enable long term business planning.
Take a look at this comprehensive list of how a channel manager can be used to benefit a hotel.
1. Increase online bookings
With telephone and walk-in bookings on the decline and online bookings on the rise, a channel manager places you in the best position to take advantage of this new traveller booking habit. Connect to more online channels, where more travellers than ever are locking in their stays.
2. Increase hotel revenue
Given a channel manager displays live rates and availability across all your channels at the same time, and updates automatically you can accept bookings faster and almost eliminate the chance of double bookings. In addition, the data you can analyse from your channel manager can ensure your rates are always optimised and you're using the most lucrative channels.
3. Reduce the risk of overbookings
Without a channel manager, you're forced to split your inventory between channels and risk double-bookings or failing to reach full occupancy. Pooled inventory and automated updates of availability and rates in real time means guests can only ever book a room that is actually available.
4. Improve brand recognition
A powerful channel manager will provide two-way unrestricted access to hundreds of booking channels where travellers who would never hear of you can now make reservations at your property. It also makes OTAs more likely to accept your listing because they can be sure your inventory will always be accurate.
5. Boost direct bookings
It may seem illogical but it's true! Many travellers will discover your property first on an OTA, but they want to learn more about you before they book. Often they will visit your website and then make the decision to book their stay. So you get a direct sale, but it was born on the OTA site – resulting in greater profit for your hotel. This is known as the billboard effect.
6. Remove manual processes
Manual data entry is time-consuming and frustrating, we all know that. If you were to use a channel manager and remove this friction, you'd realise just how much more productive you can be. Anything that has to be put on hold can now be prioritised to improve your business.
7. Create a seamless, integrated tech stack
Instead of being required to update information in multiple extranets, a channel manager can integrate with your property management system, central reservation system, or revenue management system as well as your booking engine to create a central control system for the entirety of your hotel's operations.
Some channel managers, like SiteMinder, also have a unique connection to Airbnb. Although boutique hotels have already been using Airbnb for some time, there hasn't been a solution for them to manage this channel in conjunction with other partners such as online travel agents – until SiteMinder's partnership.
8. Transform into a powerful business platform
A good channel allows complete transparency of data across all systems and channels, meaning you can use the received information to see which channels or rooms are performing the best. This means you can constantly update your business strategy. Look at reports such as channel yield and channel analysis and your reservation trends to see where things are going right – or wrong!
9. Reduce reliance on traditional booking channels
There's certainly no suggestion that you should leave behind traditional methods such as taking reservations over the phone or via walk-ins. It can be very profitable to save some of your inventory for these methods. However, using a channel manager will ensure you don't have to worry about filling your rooms in this manner. Connecting to a significant number of online booking sites will ensure your occupancy always remains steady.
10. Keep everyone on the same page
Quality channel managers are very easy to use and hotels will regularly have multiple staff members using the system. If the main user is going away or won't be available to make updates they can easily mark important dates in the system so everyone is aware if they need to change a rate or close a room etc. For example, they may mark school holiday periods so rates can be increased during these peak times.
Benefits of using hotel channel management software
It may enter your thoughts that paying a subscription fee to channel management technology and a commission fee to OTAs, along with any cost of acquisition involved with securing direct sales is too much to juggle. However, it's been proven that even a slight increase in occupancy and revenue resulting from the use of a channel manager far outweighs the cost, even when you get a lot of bookings from OTAs.
Suppose you were a hotel operating a few rooms, a channel manager could still significantly help your business by way of simplifying your day-to-day inventory management.
When it comes to deciding whether your hotel needs channel management software, ask yourself if these outcomes are valuable to your business:
No longer spending time in multiple extranets
Significantly less time updating inventory data
No human error when entering or adjusting rates and availability
Increased global visibility and brand recognition
A boost in occupancy and revenue
Transparency around booking data and channel performance
Real-time, automatic, channel updates
Powerful two-way integration with existing hotel systems
Establish a single, reliable, stable distribution platform that enables your business to scale
How to use a channel manager effectively
You should use the full potential of your channel manager. This means using it to enhance your booking capability by diversifying your distribution network, but also to track key metrics, save time, and integrate other solutions.
To see the best results make sure you:
Connect to more than five channels
Generate and analyse performance reports such as channel mix
Boost your channel manager data with a business intelligence tool so you can produce pace reports
Integrate with an online booking engine to seamlessly manage your direct bookings alongside third-party bookings
Integrate with your PMS to help you centralise your and automate many of your daily operations
Learn more about integration below or read here for the full guide on PMS integration.
What other systems can you use with a channel manager at your hotel?
A channel manager can help to form part of a complete centralised control centre for your hotel that includes a property management system, online booking engine, and business intelligence tool among other integrations.
Some systems you already use can benefit from a channel manager connection or even magnify the effectiveness of the channel manager. Integration between systems is very important for maintaining accuracy and the smooth operation of your property's back end.
Here's more detail on the systems that can be used in conjunction with a channel manager to improve business results:
Property management system
Your property management system covers all the administration of your hotel, including reservation management, check-in/out, guest profiles, housekeeping, maintenance, availability/occupancy, etc. When your PMS is integrated with a channel manager, it will enable two-way communication that means any information you change in your PMS only has to be recognised by the channel manager and it will alert all the third-party booking sites and your direct channels. The same applies if information is being sent the other way. Without this integration you'd need to input the same information more than once on different systems.
Online booking engine
An online booking engine makes it simple to accept online bookings straight from your website or social media pages, including the all important 'book now' button so guests know exactly where to make their reservation. When you use a channel manager, your booking engine can be treated in the same way as any of the third-party sites you partner with, so you can track performance, easily update rates, and maintain accurate availability.
Pricing intelligence tool
You can use hotel business intelligence software to make sure your rates are optimised and revenue is maximised. It's used to track competitors and changes in the market based on supply and demand. You can also set alerts so you never miss the opportunity to boost prices for more revenue or drop them to ensure you secure bookings. The reason this is very useful to use in conjunction with a channel manager is that the rates you set will be more or less on par with your competitors. Underselling will mean a drop in your revenue, while overselling will see a reduction in bookings. Long-range forecasting is also vital to ensure what level to set your rates at, and importantly, when. Without real-time market data, this is impossible.
Connectivity is vital. The whole reason you would use a channel manager is to make things easier, but if the systems you're using aren't able to communicate you're actually creating more work for yourself. That's another reason the bigger channel manager companies can be trusted, because they have the most integration and strongest connectivity capability.
What is the best channel manager for hotels?

SiteMinder's channel manager feature is a leading example in the hotel industry. Easy to learn and simple to use, with the largest network of third-party connections and integrations, SiteMinder 's channel manager offers hotel businesses the chance to reach their full potential.
To help you decide for yourself, here's a guide on what the best channel manager should provide for your hotel or you can read more about it in this blog.
SiteMinder's channel manager is also part of a greater, complete, hotel commerce platform. The platform gives hoteliers everything they need to succeed in one interface, with total control and centralised data.
Navigating hotel online distribution and channel management
Online distribution has become necessary, and online travel agents have become a necessary 'evil' for hoteliers who can no longer survive from being booked over the phone or via walk-ins.
OTAs are an example of an online distribution channel for hotels – which refers to a chain of intermediaries a hotel room passes through before it reaches the guest. Your hotel website is also a channel, albeit a short one because it involves a direct sale to the traveller. Longer channels may involve passing your rooms through wholesalers, metasearch, or retail travel agents who may use the global distribution system (GDS).
A little more on some of these:
Online travel agents
Examples include Booking.com, Expedia, or Hotels.com. They are commonly the most expensive channels for hotels to use but one of the most effective. They generate enormous exposure for your hotel, making you visible to travellers who may not have found you otherwise. They're also very popular with mobile users and can in fact drive traffic to your hotel website where you may be able to convert travellers to a direct booking. If a booking is made on the OTA, you can generally expect to pay a commission fee of somewhere between 15%-25%.
Wholesalers
Wholesalers will enter into contracts with hotels to buy rooms, which they in turn will sell to travel agencies. Essentially this makes them a middle man.
Metasearch
A metasearch engine or website lets travellers compare hotel room rates, from various online travel agencies (OTAs) and other booking sites all in one place. Popular examples of metasearch include Google Hotel Ads, Tripadvisor, Kayak, and Trivago. A potential guest can use these sites to find room prices, and purchase rooms, from multiple booking options at the same time.
Global distribution system
A GDS is a worldwide conduit between travel bookers and suppliers, such as hotels and other accommodation providers. It communicates live product, price and availability data to travel agents and online booking engines, and allows for automated transactions. The GDS is often used to tap into the corporate travel market because it has the ability to present hotels, flights, and car rentals in one simple interface which is convenient. Many companies organising trips for their staff will use the GDS as their preferred booking method.
When you start using these various channels to help reach new markets and increase your bookings, it requires a lot of management and strategy.
You must decide:
What your ideal channel mix is
How many channels you want to use
How you optimise your profile
How often you want to adjust your rates
What promotions you want to run
The extras you offer on your direct channels
How you combat your competition
Determining what's right will be unique to each hotel and working through all this can be a headache by itself, so when it comes to executing your strategies you don't want another lengthy or difficult process. Part of your strategy should also include how you action your plans and what tools you need.
This is why channel managers are becoming an essential part of online hotel distribution strategies. For example, when you decide on a new rate plan, it might take hours for you to put this in place on the various extranets of your connected channels. A channel manager makes this process achievable within a few clicks.
6 key lessons about channel management in the hotel industry
It's important to apply channel management principles in a way that's appropriate for your individual property.
To help simplify what you've learned so far and before we move into more detail about channel managers, here are the key points to remember when thinking about channel management in the hotel industry:
A channel manager is a tool that will allow you to sell all your rooms on all your connected booking sites at the same time
A channel manager can greatly increase the capacity for a hotel to attract bookings and maximise profit
Online distribution channels may include OTAs (Expedia), retail travel agents, metasearch engines (Google), global distribution systems (GDS), or direct channels (your website and social media pages)
Channel management technology enables you to create a vast sales network for your property
There are now dozens, maybe hundreds, of viable channel management options for hotels to utilise. These companies aren't one-size-fits-all however
Channel managers are becoming an essential part of online hotel distribution strategies
Hotel channel management strategy
Channel management will also offer the opportunity to effectively execute sales and marketing strategies. One of your primary goals might be to increase your bookings and revenue, and in turn your profit. To do that in the modern landscape, you need a sales network that includes a diverse range of booking channels that attract international guests to your hotel.
Channel management technology enables you to create this network for your property. Applying manual practices means you can only hope to use a couple of channels and maintain them accurately and in good time. Managing 10 channels, for example, on your own is impossible to sustain. This means you have to forego many lucrative booking opportunities. A channel manager allows for as many channel connections as you want without increasing workload.
Simply adopting more channels to sell on is one strategy, but you have to assess which channels are worth it. For instance, amongst your OTA partners, one site may be delivering an average number of bookings but cancellations through this site are more common, or it's delivering many bookings but the average length of stay is the lowest of all your partners. Collecting and analysing this kind of data is very valuable, since you can make decisions about which partnerships you will keep and which you will end in favour of more profitable options.
However, it's not always easy to get quickly to hand and takes some time to pore over each month. A channel manager will aid this strategy by recording and storing all your booking data and collating it into monthly reports at your request. As your distribution network increases, this convenience becomes a vital part of managing the hotel business.
How to choose channel manager software for your hotel
Here are some questions to ask potential channel manager providers no matter what size your property is:
Do they offer full integration with your property management system?
Do they support global channel connections, integrated with a reliable XML connection?
Is the interface user friendly?
Is adequate support and training offered, especially in your native language?
Do they use a pooled inventory model?
Is comprehensive reporting part of the system?
Will they integrate with your online booking engine?
Do they automate and update in real-time?
How long does it take to implement the technology?
Is the software PCI DSS compliant?
Are there product feedback avenues?
Can the product support multiple users?
Is there a free trial period?
Is the pricing model per channel, per reservation, or flat fee?
This is by no means an exhaustive list but it's a good place to start! Why not watch a demo of SiteMinder's channel manager to see if it's right for you?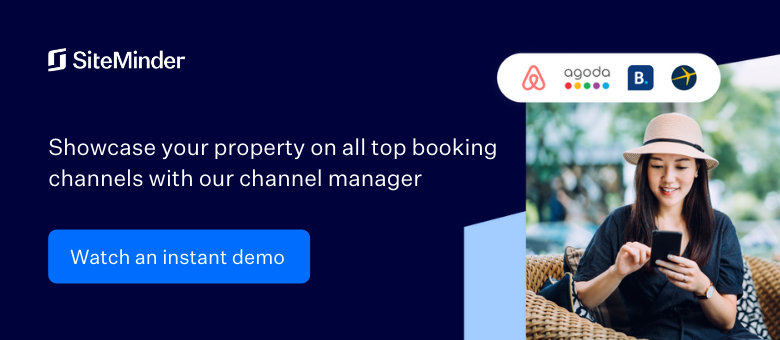 Investing in a channel management system: Support, setup, training, and price
If you start looking more seriously at investing in a channel management system for your hotel, there'll be some potential roadblocks you want to avoid.
Here's some considerations you'll likely want to confirm if you move to become a channel manager customer.
Support
As with setup and training, time waits for no one. If something needs to be resolved at your property it has to happen quickly. Twenty-four hour support is vital, so is the need to have support staff who speak your language and understand your property's circumstances. Being able to contact a real human being at any time that you need assistance is vital. You don't want to have to log a ticket or lodge a request, and then wait hours or days for a response to an issue that is actually urgent for your property. Your property is always on, so your tech provider needs to fully support this.
Setup and training
To be satisfied you want an experience that's as close to 'plug and play' as you can get. Since most good channel managers will offer a free trial period, setup and training will be a part of this process, so by the time it actually comes to paying for the product no setup is required.
You can expect a couple of dedicated staff members to take you through your setup and training. This way you know exactly who to contact to address any concerns. Training can be conducted in groups or individually depending on your specific situation. It shouldn't take more than a few days to be up and running.
Price
If you're an independent hotelier your budget will obviously guide a lot of your decision making. In most cases the technology will pay for itself by way of results but it's still important to know what you're getting into with your new software.
Pricing models can vary. Some may be based on a fee per commission basis, similar to OTAs, while some may charge you for each channel you connect to. Another, preferable, model is to pay a flat monthly fee for use of the system. This means you know exactly how to budget each month since your software price won't change. It also means you can connect as many channels, and take as many bookings as you want, without paying any additional fees.
A monthly fee will ideally be free of a contract, so you can discontinue your use of a channel manager at any stage, and thus cease billing. If you don't mind signing a contract, you should at least expect a discount to do so.
Key takeaways
A channel manager is the number one tool to help manage your online sales
Your online channels may include online travel agents, metasearch engines, and your own website and social media pages
Effective channel management requires technology and strategy
There are many channel manager companies, serving properties of all sizes
Channel managers should integrate with your existing systems
You should expect successful outcomes to reflect an increase in bookings, occupancy, revenue, and performance reporting
Remember to ask your potential provider questions about key features and functionality
Make sure the channel manager you choose covers your bases on price, implementation, and support