The leading cloud channel management software for online
hotel distribution of room inventory and rate management.
Get booked faster online by listing your hotel on the top channels
Remove manual channel management with complete real-time automation.
Have all your rooms online at once to increase revenue.
Make more powerful, insightful decisions.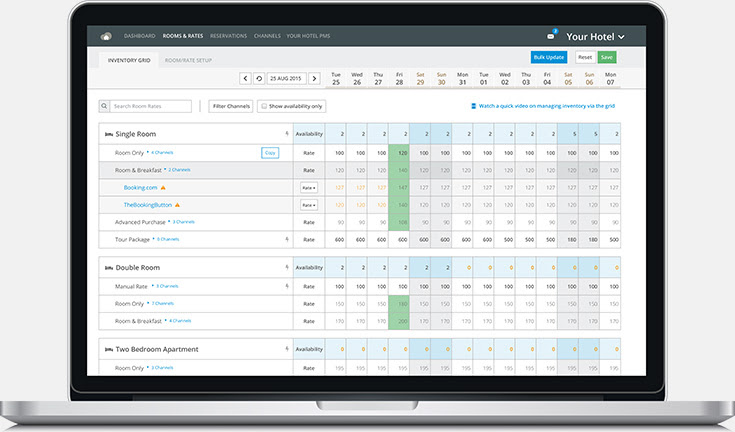 Get booked faster online by listing your hotel on the top channels
Use the web to broaden your global and local reach by connecting to over 250 of the world's top distribution channels such as Booking.com, Expedia and Airbnb.
A single dashboard gives you transparency over the health of your online distribution system and sales performance by channel.
See which booking channels are delivering the most revenue for your hotel.
Remove manual channel management with complete real-time automation.
Manage all your online distribution from a single channel management system.
Automatically manage inventory and rates straight from your PMS to keep all booking websites updated with real-time availability and avoid overbooking.
Eliminate manual inventory management and reduce the risk of overbookings with deep integrations to 250+ of the world's top PMSs, CRSs and RMSs.
Get direct, two-way connections to 300+ of the world's top hotel booking channels.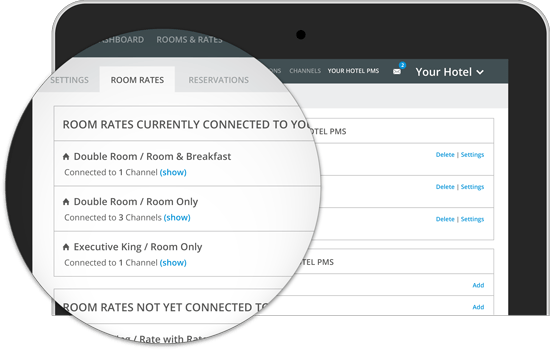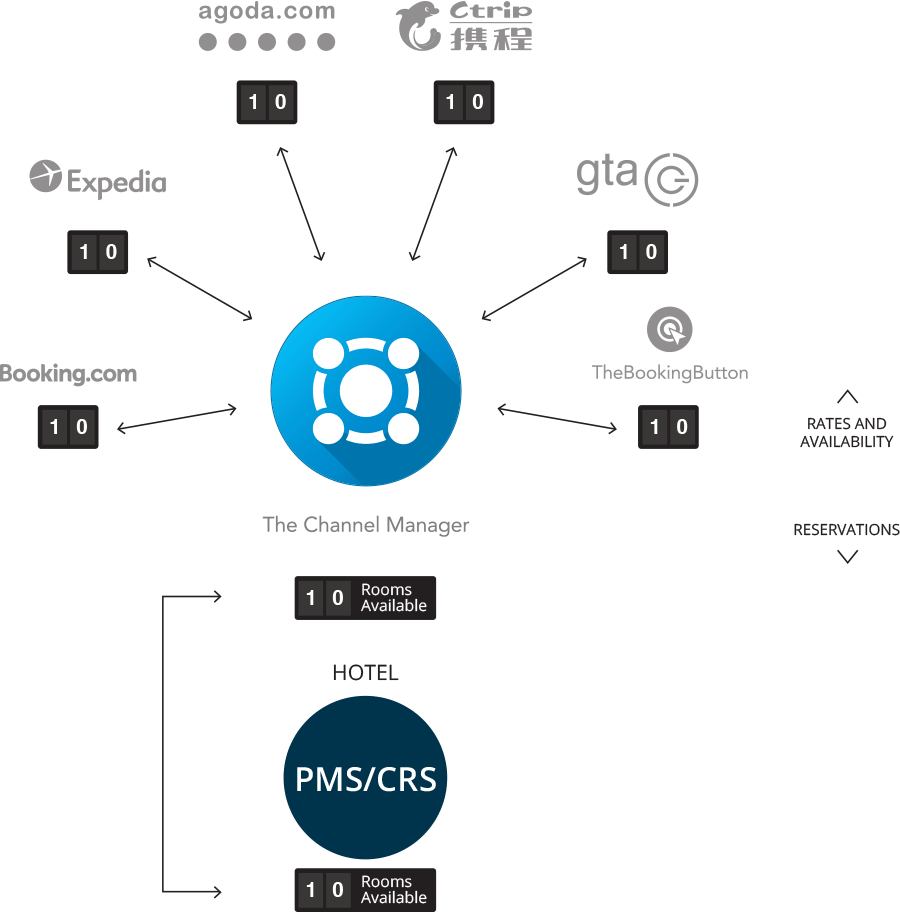 Have all your rooms online at once to increase revenue.
Benefit from true pooled inventory to increase your revenue and profits while lowering your cost of guest acquisition.
Continuously promote all your available hotel rooms on all booking channels – all the time.
Immediately update your hotel inventory across all channels when a booking is made.
Recently announced: Airbnb channel manager connection.

SiteMinder announced as first real-time channel manager for Airbnb
Airbnb and SiteMinder have partnered to develop technology that allow real-time connection of room rates and availability between Airbnb and a hotel's property management system.
SiteMinder serves the whole industry.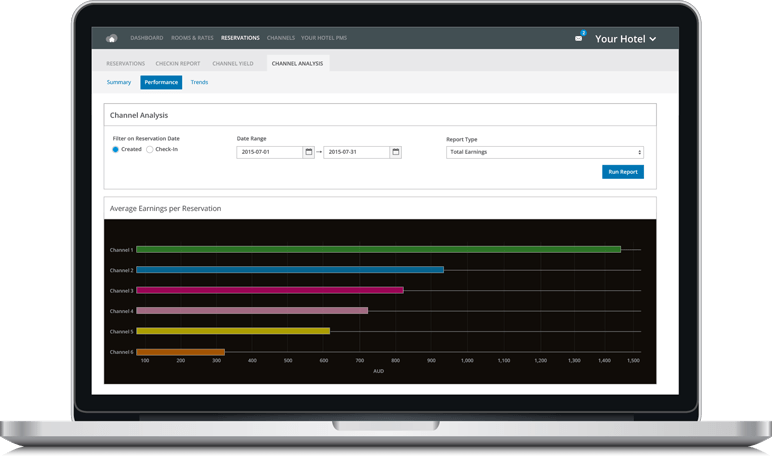 Make more powerful and insightful decisions.
Gain full visibility of your online distribution performance with a comprehensive reporting suite and holistic view of your hotel inventory.
Turn data into a more effective distribution strategy by analysing and evaluating the success of your online channels.
Measure your channel yield, earnings from reservations, booking sales volume and average lead times – in summary or as trends over time.
"I find SiteMinder have the best channel management technology. SiteMinder has helped us put a lot to attention on what matters the most in terms of online ..."
Six Seasons Hotel
"SiteMinder's Channel Manager has helped us control the availability of all our hotels online and also allowed us to achieve total rate parity, which has ..."
Ola Hotels
"The integration of SiteMinder into our yielding efforts has been a strategic component of our success in generating a surplus revenue of 51% over a period ..."
anCasa Hotels and Resorts
"For years, we used SiteMinder's Channel Manager, but after receiving a seemingly competitive offer from another channel manager provider, we decided to giv..."
Puri Resorts
"What we enjoy about SiteMinder's technology is its simplicity and practicality, and its ability to provide us with accurate data. And, because the products..."
BIRD Hotels & Residences
"It wasn't about total room nights or number of bookings for us, but, rather, rate and inventory management ... Taking the last quarter of 2015 as an exam..."
The Spencer on Byron Hotel
"SiteMinder's Channel Manager provides a strong, sustainable and unified platform to effectively manage and enhance our online reach and presence ... The ..."
Choctaw Casinos
"By adopting SiteMinder's technology, our hotel has become much more visible to the thousands of travellers we know are searching for a destination that o..."
Restel Hotel Group
"Since acquiring SiteMinder's Channel Manager in September 2013, we have become more visible to customers; we connect with ten different distribution channe..."
Hostal El Levante
"The success of our business' growth greatly depends on our ability to market ourselves to all travellers … and using SiteMinder's Channel Manager, we..."
Compass Hospitality
"Of all the systems we have implemented over the years, SiteMinder's Channel Manager has been the easiest and we have been extremely satisfied by the levels..."
Sukosol Hotels
"With the record tourist numbers Spain has experienced ... it was crucial for us to implement a solution that offered real-time access and reach to travelle..."
Sallés Hotels
"Time is a really big factor in our business, and SiteMinder supports us to be more efficient and productive with its cost-effective and easy-to-use model. ..."
Two Seasons Hotel and Resorts
"When Mantra Group began the selection process, we weren't just looking for a channel manager; we were looking for a distribution solution partner ... Sit..."
Mantra Group
"Implementing SiteMinder's Channel Manager for our international franchisees will help make their businesses more effective and efficient, helping to elimin..."
Choice Hotels International
"The Channel Manager is fast and powerful! It has everything that you need to manage online sales and distribution...."
Karma Resorts, Indonesia
"We have been pushing SiteMinder's Channel Manager to every hotel we come across...."
South Beach Group, USA
"Using SiteMinder's Channel Manager, our hotels have not only gained real-time access to the world's top distribution channels, but they have been able ..."
Sercotel Hotels
"After a competitive review of the world's leading channel management systems, we chose SiteMinder's Channel Manager as the product that could provide u..."
GCH Hotel Group