A new white paper from hotel technology leaders, SiteMinder and Revinate, has identified three major issues that hoteliers believe will continue to challenge them over the next three years.
The three themes, specific to managing online distribution and hotel marketing, were revealed during an exclusive breakfast at London's World Travel Market in November 2015.
Industry peers were joined by representatives from brands including B&B hotels, Apax Hotels, Rixos Hotels, and Magnuson Hotels, with the session hosted and moderated by Peter O'Connor, Ph.D. – a Professor of Information Systems at ESSEC Business School, who also serves as Director of the Global MBA and the MBA in Hospitality Management.
Peter, who also authored the SiteMinder and Revinate white paper, asked the breakfast attendees to discuss the future of online hotel room distribution and hotel marketing.
Hoteliers were surveyed prior to the session to establish discussion points and the following word cloud was produced from the results. It represents the some of the keywords associated with the challenges that hoteliers believe they are facing today: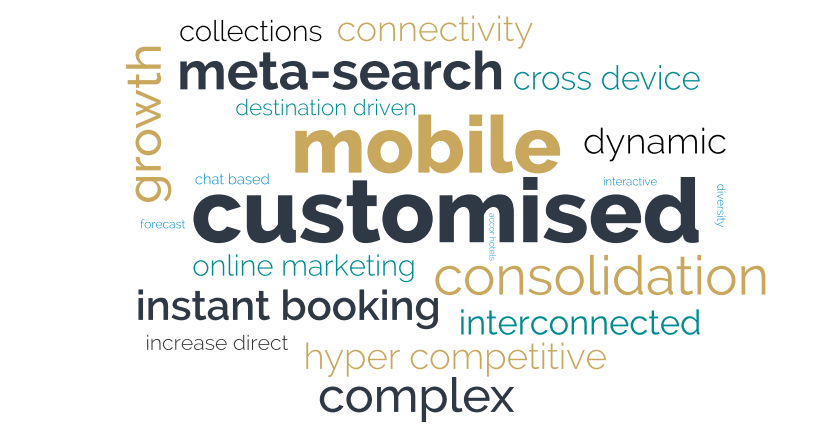 The discussions that followed during the breakfast quickly revealed the three biggest topics giving hoteliers sleepless nights:
1. Today's fast-paced online environment
Many hoteliers described the macro-environment of hotel distribution and online marketing as complex, hyper-competitive and highly dynamic.
They said this makes it difficult for many of them, as non-experts, to keep up with the latest developments in the field and take advantage of new opportunities available to their properties.
2. Today's developing OTA landscape
Current developments in the online distribution space have created increased desire amongst hoteliers to drive more business through direct online channels.
These include the ever-increasing consolidation within the OTA space and the increased adoption of developing technologies such as metasearch and instant booking.
3. Today's advancing technology
The third theme is related to the increased sophistication and complexity of technology systems used to drive distribution and online marketing.
Topics such as connectivity, cross-device and customisation featured frequently in the responses of hoteliers.