Spain's painful economic crisis lasted more than five years. However all the signs are pointing, at last, to a change in fortunes. 2014 was the first year of recorded growth for the nation since the disastrous property crash of 2008. Steadily declining unemployment rates have buoyed consumer confidence and the economic thawing looks set to continue.
An economic forecast from the European Commission, released in 2015, predicts Spanish growth of 2.5% for 2016, putting Spain among the fastest growing economies in the eurozone. The Bank of Spain made a rather more boisterous prediction that economic growth would be 2.8% for 2015, an increase of 50% on the previous year's figure. Either way, it seems the dog days are over for Spain's economy.
Traditionally tourism has been a strong contributor to Spain's economy and it's playing an important part in the country's recovery. No surprises there, perhaps, but the scale of tourism's contribution in the first two months of 2015 was unprecedented. Tourism figures for January and February smashed previous records, with 6.5 million international tourists spending  €6.6 billion ($7.2 billion) – an increase on the previous year of 4.5% and 8% respectively.
The figures from June 2015 are not quite as dazzling, with just over 10 million overseas visitors, a modest increase on the previous year of 1.6%. Their corresponding spend was almost €7 billion ($7.6 billion), a 3.2% increase on the 2014 figure. However, this still represents healthy growth in tourism figures, making for good news for the independent hotel sector.
So where are all these tourists coming from? And where exactly are they going?
The UK, France and Germany make up more than half of Spain's international visitors. According to the June figures from Spain's Institute of Tourism Studies, UK tourists represent the biggest slice with 26.4%, followed by 16.5% from Germany, and 12.8% from France.
In terms of destinations, the Balearic Islands and Catalonia were the most popular in June 2015, with 26% and 25.6% of visitors respectively. Meanwhile Andalusia scored 13.7% and the Canary Islands 11.8%.
While the end of Spain's economic doldrums goes a long way towards explaining its growing appeal for international tourists, there are many other good reasons why it's on the must-visit list.
Spain was named the top most tourist-ready economy in the World Economic Forum's Travel and Tourism Competitiveness Report 2015, released in May. Beating the 141 other countries assessed, Spain's top listing comes courtesy of its heritage sites, cultural resources and appeal to business travellers and international conferences. According to the report, Spain is the third most visited country in the world, with 60.6 million arrivals per annum, a figure that is growing year-on-year.
Spain also benefits from an abundance of accommodation options for the booming numbers of tourists arriving on its shores.
According to new research into the independent hotels market by Phocuswright, co-sponsored by SiteMinder, Spain is the third largest hotel market in Europe with gross bookings of €12.2 billion predicted for 2015.
It has the second-highest hotel chain penetration in Europe, at 41%, following the UK at 57%; and the largest hotels (based on number of rooms) of all the major European countries with an average 47 rooms per property.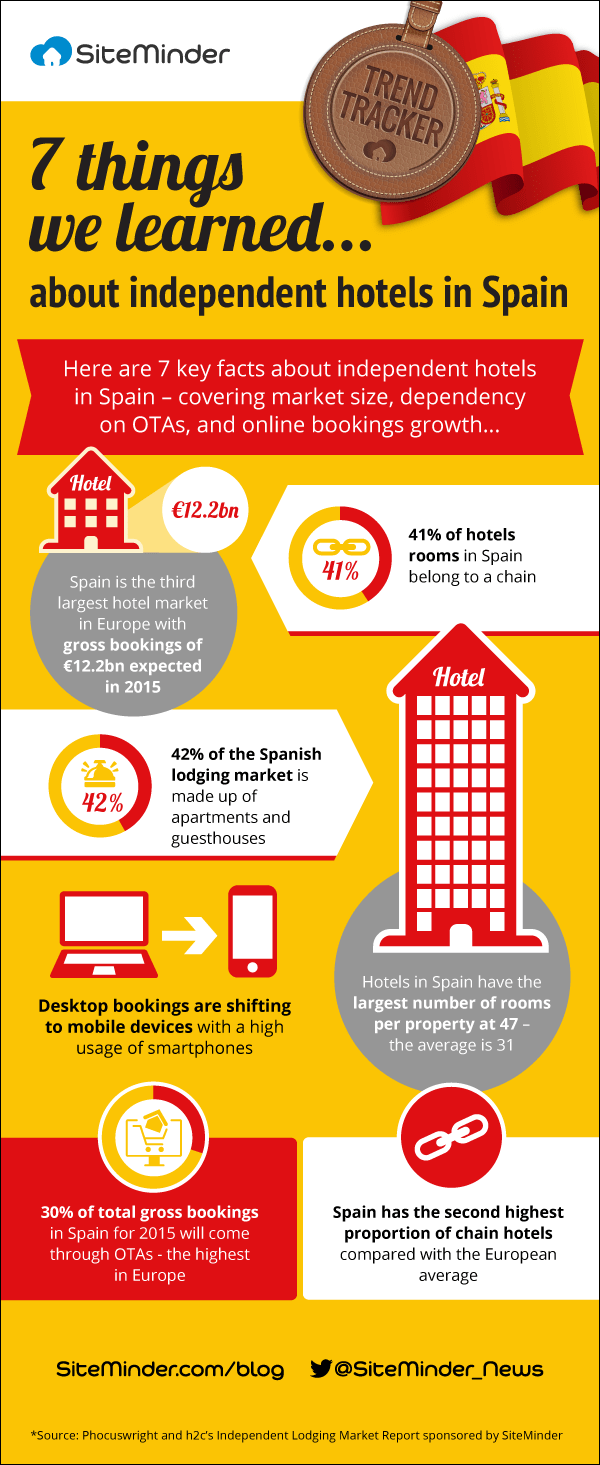 With such an array of choice for the international visitor, how can independent hotels ensure they are well poised to take advantage of the strong tourist market?
The Phocuswright and SiteMinder research shows that online travel agents (OTAs) are crucial to the Spanish hotel market with bookings via OTAs expected to reach 30% of total gross bookings in 2015 – the highest in Europe.
To ensure your hotel is attracting international travellers, you need to make sure you are connected to local online travel agents, for example Booking.com. Distributing your available rooms via a channel manager such as SiteMinder's can save you time in administration, streamlining the updating of room availability across multiple OTAs.
The Phocuswright research also shows that the majority of Spanish hotels that accept bookings direct via their website, are part of the larger hotel chains. However, independent hotels are growing their share of online direct bookings, with an increase of 16% expected in the next two years.
Many independent hotels will use a widget like SiteMinder's TheBookingButton which can be seamlessly integrated into their own website, allowing them to receive online reservations. Potential hotel guests can check for room availability and price before proceeding with making an official reservation.
With the high penetration of smartphones globally, mobile bookings are also on the rise, so savvy independent hotels need to ensure their website is optimised for bookings made from mobile devices.
Want to know more?
We've produced a Spanish edition of the Independent Hotels Business Outlook for 2016. It holds key information and insights into the independent hotel and tourism market in Spain. Register your details on the SiteMinder events page, visit our stand at FITUR, and collect your code for downloading from the SiteMinder website. Inspiring and informative, FITUR – International Tourism Trade Fair – is the global meeting point for hospitality and tourism professionals.