What is Expedia Partner Central?
Expedia Partner Central is a platform designed for hoteliers and short-term rental owners. It offers a suite of tools that allow you to manage your Expedia listings across various online travel agencies (OTAs) that are part of the Expedia Group. It allows you to manage bookings, adjust nightly rates, availability, and streamline inventory management.
Why are hotels using Expedia Partner Central?
Expedia Partner Central is a popular choice among hoteliers, primarily for its expansive reach within the travel industry. Being part of one of the world's leading travel marketplaces, it offers hotels the potential to connect with a vast and diverse audience. This global exposure means that hotels, regardless of size or location, have the opportunity to attract travellers from various regions, enhancing their booking potential.
Reach and visibility

: Expedia is one of the globe's leading travel marketplaces, offering hotel owners the potential to reach millions of travellers each month.

Comprehensive tools

: From managing reservations to enhancing the guest experience, Expedia Partner Central provides a range of tools tailored to the needs of hoteliers.

Data-driven insights

: With tools like Rev+ for revenue management and competitive set analysis, hotel owners can make informed decisions to optimise rates and stay ahead of the competition.
However, while the platform provides a suite of tools designed to streamline operations, like reservation management, dynamic pricing, and integrated review systems, it's essential for hoteliers to invest time in understanding and optimising these features. 
As with any platform, there's a learning curve, and the benefits truly materialise when hotel owners actively engage with the system, making data-driven decisions and regularly updating their listings to reflect their hotel's unique offerings and current availability.
Expedia Partner: How to become one
To join the Expedia Partner Central, you'll first need to create an Expedia account. Once registered, you can manage your listings, interact with guests, and utilise the platform's tools to maximise your property's visibility and bookings.
Expedia extranet: How to login
Finding the Expedia extranet login page
Access the Expedia Partner Central login portal via www.expediapartnercentral.com.
Logging in as an Expedia partner
Use your registered email and password to log in. If you're new, you'll need to set up an Expedia Partner account first. This will involve providing detailed information about your hotel, so come prepared with a full profile.
Logging in as an Expedia travel agent
The Expedia Travel Agent Affiliate Program (TAAP) is a separate platform designed for travel agents. Register your interest through the Expedia Group Partner Solutions site to access TAAP.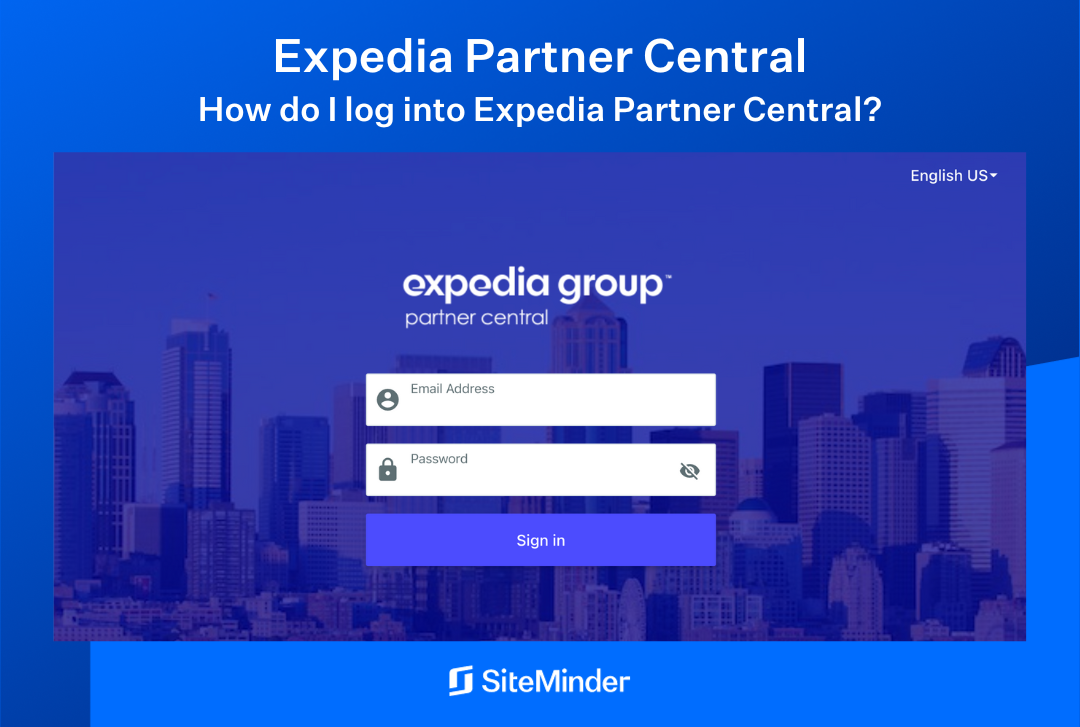 Expedia extranet dashboard
Once you've logged into the Expedia Partner Central, you'll be greeted by the extranet dashboard. This interface serves as your main control centre for managing your property's presence on Expedia.
The dashboard provides a clear overview of your listings, allowing you to ensure they accurately represent your property. You can quickly gauge your booking status, helping you keep track of occupancy and upcoming guest arrivals.
A particularly useful feature is the rate management tool. This section lets you adjust room rates, offering flexibility in response to changing demand or special events. However, like any tool, its effectiveness depends on how well you use it, so it's essential to monitor and adjust rates regularly to stay competitive.
Guest reviews and feedback are also accessible from the dashboard. While positive reviews can boost your property's appeal, it's equally crucial to address any negative feedback promptly and professionally.
Managing your hotel listings
Effectively managing hotel listings on platforms like Expedia Partner Central is crucial for attracting the right guests. 
Detailed information and high-resolution images give potential guests a clear view of your property, but ensure they accurately represent the current state of your hotel to avoid setting false expectations. 

Descriptions should be both informative and transparent about the amenities and any limitations. 

Regularly updating the availability calendar is essential to reflect current room statuses and prevent overbookings. 

Tools like the channel manager can help synchronise bookings across platforms, but they require consistent monitoring to ensure optimal performance. 
In essence, a well-managed Expedia listing balances promotion with accuracy, ensuring guest satisfaction from booking to stay.
Expedia extranet features & tools
Expedia Partner Central includes two particularly notable tools: Rev+ and the Guest Experience Tool.
Rev+ presents a dashboard that displays metrics such as Average Daily Rate (ADR) and Occupancy Rate. A notable feature of Rev+ is its competitive analysis function, which allows users to compare their rates against those of selected competitors. Beyond just presenting data, Rev+ provides rate recommendations based on various market factors. It also offers insights into local events and peak travel periods, which can be useful for adjusting pricing strategies. For a more detailed analysis, users can generate performance reports.
The Guest Experience Tool, accessible under 'Guest Feedback', provides an overview of all guest reviews. This tool facilitates timely responses to guest feedback, both positive and negative. By analysing feedback patterns, hoteliers can identify areas that might benefit from adjustments or improvements. The tool also offers the option to generate reports, providing a longer-term view of guest feedback trends.
Connecting Expedia Partner Central to other systems
Expedia Partner Central can be integrated with other platforms and property management systems. This seamless integration allows hoteliers to manage different hotel listings in one place, optimising operational efficiency and maximising revenue.
However, not every property management system can integrate with Expedia – and even those that can, don't integrate to the same extent or as seamlessly. If your hotel will rely on Expedia as a source of bookings, it's integral to ensure that you can use your property management system (and your other software) alongside it. 
Otherwise, it's easy for processes to become bloated and unwieldy, requiring multiple logins and repetitions of the same information, costing time, money and, the most valuable resource of all, patience.
Attract more travellers on Expedia Group Sites, with Refundable Rates
In a recent Expedia Group survey, travellers told us that the ability to cancel and get a full refund if their plans change is one of their top considerations when booking travel; while over 50% said they wouldn't book non-refundable accommodation, even if it was discounted.

Flexibility is everything

Clearly, flexibility is a major priority for today's traveller. So a flexible cancellation policy can make all the difference when it comes to booking at your hotel, or a rival property.  
Fortunately, when you're listed on Expedia Group sites, your property will show 'Fully refundable' or 'Free cancellation' in all traveller search results. This draws attention to your listing visually, and helps you stand out from the competition — giving travellers more confidence to book, because if their plans change they won't be out-of-pocket. 
We recommend offering a 100% refund for cancellations within a short window (two days or less) before the stay date to give travellers maximum flexibility. And feel free to contact your Expedia Group Market Manager for additional guidance. 
Ready to get refundable?

It only takes a few clicks to set up with Expedia through SiteMinder's channel manager. SiteMinder will help you establish a secure and reliable connection between our channel manager and Expedia, then you can easily update your room inventory, rates, and availability — and set up rate plans and restrictions, including your cancellation policy.