Hotel technology is becoming increasingly prevalent, with huge strides being made in the past decade or two. It's an ever-growing area that holds huge potential for operators who recognise that there needs to be ever greater levels of detail put into managing various aspects of their accommodation business.
Once, the priority may have been to increase occupancy and periodically increase rates to grow revenue, but occupancy is fast being left behind as the key metric with which to measure success.
Accommodation providers today are faced with a multitude of key metrics within every department of the hotel and they must keep technology top of mind when considering strategies for:
Distribution and inventory management
Revenue management and pricing
Property management
Guest experience
Market intelligence
Business insights and performance
Website conversion
Sales and marketing
Brand reputation
and more…
Those hotels that are still subscribed to traditional, manual, methods of management are at a significant disadvantage. Leading hotels have recognised hotel technology is not an expensive gimmick, but something that can effectively address modern industry challenges and not only make management of the accommodation business easier, but pave clear paths for business growth.
Let's take a look in more detail..

Key considerations for hotel business growth
As is the case for any retail business, revenue is the endgame for hotels.
This big picture is made up of a number of smaller goals you must hit. Growing revenue for instance, is going to require growth across multiple departments in the business – often through a trickle down process that isn't only about optimising room rates.
For example:
Growing revenue might mean improving brand reputation
Improving brand reputation means enhancing the guest experience
Enhancing the guest experience might mean physical property improvements
Or a simplified and flexible booking process
Or personalised communication
This might mean investing in a tech platform with an online booking engine feature
Which then means integrating with additional or existing systems
And this introduces valuable partnership opportunities
To open up new revenue streams
Growing a hotel business relies on connecting every web of this complicated matrix, and that's often the sticking point for many properties. There's a lot to get right, and a multitude of data available to do it however the struggle is being able to bring it all together.
So how do you solve it? While the solutions are ready and waiting, the challenge of finding and easily integrating the ones that are relevant for your business still remains.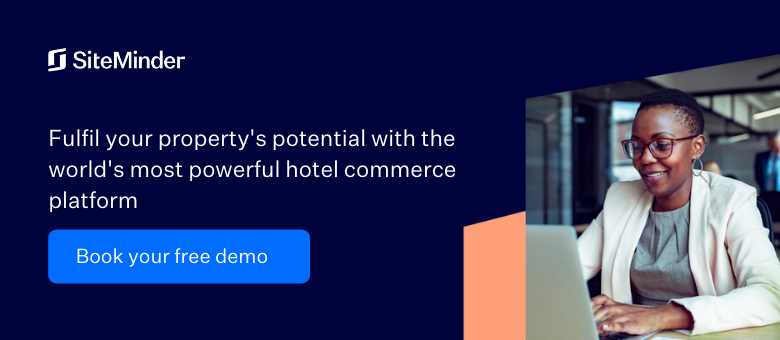 Core hotel requirements that are being addressed by technology
According to Statista, the top five reasons hoteliers worldwide use technology is to:
Improve guest experience (24%)
Grow profits (18%)
Future-proof the business (16%)
Gain a competitive advantage (15%)
Grow topline revenue (11%)
With 72% of travel sales projected to occur online by 2025, following the trends of guests must be your guiding light to identify and implement the solutions that are just right for your property..
We know that today's guests are demanding convenience, flexibility, and elevated experiences above all else.
Guests are accustomed to technology making all aspects of their lives easier, and expect hotels to keep up.
This means everything from:
Instant booking confirmations and personalised communication
Contactless, convenient check-in and check-out
Customising service and ensuring flexibility
Offering high speed wifi free of charge
Providing adequate power stations and charging ports for all their devices
Using smart technology for in-room entertainment such as casting and streaming small screen media to the room's TV
Giving guests remote access to adjust heating, lighting, and the room itself
Messaging apps for hotel concierge and room service
Work stations for guests who need to switch on during their trip
Easy click and confirm booking services for amenities such as spas and massages
In reality, technology is the only reliable way to ensure everything is taken care of.
This is where hotel commerce comes into play and platform solutions which are all about effortlessly giving accommodation providers the right solutions and business partnerships from a single to maximise their business in the ever changing world of online commerce.
Growth requires a single platform solution
Not so long ago fragmented data couldn't be centralised, clunky websites couldn't be smoothed out, and seamless integrations were an uphill battle. It was simply too hard to keep up with guests when using multiple siloed software products that didn't effectively work with each other.
Today it's much easier with providers such as SiteMinder bringing core hotel functions under one roof with powerful platform technology, to give hoteliers a single source of control over their business.
Whilst no technology can do it all, consolidating guest and booking data by using a single platform allows you to:
Be more visible online and sell a greater proportion of your expiring inventory each day
Automate distribution and reservation management, collecting key insights along the way
Simplify the booking process and sell at a maximum number of traveller touchpoints
Sell extras, add-ons, and upgrades easier and in a more targeted manner
Strengthen website conversion and establish simple ways to publish promotions and packages
Broaden communication, collect more feedback, and understand guests better
Produce more useful performance reports, more often, to make more meaningful decisions
Streamline payment processing and ensure secure transactions
While many solutions may exist, the challenge is to avoid data silos and disconnected systems and therein lies the beauty of using a (hotel) commerce platform that brings key features together and keeps all guest and booking data in a single place and helps hoteliers to achieve their growth goals.
For example, improving the sales and marketing of your business may lead to you activating channel management, booking engine, and website features. Or you may want to explore revenue streams outside your room, and engage intuitive apps, industry experts, and integrate external systems.
It's this true all-in-one experience hoteliers have been in dire need of and that guests, by extension, have been waiting for.
Backend control allows for frontend success
Centralising the entirety of your property's commercial and business generating functions on a single platform, with your operational systems seamlessly integrated, gives you a solution that meets your needs without compromises.
You have the best distribution and marketing to drive your business forward, the best in class operational systems to efficiently run your property, the data to make smart decisions and the time and clarity you need to focus on the guest once they arrive at your hotel.
Today's consumers seek instant gratification, and when it comes to taking a trip the desire for things to be effortless is especially strong. For your hotel, a great experience can keep them coming back, but a bad one can lose them for life.
Technology enables you and your staff to deliver exceptional service, which your reputation and revenue potential relies upon. While it may seem daunting, overwhelming, and there's a seemingly infinite choice, ultimately it is your business' biggest ally in key growth areas.
A tech stack that works for you
Your tech stack – all the tools it takes to run your property, from front to back – must be one you're confident and comfortable with.
When you have too many fragmented products or solutions that require separate logins and have different learning requirements – it can be hard to gain this comfort. It's also extremely confusing and time consuming, which can lead to errors and inconsistencies that impact both you and your guests – not a good recipe for business success.
Think how easy life would be if you had a single place that brings together all the best solutions to drive and grow your online business. A single login and interface to manage your distribution, reservations, direct business, website, guest communication, payments, upsells, and market insights to name a few? It's entirely possible with a hotel commerce platform…