Many would argue that the hotel industry has been at a technological crossroads for a while, however with travel technology a fast riser the fork in the road is very much upon accommodation providers right now. A choice must be made to invest in new solutions that pave the way for future success.
Open technology is how hoteliers can ensure they take the right path and adapt to the needs of guests today and business operations, instead of being quickly left behind by their competition.
As we know, hoteliers today are flooded with challenges (read all about it on our hotel commerce hub) that includes staff shortages, unpredictable revenue, managing multiple service providers, optimising distribution and sales, ensuring guest satisfaction, handling maintenance and admin, and trying to run a profitable business overall.
The reality of running a hotel today is that it's more complex than it has been at any other point in history, but nailing the basics is still necessary to give guests the exemplary service they require. Technology has been both a challenge and a solution over time for hoteliers, but that's where open solutions and platforms come in – it is a way of eliminating complexity and letting true hospitality be the main focus once again.
Let's learn more about open platforms…

What is an open platform?
An open solution or platform is a software system that is 'open' to being accessed and interacted with by third-party integrations.
The open nature is established by the publication of Application Programming Interfaces (APIs), which allow for external access.
The developers of open platforms can also add features to the system on an ongoing basis, constantly enhancing its functionality, expanding the ecosystem (think third-party hotel apps), and improving user experience.
This is in contrast to a closed system, which is usually characterised by the provider limiting access and connection to a fixed range of services and technologies. There is a distinct lack of freedom and flexibility for hoteliers using closed systems, and not much room for growth. It's vital to be plugged into an open, evolving, ecosystem to adapt to change and meet challenges with the right solutions.
Of course, 'open' here refers to access and connectivity. Not just anyone can happen along and help themselves to valuable data. Data will be available in an open format, but only to authorised users.
Benefits of an open platform for your hotel
An open platform unlocks doors for your hotel to explore that you didn't even know existed, allowing you to seamlessly plug-in additional third-party solutions to your existing tech stack.
This greatly increases your ability to implement strategies and services that increase revenue and efficiency at your property.
It also removes the barrier of associated costs that have traditionally come with wanting to customise or add to your technology. Open technology reduces risk and cost by allowing you to access 'plug and play' features that can be used in a way that suits your needs.
Open platforms will also benefit your hotel by enabling you to:
Develop unique functions and services at your hotel to improve both back and front end operations
Centralise data sources to help with analysis and informed decision making
Gain operational flexibility and freedom via increased connectivity
Collaborate with and learn from other industry experts and professionals
Adopt tech solutions much faster and with less cost
Solve communication failings, both within your internal operations and between you and your guests with seamless integrations
Gain vital holistic visibility of your business, so you can identify issues, gaps, and opportunities for growth
Upsell to guests and increase your revenue per guest
Gives your property access to meaningful solutions without prohibitive expenses or hoops to jump through
Whether you're looking to simplify your day-to-day, sell more rooms, boost revenue, enhance guest experience, or hopefully all of these – an open platform is how you can achieve your goals stress-free, and at low cost.
Until recently hoteliers have been starved for options when it comes to open platforms, resulting in a lack of control from being forced to make do with single vendors, products, and disparate data sources.
SiteMinder is one company that lives and breathes 'openness'…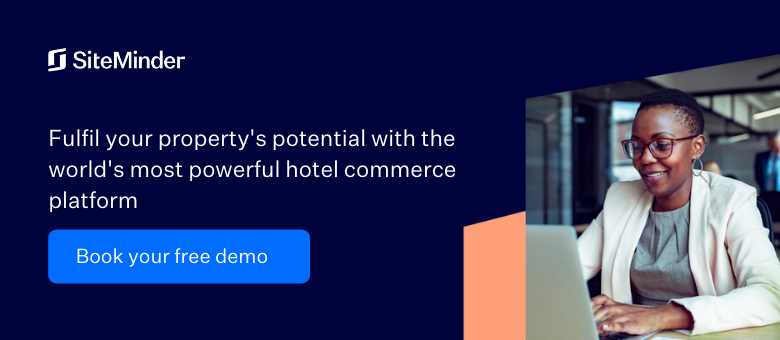 SiteMinder's open hotel commerce platform: What can it do for your hotel?
SiteMinder's platform has always been about opening up the doors of hotel commerce for every property. It provides an open platform with core acquisition and revenue features along with the industry's largest ecosystem of direct and indirect channels, third-party system integrations, hotel apps, and expert partners.
SiteMinder has the infrastructure in place to fit every customer's unique needs, no matter what part of the world you're operating in.
With everything you need to succeed at running your business online, choice and flexibility are also at the heart of SiteMinder's platform.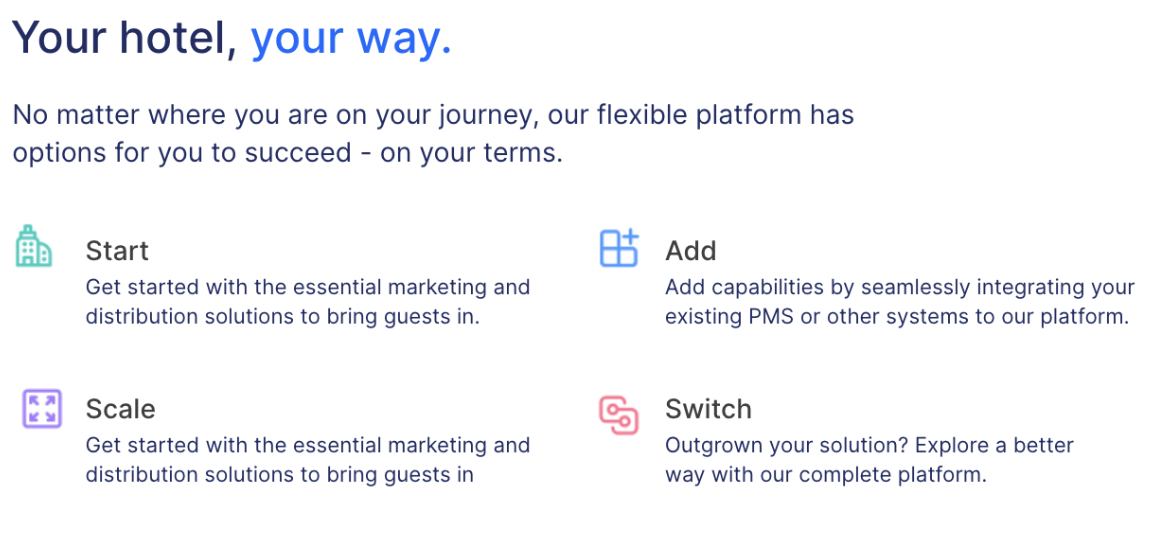 You choose what works for you. Amongst hundreds of integrated PMS, RMS, and CRS partners; wholesalers, OTAs, hotel apps, experts, and consultants; SiteMinder's platform includes core open features so you can:
Sell
Use channel management, metasearch, and GDS features to access and automate distribution across all direct and indirect channels.
Market
Utilise an online booking engine, website builder, and marketing experts to increase your conversions and direct revenue, as well as strengthen guest relationships with direct and personalised communication.
Manage
Adopt business intelligence tools, payment processing solutions, and PMS integration to make all your critical processes quick and seamless, while making smarter data-led business decisions that boost overall performance.
Grow
Capture additional revenue streams via an extensive ecosystem that includes leading hotel apps. Drive profit, improve guest satisfaction, drive loyalty, and learn more about your local market and target audiences to help you thrive.
For today's tech-savvy traveller, it's not an added perk to be met with customised, personalised, service and instant gratification. It's an expectation.
For today's hotel operators, the pressure is on to achieve maximum results now and also future-proof the business.