What is a hotel revenue manager?
A revenue manager is a role in hotel management that is responsible for pricing room inventory to maximise profit.
Hotel revenue manager duties include making the most revenue with rate premiums when there is an abundance of demand and setting competitive and sustainable rates in the low season when market demand is more fiercely contested.
Few roles in the hotel industry have evolved as quickly as the hotel revenue manager. Powered by technological advances, the rapid sharing of knowledge and online training, the discipline is synonymous with smart pricing decisions and expectations are always high in the highly competitive accommodation market.
Whether you are new to the industry or catching up with the latest trends, this blog will introduce you to the importance of hotel revenue managers, their responsibilities, and how to succeed in the role.
How important are hotel revenue managers in the hospitality industry?
Hotel revenue managers are important because they ensure prices are set right in high and low seasons, focused on profitability and the achievement of strategic goals. 
Selling hotel rooms has always presented a unique challenge, where every day begins with a number of available rooms ready to sell that will perish. Once the night is over, if the room is not filled, the opportunity is lost.
Naturally, filling a room with the right customer at the right time for the right price is the goal. Enter the hotel revenue manager who continuously solves this ever-changing puzzle, where occupancy and ADR are two key pieces. 
By analysing vast amounts of data, from booking patterns to guest reviews, hotel revenue managers can help hotels to capitalise on peak periods while also maintaining a steady flow of guests during quieter times.
However, it's not just about filling rooms; it's about maximising value. Hotel revenue managers must think several moves ahead, considering various factors like seasonal trends, local events, competitor pricing, and even global economic shifts. Their strategies must be fluid, adapting to ever-changing market conditions.
Moreover, in today's digital age, with the proliferation of online travel agencies and guest review platforms, the role of a revenue manager has expanded. They must also navigate the complexities of distribution channels, ensuring that their hotel is visible and appealing to potential guests from all corners of the globe.
In essence, the expertise of hotel revenue managers ensure that hotels not only attract guests but do so in a manner that optimises profitability. In an industry where margins can be slim and competition fierce, the importance of a skilled revenue manager cannot be overstated.
What does a revenue manager do in a hotel?
Revenue managers usually sit alongside sales and commercial teams, who attract potential guests and often require pricing recommendations for groups, corporate clients, and any other business.
Know that it is not uncommon for them to disagree: while a sales manager is incentivised to bring in the group of 10, the revenue manager might disagree, when there are only 10 rooms left for that night and demand is high. 
In this case, the revenue manager anticipates they could sell those rooms at a higher rate, without a group discount, to other guests. As much as hotel revenue management appears like a science, it also is an art and requires interpersonal skills to get to the most desired outcome for all.
Hotel revenue manager job description 
Whether you are looking to get into the field yourself or interested in hiring the right person for the job, you might ask: what does a revenue manager do in a hotel, and what should be detailed on their job description? 
Let's look at experience, skills and characteristics before diving into responsibilities typically included on a hotel revenue manager job description.
Skills and Experience
Depending on the level of the role, whether they are part of a team or the one go-to Revenue Manager for the hotel, the required experience may vary. 
At minimum, you are well advised to look for prior experience in revenue management, as well as experience in using IT systems to a degree that matches your needs.
This may involve manually producing reports or could be their ability to discern differences between data from different platforms and technologies or even consolidating data and data mining.
Hotels that use specific revenue management systems will be keen to find someone who is not a first-time user, but perhaps brings insights and skills with the tool that will benefit them.
At the same time, technology should not become a barrier when it is teachable, especially because this facet of the role will continue to evolve over time.
An experienced revenue manager is used to presenting their insights to hotel leadership and convincing key stakeholders of strategies to apply. 
Data and technology power their insights, but their interpretation of price elasticity will also be fuelled by prior scenarios they have lived through and some gut instinct.
Personality and Characteristics
From a personality standpoint, expect a revenue manager to be a strong problem-solver, who brings creative solutions and who is able to communicate complex scenarios to others with ease.
Their best attempts at spotting potential issues or opportunities early and solving them, will only come to fruition if they can make others understand and rally around the chosen strategy.
Traditionally, revenue managers were expected to show signs of aptitude for maths and analytics. Today, the demands of the role have evolved to include a lot of technology, and internal and external data, ultimately adding a desire to work with new technologies to the mix of characteristics.
And while developments are not showing signs of slowing down anytime soon, someone who is keen to continue learning will find joy in a revenue management position.
Responsibilities
Hotel revenue manager responsibilities and duties will, to varying degrees and dependent on a hotel's particular need. 
A hotel revenue manager's daily checklist can include any of the following:
Running or supporting the revenue management team, including pricing of the hotel's reservations and meeting & events or other enquiries

Delivering day-to-day as well as promotional strategies in support of key revenue management metrics, such as

ADR

,

RevPAR

, occupancy and channel mix

Handling departmental goal setting and budget, including negotiations with third parties on commissions

Reviewing business performance and providing recommendations to improve financial performance

System maintenance and ongoing training and education
Hotel revenue manager salary
The pay range for a hotel revenue manager varies significantly depending on the aforementioned skills, experience and educational factors. It also varies depending on where you are – and who you ask.
The size of the hotel will also make a significant difference to salary expectations. Generally, revenue managers at larger hotels will also have team management responsibilities, as well as have a hand in policy development and liaising with senior management and other departments. 
Revenue managers for smaller hotels, on the other hand, may not have a team to manage, and may be expected to analyse booking trends, advise on pricing strategies, and generate revenue reports.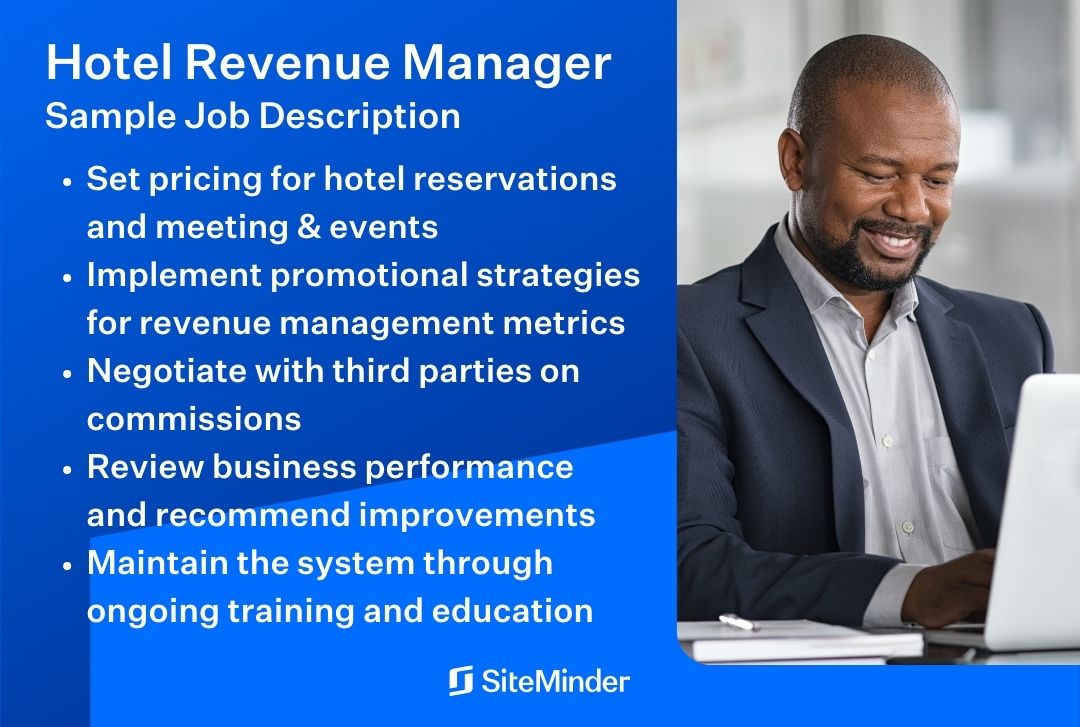 How do leading hotel revenue managers use technology?
Revenue managers rely on internal as well as external data for their decision-making.
Internal data includes any piece of information that is generated by the hotel, and would, for example, reside in the PMS. This includes historic performance data as well as future reservations, measured in pick-up and pacing.
External data is information that the hotel cannot generate themselves. 
Examples are STR reports, which inform the hotel of its comp sets performance, their ADR and occupancy levels by scale. This type of performance data empowers meaningful comparisons, making it easy to understand if an achieved ADR or occupancy level were better or worse than at competing hotels. 
External data also includes creating easy access in a digestible format to publicly available information: this includes competitors' rates or a hotel's own rate parity across channels, through rate shopping.
Most recently external data is also providing demand forecasting tools: current examples rely on either segmented data feeds by hotels anonymously disclosing their on-the-books data or tracked search activity, indicating local market demand.
Skilled revenue managers know how to interpret each of their data sources independently, and can draw a cohesive and meaningful understanding from all data sources combined.
To make their job easier, many leading revenue managers use integrations between tools, for example integrating external data into the same view as their internal data; hotel commerce platforms are an example of a tool that unites information in this way.
Revenue management systems (RMS), from basic to advanced, tend to offer a variety of integrations and rules, thereby making their price recommendations useful but also open to the human touch of proficient revenue managers.
Technology alleviates the strain of processing ever-growing amounts of data manually and empowers nimble, real-time strategies and decision-making: a skill that, when applied well, can make a significant difference to performance.
Three tips for hotel revenue managers to boost income and profit
As a crucial part of a hotel's financial strategy, revenue managers must balance guest satisfaction with profitability, and a proactive approach to learning and adapting to new trends is essential. While the role is far more complex than what can be distilled into a few short paragraphs, the three below tips provide a foundation to build success on for revenue managers. 
1. Know your changing cost
With high inflation rates and an increasing cost of labour, the cost that it takes to operate a hotel has changed. Profit margins have changed, and so your RevPAR and ADR also need a regular pulse check during a volatile time.
Economic conditions vary year-on-year, so expect operating costs to continue to adjust. 
As an advocate for the story behind the numbers, revenue managers need to remain clear on what success looks like in any given scenario and help their peers navigate the landscape.
2. Understand the price recommendation
RMS tools' price recommendations are powered by complex algorithms, but the best revenue managers have a solid understanding of just how the system arrived at its recommendation.
This knowledge will help them spot any anomaly or uncharacteristic swing that may be driven by the data that feeds the system or any other unusual circumstance and lets them adjust accordingly in an informed way, if needed. 
In a similar way, technology can break and integrations can fail: a human's ability to spot any such issue quickly is crucial. Suppliers and their user support should be able to provide any such education and ongoing information about updates to revenue managers.
3. Master new types of customers before your competitors do
It's not just cost that changes every year, but locations worldwide have also been welcoming new types of travellers: for example, the traveller who also works (sometimes with their families), as opposed to the traditional business traveller. 
Understanding nuances in your local market demand and how specific offers and inclusions may help attract a desirable type of traveller to your hotel can make a significant difference.
Customer data as well as human insights by customer-facing teams are crucial, so make sure you actively listen for this type of information and apply it to gain an edge.