Average daily rate (ADR) remains an important metric to talk about within the hotel industry. Data is becoming ever more valuable as hoteliers look for ways to recover from economic setbacks, grow their business, and gain an edge over the competition; so ADR is often crucial.
This blog will provide a comprehensive guide to ADR, including why it's so important and how your hotel can improve it.
What is hotel ADR?
ADR, which stands for average daily rate, is the average income per occupied room your hotel makes in a set period of time.
It's a key metric for you to measure and track if you want to build an effective hotel revenue management strategy.
Why is ADR important in the hotel industry?
ADR is a quick and effective method of measuring your hotel's performance. By looking at ADR, you can easily start to strategise ways to boost your bookings and revenue.
You can use ADR to forecast for specific weeks, months, or seasons, and then set performance goals for your business – making plans to improve any areas you thought you could have done better in the past.
For example, if you look at your historical ADR figures and identify trends, you'll start to understand your market better, as well your property's seasonality.
What is the formula for ADR?
The formula for ADR is generally presented as room revenue / number of rooms sold.

For example if your hotel earns $5000 from 20 rooms sold, ADR = $250.
You can apply this formula for any set time period you choose.
How to calculate ADR?
The best way to calculate ADR is to use the above formula. You can also use an online calculator which will let you make a number of calculations quickly and easily.
Try it for yourself by using SiteMinder's free ADR calculator here.
How to increase ADR in a hotel?
You can increase your hotel's ADR by raising your room rates. However, simply increasing room prices isn't always the only, or best, option.
Here's a list of 8 simple tactics you can try at your hotel to increase ADR:
Focus on increasing the spend from high-value guests – Your OTA channel partners will have data on which guests deliver higher ADR on average, such as business travellers or couples travelling for leisure. You can then strategise how you target these segments.
Track the overall economy and market demand – By keeping track of market fluctuations you'll have a better idea of when you can raise prices, by how much, and for how long.
Keep an eye on the competition – By analysing and tracking your closest competitors, you'll be able to find points of difference that allow you to boost your price. You'll also see when they are changing their rates and decide if you should or can do the same.
Upsell and cross-sell – Giving guests the option to upgrade and buy extra items or services at the point of booking will help drive up the spend from each individual guest, in turn boosting your ADR.
Use promotions and packages – Incentives like discount promotions and all-inclusive packages can allow you to increase your occupancy rates. With higher occupancy, you have more chances to win revenue from guests during their stay.
Offer extended stays – Find ways to keep your already sold rooms occupied by enticing guests to stay an extra night; perhaps by offering them a free meal and drink at your restaurant.
Personalise wherever possible – By personalising your service you'll build a stronger relationship with guests. This makes it more likely that they will spend extra, leave positive reviews, and come to stay again.
Work hard on your online reputation – The better your reviews and online reputation is, the higher your conversion rate will be. This means your cost of acquisition will decrease and the guests who stay with you will be highly motivated.
What hotel software helps to boost ADR?
Many of the features included in a hotel commerce platform can directly help you increase your hotel's ADR.
These include:
Hotel channel manager – A channel manager will enable you to sell on more channels, increasing your ability to boost occupancy and target high-value travellers.
Hotel booking engine – A booking engine will not only drive profitable direct reservations, but also give you the opportunity to upsell and own a personal relationship with your guests.
Hotel business intelligence – Hotel business intelligence software offers you key real-time insights into your market and your local competitors, allowing you to optimise pricing dynamically.
Hotel apps – There are many hotel apps on the market that facilitate better upselling, guest communication, and reputation management.
Interested in learning more about how a hotel commerce platform can help your hotel?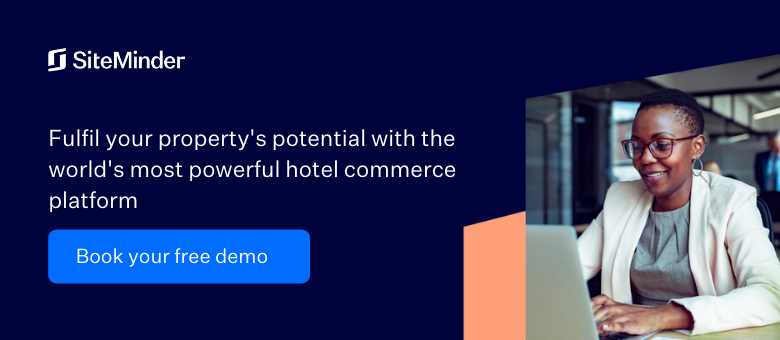 How to set KPIs for ADR?
It's unlikely your ADR will remain steady through a month or year, as there are many factors that can influence it. It's important to understand all the potential impacts on ADR so you can know how to respond.
Some KPIs that will tell you more about how you can optimise ADR include:
Events in your area
Seasonal travel trends
Global economic factors
Traveller behaviour changes
Naturally occurring events such as the weather
High and low demand periods
Channel performance
By looking through these lenses, you'll have a much clearer overall picture of your business and how ADR relates to that.
For instance, if you're in a high demand period but your ADR isn't increasing you need to figure out why and how you can remedy it.
It's also important to remember ADR only tells part of the revenue story at your hotel. For example, a higher ADR doesn't necessarily mean more revenue for your business – ADR might go up but it doesn't help if your occupancy has gone down.
With this in mind, make sure you're tracking other key metrics such as RevPAR, GOPPAR, RevPAM and more.
Click here for a full guide on RevPAR and other key hotel metrics.