What is hotel technology?
Hotel technology allows hotels to achieve their most important goals, including optimising distribution, driving bookings, creating a healthy revenue stream, and providing an amazing guest experience. The most successful properties have at least one thing in common: they all use sophisticated hotel technology and software.
Hotel technology is an ever-growing, ever-changing, concept which has really only established itself in the last decade or two, meaning there are still thousands of hotels across the world that haven't adopted a wide-ranging technology strategy. This is why so much opportunity exists for hotel businesses and technology developers alike.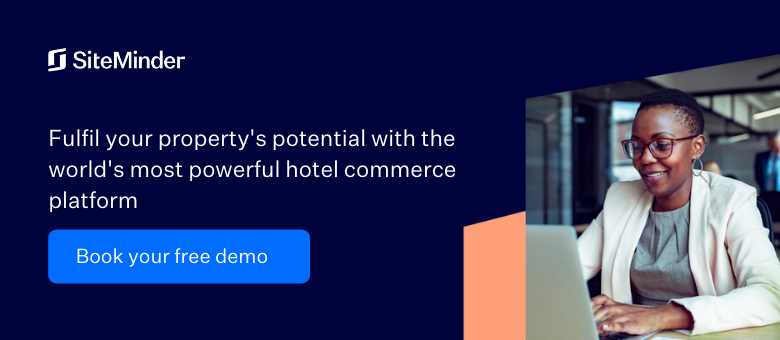 Hotel technology: An introduction
In a travel landscape where distribution and booking technology in particular have become so prominent, any hotel not using the latest tools at its disposal is at a significant competitive disadvantage.
Within an industry where time very much equals money, hotel technology is based around making things quicker and easier for hotel managers and staff – while also enhancing the guest experience.
Automation and integration are the buzzwords for any technology provider, but that's because they truly are the key to achieving hotel business goals.
Some of the back-end hotel technology you'll hear about most includes:
Online distribution technology
Direct booking technology
Revenue management technology
Property management technology
Business intelligence technology
Website and SEO technology
Guest-facing technology
Marketing technology
With the travel industry undergoing regular change, hoteliers are looking for ways to capitalise on opportunities to increase the amount of bookings they get, boost the value of each booking, drive greater profits, and establish a smarter, simpler, way of running a hotel.
This blog will take you through everything you need to know if you're a hotelier looking to adopt technology for the first time, or upgrade your current systems to a best-in-class provider.
What are the main hotel technology systems?
There's such a huge range of systems hotels can put into action in different facets of their business. Some help on the back-end, some improve the overall quality of the property, and some interact directly with guests.
Some of the most effective examples of hotel technology tools include:
Channel managers
Booking engines
Property management systems
Hotel website builders
Payment solutions
Revenue management systems
Rate intelligence tools
Check-in/out software
Marketing automation tools
In-room tech amenities
What many of these systems have in common is that they operate on the cloud.
What is cloud technology?
Cloud technology is now the dominant force in online distribution. Not only does it help hotels generate more bookings, but it can improve almost every aspect of running a successful hotel business.
Cloud technology can be an especially useful and affordable tool for independent hoteliers who don't have large budgets.
Here are six benefits of using cloud technology at your hotel:
1. Cloud technology is cost-effective
Upfront costs are always low with cloud technology because you only pay for what you need in regards to storage and computing power. Hardware, energy, and operational costs are also reduced because the financing of that infrastructure falls to the provider. There's also going to be no maintenance costs involved because no damage will be done if your hardware breaks down. Simply log on with another device and continue working.
2. Cloud technology saves time and increases productivity
Processing is much faster with cloud technology and the automated nature of cloud-based processes helps your hotel do more, in a shorter period of time. It can automate reservations, emails, inventory updates, payments, and even housekeeping. The flexibility of the cloud also means you can operate your property management system from anywhere, as long as you have an internet connection and a device.
3. Cloud technology is secure and safe
Data is always stored securely and remotely rather than in a physical location, meaning there is far less risk of your data and records being compromised or lost. It's also compatible with any device, since any updates or apps can be done within the software. Look for a technology provider that is PCI DSS compliant.
4. Cloud technology is a powerful processor
The actual processing and computing with cloud technology is faster because it utilises connected abilities that weren't previously possible on a single computer. This makes it much easier to track, collect, and analyse metrics such as booking data.
5. Cloud technology improves staff collaboration
With cloud-based hotel systems you can implement strategies to make your staff more responsive, freeing them from the confines of the front desk to give quicker and more personalised service to your guests. This reduces downtime and keeps your guests happy and willing to return in the future.
6. Cloud technology helps you develop strategies
Because you can use this technology to collect and analyse a vast amount of guest data, you can easily develop relevant loyalty programs and pricing plans that will maximise both your guest acquisition and retention. The more you know about your guests, the more accurately you can market your hotel.
What is guest facing hotel technology?
Guest facing, or in-room, technology directly affects a guest's experience at a hotel. There's an enormous amount of products for hotels to work with depending on their budget and property type. Many of these, such as free Wi-Fi or streaming and entertainment, may qualify as necessities in the minds of today's consumer.
The expectations of travellers are becoming higher and higher as time goes by – they're seeking unique experiences but they also really appreciate the simple things being done right.
Here are five examples of in-room technology guests will love:
1. High-speed wifi for your hotel guests
To many this may seem like a no-brainer, but the reality is some properties still aren't providing guests with the service they desire. Guests spend a lot of time in their room researching options for dinner, shows, attractions, bookings etc. If they're experiencing slow internet, they'll be quickly frustrated and your hotel will be dealing with a lot of complaints. Guests expect speeds to be on par with what they use at home.
It's also important to make sure Wi-Fi is free. Charging a fee for the internet is often a big factor in travellers choosing one hotel over another.
2. Hubs of technology to boost your room experience
Hot on the heels of fast internet is the need to make sure all devices are powered and usable at all times. Guests want adequate power stations to charge multiple devices, they want space to use their computer if need be, and they want docks for their phone or music player to provide their own entertainment.
Things like charging stations, small desks, and docks are easy to implement and guests will be very appreciative of them.
3. Netflix and YouTube for guest entertainment
The ability to cast and stream from devices like mobiles, laptops, and tablets to a bigger screen in the hotel room is essential. This might mean Netflix or other streaming services, YouTube, Spotify, or even a web browser.
Guests may want to use this feature simply for entertainment or they might also want to work via the television so ensure you can have this available
4. Smart technologies for guest comfort and luxury
This is where you can afford to get a little more complex. The right smart technology can offer guests a lot of convenience and a sense of luxury.
Smart thermostats allow guests to use an app to adjust the temperature in the room. They can do the same with smart lighting, dimming or brightening the room from their phone. This can even extend to changing the position of the bed, or opening and closing blinds.
Mobile door keys are also a piece of technology that's being perfected at the moment and when optimised will give guests a much more streamlined stay to combine with mobile check in.
5. Texting services for hotel concierge and services
Giving guests the option to use texts or messaging apps to communicate with the hotel will satisfy their need for feeling pampered. By 2021 the number of people using messaging apps to communicate will reach 2.5 billion.
At the touch of a finger they can elicit information and make arrangements with a concierge, order room service, book amenities, provide feedback or inform staff of an issue. At no point do they have to leave their room or wait on hold during a call.
Hotel technology trends
Technology trends in the hotel and travel industries are largely driven by two factors.
The first is consumers shifting their preferences and perspectives, to start demanding new levels of service or changed methods of delivering a satisfactory experience. The second factor is other businesses looking to advance the industry and increase the level of efficiency and sophistication across the board. We've seen both in play coming out of the COVID-19 pandemic.
On a global scale, the uptake and use of hotel technology to market, sell, and manage guest rooms is a strong general trend.
Distributing your rooms to the right channels is vital for the success of your business, as is managing distribution and reservations in an effective manner. As more online booking channels announce their presence across the industry, and more travellers visit these platforms in large numbers, hotels have started to expand their distribution network by partnering with more OTAs alongside the exploration of other channels such as metasearch in order to ensure maximum visibility.
Currently only half of the world's hotels use a dedicated channel manager to achieve this goal – a low number considering how useful this technology is for expanding a hotel's reach and reducing double-bookings.
Recent technology trends in the hotel industry
There are of course many other trends taking shape across the industry.Here are some to be aware of.
The accelerated emergence of voice technology via Amazon Alexa
In the past couple of years it's become apparent voice technology is set to play a major role in the future of society, nevermind a particular industry. Voice recognition devices are already being used in millions of homes, offices, and cars via Google and Amazon among others. With the amount of data in the world, voice search is another aspect with the potential to really narrow things down. Instead of a whole screen of information overload, a voice-based search will be designed to deliver a much more personal and helpful result. Amazon's system can be customised to include key guest information, like checkout time or pool hours; allows guests to request services like housekeeping or room service; and can be configured to control "smart" hotel room functions, like adjusting the thermostat, controlling the TV and entertainment systems, or raising the blinds. Guests are also able to ask Alexa for information about the hotel itself – like where the fitness centre is located, when the pool is open, and other general information.
This kind of development is a huge step forward when trying to improve guest experience, giving travellers freedom, convenience, and style during their stay. However, the greatest impact may come from travellers using Alexa in their homes as the technology develops further with the help of artificial intelligence. If guests can have a conversation with Alexa and ask it to find them a hotel, or organise a trip, then the whole search and distribution landscape changes
SiteMinder recommends:
We would advise that you seek feedback from your guests and discover if this technology is something they would appreciate at your property. If the majority say yes then it's worth the investment. Afterall many of them may already use it at home. Future travellers will see this as a key requirement and guest personalisation has never been more important.
Drone photography fad takes off – for guests and hotels alike
Using drones for photography and videography has become extremely popular. Individuals are using it on days out, on trips, and to help sell properties or products. The images that drones can produce have a real wow factor, and can obviously capture infinitely more detail than a handheld camera. Many travellers now use drones to document their trips and to post breathtaking pictures to social media, giving friends and family a true example of a destination's beauty.
It's easy to see the potential this aerial photography holds for destination and hotel marketing. With a drone, it's easy to take photos that captivate travellers online. In an age where travellers are looking for as much information as possible, this extra exciting point of view could be the factor that seals a booking for your property. Not only are travellers receiving your amazing ground-level accommodation pictures, but an almost preview of their trip at your destination with drone footage able to show them more than ever before.
SiteMinder recommends:
Improving your online presence is vital if you want to attract today's digital traveller. Investing in a camera drone or hiring someone to perform drone photography is not a large investment in the long-term, and will deliver stunning one-of-a-kind images for your property to use on your hotel website, social media, emails, and more. Statistics show optimised profiles with high quality images have much greater visibility on search engines and receive more attention from travellers. Try incorporating drones into your marketing and track whether you see an uplift in visitors and bookings.
Greater demand and capability for instant check-in and check-out
The more time-efficient travellers become, the more time-efficiency they crave. The more convenience they're offered, the more they want. The natural moral of the story here is that if you give someone something good, they won't take kindly to reverting back to old ways. With huge efforts being made around the world to personalise and improve guest experience, travellers will now only settle for the best. Check-in and check-out are one of the most important places where this can be improved and great strides will be taken.
One of the greatest bug-bears for guests is any delay or friction at the front desk and when arriving and departing for their trip. One of the reasons for this is that many hoteliers around the world rely on manual methods for managing their property. By definition, this will be slower than any automatic process that exists. The good news is that technology exists to allow for much smoother check-in/out experiences for guests. Your hotel risks falling behind competitors if you ignore this trend.
SiteMinder recommends:
Guest expectations are starting to shift. They no longer just appreciate instant check-in, but genuinely assume it will be available to them. For you to master this and keep your guests happy, your hotel needs to adopt a cloud-based property management system. This way, check-in and check-out can be performed through one click, or even via the guest's mobile phone. Cloud-based technology is never out of date, very user friendly, and adaptable to most devices.
New ways to pay: Hotel life made simpler
Obviously payment is extremely important for guests and hotels alike, but it should never be the central focus of either party's thoughts. Payment should be seamless, easy, and fast. The main points to focus on are emerging and alternative forms of payment, and new developments in integrated payment systems. Alternative forms of payment basically encompass anything beyond typical card and cash transactions. This might include cryptocurrencies or loyalty points and will form the basis for a cashless society. Integrated payment solutions are now making it much simpler for hotels to accept and process transactions. With payment portals housed within the property management system, clunky hardware is eliminated, and paperless transactions are enabled.
Again, convenience is king. Customers will always look for, and choose, the payment method that's easiest for them. Sometimes this doesn't align with what's most convenient for you, but if you can satisfy a guest's need for quick and easy payment you're more likely to be rewarded with loyalty. It's also important to keep track of any trends that might allow you to drive repeat business. In a saturated market any offering that elevates your brand above another is a major win.
SiteMinder recommends:
It's a savvy business strategy to ensure you have an integrated payments solution in place at your hotel. When payments are made this way, transactions from credit/debit card or other electronic payments (such as internet or mobile) are processed directly within the property management system. It erases the need to swipe cards or manually enter payment transaction details into a terminal by allowing you to process payments with a click of the button, using the card details saved securely within the PMS. This saves valuable time, reduces labour costs, and eliminates the possibility of human error. Guests will also thank you for it because they won't have to spend as much time at the front desk or wait for printed receipts.
Artificial intelligence: Here to stay and have a real impact
Chatbots have now been well and truly established in customer service, with the trend to be cemented and improved in the next 12 months. Very few websites now don't involve some kind of interaction with a notification pop-up asking if you need assistance. In hospitality, this trend is especially strong, where 24/7 support is often required. This type of artificial intelligence is proving very useful for helping visitors with their enquiries, processing bookings, and checking guests in and out. AI robots are also starting to become more than a fad, with the ability for AI to seriously increase productivity and efficiency when employed for straightforward tasks.
Consumers enjoy communicating with chatbots because of their ability to respond immediately. Chatbots certainly have the ability to save you money on labour hours, but are a great supplement to the rest of your staff in general. As for actual AI robots, they could similarly provide a diversified booking method, improved guest interaction, and increased data collection. Specifically, think of positions like valet, cleaning and maintenance, room service, property management, or security.
SiteMinder recommends:
While it may still be too early to install a robot at your hotel – it's not far off – you should definitely be using chatbots to your advantage. On top of saving time and answering guest's questions, chatbots can collect a lot of data and tease out information you can use to improve your level of service and make continuing upgrades to your hotel, ensuring all guests enjoy the best stay possible. They may also indicate which guests are more likely to leave reviews or offer feedback you can again use to inform your marketing or management strategies.
Emerging technology trends in the hospitality industry
The focus on guest experience has intensified in reaction to the rising expectations of global travellers, with new technology and strategies being developed to meet this challenge.
However, the future has quickly become the present. Industry-changing innovation is now upon us and the time has come for hotels to stop planning for them and start implementing them.
Here are the key emerging guest-facing technology features your hotel should be taking advantage of to optimise guest satisfaction:
The 'Internet of Things' creates a more seamless stay
The connection and integration between different technologies and devices has been hotly anticipated by most industries, and it provides huge opportunities for hotels. For a guest, walking into a 'smart' room where they can immediately sync and exchange data with every electronic device from their phone is the new height of convenience and efficiency. This is what the Internet of Things (IoT) offers, with experts predicting around 30 billion objects making up the network by 2020.
Already, IoT products like LED lighting, automated curtains, temperature control, virtual concierge, smart TVs, and more are changing the way guests navigate their hotel stay. Even though traditional hands-on hospitality is still valuable, the ability of technology integration to speed-up and simplify certain processes means some of the best guest service is now hands-off.
Mobile functions help automate and optimise the hotel experience
Sensors are already hugely popular, replacing buttons, handles, or other traditional mechanisms to enter rooms or operate devices. Mobile phones are an extension of this, eliminating a lot of physical interaction at the hotel.
Hotels need to take advantage of all the features mobile can offer. Being able to check in and out, unlock the room, order room service, and make amenity bookings are all actions guests will be thrilled to perform via their mobile phone.
An even better 5G mobile service is on the horizon so hotels should implement a mobile-first approach to service at their hotel and also ensure they have a mobile app for guests to download. Even a simple text message is an underrated way to serve guests.
Many properties, including Hotel Irvine in California, let guests text for just about anything they need, and The Westin La Paloma Resort & Spa in Arizona has a dedicated texting concierge ready to handle any requests.
Guest personalisation goes to a new level with technology
Hotels now have access to technology that can give them an unprecedented amount of data on their guests. Knowing who their guests are and how they behave allows hotels to target and assist them in a much more specific way.
Personal data is fast becoming the number one commodity for hotels. With data comes a wealth of insights, helping deliver a personal touch for every guest.
Virtual reality will create a more immersive experience
While the gaming industry is well and truly entrenched in virtual reality (VR), hotels can also use it to give guests a unique way to engage hotels and their destination. Even if it's as simple as allowing guests to enter a VR booth and trial the facilities of the hotel and the attractions of the surrounding city, the hotel will then know exactly what they're guest is interested in and generate more revenue by upselling and cross-selling.
Beyond this, entire tailored VR experiences can be offered to guests for them to take from the comfort of their room.
What will be the next generation of hotel tech?
The step in the development of hotel technology is already underway. The era of hotel commerce has arrived.
Hotel commerce allows hoteliers to have even more control over their business, by operating from one seamless platform and enjoying the insights from data that is no longer fragmented.
With one smart platform to function from, hoteliers can be even more strategic about how they run their business. Learn more about hotel commerce here.
When and how should your hotel adopt new technology?
It's vital to know what technology is worth investing in, and what will just be a gimmick burning a hole in your hotel's budget.
Will the technology attract more guests and increase bookings? Or will the higher price of rooms outweigh the pull of cutting-edge gadgets?
Some hotels have gone all out to give guests ultimate convenience, leaving no stone unturned in the hope that a 'five-star' experience will persuade travellers to book. Others have been more circumspect, preferring to rely on proven technology systems that are more measurable. After all, what use is a robot in your hotel if you don't have a sound distribution strategy to ensure travellers are actually finding your hotel?
Let's take a look at some of the most impressive technology implementations in hotels today and discuss the value of each, before looking at some guaranteed revenue boosters.
The world's most innovative hotel technology:
Keyless door entry
This type of technology allows hotel clerks to use NFC, RFID, or Bluetooth to pair guests' phones with electronic room locks and eliminate the need for a physical door key.
While convenient, it is expensive and not currently standardised across the industry. There are also some potential pitfalls. What if a guest had forgotten their phone charger but can't get back into their room because their phone is out of battery? What if you are travelling with multiple people? Is a key zapped to all their phones?
Ultimately it doesn't seem like this technology would be a significant extra incentive for guests to book at the hotel, at least for now, considering it would come with a higher price tag for hoteliers.
Robots
There are many examples of robots in hotels that can greet and check-in guests, handle luggage, provide information, and perform concierge duties.
The benefit of robots is that they're a huge novelty at the moment and could be a driving force for bookings. They also don't require wages, meaning the hotel can eventually spend even more money on enhancing the guest experience. The downside is if anything goes wrong, it may take a lot of time and money to fix, and prove inconvenient for a guest who then has to wait for a real person to come and help them. There's also the risk of alienating some guests with large scale uptake of robotic technology because there are many travellers who still enjoy the human touch.
The efficiency and range of uses for robots will only increase as time goes by. With artificial intelligence on the rise, hotels should seriously consider investing in this technology. However, the next few years should be approached with caution.
Geolocation
Some hotels are using geolocation apps to track guests through every part of the hotel. For instance, if a guest is near the gym they may receive a text message offering a special service or discount. Likewise if they're relaxing near the poolside bar etc.
While it may seem like a smart and cutting-edge strategy, it's quite possible guests will find this invasive and annoying. On top of that, building and running these apps is expensive and doesn't add all that much to your business. It's certainly not going to be a big booking incentive.
In-room technology
Many hotels are outfitting rooms with tablets or iPads to allow guests to adjust room temperature, order room service, request housekeeping, adjust the lighting, control the TV, and more.
This is probably going to be the biggest influencer on bookings when it comes to guest-operated technology in a hotel. All of this is relatively affordable and provides a level of control and convenience guests really enjoy experiencing on their trip.
Most hotels should be able to implement at least some semblance of this technology and it will be worth it in the long-term because it's what guests expect from a modern hotel stay.
Staff technology
Improving staff efficiency can have a flow-on effect across the business. Saving man-hours and improving guest experience will save time, money, and potentially boost return bookings. Connecting staff to portable devices such as the iPod Touch will allow staff to be more responsive to guest and general hotel needs.
Again, this is relatively cheap but can have a lasting positive effect on the profitability of your hotel so it's something all hotels should be executing.
Tech gimmicks
Some technology is perhaps too smart for its own good, to the point where it becomes superfluous. Here are some examples of technology that may not be worth it:
Luxury shuttle services – Some guests may pay more to be driven to the airport in a Teslabut many won't, and the price and upkeep of expensive shuttle vehicles won't help your hotel.
Bathroom televisions – The logistics of this is difficult to start with, but concealing a flatscreen behind the mirror seems neither practical or convenient.
Clever buttons – For example, a button to turn the shower glass from clear to frosted and back again just seems pointless and if it's adding money to the room rate, would a guest really want to pay for that?
Heat-sensors – These can be used to alert a staff member if a room is empty or not, so they can perform housekeeping duties. A do not disturb sign and a simple knock are probably still functional ideals, especially if you're taking a budget into account.
Hotels need to think carefully about the problems that need solving and what they're hoping to achieve with the technology they invest in.
Your specific goals will dictate your ultimate decision, but in general, here are some of the more important objectives you should consider…
1. Will it give my hotel global reach?
Guests won't be able to book with you if they can't find you, so the first concern you should raise with your technology provider is if they can make you more visible on a global scale.
Generally, the two main methods for increasing your awareness is to connect to online travel agents (OTAs) and global distribution systems (GDSs).
2. Can it lower the cost of my guest acquisition?
Any technology you invest in should do one thing for certain; save you time. You should be saving on man hours by eliminating manual data entry and no longer doubling up on tasks.
It's vital that your technology partner can gift you seamless integration with world leading hotel technology systems such as central reservation systems (CRSs), property management systems (PMSs), and revenue management systems (RMSs).
3. Will technology drive more revenue at my hotel?
As stated above, OTAs will give you the opportunity to increase your occupancy and therefore your revenue – but only if you have a channel manager that offers pooled inventory, rather than allocated inventory.
Pooled inventory allows you to give every channel, including your own website, access to all your rooms at once and if a booking is made, the total available inventory will decrease automatically across all channels.
Allocated inventory means that a specified number of rooms is allocated to each channel and once they are booked, no more can be pulled from the total inventory and the availability won't update on other channels, creating the risk of overbookings.
4. Will it give me higher profit margins?
One way to increase your hotel's profit is to drive as many bookings directly through your hotel website as possible, to avoid commission fees from OTAs or other third party booking channels.
Your website needs to be optimised for search engines, designed attractively, function with a quick load time, set up for mobile and social, and most importantly possess a booking engine that can complete bookings in a two-step process.
Your booking engine should also be customisable to fit your hotel's brand and be integrated with your other systems like your PMS. Direct bookings will not only increase your profit but may encourage return business because travellers become familiar with your brand when they visit your website. The most important requirement your technology provider should address is that a booking needs to be made in no more than a few clicks of the guest's mouse.
The impact of information technology in the hotel sector
When you weigh everything up, IT can be just as important to your hotel as beds, the minibar, and room service etc. Only once your property is operationally smooth can you really focus on optimising the guest experience.
Here are some examples of the ways that IT continues to improve the hospitality and tourism industry:
Selling your brand
Usually a traveller's first experience with your hotel is a visit to your website. They'll view galleries and reviews, along with rates and any other content you have prominently displayed. It is vital for a business to effectively utilise online advertising, social media, blogs, and promotions to help convince, and convenience, their customers.
Internal Systems
Computer systems allow for much quicker, easier, communication on a larger scale. It allows chains to manage their properties in multiple locations much easier. They also help keep staff on the same page and make it easier to access information, with guest requests, housekeeping information, and reservations all kept in one place. If things on the back end are working, you have more time to perfect the front end – the parts guests see.
Mobile functionality
So many travellers search and make travel arrangements on the run from their mobile devices now. This might be a smartphone or a tablet. Larger home PCs are a lot less common. It's important that hotels can enable this need on their website. IT systems also enable hoteliers themselves to manage their property from mobile devices.
Information technology's greatest impact can be seen in the form of speed and accuracy. Speeding up property management tasks and point of sale service helps reduce labour costs and ensure a more seamless customer experience.
What is the role of IT in the hotel industry?
IT plays a major role in developing and maintaining competitiveness within the industry. Since a lot of success depends on a business's ability to access and analyse the latest data – and act on it – IT systems are big players.
IT helps meet the demands for timely and accurate information by customers and hotel managers alike. It's a massive enabler, evidenced by the industry trend of IT systems that work cooperatively to assist managers to deliver quality service to their customers and to enhance operational efficiency and control costs.
If hotels don't master the right IT systems, they'll struggle to manage and utilise the data at their disposal. As investment in IT is basically now an indispensable component of tourism and hospitality business strategy.
Areas where IT has affected the realm of hotels:
Reservations Systems
Mobile Communication
In-Room Technology
Organisation
Coordination
Booking systems
These stats can help you understand just how important IT is in the industry
1. Two-thirds of guests want to check-in on their smartphone
Guests want check-in to be as painless as possible. If they just travelled from somewhere, especially if they came from overseas, the last thing they want to do is wait a long time to get into their room. It also means you don't have to deal with a crowded lobby.
2. More than half of hotels are planning to ramp up IT spending
This means a lot of your competitors are making shrewd investments. You can't afford to fall off the pace in the face of something guests clearly expect from you.
3. Three-quarters of guests want customised offers or loyalty programs
IT systems can really help you build guest profiles, keep track of preferences, and make personalised offers. Note special requests, room service orders, and other data so that when they check in again down the line, you can surprise your repeat guest with a thoughtful gesture.
4. More than half of all hotels are operating in the cloud
This is growing all the time. It's a mass abandonment of old methods such as books and spreadsheets. Using systems like channel managers is now starting to be referred to as standard operating procedure – meaning those who aren't have found themselves unaligned with the industry.
5. Half of business travellers factor free Wi-Fi into their decision to book
Clearly W-iFi is a must for corporate travellers and if it isn't complementary, there's no excuse in their eyes. A small matter like this can cause large amounts of friction for guests if you aren't catering for them. It's an easily solved problem that could be impacting your online reviews and reputation.
What technology do you need in your hotel?
The best way to incorporate technology into your hotel today is via a smart hotel commerce platform – which brings together essential features and manages them from one location.
This is both a simpler and more sophisticated way to run a hotel business, thanks to a greater amount of control and insights being available to you.
Some of the features of a hotel commerce platform may include:
Channel management technology
One of the main issues hotels face without the help of distribution technology such as a channel manager is overbookings.
If a hotel has a really healthy occupancy rate and is receiving a lot of reservation information it can be impossible to manually enter it quickly enough before another customer has also made a reservation in the same room.
The use of a channel manager that integrates with the hotel's property management system will automatically record the reservations and update inventory accordingly, meaning there is no need for hotel staff to stress or spend undue amounts of time on manual processing.
Channel management tools also allow a hotel manager quick and easy access to an overview of all bookings on a single platform. This means a hotel can increase its visibility by easily being able to manage an increased number of online distribution channels such as online travel agents like Expedia. Instead of the five it had before, it could now have an ideal 15-20 channels active in order to accept bookings.
A good channel manager uses pooled inventory and allows you to automate the management of the online travel agents (OTAs) you connect to. Availability, rates, and inventory can be updated in real-time so you can basically eliminate the risk of overbookings, saving time on manual processing and recording.
Booking engine technology
When hotels distribute their rooms through online travel agents the bookings they accept come at the cost of a commission to the booking channel.
This is only fair but the fee can be as high as 15% and put a strain on the overall profit the hotel makes from each room. It makes sense that hotels will want to attract as many bookings directly through their website as possible. For this they need a reliable, optimised, and integrated booking engine that will form part of their channel network.
An online booking engine that provides a fast and easy two-step booking experience for the guest will go a long way to increasing hotel website and Google Hotel Ads conversions for any of a hotel brand's properties, and again saves a lot of man hours.
It also allows a hotel to have more control over its rates. With a modern booking engine hotels can set promotions, craft packaged deals, create last-minute rates, and use urgency messages to attract more customers.
The best booking engine will provide a seamless online experience and take no longer than a few seconds or a couple of clicks to process a guest's reservation from anywhere in the world.
Your booking engine should integrate with your website and branding as well as other systems like a channel manager, a property management system (PMS), central reservations system (CRS), and payment gateways to retain the ease of operation both you and your guests desire.
Not only will a good booking engine enable commission-free bookings but it will also allow you to nurture your customer through the whole trip cycle; pre, during, and post-stay. You can set up email notifications, offer extras and promotions, and integrate with social media and mobile platforms.
Hotel website technology
Every hotel needs a beautiful, functional, website that is optimised for mobile and SEO. This ensures guests are finding your website and staying there to make a booking instead of looking elsewhere. If your website is not well designed, loads quickly, and is responsive to all devices, people will soon look elsewhere. However, hiring a designer or trying to build a website yourself will be time consuming and costly, not only in the first instance but every time it needs updating.
This is why you require technology like an intuitive website builder and editor that will have you up and running in less than an hour and can be updated in an instant – as often as you like.
The benefits of using website builder software are wide-ranging and include: custom themes and templates, SEO indexes are taken care of, mobile integration is optimised, seamless partnership with your booking engine, it can act as a content management system (CMS) for your blogs and photos, and it's multi-lingual.
Business intelligence technology
Real-time pricing intelligence will let you watch and analyse your competitors and make smart choices about your own rates, to optimise your revenue management. Hotel revenue management can be a complex undertaking, especially in a market that is becoming more complicated by the minute due to continued growth in both hotels and channels. Real-time access to revenue management metrics is a priceless addition to your pricing strategy.
With the right tool you'll be able to keep track of your competitors but more importantly access a range of rules and notifications so you never miss a change in the market. You can also pull reports and forecast demand to make the best possible decisions for your pricing strategy.
With a versatile and intelligent tool you'll have rate visibility and the capability to meet your revenue targets while using affordable revenue management software.
Global distribution technology
Connecting to a global distribution system (GDS) will put your hotel on a more diverse and broad range of booking 'maps', to give your hotel the best chance of being found by as many people as possible. A GDS gives you access to a virtual marketplace to showcase your wares to hundreds of thousands of travel agents across the world.
It grants the opportunity to offer bundled packages with airlines and car rentals to further incentivise agents to advertise you and travellers to book with you.
A GDS can also be updated in real-time and acts as a reliable middleman, saving you time and hassle.
With a GDS you need to be sure you're getting value for money. Are you getting access to a big enough network? Does it integrate with other common hotel systems? Are there commissions and what are the contract agreements?
Marketing automation
Marketing automation platforms automate the lead-to-sale process. For hotel operators, this means 1:1 communication with potential hotel guests to educate, engage and book. When integrated with your CRM system sales and marketing are on the same page. By allowing you to build out your campaigns, EDMs, and landing pages all in one place with relevant and personalised content across a variety of online channels – marketing automation software provides the missing link in your email marketing strategy.
Some of the key benefits of using a marketing automation platform include:
The ability to create and experiment with different emails and landing pages to improve CTAs and lead generation.
The ability to nurture your leads (guests) by running automated lead-nurturing campaigns with multi-touch communications to enhance conversion opportunities.
A lead scoring model that will allow you to match your hotel's offerings to the unique criteria of your guests and prospects – which in turn will give you greater insights into your guests' behaviour to create more targeted communications and promotions.
Detailed reports showing the performance of emails, conversion rates, and return on investment (ROI) broken down by campaign.
Your marketing automation platform's tracking and reporting metrics are an invaluable resource to help you fine tune the performance of your email and nurture campaigns, increase conversion rates and bookings, as well as improve your overall business processes.
Beyond this you should pay close attention to:
Social media platforms
Email tools
Apps targeting promotional offers
Systems to improve customer communication
This all before you even think about buying a fancy keyless door lock or installing a smart TV in your room. Get the basics right and then assess your budget to give guests the stay they really need and want. Guest feedback is vital – listen to what your guests are saying. If you have never received any complaints about your bathroom, maybe you don't need to spend money on heated floors. Instead you could update the entertainment system that a few guests have mentioned seems a little out of date.
Why choose SiteMinder?
SiteMinder is the world's leading open hotel commerce platform, empowering hotels and accommodation providers to sell, market, manage and grow their business. SiteMinder's innovative online platform offers hotels and accommodation providers a comprehensive range of products and solutions to manage and streamline the distribution of their rooms across a wide selection of direct and indirect channels, take bookings from guests and communicate with guests. At the 2023 HotelTechAwards SiteMinder secured nine awards which included #1 Hotelier's Choice Award, #1 Best Hotel eCommerce Platform, #1 Best Channel Manager, and #1 Best Booking Engine.