Since content is deleted instantly, with nothing incriminating left behind, Snapchat appeals to a younger generation who value the higher degree of privacy the app offers over other platforms.
Like many other social media channels, it's one that shouldn't be ignored by hotels. Snapchat receives more than four billion content views per day – a figure that is (staggeringly) the same as Facebook.
Snapchat offers an attractive alternative for teenagers who prefer to steer clear of Facebook, which they view as being infiltrated by their parents.
However, a growing population of millennials is adopting it as a preferred social platform.
Just like individual users, brands can create profiles on Snapchat, then send out marketing messages to users they've added as friends.
In addition to single images or video 'snaps', Snapchat now offers a feature called Stories, which are strings of photos or videos compiled into a montage lasting 24 hours. Brands have been marketing via Stories since 2013, with everything from movie trailers to fast-disappearing promotional vouchers.
An offshoot of this is 'Our Stories', typically based on large-scale events. Users submit live content and Snapchat curates the best into a story for everyone to see creating an opportunity for valuable real-time marketing and engagement.
Our Stories are brand-sponsored and can contain branded messages, which is exciting news for hoteliers with great travel content to share.
A more recently added feature is 'Discover', which provides daily editorial content on trending topics through collaborations with media giants like CNN and National Geographic. Discover is useful in that it allows hotel and travel brands to target prospective guests based on their interests.
Is Snapchat really for hotels?
Given the app's user base, it is undeniably a useful tool for brands that value the youth market.
Young Snapchatters are massively engaged, and hotel marketers need to promote their activity where millennial guests are paying attention and interacting. And the hotel industry has some interesting examples of how Snapchat is making its way into a property's marketing strategy. Let's look at how Marriott and Starwood are using the platform…
Travel Brilliantly with Marriott Hotels on Snapchat
Rather than pushing out ads on Snapchat, canny travel operators are partnering with influencers to co-create content. Marriott has boosted its ad campaign Travel Brilliantly, with Stories on Snapchat: turning content from TV shows into animated GIFs in an effort to get the operator's 18 brands at the forefront of young travellers' minds.
In conjunction, Marriott chose four influencers for a three-month campaign headquartered on Snapchat. The influencers gave users a list of cities from which to choose while working with Marriott to pick cities when popular ones emerged. The campaign sought to facilitate a two-way conversation with users about which cities the influencers should visit, featuring the Marriott brand during the visits.
We're on @Snapchat! Follow MarriottHotels & see how we (& some of our closest friends) #TravelBrilliantly every day. pic.twitter.com/mrKyaTYby1

— Marriott Hotels (@Marriott) December 19, 2014
Using Snapchat to evoke jealousy with Starwood Hotels & Resorts' W Hotels
Brands can also take advantage of Snapchat's filter offering: sponsored frames which can be superimposed over photos and videos taken via the app. Starwood Hotels & Resorts' W Hotels was the first travel brand to make use of this feature.
Overnight guests and visitors can use the filters, designed to evoke jealousy and FOMO (fear of missing out for those struggling to keep up!) with tongue-in-cheek captions like 'You Wish You Were Here' and 'Current Situation'. Each filter also includes W Hotels' logo, vital for ensuring the brand is recognised during these fun photo uploads.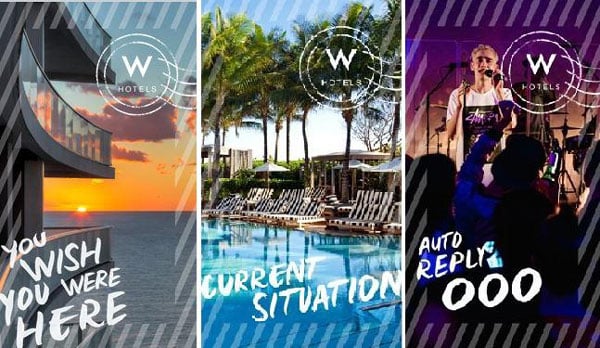 Image Source: Brand Channel
How do guests find your hotel on Snapchat?
It's actually very difficult for users to find brands to follow on Snapchat, and many users don't know it's possible to do so. Therefore, it's imperative that you cross-promote your Snapchat username, also known as a handle, in other media to build up an audience.
Also, as the app collects only a user's age, phone contact lists, and an email address, its advertising targeting capabilities are limited compared with those of other platforms that collect much more user information – and the tools for analysing the data need some work. However, as the app rolls out more paid advertising opportunities, it may improve its analytics tools (as we've seen Instagram recently do) in order to meet the needs of hotel brands that advertise.
More importantly, though, Generation Y and Z are now becoming accustomed to communicating mainly in photos and videos, quickly and instantly.
And with the Our Story feature, they are watching live events from the perspective of the attendees – not broadcast media. This behaviour will influence how brands are able to engage effectively with these travellers as they age, even if they grow out of using Snapchat itself.
Ultimately, whether or not your hotel should be using Snapchat depends on your target market.
If your hotel has an eye on the next generation of travellers you should certainly be strategising your presence there.
3 essential Snapchat tips for reaching millennial hotel guests:
1. Create a sense of urgency with competitions

Giveaways and competitions are a great tool for social media engagement – and Snapchat is perfect for creating a sense of 'must enter that competition now' urgency. Ask your followers to submit their name and email, invite their friends to follow your brand, and answer a question. You'll be able to respond to each entry building great one-on-one marketing. Use a hashtag so you can follow engagement. When you're ready to announce a winner, create a story congratulating them.
2. Go behind the scenes and take a tour of your hotel

Your hotel and its facilities are aspirational. Guests love to daydream about their next holiday and so videos and stories recorded via the Snapchat are perfect for hotels. Explore your hotel and engage with your staff to make prospective guests feel welcome.
3. Launch your hotel's story…and add to it

One thing to remember when you publish your hotel's story is that you can create the beginning, middle, and end in a staggered way. So you can start with some hotel snaps in the morning, add a few more around lunchtime, and then finish with some final shots in the evening. It lasts up to 24 hours so adding it to is a more manageable approach. Make sure you check your settings and allow your followers to see the stories. Don't forget to allow people to send snaps back to you – you'll also find this in your app's settings.
If your hotel's overall online presence needs a refresh, a great place to start is our FREE downloadable A-to-Z guide to beautiful hotel website design.