Marketing your hotel encompasses a huge array of topics, skills, and strategies that hoteliers like you need to be aware of – and also master – if you want to succeed in optimising the success of your hotel business as well as attracting as many travellers as possible.
The modern path to purchase for travellers is now so broad, you have to put a lot more focus on exactly who you're trying to catch in your net. Effective hotel marketing means potential guests and customers alike will be impacted by your brand wherever and however they choose to research, plan, and book their trip.
This article will help you understand the different ways you can start to plan your hotel marketing strategy. With clear lessons and examples on how you take a major step forward this year, outshine your competitors and captivate prospective guests before your rivals get the chance.
Hotel digital marketing tips

There's much to consider when developing a marketing plan for your hotel business. The scope and opportunities are massive in our current climate, however this can also make knowing where to start a labyrinth. You may find yourself asking:.
What offline channels are available and useful to me?
What online channels should I prioritise?
How can I optimise tools used?
How can I track and measure results to make adjustments?
Who can I work with to help achieve your potential?
Before we are able to answer them, there are two more important factors to consider:
Your brand message
Your key target market
These two focus points will help inform how you plan the rest of your hotel marketing strategies, both are equally as important and linked to each other; it's important to know your target market, so you can tailor your hotel guest marketing messaging to potential customers. The brand message you run with will ultimately impact the type of guests you appeal to. So, if you don't know what tone of voice to speak with, or what audience you're targeting, true success for your business is unlikely to occur.
For example, to market your hotel as trendy and innovative, you may want to target young travellers and couples as your key audience. Other factors should also be considered when making these decisions for your hotel marketing, including the location of your hotel, its size, your business budget, approximate budget of travellers targeting and their purpose for travel.
Below we've listed some popular traveller demographics so you can see what groups are out there and which one/s align with your hotel:
Value Seekers
This group aims to get a 'bang for one's buck' falling within the medium annual income range. Often travelling with young children, value-seeker travellers look for reviews and seek convenience, ease and transparency with their bookings.
Luxury Travellers
Focused on a luxurious trip and are willing to spend more to obtain it. They often travel frequently throughout the year and have high annual income. Most luxury travellers are usually over the age of 30 and seek quality through uniqueness and personalisation of the trip.
Group & Family Travellers
A focus on socialising, sharing and engaging with others. You'll find they usually travel in friend or family groups and so sometimes babysitting and child services are appreciated. While they have high to medium income they put a lot of faith in word of mouth and recommendations from other travellers.
Solo Travellers
Like to have a lot of control over their trip and thus love to travel independently, always looking for adventure and a cultural experience in any climate. You'll sometimes find solo travellers within group tours, as long as they're willing to embark on a journey! This group is more likely to share reviews and engage with social media.
Frequent or Business Travellers
Look for simplicity and convenience by travelling to the same destinations repeatedly, may it be for work or visiting home. They place more stock in relaxation or business than activities and are commonly in the 35-64 age bracket.
The initial research you do – especially into your target demographic group – is extremely important. It can influence how you market your hotel and the type of hotel that you run whether it be a budget, boutique, luxury, independent, or a chain.
Now that you've determined your brand and target audience, we can now focus on all the nuts and bolts of marketing your hotel and making it a visible, viable booking option for travellers.
Let's find out what all that means…
Hotel internet marketing
Digital marketing is something no one can deny and it encompasses the everyday lives of travellers. People now manage their interactions almost exclusively via smartphones, social media channels and email, with reports saying that online bookings make up almost 60% of all bookings; half of which are booked through a mobile device.
The great thing about being online is that there are so many different ways you can engage with travellers. Statistics will tell you a strong social media presence is essential, as is a strategy around video marketing. Read more to learn about some of the key hotel b2b marketing tactics.
What is hotel internet marketing?
Hotel internet marketing may also be referred to as hotel digital marketing, hotel online marketing or even hospitality marketing. The main focus is on building and advertising your hotel's presence for your business online, including social media platforms.
What is the hotel internet marketing process?
With a high number of online bookings reported through mobile, it runs a risk you aren't employing an e-marketing strategy for your hotel to attract and convert guests. The main hotel marketing processes, include defining the market you'll operate in, who you will be targeting, what makes you different and deciding on your main hotel marketing platforms you choose to market your hotel.
Because of the many different platforms within digital media, the potential for hotel marketers to be creative is much greater and enables them to connect with a lot more customers. In some cases, it might be the only way to reach customers on the other side of the world or specific markets like China.
Some travellers engage with beautiful images, some prefer videos, others are content to take a deep dive into written information. Digital media allows your hotel to create this, on brand, all at the same time too. Think about what your unique selling points are and the best way to communicate these to your audience.
Most importantly, everything you communicate must be personalised wherever possible. What this means is that what you say and what you offer to customers must be tailored to their specific demographic group. If they're a young female businesswoman, you must know what a young female businesswoman wants and communicate accordingly. Personalisation is something guests thrive on and in today's market; not providing it spells danger to your reviews and repeat business.

Types of hotel digital marketing
Hotel marketing processes are now predominantly done online. In the past the equation was much simpler, but in recent years there's been an explosion of complexities. Firstly, just the concept of online hotel advertising, and now the myriad of ways to explore this option with many hotel b2b marketing strategies, including social media, website optimisation, content marketing, hotel SEO and more.
Online hotel marketing
Online hotel marketing leverages web and internet channels to push messaging about the hotel brand, products and services to potential customers. Many hotel b2b marketing strategies have now been digitised, so it's key that you're choosing the right hotel marketing platforms for your business.
Offline hotel marketing
Offline marketing is mainly carried out through offline media channels such as billboards, posters, television or radio advertisements. It does not need an online connection to carry out a successful campaign for your hotel.
Traditional offline marketing can still be important and dependent on deciding what is valuable and allocating budget suitably. It also presents an opportunity to convert customers towards your online hotel guest marketing efforts.
There may not be a 'right' way to advertise on these various channels, but we can certainly offer some advice on where your hotel needs to be to attract guests and some tactics to help optimise your online hotel marketing experience.

Hotel social marketing
With social media becoming so important in the everyday lives of consumers there is no doubt that it presents a significant opportunity for hotels to capture the attention of potential guests and reach a different audience for lead generations.
Scrolling through social media feeds has become part of the everyday for most people now, no matter where they are or what they're doing. Not all content will engage them but travel-related content likely will because it activates your guest's imagination. Used creatively, travel content on social media can have a transportive effect on viewers, inspiring them to go on their own journey.
Social media also offers your hotel business a range of options when distributing your content, meaning strategy and targeting uses become extremely valuable. Let's take a look at some key social media trends and see what your hotel can learn from them.

Marketing your hotel on Facebook
Engaging with travellers on Facebook has never been easier or more valuable. Consider these statistics:
52% of social media users said their friends' photos inspired travel plans
76% post their vacation photos to social media
55% liked pages relating to the trip they were planning during their research
69% of ads use images while 18% of ads use video
Before you can start to influence travellers on Facebook, you'll need to grow your following. You can accelerate this process through paid advertising, but you should focus on growing your audience 'organically' as much as possible.
To get more likes through organic traffic there are a number of things your hotel can do on Facebook. Some quick wins include:
Invite contacts and friends
People you already know will be more than willing to support you and you can quickly bolster your likes this way. You can even use the 'Build your Audience' feature to import all your email contacts and invite them to your page.
Add links to Facebook on your website and emails
This is a simple way to give your Facebook page more exposure, especially to potential guests. Always ensure your links are correct and functional.
Put up signs
This is as simple as putting small displays on tables, on the front desk, or in rooms inviting guests to like you on Facebook. You could even add links on the bottom of receipts.
Offer incentives and host competitions
Even something as small as a free coffee will encourage guests to visit your page. This will give them a chance to look at your posts and like your page. When it comes to competitions, make sure one condition of entry is that people like your page.
Post good quality content consistently
Follow the 80/20 rule: 80% of posts should be about the local area and only 20% should be about the hotel itself. Use Facebook Insights to see the type of content your fans enjoy, and aim to post between 3-10 times per week.
Cross promote your page on other social networks
If you have Instagram, Twitter, Pinterest or other social media accounts for your hotel, post a frequent call-to-action for those users to jump across and like your Facebook page as well.
Fill your profile page with searchable information
Add as much information as possible to your profile page and add as many relevant categories to your page. This information helps Facebook serve up your page to people in various ways across the site. It's also good for search engine optimisation (SEO) so use plenty of relevant keywords.
Thank you messages
When people sign-up for your local tourism guide or fill out your contact form, redirect them to another page thanking them for getting in touch. Add some text and a Facebook button to the page asking them to join you on Facebook, while you have their attention.
Engage on posts that mention your business
If another local business or organisation mentions your hotel in a post on their Facebook page and tags your page, thank them, like the comment, and join in with the conversation. Facebook is a community and so a sharing mentality here will serve you and your hotel well.
After this you can begin experimenting with paid Facebook advertising. Start with a small budget and set up a page-like campaign that targets those who have been on your website the past 30 days, who also meet other criteria, such as age or gender.
Once you have established a credible Facebook page and following, you can start using advertising tactics to get more bookings through the platform. There's plenty of advice to offer in this respect.
To start with, Facebook has a number of tools designed specifically to help you advertise your hotel and nail the Facebook conversion funnel. People spend 5x more time on Facebook than on travel-related apps, sites and searches. More than 50% percent of respondents to a survey found trip ideas while browsing on Facebook, so the guests are there to be won.
Dynamic Ads for Travel (DAT) allows advertisers to engage with users lower in the funnel who have already visited your website but are yet to convert.
Dynamic Ads for Travel for Broad Audiences takes this a step further. This is a feature created specifically for hotel advertisers that allows you to reach people with travel intent – even if they're yet to visit your website or app.
Trip Consideration can be used to prioritise the delivery of your content to people who plan to travel.
But how does one increase direct hotel bookings via Facebook?
Since a friend's recommendation is more powerful (and less expensive) than any ad, focus on word-of-mouth strategies first. Even giving a single traveller the best possible experience could result in thousands of dollars more revenue if they're impressed enough to share your hotel around their social circles. This could be triggered from as little as one message or comment from your business to the customer that leaves them impressed with your service.
Enticing customers with exclusivity can boost your volume of followers and engagement on Facebook, by treating your page more like a 'club'. Offer promotions and deals that are only available to those that have liked your page. Here's a simple example: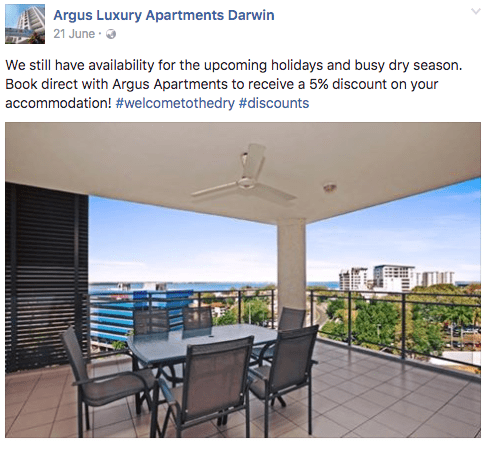 You should also try establishing your hotel as a traveller's guide by:
Posting reviews
Giving travel advice and tips
Keeping a running list of local events
Using captivating images and videos to provide insight or direction
Like this: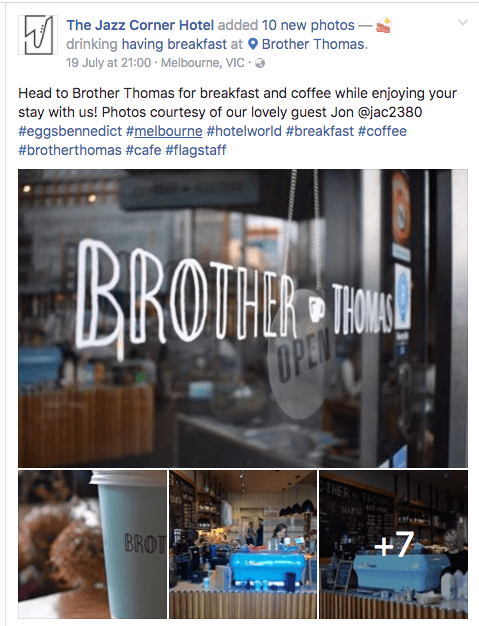 To really generate direct bookings through Facebook, you need to make instant booking available. With the right online booking engine you can connect your booking engine to your Facebook page so travellers can make their purchase without even needing to go to your website. Facebook also has the capability to build the 'book now' tab into your ads and posts as a call-to-action which can also make a huge difference. It's as easy as this: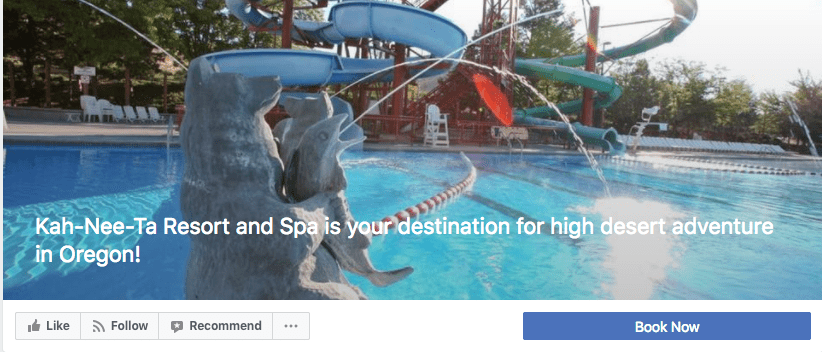 Finally, always remember to interact with and reward loyal followers. All feedback, be it negative or positive, needs to be responded to. Reply to comments and messages in a polite tone. Any new visitors will be looking at the way you deal with customer feedback and studying your reviews. A helpful way to handle this is to migrate your communications to Facebook messenger and encourage followers to also pursue this avenue of communication. That way, any negativity or hostility can be resolved in private.
Marketing your hotel on Instagram
Instagram is one of the most effective social media marketing platforms available to hotel owners in today's social and digital environment, with it boasting more than one billion users. Offering a simple, clean feed, Instagram is completely mobile, and can make everything look great. And what's even more beneficial for hoteliers is that it's particularly popular with travellers and holidaymakers.
Noteworthy observations of Instagram for your hotel guest marketing include:
Advertising for brands is available
Recently there's been a rollout of advertising for brands on Instagram. Many pages already have the call-to-action buttons to 'Call', 'Email' and 'Get Directions' integrated. Select businesses will now also be able to include 'Book', 'Get Tickets', 'Reserve', or 'Start Order' buttons.
As for direct messaging, businesses can now see important new customer messages in their main inbox, instead of in the pending folder. They can also mark messages with a star and filter conversations to make it easier to follow up with enquiries.
A Facebook-style news-feed algorithm
Gone are the days when Instagram was a free-for-all: based purely on chronological order. Instagram itself says you can now 'see by the moments you care about first', through the help of a highly complex algorithm determining which content Instagram believes a user would like to see. This is based on:
1. Likelihood you'll be interested in the content
2. Your relationship with the person posting
3. Timelines of the post
If you advertise your hotel by providing high quality, aspirational content that Instagram users are looking for, the Instagram algorithm can be highly advantageous.
Instagram is growing in popularity with older users
Don't assume that Instagram users are outside your target demographic. Although skewed towards the young, it is growing in popularity among older age groups.
We've listed some great ideas to help your hotel create Instagram-worthy posts.
Highlight your hotel's facilities
Instagram allows you to create a lifestyle around your hotel. Make each post complement your overall brand story. Share content that will boost your property's urban image or confirm your hotel as a peaceful retreat. Highlight your facilities, but keep content attractive and entertaining to show the dynamic life at the hotel and capture its atmosphere.
Give your staff selfie missions
Go behind the scenes to give followers a glimpse of the hard working staff that help make a guest's stay as stress-free and fun as possible. Share images of new menu items being prepped in the kitchen, staff interacting with guests, and guests enjoying themselves (ask permission first). Staging selfie spots is quite popular and gives guests an easy option to photograph and share their own images.
Go beyond your hotel
Promote your destination by sharing content of your local neighbourhood, scenery and attractions, to give followers a sense of place beyond the hotel. Engage with the posts of other travel operators in the area. When uploading imagery, be sure to use the photo map feature and specify your location so that photos are searchable.
Use hashtags
Hashtags will make your content searchable. They're important on Instagram because you can't add links to posts. Instagram users often hashtag brands in the hope of getting a response. Search for people hashtagging your hotel, like and comment to create a conversation. Create hashtags for your hotel and campaigns and include them in posts. Start with three or four per post and ramp up.
Here's some perfect examples of how to get it right on Instagram.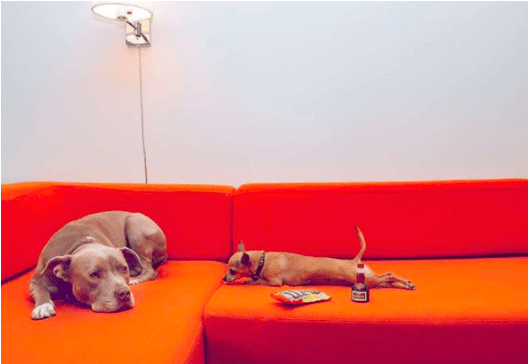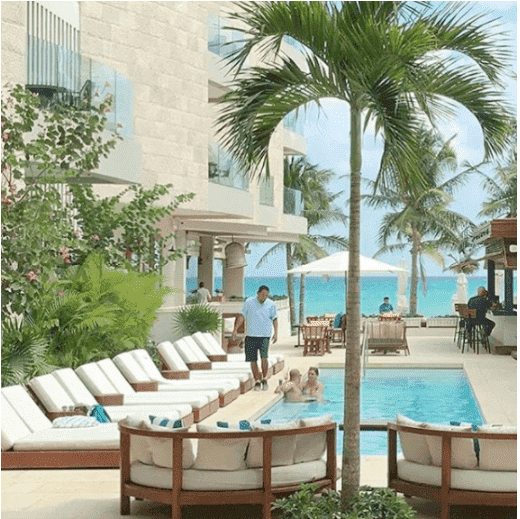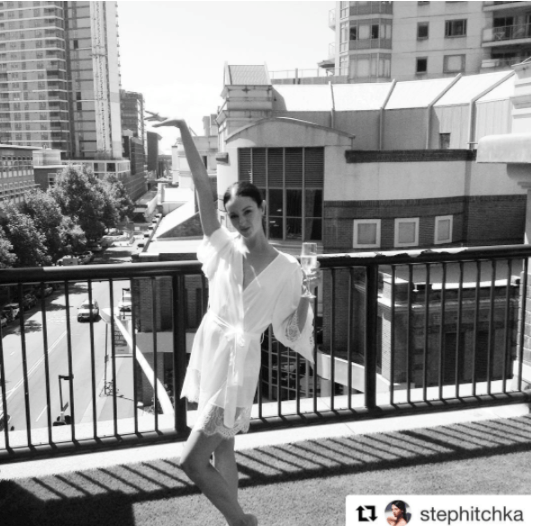 For some quick reminders and tips on social media marketing, check this out:
Hotel video marketing
Even without taking a deep dive into the statistics, one could safely assume video is becoming an increasingly popular medium with not only hotel guests, but all consumers alike. It's engaging, easy to digest, and easy to share with others. A quick look at YouTube and the vast number of people watching more than six billion hours of video each month will tell you how popular videos are.
For hotel marketers, videos should be a priority when creating strategies to attract bookings. Humans are notoriously emotional animals and the best way to engage with them on this level is through video. Here are some stats to start your case for video marketing:
People remember 20% of what they hear, 30% of what they see, but 70% of what they hear and see
The likelihood of your site appearing on the first page of Google search results increases by 53 times by adding a video to your website
People are 10 times more likely to engage with and share video content
More people are watching videos online that ever before, with the number having doubled since 2018
At your property, bookings are 67% more likely when a video tour is available
The click-through rate for introductory emails that include a video increases by 96%
76% of social media users would share a video if it was entertaining
Travellers love to find inspiration through video, with around 65% of them watching video when thinking about taking a trip and choosing a destination
A further 54% use video media when choosing accommodation
To truly make your video marketing a success, you'll need to do more than create a pretty collage of images with a backing track if you want your content to be amplified. Use the storytelling strengths of video to send a real message. Emotions play a massive part, so this is where your efforts should be focused toward. Try to instil awe in viewers with your videos to reach new guests, drive site traffic, and share your hotel's story.
The Shangri-La Hotels and Resorts: 'It's in our nature' advert is a great example of hotel video marketing done right.
This commercial is all about the punchline. Using stunning imagery and increasingly touching music, Shangri-La places the environment as a backdrop to deliver a message on kindness and companionship, showing guests no matter where they come from, they will be accepted and safely harboured within the hotel.
Hotel mobile marketing
Over the last five years there have been countless white papers, blogs, webinars, and seminars dedicated to predicting the uptake of guests choosing to book hotels via smaller screens. Google has stated that user queries completed on mobile have surpassed desktop as the main search device.
This has prompted the mobile-first indexing initiative, where Google will now prioritise mobile page versions of a domain for indexing and caching in search results, and subsequently, for ranking.
Independent hoteliers should ensure they adapt their marketing strategies towards a mobile-first approach when to attracting global guests, which includes; mobile email marketing, mobile search engine marketing, messaging apps and mobile social media as your hotel marketing platforms.
The experience delivered to guests before they've even booked a room is so important and the way a hotel's website responds to small devices is the key to mobile marketing success.
We've listed some main aspects that should be in place on your hotel's website for a good mobile experience:
Users shouldn't have to pinch, scroll, or zoom to see information
Font is legible and content is concise
The use of Adobe Flash and pop-ups are limited
It is not reliant on JavaScript heavy scripts
Click-to-call functionality is enabled
Google Maps is integrated so people can find their way to and from your hotel
Your logo image is used as an anchor to link back to the homepage for ease
There's an easily accessible search bar and date calendar
Forms are auto-filled for returning visitors
There is contrast between images and colours that make the site beautiful
Ultimately, providing an easy to use site experience with a good page load time is something Google values very highly.
BONUS TIP: It might sound simple but it's surprising how many businesses fail to implement a mobile-friendly booking engine into their mobile-friendly website. Today's booking engines are incredibly powerful and can integrate directly with both your website and channel management solution, via two-way integration, ensuring any direct bookings received are reflected automatically. This means inventory and rates are up-to-date at all times.
By putting a smart engine in place, you will be able to decrease time spent manually updating inventory and increase time spent on the more important things.
When it comes to mobile bookings, there are four key consumer trends or 'moments' hotels need to be aware of, that Google has found to be closely linked to guests travel decision-making process:
I-want-to-get-away moments
In Australia, 38% of travel site visits come from mobile, and even though for 60% of consumers, travel is the biggest discretionary purchase of the year, one in three don't have a specific destination in mind when they first consider taking a trip.
Hotels are advised to be present when inspiration strikes. By doing a search of common queries you can see if your property features in any of the results and optimise your search engine rankings from there. In millennial groups, up to 50% say they've discovered a new travel brand while researching on mobile.
Make-a-plan moments
When a plan first begins to form, travellers most often search for prices, destination activities, flight time, hotel reviews and pictures. With 69% of travellers worrying they're not finding the best price and second-guessing their choices. Eighty-five percent say that information sourced on their smartphone helps direct their decision making.
Be liberal with the information you display to mobile searchers. While you want to keep things simple, you also want to give them all the information they need to choose your hotel over a competitor.
Book-it-now moments
This is where travellers are still somewhat reluctant to rely on mobile devices. Only 23% are confident they can find the same information on their smartphones as they can on desktop or laptop.
You can ease the worries of guests by giving them the ability to cancel mobile bookings without incurring a penalty. You should also eliminate as many steps to booking as possible on mobile and make it easy for people to contact you. For example, you could implement a click-to-call link or button.
Waiting-to-explore moments
Travellers still turn to mobile even after they've begun their trip. Around 85% decide on their activities after they arrive and nearly nine out of 10 expect their travel provider or hotel to give them relevant information. Users may be looking for weather-specific information, public transport help, exchange rates, traffic updates along with other relevant news.
Given 67% of travellers feel more loyal towards a brand that shares useful information with them during their trip, it's a good idea to offer travellers tips on what to do or where to eat while visiting their chosen destination.
Hotel SEO

If there's one thing that can complicate and disrupt the booking journey for hotels, it's the ever-changing search engine landscape.
Considering the first page of search engine results receive more than 90% of all traffic, you'll find there is a competitive battleground to be seen. To gain visibility for your hotel you'll need to prioritise key components of 'search engine optimisation' (SEO).
With Google constantly updating its algorithms and strategy, traffic coming in from multiple devices, and inconsistent SEO practices from travel websites, it's hard for hotels to get a clear picture of what is working and what needs to be done to increase organic traffic and conversions in the future.
Here are six ways you can improve your hotel's website SEO:
1. Plan your keywords effectively
This requires you to approach the task from the guest's perspective. Think about what travellers would be searching for on Google when planning their trip and how they'd search for hotels to book in your area.
Once you've thought about this, you can collate a list of keywords you feel are relevant and analyse the traffic they drive before you implement them. A minimum of 10 keywords is always a good start, as it makes researching and evaluating the effectiveness easier, while also being quicker to integrate them throughout the site.
2. Optimise for local SEO for your hotel with a GMB profile
Google My Business is a free listing that is beneficial for local SEO. It's a platform that optimises all your hotel's information into the right fields and makes it easier for travellers to get the details they want. This includes your hotel's address and phone number, Google maps geo-marker, hotel photos, guest reviews, and other relevant information such as amenities.
Google My Business makes your hotel website instantly more accessible to travellers searching on Google.
3. Track demand and search data
SEO is not a set-and-forget strategy. Hoteliers must be constantly on their toes to keep up with Google's algorithm changes and ensure they maintain their rankings. By keeping track of search and demand trends for your city, you can make more intelligent decisions about the content on your website.
Remember that seasonality plays a big role in what travellers search for, so changing your content and keywords targeted on your site to reflect updates to your packages/promotions or blog posts is very important. It will also mean you're setting your rates accurately. Google also prioritises fresh content that gets updated somewhat frequently as it feels it is the most relevant and up to date.
4. Treat content as an essential
High quality content is always going to please not only Google but users too can also increase your chances of converting site visitors into bookings.. Maintaining a blog is the best way to do this and ensure your content is always fresh. Consider publishing a post at least once a week, sharing it on your social media pages, and sending new posts via emails to your customer database.
Content is not just focused on long form informational written posts; it also looks at providing visual content. High quality images will help attract attention on listings towards your website and impress your site visitors.
The more content you have, the more backlinks and external links you can use to strengthen your appeal to Google's algorithm. Not only will you increase the amount of traffic flowing through to your website, but also your domain authority.
5. Optimise your images for search
To grasp the opportunity of appearing in image search you should markup your images with image alt text, so Google can interpret what is in the image for Image Search Results. You should consider investing in a certified photographer to implement a 360 degree tour of your property. This will appear on your Google listing as 'See Inside'.
6. Prioritise online reviews
It's quite rare for a user to book a hotel at face value. You can promote your property all you want but in the grand scheme of things, travellers will always trust their peers over you, at least before the first time they stay.
This is why you need verified reviews visible on search engines as well as relevant review and metasearch sites. To give your hotel credibility you need to respond to as many reviews as possible, especially any negative comments. Guests want to see that you care about their experience and are working to improve your service and get to know them better.
There is no quick fix to your SEO and Google rankings, and there are many other organic search engine tactics you can use than the ones listed above. It requires regular vigilance and updating on your behalf to maintain your Google rankings.
Tracking search data for your hotel's website
It's important that you utilise Google Analytics to collect and learn from your data. Analysis is important for any strategy you put in place at your hotel. By gaining more information on who might be searching for a hotel like yours and what content is of interest to them, you can really start optimising every aspect of your website.
Google Analytics can help your staff:
Assess the traffic volume of keywords
Measure page views of content
Record where traffic is coming from
Decipher what devices visitors are using
Understand which traffic sources have the highest conversion rates
Hotel email marketing
Increasing competition in today's online business climate has necessitated more diversified marketing and distribution strategies for hotel operators. But while it's important for hotel marketers and revenue managers to consider both traditional and emerging opportunities, the costs associated with marketing your hotel through multiple channels can add up.
Enter email marketing – one of the most viable, cost-effective methods for reaching guests and increasing direct bookings. Email marketing is crucial for the hotel industry with an estimated return of $38 for every $1 spent, making it the channel with the best return on investment (ROI).
The first step in email marketing is to optimise your customer distribution lists. You want to make sure you have a sizable pool of prospects, but you also want to make sure they're quality leads. Looking at your current email marketing lists and analysing previous results will give a good indication on how you can grow your list moving forward. To better expand your network for email marketing, start to implement easy forms on your website and also by asking guests in person (during their stay) to complete a review note where they must include their email.
Don't be discouraged if you don't have a large database to start with, it can take a while to build. Below we've provided some top tips to get you started for your hotel's email marketing strategy:
1. Target repeat guests
A great way to secure customer retention. Not only is it easier to target repeat business than to generate new leads, it's less expensive too; statistics show that attracting new guests can cost you five to eight times as much as retaining existing ones.
Why not offer return guests special package deals and time-sensitive reward program benefits to increase your revenue?
2. Take advantage of peak periods
Guests are more likely to look for rooms in the run-up to peak periods, so use this time to remind them why they should book with you through holiday-themed emails, special discounts and personalised incentives.
Lean on your property management system (PMS) data to identify spikes in room occupancy in order to send targeted, seasonal emails – particularly to previous high-spenders. It is during those peak periods that you are also more likely to attract new guests.
Be sure to identify your niche and ideal customer; this makes targeting much more streamlined and effective.
3. Remember customer data is key
Nowadays, every customer who books a hotel room online understands they must be willing to provide their email address (in order to receive their confirmation email and other important information from the hotel). Always collect this data at the time of booking or check-in and use it to follow up with your customers in a timely fashion. This can be through emails highlighting exclusive deals and time-sensitive offers; you can upsell and create cross-market opportunities for increased revenues.
It's important to remember that personalisation is essential. Understanding your subscribers in more detail and segmenting them accordingly allows you to deliver more relevant brand campaigns, leading to higher chances of booking conversions.
4. Optimise your send times
Customise and send emails that relate directly to your guests' needs and preferences. In particular, be mindful of which time zone they're in and send emails when they're most likely to be receptive. While Experian research shows that emails sent on Fridays have the highest click-through rate (CTR) and those sent on Mondays generate the most revenue, it's important to experiment with different days and times to find what's most effective for your hotel.
By harnessing the power of marketing automation software, you can analyse your CTR and other metrics in order to help fine-tune the timing of your email campaigns.
5. Use short and direct subject lines
To make your emails more engaging, use short and direct subject lines with clear benefits, so customers are encouraged to open your email and find out what's inside. Using a marketing automation tool you can easily test different subject lines and measure click-through rates to compare how different marketing campaigns perform.
6. Utilise beautiful images in your emails
Remember that users engage better with visuals. This still applies to emails, so don't be afraid to really draw their attention to stunning pictures of your hotel and destination; it will most definitely increase engagement on your email content.
7. Use a call-to-action (CTA) and encourage replies
The most effective marketing emails engage the reader with CTAs and incentives, for example:
Invitations to book directly on your website in exchange for vouchers and other incentives
Requests for feedback in exchange for discounts or the chance to win a prize
Personalised, time-sensitive offers and rewards that encourage guests to "act now"
A friendly CTA combined with a personalised message helps to encourage click-throughs and responses.
Email marketing should be an important part of your hotel's overall marketing strategy. Remember that with every email, you are building a relationship with your customer. By taking the time to send personalised and relevant communications, guests will feel valued and want to book with you.
Key takeaways for your hotel e-marketing strategy
Brand messaging and primary target markets are your very first priority – People will only listen to what's relevant to them so make sure you're speaking to the right people.
Digital marketing is the dominant method – There's no denying that now you simply must be online to effectively advertise your hotel.
Social media offers your hotel a vast array of options to build a reputable brand image and push users towards converting – Make sure you're at least using Facebook and Instagram to drive guests to engage and book with your hotel.
Video content is becoming more prominent as an online marketing method – Quality content delivered via video can be incredibly powerful and is more commonly shared between friends and family.
Ensure your site is fully set up for mobile – Mobile bookings are on the rise, and searching on smartphones is already a preference for travellers.
Don't forget about email – Email may be a traditional method of marketing but it's still one of the most useful!
Automate your hotel guest marketing strategies where possible through repeat campaigns, tailored messaging, support teams and more as a resource and time saver