Whether you're operating as an independent hotel in a quiet country town, or managing a chain of hotels in some of the most visited destinations around the globe – you're going to need to know how to create a hotel website that captures the attention of your target market and drives bookings.
Your hotel website design is an integral part of your online marketing strategy, and you need to consider each component carefully as you create it.
Things to consider when designing your hotel website
When building a hotel website, there are several factors that you need to consider:
Your target market


Every feature on your website needs to be appeal to the needs and wants of your target market. If you are a hotel that focuses on luxury travellers, you need to leverage beautiful imagery of your incredible amenities and use content that is likely to appeal to that audience. If you attract millennial travellers, then your photos need to feature young, active adults thoroughly enjoying your property.

Your hotel's brand


You want visitors to your site to remember your hotel brand and for that reason you need to display your brand consistently throughout your entire website. An attractive logo and colour scheme will help you establish an identity and will allow you to develop a personal relationship with your target audience.

Your booking form


Guests need to have a simple booking experience on your website. That is why you need to invest in a

hotel booking engine

that is not only simple to use but also increases conversions. It is also important to integrate a large "book now" call-to-action that captures the user's attention.

Your search engine optimisation plans
There is no point investing in a new website if this website can't be found on Google. Ensuring that the content on your site is optimised to rank for relevant keywords is an important factor in driving traffic. Click here to read our free guide on SEO for your hotel.
Your mobile capabilities
You need a responsive website design, and your hotel website builder needs to help you accomplish that. A responsive hotel website design allows your users to easily navigate your site whether they are on a desktop or mobile device. Your hotel booking engine must also accept mobile bookings, as an increasingly number of travellers are booking on mobile devices. This not only improves the user experience, but helps your search engine optimisation efforts.
Your website's speed


Our site needs to load quickly and completely in a matter of seconds, or you risk losing your potential guests to the competition. Your hotel website design should accommodate a fast site speed.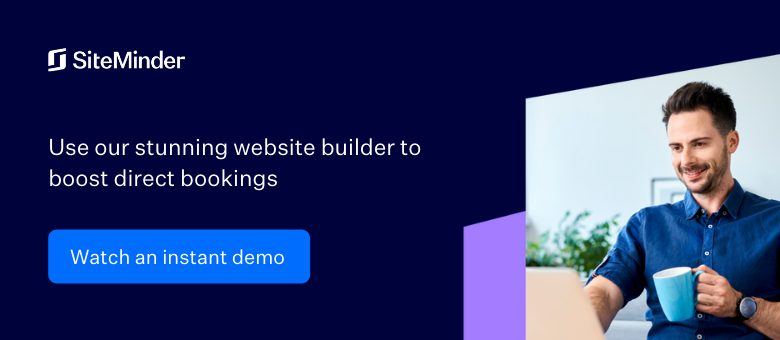 Building your hotel website
Designing and building a new website can be a daunting task for hoteliers. It's important that you take a step back and assess your needs, budget and design capabilities before you begin.
Hotel operators have two main options when it comes to creating their website; investing in a simple, website builder solution or hiring a web designer to create a custom design from scratch.
The latter can provide hoteliers with a beautiful, customised design and it can also be somewhat of a challenge for operators who are not familiar with website design. Hiring a contractor to create a website from scratch will take a lot of time, and ultimately cost more money than utilising a website builder. In addition, it can be difficult to update and edit the website in the future, as all changes will have to go through the appointed contractor.
Another option is to invest in a hotel website builder that will allow you to create a customised website specific to your brand. This solution can be cost-efficient as you are not charged fees every time you need to update a small feature of your site. When selecting this option it is important to select a website builder that was created specifically for hotels, as it will offer the features that you both want and need to drive direct bookings.
SiteMinder's hotel website builder
SiteMinder's website builder provides hotel operators a simple and efficient option for building a mobile-friendly hotel website. It is an intuitive, intelligent website builder designed specifically for the accommodation industry.
It is a cost-effective tool that allows hotel operators to create a personalised, functional website designed to drive direct bookings in a matter of moments.
Some of the benefits include:
The ability to instantly and easily update your hotel website. You can build your unique website in a matter of moments, and you also will have no problem maintaining your website whenever you need to tweak it.

The ability to create a responsive website design. Canvas allows you to build an attractive website that looks great on any device, and also helps drive mobile bookings.

The ability to design a website that attracts the most motivated travellers and ultimately increases your conversion rates. Canvas helps you capture the attention of the most powerful guest market segments, and will allow you to create a website that remains visible to your target audience. Through its visually-appealing design and user-friendly features, Canvas also will help you increase your conversion rate and boost your direct bookings.

The ability to incorporate valuable visual elements that promote your property. It's never been easier to add high-resolution photographs and engaging videos to your hotel's website. Canvas understands the critical role that multimedia elements play in hotel website design, and allows you to easily add these features to your hotel website.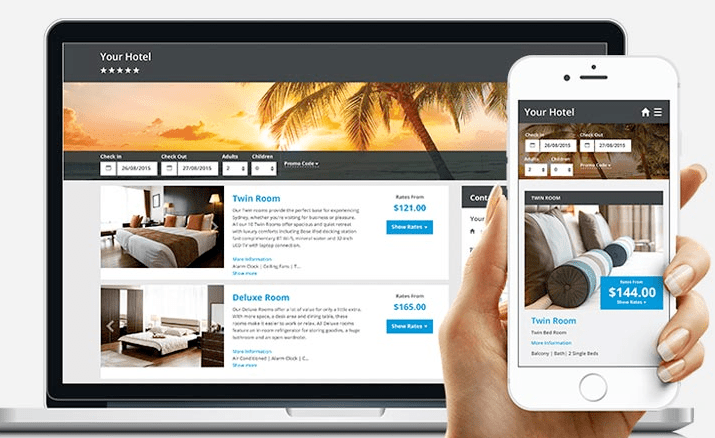 The cost of building a hotel website
The cost of your hotel website will vary based on the system that you use to build it and the work that is required to maintain it in the future. The cost of a hotel website can be quite high if you opt to hire a contractor and build it from scratch, and it will continue to cost more in the months and years to come as you work to maintain it.
The most cost-effective option is to invest in a hotel website design tool, such as Canvas by SiteMinder. This affordable tool allows you to quickly build a website and integrate it with your hotel booking engine. You will be able to update and maintain your website yourself, which keeps your costs low.
In addition, your website will drive traffic, increase conversions and generate bookings from your target guest segments, as well as new market segments you may not have discovered otherwise. The start-up costs are low, and the investment returns that you will enjoy along the way are high, making this the best option when building a hotel website.
Tips for maintaining your hotel website
Once you know how to create a hotel website, you also will need to learn how to maintain it. These tips will help you keep your site fresh and useful to the travellers who will be searching for a great place to stay in your destination:
Tip #1: Frequently add new, relevant website content
Content that is valuable and useful is necessary to attract your target market segment and also maintain your ranking on the search engine results page. Your content needs to be accurate and relevant, but it also needs to be recent. Consider adding a blog to your website where you can post information about upcoming events, new specials and features about your property. A blog is an easy way to keep your content up to date and remain visible to the people who are searching for information about your destination.
Tip #2: Update photos, videos and slideshows regularly
You never want your website to seem tired or stale, which is why it is necessary to always add new visual elements to your website. You might consider updating your photographs to reflect the current season, or changing them to feature people that represent a new target market segment you are trying to attract. Weekly video updates about your property will keep interested travellers returning to your page, and will also keep them engaged with your brand. The visual elements of your website are incredibly important, so it's necessary to keep them fresh and interesting.
Tip #3: Always display your live rates and availability
Most travellers are looking at your website to find out if you have rooms available during their stay and if those rooms fall within their price points. Create a website that integrates with your hotel booking engine so that your live rates and availability are prominently displayed on your website. This is the best way to capture the attention of your audience and to encourage them to book directly on your website.
When you design a mobile-friendly hotel website that integrates perfectly with your hotel booking engine, you will realise that it's easy to drive direct bookings to your property. An increase in direct bookings will help you generate more revenue per room, and ultimately allow you to grow your property to its full potential.
To find out more information about how you can increase direct hotel website bookings, begin your free trial today.