To some this may seem like a simple question with a limited number of simple answers, but the difference between getting your hotel web design and call-to-action right and getting it wrong could be enormous – with engagement, readership, and revenue all paying the price.
Every web page should have an objective; whether it's to book accommodation, check out room descriptions, or sign up for a newsletter.
Knowing that not every call-to-action (CTA) click will lead to bookings, you want to pile as many numbers onto the CTA as you can to increase the chances of a positive result, so the placement of it becomes very important.
Luckily, there's been a lot of research conducted on the way consumers read web pages and what the best strategy is when placing your CTA on your website.
Leonardo has uncovered some research that shows the two main patterns people follow when they read a webpage.
Two simple methods to get your CTA noticed
1. The F-pattern
This is the common response to a text-heavy page based on people reading from left to right in western culture.
Upon seeing a lot of copy, the reader will move across the top of the page taking in the headline and subheading before scanning down the left side of the page until they reach something of interest, such as another heading, and read across the page again.
This completes an 'F' shape.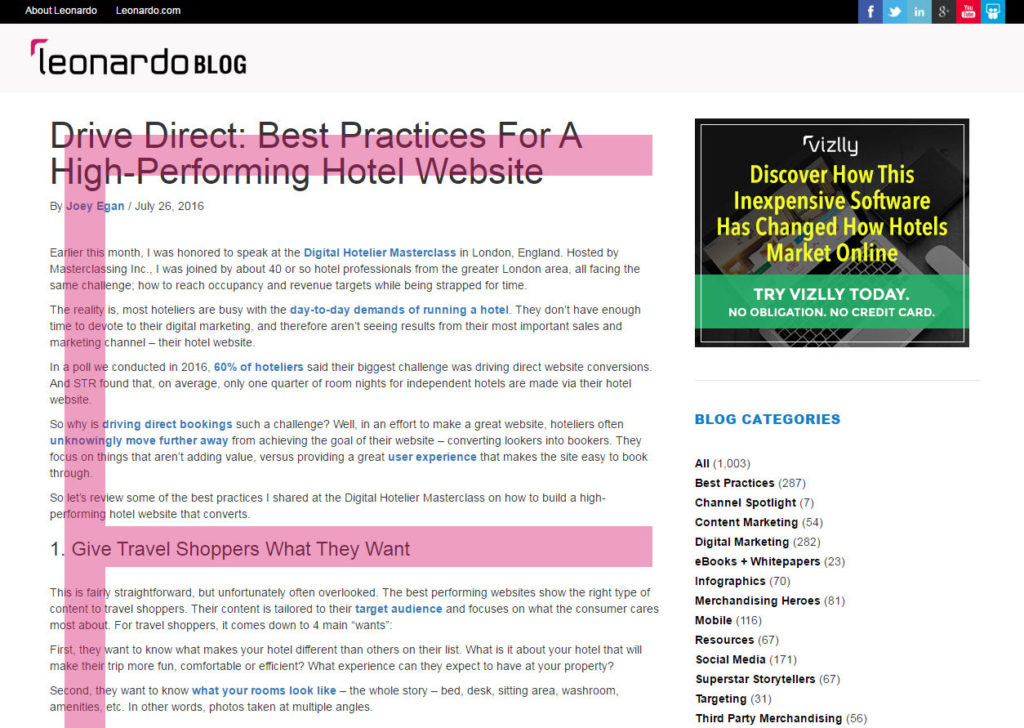 In this instance it would be prudent to have an attractive and attention-grabbing header with your CTA positioned on the left of the page where the reader's eyes are most likely to be focused on more often.
2. The Z-pattern
This reading behaviour is more common on visually dominant websites, where the reader will traverse the header from left to right before shooting back down to the left to the next headline and repeating, thus a 'Z' shape is created.
In this case, the CTA may be better placed on the right side of the page, where the reader will always be scanning towards.
We think that as a hotelier, your website should definitely be more visual – after all, you want guests to dream about staying with you!
Which CTAs should you include?
Once you have a good idea of where to place your CTA, you need to consider what CTAs you need and how many.
Obviously, the first thing that comes to mind is your 'book now' button, which should take priority.
However you must consider some guests want to book in other ways. For this reason you should also include your contact details in a highly visible area on your homepage. Your phone number should be 'click-to-call' so it's easy for mobile users, and your email should be hyperlinked to launch instantly.
There may also be other calls to action you want to implement, like encouraging travellers to book particular packages or take advantage of deals.
Another incentive for a traveller to click could be a limited-time offer or extra reward connected to your CTA, or at least a sense of urgency and action in your language.
You always need to be careful you don't over-clutter your page with too many CTAs.
Know what's most important and move down from there, but include at least one CTA on every page of your website.
How to make your guests click
So you know where to put your CTAs and what they should be, but how do you ensure a high volume of visitors are clicking them? This has a lot to do with the design of your website.
It won't matter where your CTA is if the traveller lands on an ugly web page and clicks away again because it seems too messy, confusing, or busy.
Good design will help your CTA stand out so your first mission is to build a beautiful, multi-device optimised website, which can be created easily with SiteMinder's Canvas.
CTA conversions are all about the motivation of the reader. How desirable have you made it to click that button?
This is why your website needs to make sensible use of colour, contrast, imagery, whitespace, and copy. You want to be leading the traveller on a predetermined journey as soon as they land on your web page.
Use your website content to give directional cues that will ultimately result in a booking or another form of revenue. For most hotels this will mean working with the 'Z' pattern we mentioned above.
If you're looking to create beautiful website with a purpose, see how Canvas can do that for you with a tour of how it works.