Website design is paramount in an industry where it's impossible to hold back or ignore the flood of technology and online booking trends. Hotels know the only way to function profitably is to have a professional, attractive, and fully-integrated online presence.
Many properties spend a lot of time and money trying to build their own website, or hiring designers to do it for them. Neither situation is ideal.
Attempting to build your own without the necessary skill or qualifications will result in a subpar website, while engaging a designer will take a long time and expenditure initially – something that is ongoing every time an update is required.
SiteMinder's Canvas is an instant solution to both of these problems. Canvas is a smart and intuitive website builder and editor that is specifically designed for the hotel industry and is created to have your new optimised website design up and running in under an hour.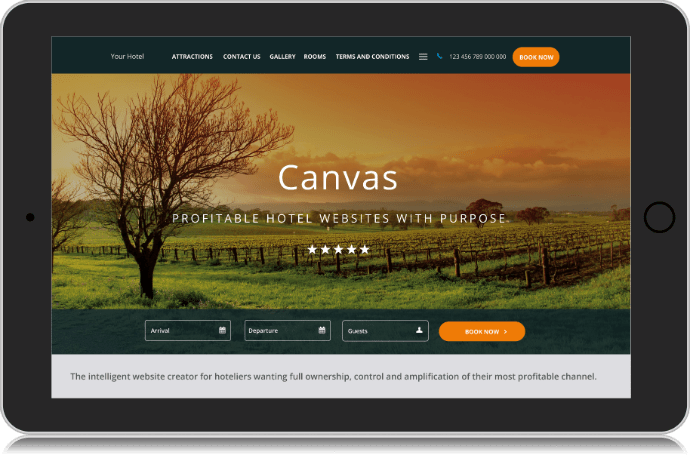 Let's look at some great features that you should know about SiteMinder's Canvas.
1. All the work is already done
The process of building a website with Canvas requires absolutely no skill and minimal time from your side.
SiteMinder's expert team use custom templates and use your existing information and images to kick-start the set-up.

From there you can switch between themes, updating and changing your website instantly as many times as you like, for no extra fee. Once you've done the basics, it's incredibly easy to alter and enhance.
2. Canvas is friends with Google
Canvas has been designed with SEO firmly top-of-mind, guaranteeing all the fundamentals are covered including:
HTTPS security to assure the protection of guest data
Clean, well-structured HTML and CSS
Unique pages, titles, and descriptions
Full sitemap for correct indexing by search engines
All images are optimised for ultimate load time
This optimisation will ensure your website displays highly on search engine rankings, meaning more people will be looking at you as an accommodation option, placing you above your competition.
(Click here to learn more about SEO.)
3. The latest mobile booking trends are covered
It's no understatement to say that most reports in recent times show technology gaining more prominence in the hotel industry and mobile use starting to envelop the entire marketing landscape.
Canvas is not only ahead of the curve on website design but it is specifically built to recognise and respond, functioning perfectly on any device.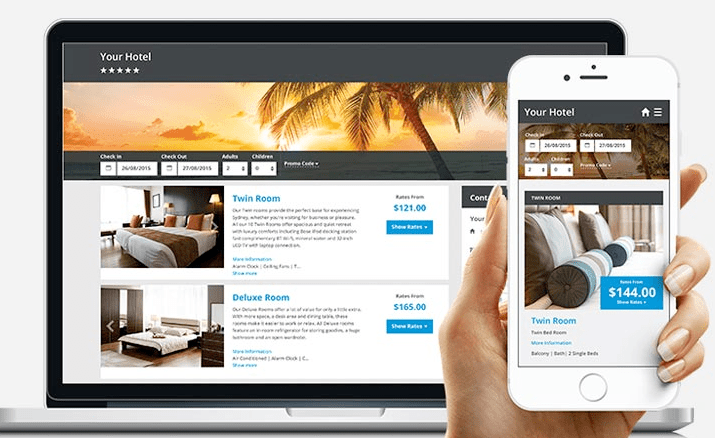 People can visit your website on mobile and tablet without issue, increasing your chances of direct bookings, as well as those coming in at the very last minute.
4. Canvas integrates for more direct bookings
Guests can't book via mobile if your website isn't integrated with a suitable online booking engine. Canvas seamlessly incorporates many booking engines, including SiteMinder's TheBookingButton.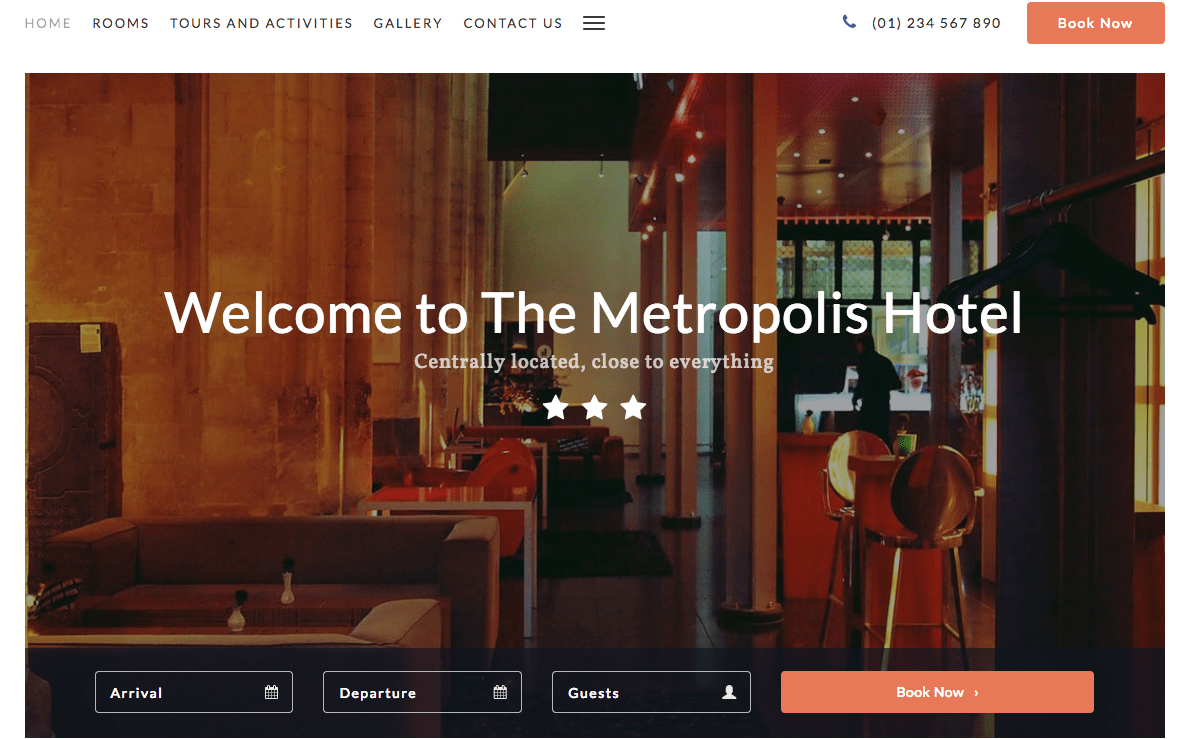 TheBookingButton is a secure and simple booking engine that works with Canvas to automate as many processes as possible, making it easier to accept and record reservations.
5. Your hotel's website design can be unique
With a selection of templates, themes, and palettes, the combination of these with your hotel's specific images, features, and content means you can mix and match limitlessly.
You can even create your own custom pages, and with updates always in the works, no two Canvas-built websites are ever the same.
6. It's not just a website builder, it's a content management system (CMS)
Your website is not just a placeholder for your basic information and images, it should be a place for more exciting and sophisticated promotion purposes.
In addition to being a beautiful website builder, Canvas is also a useful content management system.
You can craft your own custom blog or other content pages, embed videos, upload and change your logo and images at any stage, make tabs for competitions and giveaways, and use it for any other content-driven goal you can think of.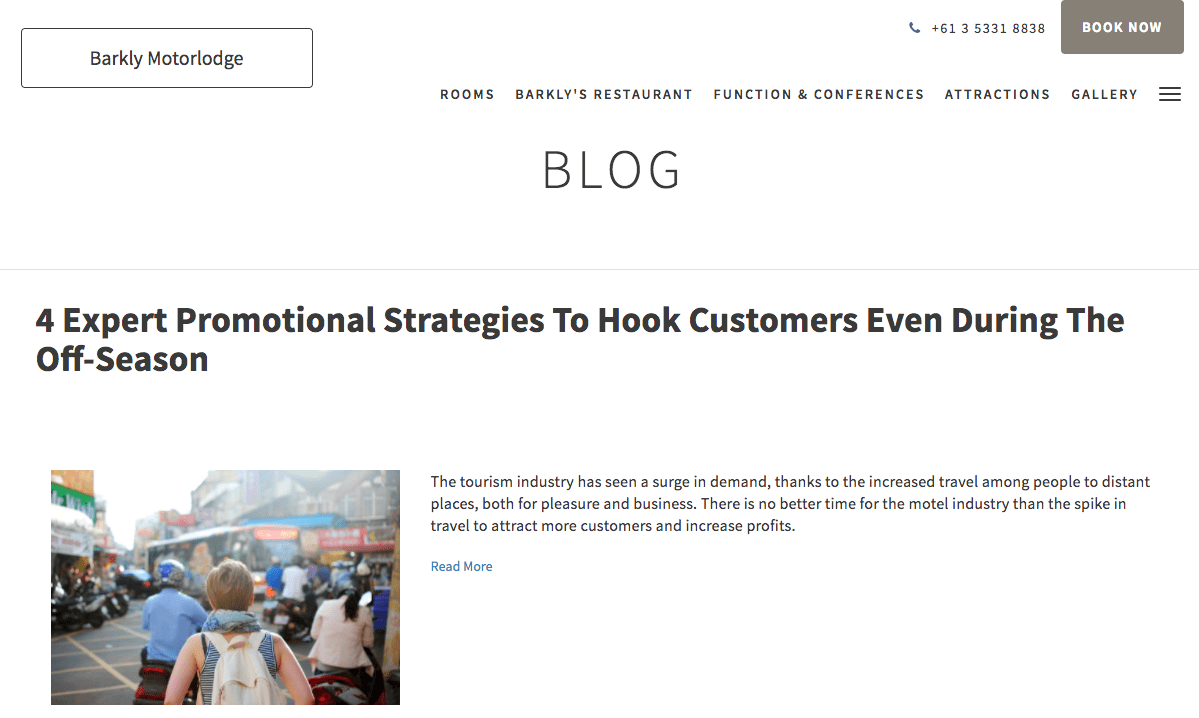 Again, this is important for SEO because search engines like Google will rate fresh content higher.
7. It helps you to understand your audience
Canvas' integration with Google Analytics allows you to find out more about your site visitors and adjust accordingly.
Track how and when people are accessing your content, what pages are generating the most response, and what booking trends are emerging.
The more information you have about guests, the more control and power you have over your hotel business.
8. You can use Canvas to attract and convert international travellers
Canvas is multilingual, creating websites available in 21 languages (and counting) including:
Chinese
French
German
Indonesian
Italian
Japanese
Portuguese
Russian
Spanish
Thai
…and more in the works!
With TheBookingButton currency converter, this means overseas guests can book easily without confusion making booking communication painless.
With a rapid website creator, like Canvas, it's as simple as signing up for a 30-day free trial, then sitting back while Canvas does the hard work for you.
Pay only an affordable, flat monthly fee for as long as you decide to use it. SiteMinder demands no commissions, so you can make as many changes as you want, as often as you want.
Don't forget to sign up for our blog and stick around to learn more about SiteMinder's products.