If your hotel is struggling to attract enough attention from travellers, or you aren't attracting the right type of guests, it might be worthwhile signing up to a global distribution system (GDS).
Don't know what a global distribution system is or how to use one to win more bookings and revenue? This article will answer all the questions you have. Hint: it's the best way to attract business travellers to your hotel.
More than 600,000 travel agents plug into the GDS every day on behalf of companies to book flights, hotels, car rentals and destination activities.
Despite the growth of third party online travel agencies (OTAs) like Booking.com and Expedia, the GDS remains the number one way to promote your hotel to the corporate travel market globally.
Hotel GDS: Everything you need to know
What is GDS in the hotel industry?
A GDS is a worldwide conduit between travel bookers and suppliers, such as hotels and other accommodation providers. It communicates live product, price and availability data to travel agents and online booking engines, and allows for automated transactions.
The GDS is often used to tap into the corporate travel market because it has the ability to present hotels, flights, and car rentals in one simple interface which is convenient. Many companies organising trips for their staff will use the GDS as their preferred booking method.
The history of global distribution systems dates back to the 1960s when a more sophisticated method was needed to keep track of flight schedules, availability, and prices.
As early as the 1970s GDSs were some of the first companies in the world to facilitate business to business (B2B) electronic commerce (now more commonly known as ecommerce). Airlines realised that by automating the reservation process for travel agents, they could make the travel agents more productive and essentially turn them into an extension of the airline's salesforce.
Four of the major legacy GDSs are:
Amadeus
Galileo
Sabre
Worldspan
Hoteliers are always looking at ways to increase their reach to attract more customers, increase revenue, and make a profit. It seems a global distribution system (GDS) is a valuable channel to achieve this. A GDS passes on hotel inventory and rates to travel agents and travel sites that request it and also accepts reservations.
How does the GDS work in travel?
The tangled web of databases has become even more of a labyrinth following the explosion of online travel agencies (OTAs) like Booking.com, Expedia and Wotif. Hotels and other travel entities can use technology solutions to capitalise on this trend, tapping into all GDSs, including the likes of Amadeus, Galileo, Sabre, and Worldspan by Travelport.
Live rates and availability are sent from a hotel's property management system (PMS) directly to the GDS and online booking websites via a channel manager. As soon as a reservation is made on the GDS or an online booking website, the channel manager instantly reduces inventory across all channels, including the hotel's own website, and automatically delivers the reservation details back into the PMS or central reservation system (CRS).
Each GDS has its own set of connection fees and requirements to sign up if you do this independently, rather than through a technology solution.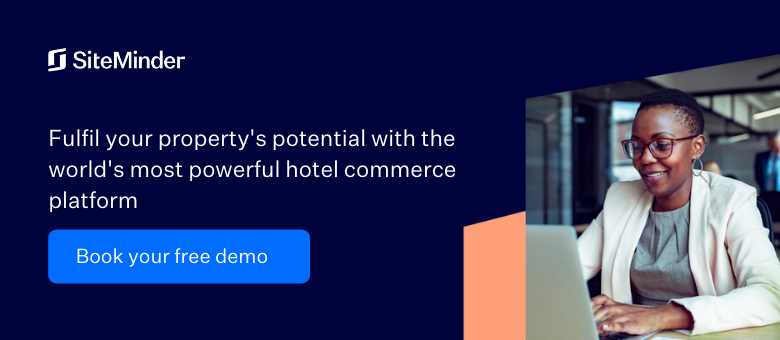 What are the major GDS systems?
There are several major global distribution systems that house and process the majority of data from hotels, airlines, and other distributors. These include Amadeus, Sabre, Galileo, Worldspan, Apollo, and Pegasus.
However there are many technology providers that help hotels tap into these GDSs and by extension the thousands of travel agents and travellers across the world.
Amadeus GDS
Amadeus has been operating for over 30 years, building critical solutions to help airlines, hotels, railways, travel agencies, tour operators and more to run their business and improve the travel experience.
Amadeus has the biggest global footprint of any of the GDSs, with a potential reach to millions of guests. The company operates in over 190 markets and employs over 17,000 people.
Sabre GDS
Sabre is a leading technology and data-driven solutions provider helping airlines, hotels and travel agencies grow their businesses and transform the traveller experience.
Sabre is seen as a pioneer for online travel agencies, corporate booking tools, revenue management, and web and mobile itinerary tools, to name a few.
Sabre Travel Network is its global business-to-business travel marketplace and consists primarily of the GDS and a broad set of solutions that integrate with the GDS.
This marketplace is used by travel suppliers including 400 airlines, 175,000 hotels, 200 tour operators, 50 rail carriers, 40 car rental outlets and 17 cruise lines.
Galileo GDS
Galileo traces its roots back to 1971 when United Airlines created its first computerised central reservation system. Due to the high market penetration of the Sabre and Apollo systems, owned by American Airlines and United Airlines, respectively, Worldspan and Galileo were created by other airline groups in an attempt to gain market share in the computer reservation system market.
The Galileo system was moved from Denver, Colorado, to the Worldspan data centre in Atlanta, Georgia, in 2008, following the merger of Travelport and Worldspan (although they now share the same data centre, they continue to be run as separate systems).
Worldspan GDS
Worldspan is a Travelport platform, and is the technology leader in web-based travel eCommerce, offering solutions for all facets of travel business online. As a leading GDS, Worldspan provides travel distribution, technologies and services for thousands of travel companies worldwide, including travel agencies, corporations, travel suppliers and travel websites.
Worldspan transforms global travel distribution and transaction processing with industry-first fares, pricing, shopping and booking technologies, and a portfolio of interactive shopping tools that enable travel companies to reduce costs, increase productivity and build revenues.
Apollo GDS
As a leading GDS, Apollo provides travel distribution, technologies and services for thousands of travel companies worldwide, including travel agencies, corporations, travel suppliers and travel web sites.
The Apollo reservation system was used by United Airlines until 2012, when it switched to SHARES, a system used by its former Continental Airlines subsidiary. Apollo is still used by Galileo International (now part of Travelport GDS) travel agency customers in the United States, Canada, Mexico, and Japan.
Abacus GDS
Abacus was founded in 1988 and became a leading provider of travel solutions and services in the Asia Pacific region.
The company is headquartered in Singapore and owned by Sabre Holdings, after Sabre acquired a full stake off 11 Asian airlines who were holding a majority share.
Abacus serves more than 100,000 travel agents across the Asia-Pacific region's 59 markets and has both global and uniquely local relationships with airlines and hotels, including the leading portfolio of low-cost content and Chinese airline content.
Pegasus GDS
Pegasus strives to remove friction and create simplicity amidst an otherwise complicated environment. Pegasus Solutions pioneered the hospitality reservations industry.
The company is a market leader in the electronic processing, management, distribution, sales and marketing of hotel inventory, rates and content across different sales channels to include direct bookings via hotels' branded websites, voice, travel agents (GDS), OTAs and metasearch partners.
How to access leading GDSs with GDS software
There are a number of technology providers that enable a single point of entry to the GDS, allowing your hotel access to hundreds of thousands of travel agents across the globe.
The best systems will connect your hotel directly to the world's most prominent GDSs – like the ones mentioned above – so you don't have to worry about signing up to each one individually. The connection will also come with complete integration with the most popular central reservation systems and property management systems to eliminate manual data entry via your channel manager, saving you time and simplifying the processes. Once signed up you should only have to pay a transaction fee for confirmed bookings.
Using a software provider to tap into the GDS saves a lot of money and time. In one fell swoop you can access all the retail and traditional travel agents you want:
Your rooms are sold through all channels connected through the GDS e.g. traditional travel agents.
Whoever sells your room earns a standard commission.
Your guest pays you, then you pay your agent.
This is the default model used upon connecting with a GDS.
Is the GDS suited to your hotel?
Before you investigate the true benefits of the GDS, you first need to know it's relevant to you and a good fit for your hotel.
There are a few specifications which will greatly aid successful GDS connectivity:
Being centrally located
Being located close to an airport
Room capacity of more than 20 rooms
Lodgings that are set up for corporate markets and not affected by seasons
These requirements are not essential but will be beneficial. It's also important to choose an established provider and make sure you ask for training and support.
Benefits of connecting your hotel to the GDS
Essentially, the GDS can increase hotel bookings and revenue by placing hotels on more 'supermarket shelves' globally. This approach is particularly effective at capturing international corporate travellers. You can gain lucrative international corporate business, particularly if you're near a major airport gateway or close to government or commercial enterprises.
But there are many reasons why a hotel might need a GDS solution including:
The number of bookings generated through a GDS generally outpaces that of direct bookings. While direct bookings are rising, and they do represent a significant amount of revenue for hotel operators, there are still more bookings being generated through the GDS than through hotel websites.
Hotels generate more revenue through a GDS because it places the hotel's information, availability and rates in prominent locations where it is easy for travel agents to find. It helps hotels maximise their bookings during any given time period while also reaching powerful travel markets that are willing to spend money in order to book the best room available.
A lot of travel agents who specialise in corporate travel use a GDS to get their clients booked quickly and efficiently.
The GDS can help hotel managers uncover new market segments to promote their products to. In many cases, hotel operators discover through the GDS that there are traveller market segments interested in their products that they couldn't previously reach.
More travel agents are relying on the GDS to find the best places for their clients to stay. Every year, more agents are realising that this is the best way to easily connect with hotel properties from around the world. Through the GDS, the agents have access to live rates and availability, and they can easily book rooms for their clients.
When you complete your hotel description comprehensively, the GDS improves search positioning and displays your brand messaging during the search and booking process, which means travel agents are more easily able to source your hotel for their clients.
The GDS is indeed a unique and direct marketing tool for your hotel.

Hotel management tips for the GDS
To get the most out of a GDS connection, it's important you connect in the right way. This means choosing a provider that can offer a comprehensive range of GDS services.
Here's a checklist to ensure you're using the GDS to its full potential:
1. Pooled inventory
With a GDS connection that supports pooled inventory, you can market all of your rooms to all of your distribution channels at one time. Without this feature available, you will be forced to separate your inventory based on the distribution channel, which can prevent you from maximising your bookings and increasing your revenue.
2. Commission-free structure
Your GDS should help you maximise your bookings and increase your revenue, not deplete you of the revenue you should be earning per booking. Do not choose a partner that forces you to pay a commission fee simply for delivering the booking to your hotel's property management system (PMS).
3. Integration capabilities
It's imperative you have the capability for the GDS to integrate completely with your existing PMS, online booking engine and channel manager. This simplifies the process for you and allows you to effectively implement and manage your distribution strategy.
4. Comprehensive reporting
Your GDS software should help you make the best decisions regarding your marketing strategy and distribution plan. Select a provider that offers comprehensive reporting tools that allow you to view and evaluate your booking data.
5. Ability to target specific markets
A GDS gives you the opportunity to discover and tap into the most powerful and motivated market segments. You should be able to filter your access based on the geographical location and also specific types of travellers.
6. No lengthy contracts
Look for a provider that allows you to trial the GDS for a short time and measure results before continuing your subscription.
7. Simple and affordable connection
Each GDS has its own set of connection fees and requirements to sign up. By using the right provider, you eliminate the frustration of signing up with each individual platform, and you can connect to all of the top providers without paying the individual fees. In a matter of moments, you will be partnered with Sabre, Travelport, Amadeus and many more!
You also need to get a few things right regarding the way you represent your hotel on the GDS. Most prominent is your hotel description, which will act as your hotel's electronic brochure. This provides travel agents with your property description, hotel amenities and information about local attractions.
Make sure you do a good job of providing and describing:
A general overview of your hotel
Amenities, facilities, and services
Location and address
Directions and transportation
Area attractions
Room type names
Room type descriptions
Take note of your presentation, too. Travel agents generally prefer a bulleted format and condensed information that can be reviewed quickly.
How to use the GDS to capture cruise travel bookings at your hotel
At first glance it may seem like the hotel and cruise industries are quite alike. A ship is just a floating hotel, right? Wrong, they're actually considerably different, with separate inventory systems, staffing processes, purchasing and selling methods, and distribution strategies.
Cruises tend to rely on more conventional channels like travel agents to reach and convert guests.
Even though the sectors are incompatible, their customers are not dissimilar and there is often an opportunity for a crossover of business.
With the cruise industry currently in a state of growth, it represents a chance for hotels to get a slice of the revenue.
The cruise industry is booming
The cruise market is definitely expanding, with global revenue now at $40 billion. Every harbour city in the world has a cruise ship docked outside and with everything from super cruises to niche adventure cruises, travellers are finding them a more accessible form of holiday.
It appears travel agents are driving most of this success, with 70% of cruise bookings made via this channel. Travel agents offer expertise, advice, and personal service; which is needed for cruise passengers.
Why it's relevant to hotels
Hotels are essentially able to share in some of the same customers cruises attract because of the 'cruise-and-stay' phenomenon. Cruises do all the hard work to book their guests but often they will arrive a day or two early or depart a day or two after their cruise, booking at hotels for the extra time. This almost acts as a double-holiday for travellers who want to spend some more time on land exploring new cities.
Using a GDS to make your hotel visible
Because cruise travellers rely heavily on travel agents for their trip arrangements, it's highly likely any hotel bookings will also be made through this channel. Hotels need to be on travel agents' radars if they want to drive extra bookings.
Key Takeaways
A GDS is a worldwide conduit between travel bookers and suppliers, such as hotels and other accommodation providers
Four of the major legacy GDSs are: Amadeus, Galileo, Sabre, Worldspan
Live rates and availability are sent from a hotel's property management system (PMS) directly to the GDS and online booking websites via a channel manager.
A GDS will be most relevant to you if your hotel is centrally located and/or near an airport, with ties to the corporate market
There are a number of technology providers that enable a single point of entry to the GDS
Make sure you choose a provider with a comprehensive range of GDS services
A GDS can also be used to capture bookings from other travel markets