What Is a Global Distribution System (GDS)?
A Global Distribution System, or GDS, is a worldwide reservation system that acts as a conduit between travel bookers and suppliers, such as hotels, other accommodation providers and other travel related services.
The GDS communicates live product, price and availability data to travel agents and online booking engines for automated transactions.
A Global Distribution System is often used to tap into the corporate travel market because it has the ability to present hotels, flights, and car rentals in one simple interface providing convenience for users.
Whether your hotel is struggling to attract enough attention from travellers, or the guests you're attracting aren't the correct audience group, signing up to a global distribution system (GDS) might be a worthwhile option for your hotel's business.
Despite the growth of third party online travel agencies (OTAs) like Booking.com and Expedia, GDS systems remain the number one way to promote your hotel to the corporate travel market globally and attract travellers to your hotel.
What is the difference between IDS vs GDS?
Internet Distribution Systems, more commonly known as IDS, refer to internet portals that offer hotel reservations. It is a collection of internet reservation systems, travel websites and portals that concentrate on online marketing of travel, hotel and related services directly to users.
The technology provided with an IDS allows travellers to build whole packages and trips, combining flights, hotels, transportation and more that help facilitate transactions through a GDS.
A GDS passes on hotel inventory and rates to travel agents and travel sites that request it and also accepts reservations.
What is the difference between GDS vs CRS?
Initially, it can appear that GDS and CRS have similar functions, with both systems communicating hotel prices and availability across different channels.
Global distribution systems link hotels inventory to business travel agents and networks, whereas a central reservation system is operated by the original vendor e.g. hotel.
CRS can also connect hotels directly to customers through metasearch engines and websites as well as OTAs.
Think of a GDS acting as a middleman between a travel agent and a hotel's central reservation system.
The main 'big three' legacy GDS systems:
Amadeus

Travelport (that owns systems Galileo, Worldspan and Apollo)

Sabre
Hoteliers are always looking for ways to increase their reach to attract more customers, increase revenue, and make a profit. A global distribution system is a valuable channel to achieve this.
History and development of the Global Distribution System
The origin of global distribution systems dates back to the 1960s when an inefficient, more manual method was needed to keep track of flight schedules, availability, and prices.
Companies who utilised GDSs were some of the first in the world to facilitate business to business (B2B) electronic commerce (now more commonly known as ecommerce).
Airlines realised that by automating the reservation process for travel agents, they could make the travel agents more productive, time efficient and essentially turn them into an extension of the airline's sales force.
Today, global distribution systems not are able to only book airfare and hotels, but also rental cars, cruises, rail tickets, and tours.
For a traveller who is booking an all-inclusive holiday package, this might include all of the above and with a GDS they can book everything they need in just a few clicks, rather than having to call each individual provider.
How does a Global Distribution System work in hotels?
The tangled web of databases has become even more of a labyrinth following the explosion of online travel agencies (OTAs) like Booking.com, Expedia and Wotif.
Hotels and other travel entities can use technology solutions to capitalise on this trend, tapping into all GDS's, including the likes of Amadeus, Galileo, Sabre, and Worldspan by Travelport.
Live rates and availability are sent from a hotel's property management system (PMS) directly to the GDS and online booking websites via a channel manager.
As soon as a reservation is made on a GDS or an online booking website, the channel manager instantly reduces inventory across all channels, including the hotel's own website, and automatically delivers the reservation details back into the PMS or central reservation system (CRS).
Each GDS has its own set of connection fees and requirements to sign up if you do this independently, rather than through a technology solution. Using a provider like us here at SiteMinder, can be a cost-effective way of connecting to the GDS.
What is the difference between hotel Global Distribution System vs OTAs?
A Hotel Global Distribution System is a vast, computerised network that connects travel agents, online booking sites, and service providers like hotels, airlines, and car rental companies. It allows real-time access to inventory and prices, facilitating instant bookings and reservations. 
Originally developed to assist airlines in managing their ticket transactions, GDSs have expanded to encompass the hospitality industry, offering hotels a broader reach to corporate travellers and travel agencies. Examples of popular GDS platforms include Amadeus, Sabre, and Galileo.
On the other hand, Online Travel Agencies are consumer-facing platforms that aggregate hotel rooms, flights, and other travel services for direct booking by travellers. They are essentially digital marketplaces where travellers can compare and book a wide range of services from various providers. OTAs often have a more extensive marketing reach, targeting leisure travellers through various channels like search engines, social media, and email campaigns. Some of the most recognised OTAs include Booking.com, Expedia, and Agoda.
While both GDS and OTAs serve as intermediaries between hotels and potential guests, their target audiences and methods of operation differ. GDS primarily targets travel professionals and corporate travellers, offering a B2B approach, whereas OTAs are more B2C, focusing on individual travellers looking for the best deals and a variety of options.
However, while GDS and OTAs serve different primary audiences, they aren't mutually exclusive. Many modern travel agencies use OTAs in conjunction with GDSs to provide a comprehensive service to their clients. 
Moreover, with the rise of technology, some GDSs are evolving to offer more B2C services, while OTAs are exploring B2B avenues.
For hotels, the choice isn't about picking one over the other but understanding the unique benefits of each and leveraging them in a balanced distribution strategy. By diversifying their presence across both GDS and OTAs, hotels can maximise their reach, catering to both individual travellers and larger corporate clients.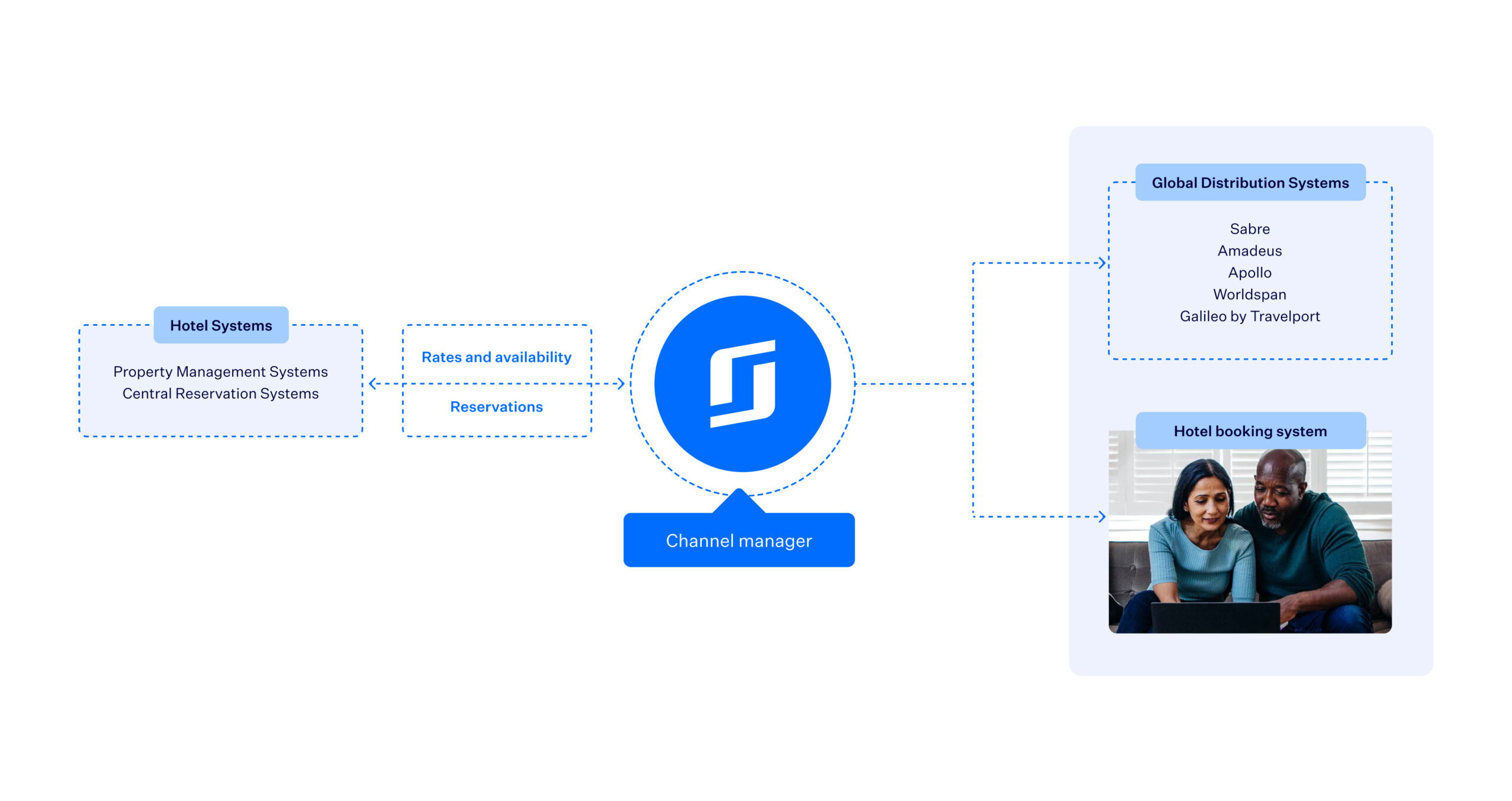 What are major Global Distribution System examples?
There are several major global distribution systems that house and process the vast majority of data from hotels, airlines, and other distributors. These include Amadeus, Sabre, Galileo, Worldspan, Apollo, and Pegasus.
However there are many technology providers that help hotels tap into these GDS's and by extension the thousands of travel agents and travellers across the world.
Amadeus Global Distribution System
Amadeus has been operating for over 30 years, building critical solutions to help airlines, hotels, railways, travel agencies, tour operators and more to run their business and improve the travel experience.
The company operates in over 190 markets, with a particularly strong presence in Europe due to the company itself and database being hosted in European countries.
Amadeus has the biggest global market share footprint of any of the GDSs, with a potential reach to millions of guests. Many bookings through Amadeus are specific to airlines however hotel owners can still benefit from this major GDS.
Sabre Global Distribution System
Sabre is a leading technology and data-driven solutions provider helping airlines, hotels and travel agencies grow their businesses and transform the traveller experience on a global level.
This network is used by a range of travel suppliers, including approximately 400 airlines, 200,000 hotels, 200 tour operators, 50 rail carriers, 40 car rental outlets and 17 cruise lines.
Sabre is seen as a pioneer for online travel agencies, corporate booking tools, revenue management, as well as web and mobile itinerary tools, to name a few.
Due to its strong presence within the North American market, Sabre has a large reach to travel agencies, customers and is very attractive to hotel businesses. It has the ability to allocate hotel inventories to travel agents on a global level, and also offers a number of hospitality technology solutions.
Travelport Global Distribution System
Travelport has the smallest market share out of the 'big three' GDS companies and comprises the Apollo, Worldspan and Galileo global distribution systems. While the company is UK based, the main market is considered the US where its child networks can be found.
The network is less reliant on its home market compared to other GDS systems and is beneficial for hotel owners to distribute their services to travel agencies worldwide.
Galileo Global Distribution System
Due to the high market penetration of the Sabre and Apollo systems, owned by American Airlines and United Airlines, respectively, Worldspan and Galileo were created by European airline groups in an attempt to gain market share in the computer reservation system market.
Galileo GDS gives hotel owners the ability to distribute hotel rooms and availability to travel agencies globally, offering 24 hour access to inventories and information.
Worldspan Global Distribution System
Worldspan is part of the Travelport GDS platform, and is a technology leader in web-based travel eCommerce, offering solutions for all facets of travel business online.
As a leading GDS, Worldspan provides travel distribution, technologies and services for thousands of travel companies worldwide, including travel agencies, corporations, suppliers and websites.
Worldspan transforms global travel distribution and transaction processing with industry-first fares, pricing, shopping and booking technologies, and a portfolio of interactive shopping tools that enable travel companies to reduce costs, increase productivity and build revenues.
Apollo Global Distribution System
Apollo traces its roots back to 1971 when United Airlines created its first computerised central reservation system.
As a leading GDS, Apollo provides global travel distribution, technologies and services for thousands of travel companies, including travel agencies, supplies and corporations, as well as travel web sites.
The Apollo reservation system was used by United Airlines until 2012, when it switched to SHARES, a system used by its former Continental Airlines subsidiary.
Apollo is still used by Galileo International (now part of Travelport GDS) travel agency with key markets being the United States, Canada, Mexico, and Japan.
Abacus Global Distribution System
Abacus was founded in 1988 and became a leading provider of travel solutions and services in the Asia Pacific region.
The company is headquartered in Singapore and owned by Sabre Holdings, after Sabre acquired a full stake off 11 Asian airlines who were holding a majority share.
Abacus serves more than 100,000 travel agents across the 59 markets in the Asia-Pacific region and has both global and uniquely local relationships with airlines and hotels, including the leading portfolio of low-cost content and Chinese airline content.
Pegasus Global Distribution System
Pegasus strives to remove friction and create simplicity amidst an otherwise complicated environment. Pegasus Solutions pioneered the hospitality reservations industry.
The company is a market leader in the electronic processing, management, distribution, sales and marketing of hotel inventory, rates and content across different sales channels to include direct bookings via hotels' branded websites, voice, travel agents (GDS), OTAs and metasearch partners.
No one GDS platform is known as the 'best'. They all provide similar functionality but also have their own unique differences. Consider the following when choosing the right GDS for you:
System's presence in markets where your guests come from

System's functions and features

Which travel websites that GDS connects into
Advantages of a Global Distribution System for hotels 
The main advantage to a GDS, is that it can increase your hotel bookings and revenue through placement on more 'supermarket shelves' globally. This approach is particularly effective at capturing international corporate travellers. You can gain lucrative international corporate business, particularly if you're near a major airport gateway or close to government or commercial enterprises.
But there are many advantages to a GDS solution for hotels, including:
Coverage
The number of bookings generated through a GDS generally outpaces that of direct bookings. While direct bookings are rising, representing a significant amount of revenue for hotel operators, there are still more bookings being generated through the GDS than through hotel websites.
Revenue
Hotels generate more revenue through a GDS because it places the hotel's information, availability and rates in prominent locations where it is easy for travel agents to find. It helps hotels maximise their bookings during any given time period while also reaching powerful travel markets where users are willing to spend money in order to book the best room available.
Distribution network is expanded
Get more exposure with travel agents who specialise in corporate travel use a GDS to get their clients booked quickly and efficiently. Hoteliers should utilise cost-effective and revenue-generating opportunities available in the lucrative corporate travel market.
Market reach
The GDS can help hotel managers uncover new market segments to promote their products into. In many cases, global distribution systems have helped hotel operators discover traveller market segments interested in their products that they couldn't or may not have previously reached.
Little maintenance required
Information is directly provided to your hotel's CRS system. A GDS can integrate with your Property Management System as well so that the reservation process is fully automated. Vendor room availability is updated across all online travel agents and directly within your site.
Simple easy interface and connectivity
More travel agents are relying on the GDS to find the best places for their clients to stay. Every year, more agents are realising that this is the best way to easily connect with hotel properties from around the world. Through the GDS, the agents have access to live rates and availability, and they can easily book rooms for their clients.
24/7 visibility
Adopting a dynamic mix of channels that include both online travel agents and GDS's is the most optimal way to keep bookings flowing for your hotel, whether it's high or low season. What's more, you'll be online 24/7 leading to an increase in visibility and bookings from travel agents worldwide.
A GDS system is indeed a unique and direct marketing tool for your hotel.

Features of a
Global Distribution System 
Knowing the world of potential the GDS opens up, you might rightly be excited to get started. Before you sink too much time in seeking connection and contacting providers you should be clear about if it's appropriate for your property. There are also some criteria your connectivity partner should meet.
You can certainly have discussions with tech partners like SiteMinder to check your suitability but in general, here are some specifications that will aid successful connectivity:
Being centrally located

Being located close to an airport

Room capacity of more than 20 rooms

Lodgings that are set up for corporate markets and not affected by seasons
These requirements are not essential but will be beneficial.
It's also important to choose an established provider and make sure you ask for training and support.
Here's a checklist to ensure you'll be able to use the GDS to its full potential:
1.  Pooled inventory
With a GDS connection that supports pooled inventory, you can market every single one of your hotel rooms to all of your distribution channels at one time. Without this feature available, you'd be forced to separate your inventory based on the distribution channel, preventing you from maximising your bookings and increasing your revenue.
2. Commission-free structure
Your GDS should help you maximise your bookings and increase your revenue, not deplete you of the revenue you should be earning per booking. Avoid choosing a partner that forces you to pay a commission fee simply for delivering the booking to your hotel's property management system (PMS).
3. Integration capabilities
It's imperative you have the capability for the GDS to integrate completely with your existing PMS, online booking engine and channel manager. This can simplify the process for you, allowing you the time and resources to effectively implement and manage your distribution strategy.
4. Comprehensive reporting
Your GDS software should aid you in making the best decisions regarding your marketing strategy and distribution plan. Select a provider that offers comprehensive reporting tools that allow you to view and evaluate your booking data.
5. Ability to target specific markets
A GDS gives you the opportunity to discover and tap into the most influential and leading market segments. You should be able to filter your access based on the geographical location and also specific types of travellers.
6. Simple and affordable connection
Each GDS has its own set of connection fees and requirements to sign up. By using the right provider, you eliminate the frustration of signing up with each individual platform, while still connecting to all of the top providers without paying individual fees. In a matter of moments, you will be partnered with Sabre, Travelport, Amadeus and many more!
You also need to get a few things right regarding the way you represent your hotel on the GDS. Most noteworthy is your hotel description, which will act as your hotel's electronic brochure. This provides travel agents with your property description, hotel amenities and information about local attractions.
A complete and comprehensive hotel description can improve search positioning within a GDS and displays your brand messaging during the search and booking process, meaning travel agents are more easily able to source your hotel for their clients.
Best practices for your hotel description include providing:
A general overview of your hotel

Amenities, facilities, and services

Location and address

Directions and transportation

Area attractions

Room type names

Room type descriptions
Bear in mind how you present your hotel description too! Travel agents generally prefer a bulleted format and condensed information that can be reviewed quickly.
How to access a leading Global Distribution System software 
The GDS is a vast network with more than 600,000 travel agents around the world hooking into it to sell hotel rooms, flights, and other travel related services.
To gain access effectively, you need a powerful technology partner that can give you a single point of entry to the world's most prominent GDSs. This prevents you having to pay the individual connection fees for each GDS. However, you'll still be required to pay a percentage of reservations to the provider, similar to when you pay a commission on bookings from Booking.com.
The best systems – like the ones mentioned above – will connect your hotel directly to the world's most prominent GDSs, so you don't have to worry about signing up to each one individually.
The connection comes with complete integration with the most popular central reservation and property management systems. This will eliminate manual data entry via your channel manager, simplifying the process.
Using a software provider to tap into a GDS can also save your hotel a lot of money and time. In one go, you'll be able to access all the retail and traditional travel agents you want!
Once signed up and are all set up, you should only have to pay a transaction fee for confirmed bookings. Be wary of providers who try to charge you commission unnecessarily.
The default GDS process that connects vendors inventory through to service providers for a booking, can be simplified in a few simple steps:
Hotels or airlines sign up and link their own inventory to a global distribution system

Once connected, customers are able to book rooms through all channels and portals associated with the GDS to purchase from a hotel e.g. traditional travel agents

Whoever sells your room earns a standard commission (only once a transaction is completed)

To avoid overbooking, each service provider receives real-time updated inventory from the hospitality company

Your guest pays you, then you pay your agent
Is it expensive to connect my hotel to a Global Distribution System?
Many hotels think so but when you consider the commission fees paid to third-party booking sites like Expedia, a connection to the GDS is affordable.
Commissions to online travel agents are usually around 15-18%, while a GDS booking will sit at around 10% plus a small transaction fee.
Since the GDS is extremely popular for boosting corporate bookings, it's important to note that business travellers will spend 50% more at the bar, restaurant, and on incidentals than leisure travellers – adding up to more value for your hotel.
Using a provider like SiteMinder is the most cost-effective manner of connecting to the GDS. Otherwise, each individual GDS service requires a setup fee and monthly transaction costs.
Is the Global Distribution System suited to your hotel?
Now that you have all the information you need to know about global distribution systems, is it relevant to you and a good fit for your hotel?
GDS systems are one of the best ways to promote your hotel in the global corporate travel market. It is among the most popular and also preferred platforms used by travel agents around the world with more than 600,000 travel agents plugging into a GDS every day on behalf of companies to book flights, hotels, car rentals and destination activities.
If you're still a bit unsure if your hotel benefit from a GDS, there are a few specifications you can cross-reference against:
Location of your hotel – Is it centrally located or in close proximity to an airport?
Room capacity – What is the maximum occupancy of your hotel? Are you able to accommodate a large influx of travellers? Do you have room capacity of more than 20 rooms?
Services – Can lodgings be set up for corporate markets? Is your hotel prepared for bookings all year round and not affected by seasons?
These requirements are not essential but will be beneficial and can greatly aid a successful GDS connection. It's also important to choose an established provider and make sure you ask for training and support.
Need to discuss it with an expert? Get in touch with our team by clicking the link.
How a GDS can assist in capturing cruise travel bookings
At first glance it may seem like the hotel and cruise industries are quite alike. A ship is just a floating hotel, right? Wrong, they're actually considerably different, with separate inventory systems, staffing processes, purchasing and selling methods, and distribution strategies. Cruises tend to rely on more conventional channels like travel agents to reach and convert guests.
Even though the sectors are incompatible, their customers are not dissimilar and there is often an opportunity for a crossover of business. A GDS can also be used to capture bookings from other travel markets and with the cruise industry currently in a state of growth, it represents a chance for hotels to get a slice of the revenue.
The cruise industry is booming
The cruise market is definitely expanding after seeing a setback following the pandemic, with global revenue now at approximately $19.4 billion. Every harbour city in the world has a cruise ship docked outside and with everything from super cruises to niche adventure cruises, travellers are finding them a more accessible form of holiday.
It appears travel agents are driving most of this success, with 70% of cruise bookings made via this channel. Travel agents offer expertise, advice, and personal service; which is needed for cruise passengers.
Why is this relevant to my hotel?
Hotels are essentially able to share in some of the same customers cruises attract because of the 'cruise-and-stay' phenomenon. Cruises do all the hard work to book their guests but we've seen in some cases, travellers often will arrive/depart a day or two early from their cruise.
This almost acts as a double-holiday for travellers who want to spend some more time on land exploring new cities and where hotels come into play, as travellers will look to book with them for the extra time.
Who to talk to about connecting the GDS hotel booking system
Ultimately, connecting to the GDS is going to require a conversation between you and your potential technology partner, or the GDSs themselves of course.
There are plenty of reasons to use the GDS and many ways in which your hotel might be able to win revenue and bookings this way.
Particularly if you are located in a high-traffic destination or a destination popular with business travellers you can express your interest and discuss your suitability with a good degree of confidence.