By Glenn Andrews, VP Sales – Asia, SiteMinder
I am compelled to write this article due to the number of hotels that are really struggling in Bangkok, Thailand, for occupancy currently. Talking to some close GM friends, they are really looking at every way to increase occupancy in the aftermath of the political changes recently implemented in the country.
Still, so few really understand the benefits of pooled inventory and the difference it can make to occupancy for a small monthly investment; so here it is in simple terms, to make sure there is no doubt.
If a hotel is not using a channel manager, then they have to fracture their inventory splitting between all the online booking channels they are using. As an example, if a hotel has 100 rooms and is working with 10 Online Travel Agencies (OTAs), that hotel must then give 10 rooms to each OTA. That's in theory. What actually happens, however, is that hotel will provide its best suppliers more rooms, meaning the smaller players get way less than the average 10.
This means the hotel has to constantly monitor and shuffle its inventory, with the real risk of missing bookings, as they run out of inventory on the smaller – but still valuable – OTAs.
With pooled inventory, you can provide all your OTAs with all of your inventory at once, so you never miss a booking.
Secondly, and more importantly, by giving all of the OTAs all of your inventory at once – which is what pooled inventory supports – most of the OTAs will reward you with better visibility in their ranking algorithm. No one knows for sure what the actual algorithms are and they do change from OTA to OTA, but generally OTAs are keen to provide priority if they have more rooms to sell its simple business logic.
I have seen examples of hotels being improved by up to three pages on major OTAs, providing significantly increased bookings, so it is a major consideration in being able to increase occupancy and then consequently yielding.
By using pooled inventory, there is no barrier to the number of online booking channels you can work with; by broadening your distribution, you increase your opportunity and can target individual markets and segments. This will increase your bookings and then by providing loyalty and re-marketing strategies, e-marketers can turn these booking clients into direct clients.
Below is a infographic on how true pooled inventory works and the multiple channels that enable broader distribution.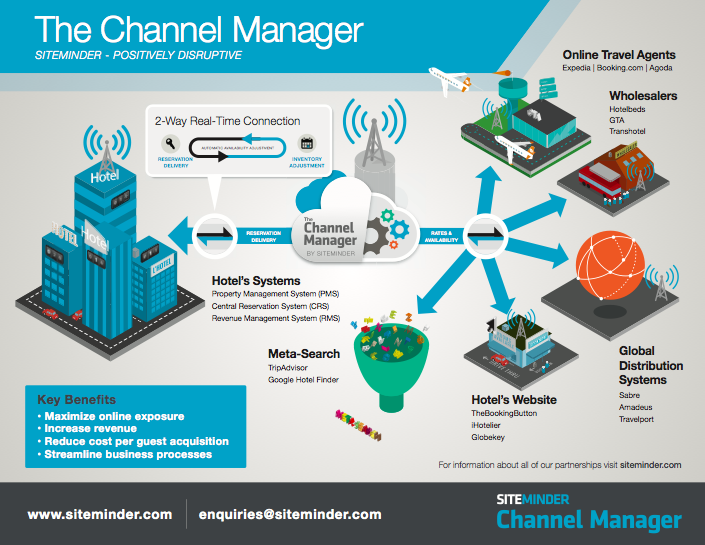 Be warned that many channel management companies will say they have pooled inventory when, in fact, the solution simply shuffles the inventory around. So when doing your due diligence, ensure you ask this question: "Can I have all of my inventory on all of my online booking channels at once?"