What is an OTA channel manager?
An OTA channel manager is a tool used to manage online travel agents (OTAs) in a single platform. It is commonly used by hotel sales and revenue managers to update rooms and rates in real-time.
The OTA channel manager syncs your hotel prices and availability across your property management system (PMS) and all connected OTA channels such as Booking.com, Expedia, and Airbnb.
Why use a channel manager for OTAs?
OTA channel managers provide a centralised platform for managing online travel agencies so that you can save time and minimise the likelihood of errors.
Without a channel manager, individually updating rates, availability, and content on each OTA would be too time-consuming and more prone to mistakes.
Instead of manually editing listings on different OTA websites, you can use a channel manager to make these updates across all of them simultaneously from one system, ensuring consistency and accuracy.
Using an OTA channel manager also helps you increase hotel sales and reach more travellers than ever before. By connecting to a wider range of booking channels, your property becomes visible to a larger audience around the world.
The expanded reach of your hotel attracts millions of potential guests, boosts online bookings, and maximises room occupancy.
How does an OTA channel manager work?
Generally, an OTA channel manager works using a two-way integration between your PMS and OTA channels.
When a guest makes a reservation on online travel agents like Hostelworld, the channel manager sends the booking details to your PMS which automatically updates inventory and availability.
Your PMS can also send restrictions such as stop sell, minimum stay, and maximum stay to the channel manager which uses these parameters to reduce the available room count on other connected booking sites accordingly, eliminating the risk of overbooking or double bookings.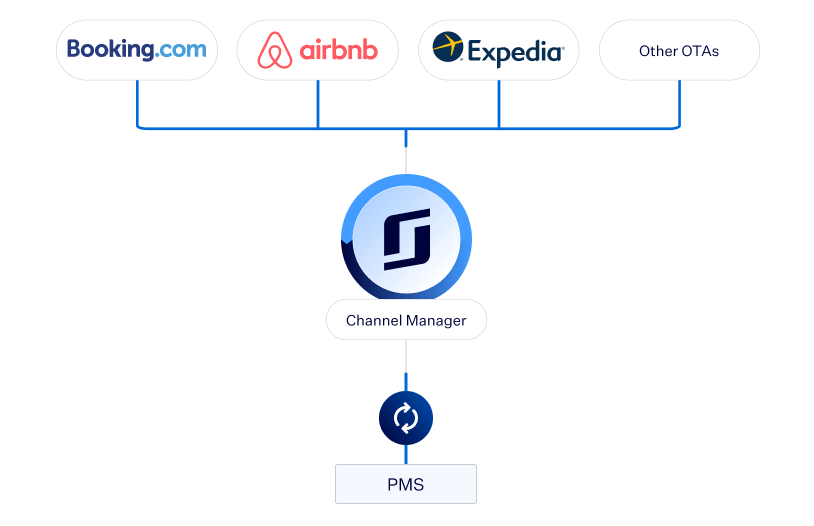 Here's five simple steps to make an OTA channel manager work for your hotel:
1. Sign up for a free trial of an OTA channel manager
Start by selecting a reputable channel manager that offers a free trial. SiteMinder is the world's leading channel manager with the most secure and reliable connection to over 450 OTA channels.
A satisfied customer shared, "We used the 14-day free trial and were very impressed so we signed up after the trial period ended. The setup didn't take long at all."
Get started with your free trial today.
2. Prepare your property and OTA details
Gather all necessary information about your property including its name, registered address, room types, rates, amenities, policies, and other relevant content like photos and descriptions.
You'll also need to present data about your OTAs and the other channels that you want to connect to such as OTA account IDs and property IDs, among others.
Our team of specialists will guide you through the setup process. We also provide training materials, documentation, and support resources to help you familiarise with the OTA channel manager efficiently.
3. Integrate your PMS with the channel manager
The OTA channel manager integrates with over 250 property management systems, from advanced systems such as Opera PMS to all-in-one software such as Little Hotelier.
PMS integration is crucial in setting up any channel manager because it enables the seamless data flow between the two platforms, ensuring real-time updates and synchronisation.
For example, when the channel manager integrates with your PMS, you can easily import existing reservations and continue taking new bookings with the assurance that you've got consistent information across the board.
If you're managing a small property and don't have a PMS yet, then consider using Little Hotelier's property management system. You can even save up to 35 minutes per booking and get up to 63x return on investment (ROI). Try for free for 30 days.
4. Configure hotel rates, availability, and restrictions
Define pricing rules, allocate room inventory, and establish restrictions within the OTA channel manager.
You have full control and the freedom to input room rates for different seasons or periods, adjust hotel pricing based on occupancy levels, and apply any discounts or promotions.
You can also manage availability for each room type and set specific restrictions like minimum stay requirements during peak periods.
To display your updated hotel prices and available rooms, make sure that your PMS, channel manager, and OTA channel details are accurate as you map your room rates.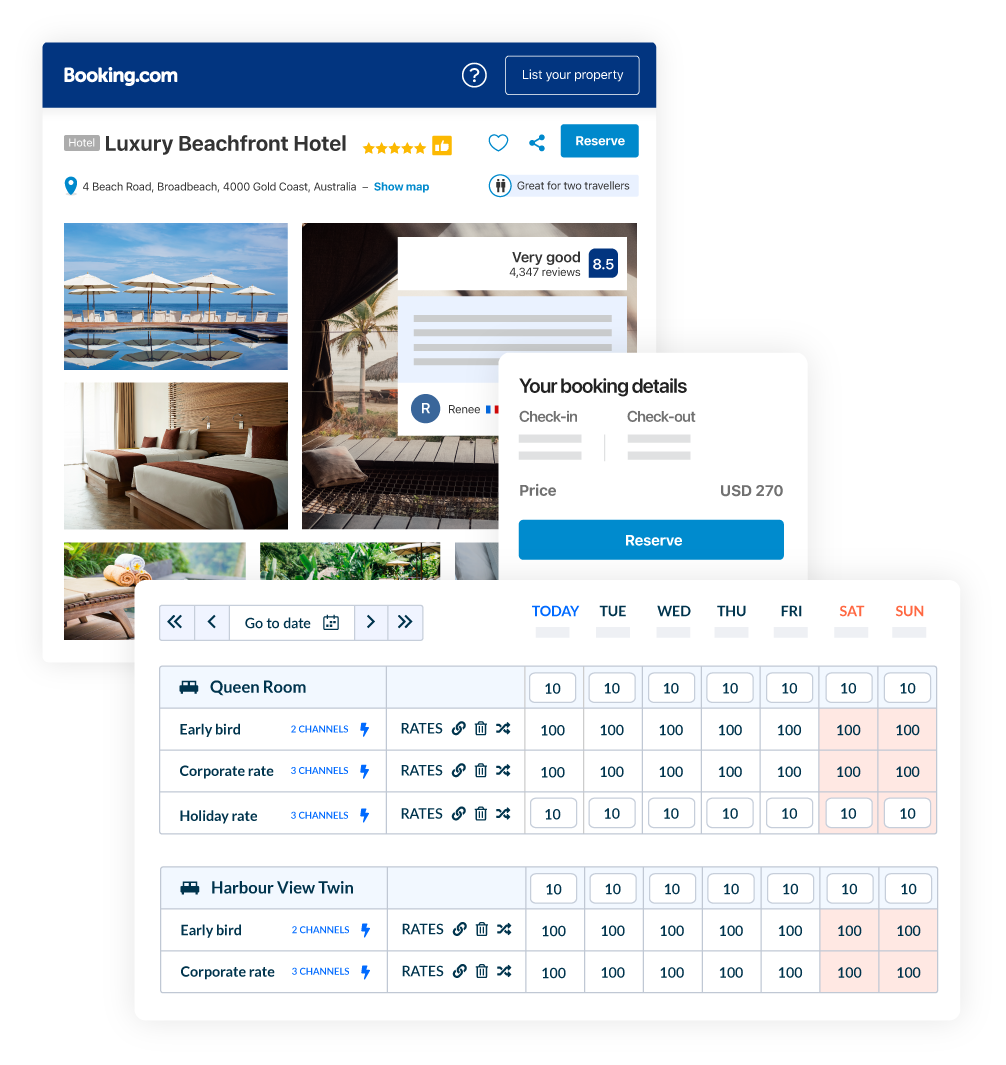 5. Test the setup and start managing OTA channels
Simulate a test booking through one of the connected OTAs like Hotels.com and observe how the reservation effortlessly gets transmitted to your PMS.
You should also see that rates, availability, and restrictions sync automatically between the channel manager and the OTAs.
With the OTA channel manager, you can view your bookings from different OTAs in one centralised platform.
You can also analyse performance reports to identify the highest-performing channels, monitor revenue trends, and make informed decisions regarding pricing and distribution strategies.
Which OTAs can connect with a channel manager?
OTAs that can connect with a channel manager vary per channel management solution provider.
For example, SiteMinder connects with hundreds of OTA channels; from global giants such as Booking.com, Expedia, and Airbnb to regional powerhouses like AirAsia, Mr. & Mrs. Smith, and British Airways Holidays. See the full list of OTA channels.
Gain more revenue out of OTAs with the world's #1 channel manager
Managing OTAs can become a breeze when you use SiteMinder. Consistently voted by hoteliers as the best channel manager in the world, our channel manager helps you stay on top of distribution channels so you can have more time to focus on other important aspects of hotel management.
Streamlined hotel operations

Improved guest experience

More hotel bookings

Optimised pricing strategy

Increased hotel revenue
A boutique hotel in Australia reported, "Operations have improved by more than 100%, we've also driven up bookings and revenue by more than 250%"