When it comes to successful revenue management strategy, it's not just about tracking your own internal metrics such as RevPAR.
At your hotel you also need to perform regular competitive analysis to see where you stand in the local market and how you can gain an advantage, or at least maximise your potential revenue and profit.
This blog will tell you everything you need to know about hotel competitor analysis.
What is a competitor analysis?
A competitor analysis is a way for your hotel to assess the strengths and weaknesses of your local peers, so you can benchmark yourself and identify your position in the market.
This allows you to understand if you are pricing your property correctly and make decisions that give you a competitive advantage. This might also mean:
Creating strategies that make it difficult for new competition to enter the market
Using guest insights to improve your service above the competition
Showing you the unique selling points your property should focus on
Using a simple example; if you and a competitor are priced the same but your hotel offers better value and/or quality, you have the opportunity to increase your rates for higher profit.
How to perform hotel benchmarking
There are a few steps to performing your analysis, and all are crucial.
Establish your hotel's competitive set
Your competitive set is who you will compare yourself to. This means you need to correctly identify any hotels that could take business away from yours.
Factors include:
Proximity – Hotels that are in close geographic proximity to yours, even if they offer a slightly different experience, can be considered competitors. Of course, if you are luxury and they are budget you may discount them.
Positioning – This refers to the product and experience offered to guests. For example; Budget, Midscale, Upscale, and Luxury to name a few. You should be looking at hotels who position themselves in a similar way to you.
Price – It makes sense that any hotel with a similar rate structure to your hotel is going to be a competitor.
Product – Are there hotels near you offering up similar room types and amenities? Add them to your competitive set.
Some other ways you could consider when building a comp-set include looking at target audiences, seasonality, and aspirations. When we say aspirations, it means that if you intend to renovate and upscale your business you should look at who your competitors will be once this is complete.
Choose and score competitive attributes
Once you have around four or five competitors to analyse, you need to decide how you will compare everyone.
Examples of what you might assess are price, location, amenities, rooms and features, or reviews.
Next give each characteristic a score out of 10 (or whatever you want to use) for your property and each competitor.
Then, take the average of these scores and plot all the hotels on a graph. It might look something like this: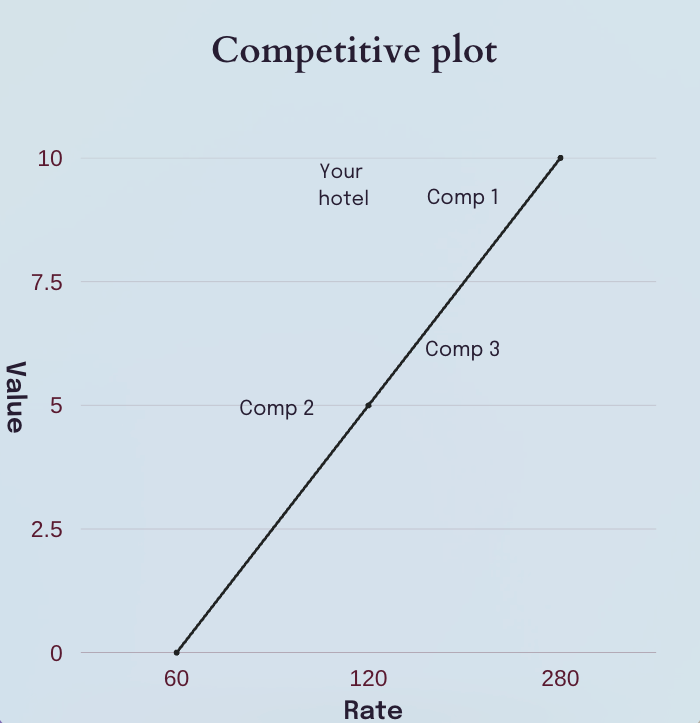 Identify opportunities to adjust your revenue management strategy
You should immediately be able to see who is overpricing and who is underpricing their rooms, and find ways to beat them or at least improve your own performance.
For example, if the highest priced hotel is priced much higher than you but only offering marginally better quality or value, you should be able to raise your rates without losing any bookings. Similarly, if you offer better quality or value, you can price your hotel up to the same rate and still win the lion's share of bookings – boosting your profit significantly.
Conversely, if you notice that you are being clearly beaten on value, you'll need to drop your rates to ensure you get enough bookings. You can then try to generate extra revenue from upsells, extras, and other ancillary revenue.
Tips on creating the perfect hotel competition report
There's plenty to keep in mind when planning and performing your competitor analysis. Here are some tips that will help you get it right:
Define some goals along the way – Are you hoping to work on increasing revenue, boosting your guest experience, improving your online reputation, optimise your value, or something else?
Prioritise some data over others – Work out which data is most important to you when comparing hotels. Reviews are a must, for instance, because they tell you so much from the most important source – the guest.
Don't forget to track online activity – Looking at how competitors behave online, such as on social media, will help you further compare your position to theirs. Another online space to look at is what OTA channels they are using, or what keywords they are targeting on Google.
Don't overdo it – Try to keep your analysis to under 10 competitors, otherwise it will become overwhelming and confusing, which can make the whole process pointless.
Don't set and forget – It's a good ideal to perform your analysis at the beginning of the financial year, but it can also be a regular process that helps you track demand and keeps you up to date on how your hotel and its competitors are performing.
Strategies to track and get ahead of your hotel's competition
So you've determined your closest competitors and set your hotel's price effectively. Now what else can you do to gain an edge?
Here are some ideas to get your started:
Use hotel business intelligence tools to stay 'in the know'
A hotel business intelligence tool gives you real-time market data, including insight into your competitor's rates. Use this information to always make the right pricing decisions to remain competitive.
Value-match your hotel
If you find yourself on level footing with some of your competitors, you can try setting some of your rooms at slightly higher rates, and some lower but give the higher rates added extras to attract deal seekers without sacrificing profit.
Work on winning with promotions
Simply comparing your promotions with your competitors' can give you opportunities to win guests over. For example, if they are offering a two-night discount, could you offer a three-night deal and make the revenue up, plus more, elsewhere over the course of the stay?
Keep an eagle eye lookout
It doesn't hurt to spy on your competitors, especially if you feel like they're doing something you're not. Sign up to their newsletters, follow them on social media, research their SEO, and look at their online business profiles to find opportunities.
Listen to your guests
Your guests will usually explicitly list your property's strengths and weaknesses so you know where you can make improvement. They might even give you a good indication of how you compare to the local competition. Ensure your frontline staff are constantly taking feedback onboard and reporting it back.
Ultimately the goal of analysing your hotel alongside competitors is to allow your property to operate in its own perfect niche. You don't want to become a price follower or mirror your brand to any others, but rather stand out to guests through superior value, service, and authenticity.
Competitor pricing intelligence
As we mentioned, it can be very helpful to maintain a competitive edge when you have clear insights into the rates of your competitors on a regular basis.
This is what's known as rate shopping and there are many tools on the market that can give you competitor pricing intelligence. Using software in this area is the best and quickest way to get the information you need.
Generally these tools, such as SiteMinder's business intelligence feature, allow you to track as many as 10 competitors in a single dashboard. Real-time data is fed back to you whenever you need it, so you can spot trends or opportunities based on how your competitors' rates fluctuate.
You'll also be able to run easily digestible reports, instead of having to struggle with your own spreadsheets, and also maintain rate parity with real-time comparison of your rates across leading global OTAs.