Why is it important to increase hotel bookings?
Increasing your hotel bookings is important because it generally translates to higher revenue but also to a more robust and sustainable business model. 
However, the strategy to achieve this goal is often misunderstood. Many hoteliers may be tempted to drastically cut their room rates in an attempt to attract more guests. While this strategy might seem effective at first glance, it rarely delivers the desired results. Discounting room rates may sell a few more rooms, but it seldom sells enough to compensate for the reduced revenue per room.
It's essential to understand that lower rates don't inherently create demand. They can, in fact, set the wrong expectations for guests. When guests see significantly reduced rates, they may perceive it as a reflection of the quality of the hotel's services and facilities. This can lead to a negative impression of the hotel, which can be detrimental in the long run.
Additionally, consistently offering low rates can erode your hotel's price integrity. Once guests become accustomed to low rates, it can be challenging to increase them again in the future. This can lead to a cycle of continually decreasing rates, which can harm your hotel's profitability and sustainability.
Instead of resorting to drastic rate cuts, a more effective strategy is to add value to your guests' stay. This could be in the form of special packages, unique experiences, or additional services. By offering added value, you can attract guests without compromising your room rates. This strategy not only helps to increase bookings but also enhances guest satisfaction, leading to positive reviews and repeat business.
Increasing your hotel's visibility on top booking channels is also a critical part of the equation. The more visible your hotel is, the more likely potential guests are to find and book it. This can be achieved through effective online marketing, partnerships with online travel agencies, and the use of sophisticated hotel management software.
Below, we'll guide you through practically every factor, consideration, scenario, need and strategy that you need to know to drastically increase your hotel bookings.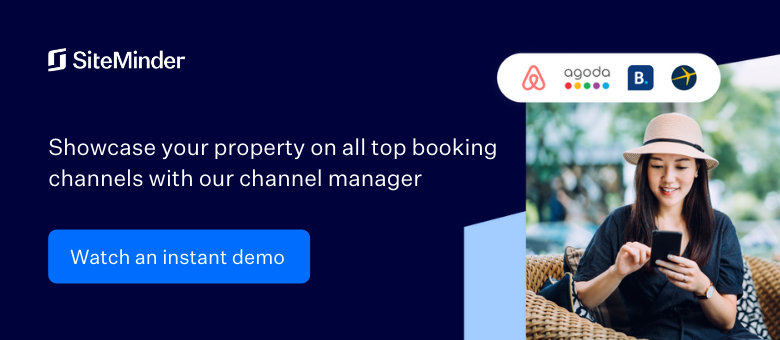 How to increase hotel bookings in 15 effective ways
In the bustling world of hospitality, standing out from the crowd and attracting guests is no easy feat. With the proliferation of online travel agencies and shifting traveller preferences, it's crucial for hotels to continuously update their strategies to stay competitive. 
Here are 15 strategies designed to cater to a broad spectrum of guests, including business travellers, vacationers, and locals looking for a unique staycation experience. 
By adopting these tactics, hotels can increase their visibility, draw in more guests, and ultimately drive up their bookings.
1. Create and promote special packages
Packaging allows you to mask actual room rates with features, which add value to staying at your hotel. If your hotel offers additional services like fitness classes and spa treatments, package them together with accommodation for a really great deal that encourages guests to use services they may not have previously thought about.
2. Highlight local attractions
When it comes to marketing, think who might be a weekday target audience, and geographically where they are. Focus on a radius of around two hours drive for a two-night midweek stay.
Try collaborating with tourist attractions locally and submit advertisements or editorial to newspapers and websites in population centres within the vicinity promoting midweek breaks that include bus tours, wine tasting trips, or a concert.
3. Develop a mailing list
Develop mailing lists of your best weekend customers and stay in contact with monthly emails listing midweek special offers and promotions.
Remind them that midweek is the best time to visit local shops and attractions; away from the weekend crowds. Mail them midweek discount vouchers too.
4. Have one-day events
Use your imagination and create special one-day conferences, poetry readings, art shows, and other cultural events during the week.
These are especially popular with people in their late 50s and early 60s and importantly these are the people who often have the most disposable income. Think about holding exhibitions of students' work in conjunction with local schools and colleges.
5. Open up your space to business
Promote your space to local companies who could use it for meetings and social events. Be clever and target companies that have branches or offices elsewhere, so visiting delegates may need accommodation.
6. Offer 'Two For One' meal rates
In the hospitality industry, unique incentives can attract guests and encourage them to spend more. If your hotel includes a restaurant, cafe, breakfast bar, or other eatery, offering 'Two For One' meal rates is one such strategy that can boost bookings and overall revenue.
The 'Two For One' meal rates concept is simple: guests are offered two meals for the price of one. This offer can be tailored to suit your hotel's needs, such as limiting it to certain meals or specific days of the week. Offering this deal during the middle of the week is a great way to boost midweek bookings, or you can offer it as a lunch-only offer on any day to increase traffic during the slower middle of the day.
If you're partnered with a local restaurant, you can work this into your mutual co-marketing strategy as well to boost the performance of both businesses.
7. Promote midweek weddings
With more people working freelance or flexible hours, weddings during the week are becoming more popular; especially for second marriages or older couples who value the intimacy of a quieter occasion.
Make sure they don't clash with corporate events or any other activity that could spoil the atmosphere.
8. Extend their stay
Tempt your weekend guests to extend their break and stay longer. Use discount deals and make sure your guests know about it. Tell them in your pre-stay email and in person when they check-in.
9. Reach out to the largest restaurants in town
Do this in October or November and offer up a special rate to groups with Christmas parties planned during the week at those restaurants.
10. Open your space to realtors
Find out who the local key players are in real estate – commercial as well as residential. There are hundreds of people in town every night viewing a new house or opening a new office and they need a place to stay.
Offer the realtor or agent special rates, and free advertising in your room brochure.
11. Offer midweek breaks as prizes
Social media platforms, particularly Facebook, offer a unique opportunity for hotels to engage with their audience and promote their services. A compelling way to do this is by offering midweek breaks as prizes in Facebook competitions.
Such competitions can generate excitement among your audience, increase your page's followers, and boost engagement. They also provide an excellent platform to showcase your hotel's offerings, from luxurious rooms to top-notch amenities. Moreover, these competitions can serve as a valuable source of user data for future marketing efforts. Lastly, the actual resource cost of running a competition like this is low. All it costs is a luxury room for a day or two, during what's typically a slower period of the week anyway. The cost:benefit is nearly always positive.
To run a successful Facebook competition, ensure the rules are clear and easy to understand. Promote the competition across all your marketing channels, and actively engage with participants by responding to comments and messages. Once the competition concludes, publicly announce the winner on your Facebook page to generate further engagement. 
Remember that Facebook has strict rules on competitions so make sure to read up thoroughly before you set it live.
12. Embrace the season
Whether your property is located on a snow-covered ski slope, or a pristine, white sand beach, determine what would attract potential guests to your property (skiing, sunbathing, scuba diving, etc.) and use that to appeal to your customers' senses and desire for that fabulous holiday experience.
Appeal to their emotions whenever possible and make it easy for them to picture themselves having the time of their lives on their vacation at your property.
13. Holiday activities
Consider teaming up with local suppliers and build various activity packages that you can offer guests at a discounted rate during the holiday season.
By creating packages that fulfil the vacation desires of your guests, you will be able to increase your bookings during busy holiday travel time – and create a great reputation for your property at the same time.
After all, there's nothing like a fantastic holiday vacation, and guests will want to spread the word far and wide about the amazing time they had.
14. Have a theme
Every holiday puts consumers in a festive mood, so consider giving potential guests exactly that: an exciting party! To promote the event, you could create a weekend package that includes a two-night stay at the hotel and an exclusive access pass to attend the party.
Don't forget to tie the theme of your party into your destination – and again, keep in mind what consumers are expecting to experience during their holiday in your destinations. Properties in warmer climates should host a beach or a pool party, complete with a Tiki bar, fruity cocktails and hula dancing. If you are located in a colder climate, consider decorating your party with ice sculptures and plenty of warm food and drink.
Some ideas… A competition between local chefs to see who can make the most delicious soup (and of course, let guests sample them all!). A warm cocktail competition using only warm mixers, like hot chocolate, tea, apple cider, etc. Your only limit is your imagination!
15. Don't forget about local guests
Especially on shorter mini-breaks, hotels will often experience an influx of local guests who are looking for a fun 'staycation' in their own hometown.
Consider offering a locals' discount and/or a package option, offering a reservation to a hard-to-get-into restaurant or a sold-out concert or play (if you are able to secure them).
If not, just try to find ways to make locals feel special. A simple 'thank you' can go a long way towards making your local (and international) guests happy… and as you know, happy guests are more likely to return to your property, as well as recommend it to their friends or family.
How to increase hotel bookings using voice reservations
With the overwhelming flood of new technology, mobile bookings and other reservation options, some hotels have stopped paying any attention to the phone calls they receive and the bookings they sell through them.One of the reasons for this is they believe their fascination with apps and smartphones is mirrored by the majority of travellers. The only people still calling hotels are baby boomers, right? Wrong.
And not measuring or tracking your voice reservations could be damaging your hotel's revenue and marketing strategies.
While mobile bookings and website visits have both increased year-on-year, the 'click-to-call' feature on smartphones is increasing voice traffic to hotels in turn.
Here are four reasons why you need to remember the importance of customer phone calls:
1. Voice reservations make a difference to your campaigns
When hotels are running digital marketing campaigns, they often fall into the trap of only tracking the digital results from those campaigns. Consequently, they might believe email marketing, for example, is a dying channel that no longer provides adequate revenue.
However, who's to say a large volume of voice reservations aren't coming from your email marketing, as opposed to online bookings? A case study in Florida showed that over 41% of booking reservations from the property's digital marketing campaign came via the voice channel. Without measuring this, the property would have deemed the campaign a failure.
Knowing where your voice reservations are coming from is just as important as knowing where your other bookings spawn from. It will better allow you to understand the effectiveness of your marketing strategies and create new revenue initiatives.
When a customer makes a booking via phone, you should be aware if it came from search engine marketing, email, display advertising, social media, etc.
2. They're still absolutely relevant
While surveys, reviews, and feedback forms are undoubtedly invaluable, you can also use calls to learn about current and potential customers. The data you gain here might be even more useful because it is entirely free speech. You're able to hear the customer's concerns and questions in their own voice and articulation. This way, you'll be able to quickly get a clearer picture of any issues your hotel is facing with regard to guest experience.
By the same token, you'll find out how well your staff manage customer service. Are they being successful in closing a sale, upselling, or providing adequate information?
Analysing both sets of data will help you improve your conversion rates.
3. They may become more common than you think
Contrary to popular belief that would posit the death of phone enquiries and bookings with the rise of newer booking options and more advanced hotels, phone calls could come roaring back.
Travellers are now getting more information than ever before about where they can stay, how they can stay, and what they want to do while they stay. More information means more potential for confusion or indecision, and the inclination for a person to call the hotel or travel agent rises.
If voice interaction is going to be a significant part of your daily business, it only makes sense to devote as much time to it as you do to other aspects like online distribution.
4. They help secure cheaper bookings for your hotel
The more voice reservations you receive the better because it means you aren't paying for distribution costs to an online travel agent (OTA) or other channel. You also don't have to market specifically for voice bookings. The campaigns you run to increase online bookings will still bring in phone calls. Dealing with customers on the phone also helps to avoid booking cancellations because you can accurately discern their problems and provide adequate solutions.
There is relatively simple technology available for hotels looking to track phone calls and listen into recordings. There are also instances where you can attach custom phone numbers to particular campaigns to see which are driving the most calls. Don't forget that your website can also have its own number to see the phone traffic it generates.
How to increase hotel bookings through conference room reservations
If corporate travellers are coming to your destination, then a demand exists for meeting facilities. Yet at most hotels, meeting rooms are not booked to their full potential. To maximise on your investment in corporate facilities and meeting rooms, you need to get more business guests booking at your hotel.
Use these top five tips to maximise meeting revenue with more events and room bookings all year round.
1. Get the right talent and technology
Whether it's for an intimate corporate gathering or major meeting, clients want a great experience where everything flows smoothly. If you can deliver on your promises, clients will book again and refer other businesses your way. Bring on event professionals who know how to make meetings happen and equip them with the right technology tools so your hotel can host amazing meetings.
2. Network with partners
Networking allows trusted partners to help you book your meeting room facilities. Let travel agents, meeting planners, and events professionals know that your hotel is open for business events. Give your partners all the information they need to refer corporate clients your way.
Since networking is a relationship, find out how you can help your partners achieve their goals, then make it a point to follow through. When you make someone else's job easier, they'll remember you – and go out of their way to refer business to you.
3. Showcase your business facilities online
Before a new client books your function room, they'll visit your website to check out your business facilities. When you've got a complete website with updated photos, a list of amenities, and corporate meeting packages, you'll wow prospective clients.
To attract the widest range of possible clients, break out your meeting facilities into packages that accommodate events of all sizes. Not only can you win more corporate business, you may be able to host multiple small events at once, exponentially increasing your revenue from meetings.
4. Allow clients to reserve online or send a contact form
Lack of follow-up is one top reason that hotels lose out on meetings and events. Make it easy for parties to reserve your room by incorporating an online booking function, providing a contact form, or both.
Accepting bookings online saves your meeting planner time, but may not be right for every facility. If you do not allow online reservations for meeting facilities, place a follow-up protocol in place.
Best practice is to follow up via email or phone within 24 hours. Simply implementing this step will dramatically increase the number of meetings you book. Consider that one meeting broker complained that 46% of their clients never heard back from hotels they contacted about meetings, or heard back too late.
5. Experiment with different offerings
If your meeting rooms still aren't being booked, it might be time to change your approach. Given the rise in mobile workforces, there is a need for small-scale, per-hour room rentals. You might be able to pack in several small meetings, each holding 50 or fewer attendees, and add on food and beverage services too.
Think about your meeting facilities from a business perspective. By offering everything companies need to host great meetings painlessly, you can increase your bookings and revenue.
Use technology to increase hotel bookings and boost revenue
Technology is the best way to ensure that your property has the most online visibility during high-traffic tourism times. By listing your property on as many online travel agencies as possible, you increase the number of 'eyeballs' – and online bookings – that your property will receive. Unfortunately though, it is almost impossible to manage a large number of online channels manually – and that is where sophisticated channel management technology comes in.
A two-way, real-time connection between your property's hotel reservation system and/or property management system (PMS) and the global distribution system will make it easier for your channel manager and reservation staff to manage new bookings. Because your online bookings are updated in your property's reservation system automatically, no reservations will be missed or lost. A real-time connection also enables the updating of inventory in a property's reservation system automatically, which helps to prevent overbooking.
SiteMinder offers all of these benefits and more. With a fully realised and integrated smart hotel commerce platform, you can spend less time on hotel admin and more time on growing your business. SiteMinder is designed exclusively for medium to large hotels, providing solutions to common challenges and empowering you to take opportunities that otherwise may have gone missed. 
With SiteMinder, you can go toe-to-toe with the largest international hotel chains, defining your own space with smart analytics, easy automation, excellent revenue management, and rapid, real time listing updates.
Here's just some of what SiteMinder has to offer a hotel looking to grow their bookings:
Efficiency and Accuracy

: SiteMinder's real-time, two-way connection ensures that all online bookings are updated automatically in your property's reservation system, eliminating manual errors and ensuring no reservations are missed or lost.

Increased Visibility and Revenue

: By listing your property on potentially hundreds of online travel agencies, SiteMinder increases your online visibility, attracting more potential guests and boosting your bookings and revenue.

Prevention of Overbooking

: The automatic updating of inventory in your property's reservation system helps to prevent overbooking, ensuring a smooth and satisfactory experience for your guests.
Finally, don't forget to optimise your property's website using a sophisticated online booking system that enables availability search, booking and payment in only a few clicks. Not only does having an easy-to-use booking system ensure that potential guests don't get frustrated and abandon the booking midway, it will also convert more direct bookings.