By Mike Ford, Founder and Managing Director at SiteMinder
It is always a proud moment to sign on a new customer, whether that customer is located in France or Azerbaijan. Maybe it's in Niue, Saint Kitts and Nevis, Grenada or Micronesia, or maybe Seychelles – it's a proud and exciting moment. And one SiteMinder has been fortunate to experience time and time again since its inception less than a decade ago. In fact, in each of these diverse countries, you can find one of our today-16,000 customers.
Indeed, SiteMinder now has presence across the globe – in places such as Madagascar, China, the U.S., Bahamas, Canada, Germany, Indonesia, Argentina, Israel, Japan, Spain, Zimbabwe, Australia, the UK and Iceland – through the very technology we developed not long ago from a home in Sydney.
Six continents. One hundred and sixty countries.
And counting.
Yet in spite of our growth, one thing has remained certain – in fact probably more so now than ever: in order for hotels to compete – truly compete – in today's Internet economy, they need technology. Best-of-breed technology that captures a customer's movements in real-time and relays that information back to the hotel almost as quickly as it happened.
Today versus 2006
As SiteMinder heralds Hyatt Key West Resort and Spa as its 16,000th hotel customer, I am reminded that the challenges hoteliers face today are just as prevalent as they were when I began this business. As a case in point, in addition to his comments in today's announcement, Phillip Pierce, Revenue Manager at Hyatt Key West Resort and Spa in Florida, the U.S., told us:
"Our previous channel manager was extremely frustrating … It got to the point where I was still managing and double checking on all the various extranets because I had no confidence that my yields were being received."
Hyatt Key West Resort and Spa is located just steps from the famous Duval Street, on a waterfront with priceless views of the Gulf of Mexico. Last year, it had the highest occupancy of any full-service Hyatt in North America and its guests return year-after-year to become extended family to many on the hotel's experienced staff.

Would Phillip's pain points have rung true for a hotel located halfway around the world in the mid 2000s?
We recently caught up with one of our first ever customers – Kylie King, Marketing Manager at Mantra Observatory, a 4.5-star hotel in Australia that offers guests a wide choice of accommodation ranging from 34 boutique hotel rooms to 60 spacious one, two and three bedroom apartments and two luxury penthouses.
Kylie joined Mantra Observatory just as they made the decision to take a gamble with a then-small-but-promising company named SiteMinder.
"We were one of the first few properties to move to SiteMinder's Channel Manager and we were involved in beta testing the first version. When we moved to the platform, everyone was impressed with how the product was really intuitive and seamlessly integrated with our channels.
"In addition to sourcing a multi-property channel manager, we also adopted SiteMinder's direct booking engine, TheBookingButton, for our website which gave our guests a far more modern and user-friendly interface to use. Over the past 12 months, we received just short of 10,000 bookings and more than 27,000 room nights – and, of those bookings, 27 percent were made through our website, via TheBookingButton channel.
"Mantra Observatory is really loyal to SiteMinder. Not only does SiteMinder continue to break new ground with the latest technologies and innovations, we have found them to be very customer-centric in their approach, from the support line to the product development team."

You can read more on Mantra Observatory's story here.
Are Kylie's sentiments all that different from Phillip's? Does the struggle presented by today's ever-demanding Internet economy differ completely between a 10-room hotel in Azerbaijan, Niue, Saint Kitts and Nevis, Grenada, Micronesia or Seychelles and a 5-star, 300-room hotel in Germany, Spain, France, the U.K., Indonesia or Thailand?
We at SiteMinder believe the answer to these questions is no and, as we look to reach our next key milestone, I invite the industry to recognise that the challenge in effective online distribution lies not in its cost (because our disruptive, low, pay-as-you-go model has solved that) or in its technical complexity (because our smart and simple technology has solved that, too), but in the readiness for all hotels to adopt the technological solutions that could give them unparalleled control.
SiteMinder's journey to 16,000 hotels across the globe
Here is our story so far: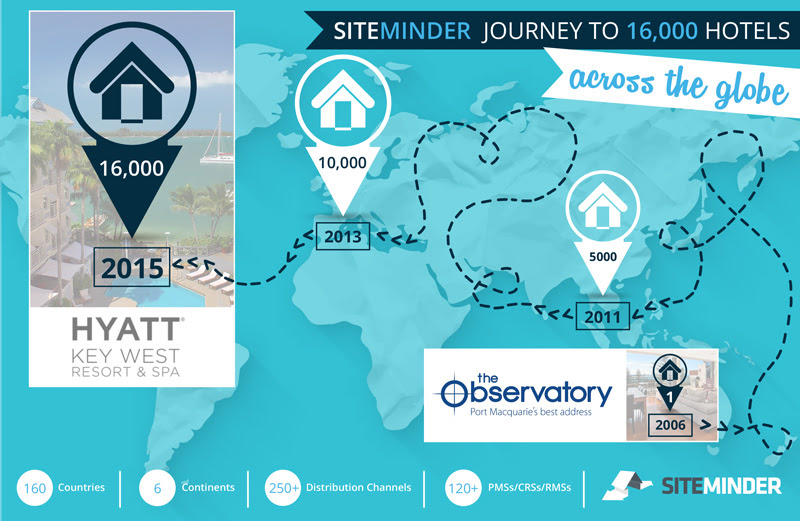 And here's to the next chapter!