Google's organic hotel ad listings: What's the latest?
The Google Hotel Ads product has been revamped to now include two channel listing sections; Paid Ads and a section Google is calling All Options.
The Paid Ads section is what you've been familiar with until today, where advertisers such as SiteMinder's Demand Plus, Booking.com, or Expedia will pay to be featured in the top four listings for hotel search results.
All Options is a new section where advertisers can enjoy visibility on their listing again, paying nothing to be featured, as long as they have a direct integration with Google. Typically there will still be four results in the featured listings, while All Options will show up to 10, with the ability to expand for more.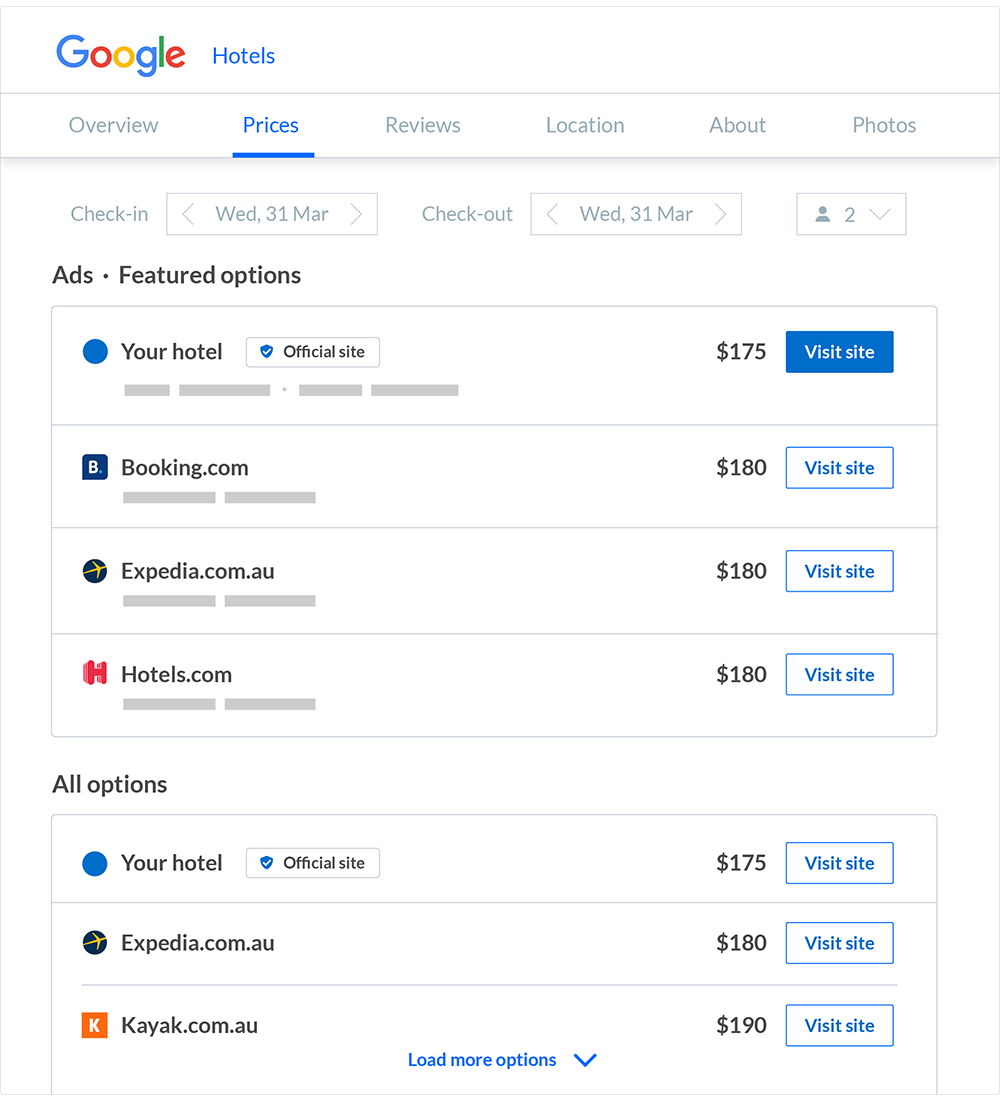 The new layout is much more aligned with the traditional search results page (SERP), where paid ads sit above organic results.
For a full rundown on metasearch and Google Hotel Ads, read our other helpful blog here.
The logic: Why is Google doing this?
Google has been on a mission to make it easier for travel brands to connect with travellers on the platform. This revamp means there's a new way to reach potential guests, drive more traffic, and win more bookings.
It also allows travellers to access more comprehensive options, since more channels are likely to share their offering with a free distribution option.
And it's an incentive for more advertisers to join the party now that there's a cheaper way to send rates to Google.
Differences between Google's Paid Ads and All Options links
Besides the Featured Options sitting above All Options, there are a few other advantages for hotels being positioned in the paid section.
More information will be displayed on the paid listings, including room photos, cancellation policies, logo, occupancy, call outs and all of the rates & room types. The information is much more concise in All Options, and does not show rates and room types.
You'll also notice the paid options appear above the fold (the screen view you see without scrolling), meaning they will demand much more attention than All Options down below. Additionally organic listings won't appear for all types of searches. For example, users who search a hotel directly will only see paid ads.
Paid listings are also obviously expected to generate a large majority of traffic for the brands who are in this position but the introduction of these organic links is likely to increase the amount of competition for the top spots, meaning cost-per-click could increase.
What does this mean for your hotel and how can you take advantage of Google's All Options feature?
Even though this new listing structure is 'free', your hotel will still need a certified integration partner that can connect you to Google Hotel Ads.
Once you've achieved this, your hotel will be included within the integration partner feed and it will be eligible to show up in All Options. You don't even need to have an active paid campaign to be eligible!
However it's fair to assume, and Google has said as much, that the majority of clicks will still come from the top four results; the paid feature listings.
SiteMinder can be your Google integration partner
As of May 2021 both Paid Ads and All Options are accessible via SiteMinder's Demand Plus offering.
If a hotel is on Demand Plus, SiteMinder will feature a link to the hotel's online booking engine in both the existing ad module (top 4 listings) as well as the module (bottom list) tagged as "official website".
Hotels will be able to see if a booking came from a Google paid ad or organic ad in their Extranet where SiteMinder will tag commission rates against the relevant Demand Plus reservations.
With Demand Plus, you can:
Be highly visible on Google Hotel Ads and other metasearch sites
Have full ownership of guest details and control over promotions and up-sells
Win stress-free bookings by using a trusted integration partner like SiteMinder
Eliminate all the hard work with one-step sign-up
With extra competition, it is now more important than ever to be among the featured options.