Travelling has become much easier for many tourists and professionals with the recent launch of Google Trips – the technology giant's latest mobile app.
Spruiked as 'a personal travel guide in your pocket', Trips is a free app available on both iOS and Android seeking to help travellers plan and organise their journeys in advance. Once they reach their destination it will also provide them with helpful information and live data to make their experience as convenient as possible.
Interestingly, Google Trips is a development that may have some implications for hotels and the wider hospitality industry. Let's pretend you are a user of the app and imagine how it might relate to your business…
So, what does Google Trips do?
Google Trips integrates with your Google accounts
Once you've downloaded Trips you'll be required to login in with your Google account, preferably the one you use for hotel, flight, and holiday information delivery. Google will then organise the data to display the trips you have planned and the one's you've previously undertaken.
Google Trips is a robust planner
When you tap into one of your future trips, the app will present you with a whole range of useful options:
'Reservations' – This will list and detail your flights, hotel bookings, and car rentals etc that you have made, making it simple for you to access and assess.
'Need To Know' – This will provide you with helpful tips on getting to and from the airport, the local currency, emergency contacts and information.
Itinerary – You can edit or customise any of the details and also create a manual trip to import your information into the planner.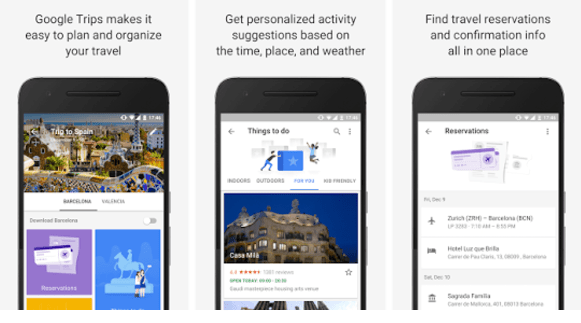 Google Trips can be used anytime, anywhere
Not only does the app save all your travel information in one place, it can be used offline so you never have to rely on WiFi and internet connection, or drain your data.
It also means with Google Trips you'll never be lost or stuck in a place you aren't familiar with.
Google Trips is a private tour guide
The main feature of the app is 'Things To Do'. This section can offer help within more than 200 cities and make personalised recommendations for you during your stay.
Based on how long you'll be in town it can build you custom itineraries, giving you suggestions on what to do, attractions to see, or restaurants to visit.
For example, you might ask for 48 hours in Paris as a general guide or be specific about the things you're interested in, such as museums, art galleries, or traditional cuisine which the app can also show reviews for.
Additionally, it can be segmented into particular parts of the city to make it easier to organise your plans.
Google Trips is an agile real-time operator
If you do have a data connection, the app will give you live information about traffic, if attractions are open or closed, and of course the weather.
If it's raining, it will give you suggestions for weather-appropriate activities too.
It also has a magic wand feature you can use if you're 'feeling lucky' which will give you a new random highlight from the city each time you press it.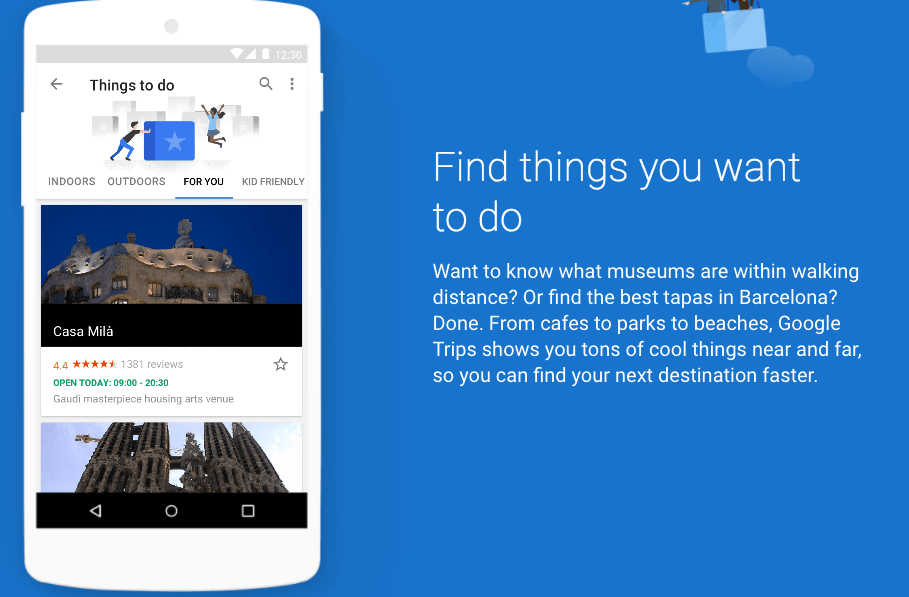 What will this mean for your hotel?
There should be no direct negative implication for hotels. A traveller cannot make a reservation or booking through Trips, they must still contact the provider directly. This means more direct bookings for you!
However, there are some things hotels will need to do to ensure they are on Google Trips radar, but these are practices hotels should already be implementing in their business strategies. Here are some tips…
Make your presence felt on local directories
Because Google Trips is largely organic, it pays close attention to local search directories and reviews.
Ensuring your local listing is optimised and you're garnering positive reviews is vital to appearing on the Google results and driving traffic direct to your website.
If you don't have a high average rating from a large number of reviews it's likely travellers won't find you on Google Trips.
Employ a digital marketing strategy
Google Trips is designed to service just about anyone so it's important that your business is targeting the the right market for you, distributing to the right channels, and focusing on every point in the travel booking journey. That way, you don't miss out on any potential bookings.
Focus on SEO
The more unique and fresh your content is, the more Google will favour so understanding how to achieve this is important. A big help is the possession of a professionally-designed and mobile-optimised website, such as SiteMinder's Canvas. It's the simplest and quickest way to increase your search engine rankings. Google Trips is just another step into a future that is rattling towards mobile domination and a reminder that technology is one of the most intriguing sectors for hotels today.