When it comes to marketing your offer, you may have thought there were only two stages of travel to worry about: the research stage and the booking stage. However, Google has released an interactive infographic that identifies five stages of travel: dreaming, planning, booking, experiencing and sharing. It's important for online marketers to target their audience at each one of these stages to maximise your reach.
Stage 1: Dreaming
Every holiday starts with a dream. An advert on TV; a cooking show featuring the latest celebrity chef; or a movie location may be the spark inspiration or perhaps their itchy feet are telling them the world is calling.
Either way, dreaming of that escape has begun and it won't take long until they are planning the trip.
Online marketers can reach the dreamer through social media by encouraging their followers to share their travel stories and interact with their online community.
It's important to be in front of potential guests when they are dreaming of a holiday which in turn will encourage them to start planning.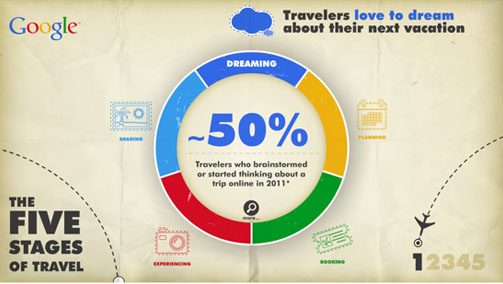 Stage 2: Planning
The customer is now in the planning stage where, the statistics tell us, they'll be visiting around 20 different websites in order to find the 'perfect' hotel.
According to Google, 66% of people spend time shopping around before booking travel.
Click to tweet
So how do you get your website to stand out from the rest?
So how do you get your website to stand out from the rest?
Search Engine Optimisation is important to ensure your website rates higher than your competitors. Also take a look at your local listings and optimise them on Google maps to make it easier for the customer to find you.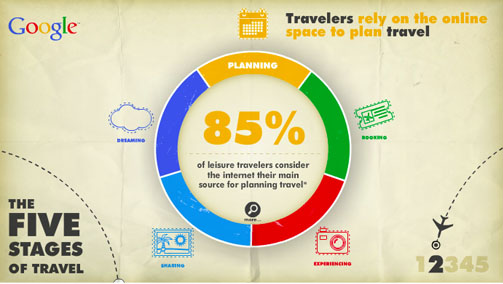 Stage 3: Booking
The jet-setter has now completed the first two stages of dreaming and planning and is ready to book their dream holiday – hopefully with you!
In the booking stage it's vital your website is easy to navigate and your brand keywords are strong for when people are searching your hotel name.
Every hotel must be discoverable especially within online channels. Consider using SiteMinder products, such as The Channel Manager and TheBookingButton.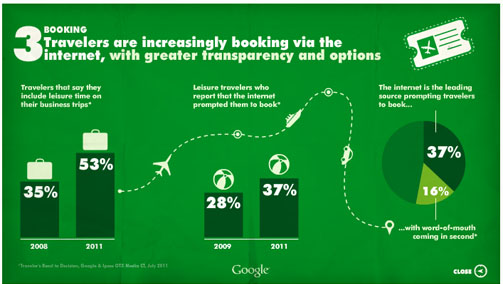 Stage 4: Experiencing
The customer has chosen your hotel and while online marketing is important, the outcome of the experience stage is largely reliant on the staff at the hotel and the experience the traveller has while staying with you.
This is all about customer service and ensuring the person leaves with a smile on their face.
A great customer experience is critical for lots of reasons but also because happy customers will share their experience online with their network.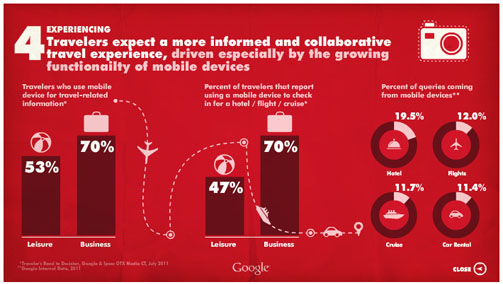 Stage 5: Sharing
Most people book accommodation on recommendations from friends and family.
So whether your customer posts a photo of the incredible views from their hotel balcony or takes the time to write a five star review of the hotel service, sharing the moments they had will encourage other travellers who are at the dreaming stage to book with you.
By targeting your customer at each one of the five stages of travel not only will ensure your brand is with them along their journey you'll stand out from your competitors by enabling your customers to share their experience with their extended peer network.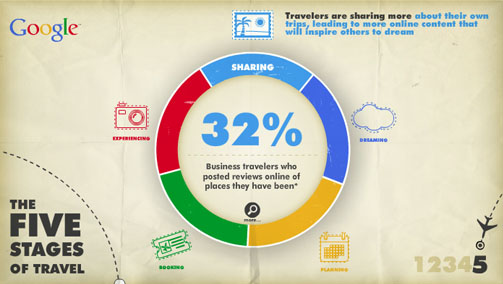 Watch our on-demand video and learn how to improve your hotel's Google rankings.