Google recently revealed research that identifies how travellers experience 'micro-moments' online.
These micro-moments are defined as a moment in time when a searcher relies on their smartphone or tablet device to answer a particular, immediate need.
What happens during these micro-moments ultimately impacts all the decisions that the traveller will make during their online booking journey.
So as a hotelier, how do you influence travellers during these powerful yet fleeting moments?
Well, Google discovered that about 72% of travellers are more loyal to their need during the micro-moment than they are to any particular brand.
This means that the searcher simply wants the most relevant information in the shortest amount of time, regardless of where that information is coming from.
So to have the greatest influence on travellers during micro-moments, hotel brands need to get found and be relevant to what each user is searching for.
Here's a few micro-moments that occur on a daily basis, and how your hotel can actively work to influence travellers during these situations:
When travellers are dreaming about where they will head next…
Create an SEO strategy
One of the most effective ways to promote a website is through search engine optimisation (SEO).
A hotel's website that has good SEO is easy to find when a customer searches on the likes of Google for words related to your hotel.
Make sure your website focuses on improving your ranking for specific phrases, such as "best time to visit the United Kingdom" or "honeymoon packages in Jamaica."
Generate fresh content frequently
Publish blogs about your destination and your property. Make sure they are informative, relevant and accurate.
Prioritise visual content. More than 54% of leisure travellers report that photographs and videos have an influence over where they decide to go.
When travellers are planning their holiday…
Create a mobile-friendly website
More than 53% of business travellers and 31% of leisure travellers have booked hotel rooms on their smartphones.
Your website should have a responsive design that adapts to mobile platforms, and offers simple mobile booking options.
Fill it with useful information
Above all, make sure that your website is informative. Give your guests all of the details that they need to know about your rooms, amenities, properties and local attractions.
Transform your website into a local guide. Provide information about transportation, local restaurants, shopping options, excursions and day-trips.
Here's a great example of some destination tips from a SiteMinder customer: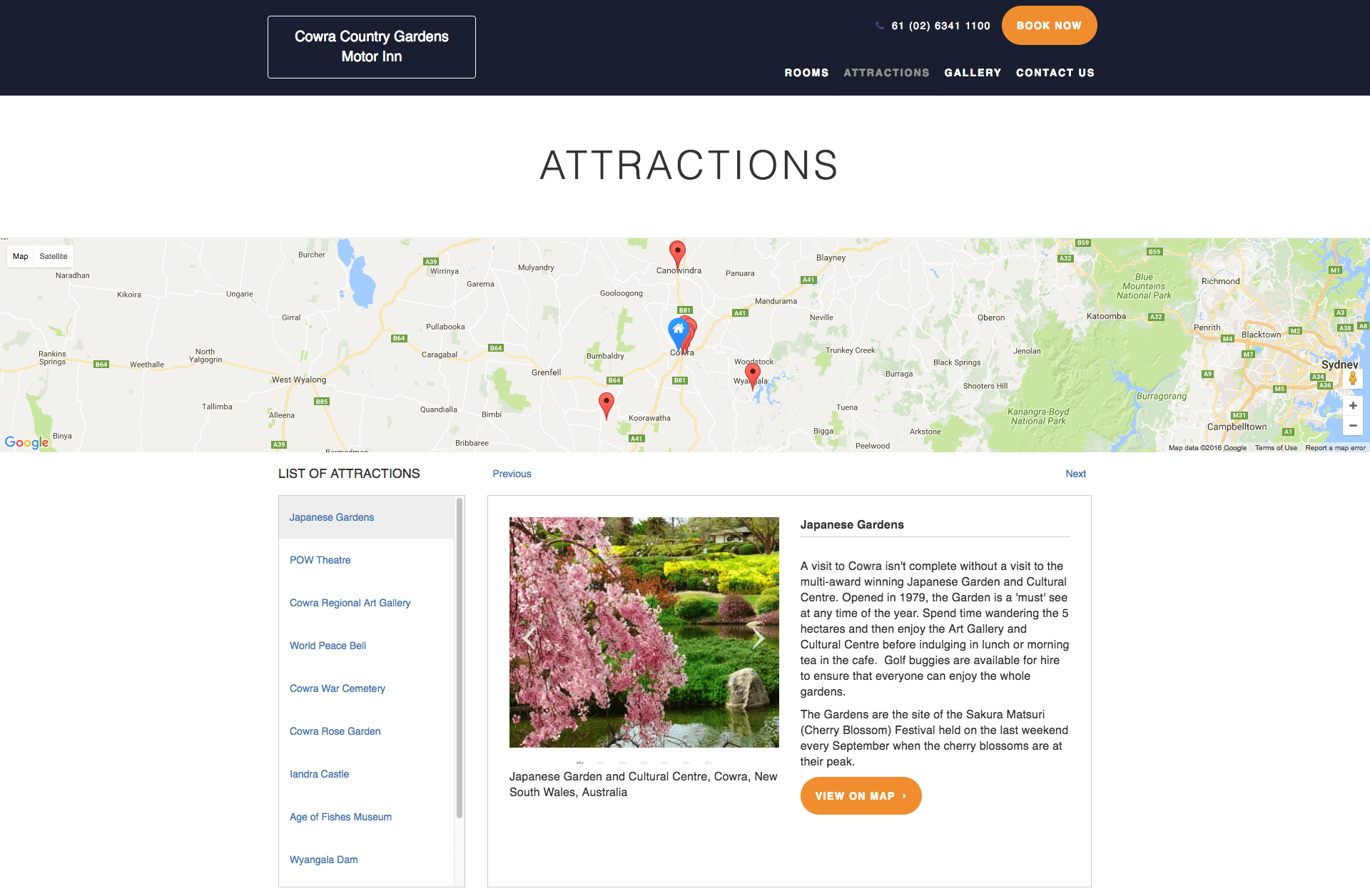 When travellers are completing their bookings…
Implement a mobile-friendly online booking engine
The booking experience has to be just as mobile-friendly as your website. So make sure your software provider has a responsive booking engine.
It needs to be as simple as possible for guests to complete their reservation from their preferred device.
Incorporate social proof into your web design
Add a PCI Compliance badge near your booking button so guests know that their transaction will be secure. You can learn more about PCI compliance here.
Also, boast about any awards you have received in the industry or from the local community. And make sure that testimonials and reviews are visible!
Make sure that the booking experience is seamless
Do not redirect your guests to another website, or force them to wait for a confirmation. Allow them to book directly with you and provide them with automatic confirmation of their booking.
To increase your bookings and generate more revenue using micro-moments, you need to make it as simple as possible for guests to book directly with you on mobile devices.
SiteMinder's Canvas allows you to create a search engine optimised website. And paired with TheBookingButton booking engine, you'll be in the best position to accept direct online bookings to attract and convert travellers online.