Smaller hotels still generate a lot of data, especially if they also possess a restaurant, bar, spa, gym, or other ancillary services.
Unlike big hotel groups however, small hotels have fewer resources to devote specifically to hotel revenue management – everyone is too strapped for time to analyse all the data properly.
Without continued dissection of the information, rooms and services may be frequently overpriced or underpriced, leaving the hotel a step behind local competitors and confused about the profitability of the business.
This type of inconsistency can lead to a problem for the entire market.
For example, if a hotel is constantly under-selling on the expected rate, they might inadvertently create a price war in their confusion because competitors may react in kind.
A price war may be good news for customers in the short-term, but in the long-term everyone is hurt by it – most of all the hotels.
Even with a dedicated revenue manager, it's hard to collect and study the data, drawing conclusions from it in a timely manner.
In such a competitive industry, hotels need to be on top of their pricing strategies if they want to have control over the success of their business.
Here's why we think revenue management technology is a necessity…
1. Less costly errors
While larger hotels might be able to hide or easily overcome a pricing mistake, smaller hotels have less margin for error.
An incorrect price at a small hotel will have a bigger impact on average daily rate (ADR) and revenue per available room (RevPAR).
2. Get more revenue out of every room
With fewer rooms, maximising the rate for each room becomes more critical.
The data your technology provides will help you understand who you should be targeting and when.
What will be the most valuable demand for you? For example, do you offer rates for group business? Do you offer discounts for long stays?
3. Know your competitors better
To get your own pricing strategy right, you need to know what your immediate competitors are doing.
With a pricing intelligence tool you can get an instant all-in-one overview of your competitors rate activity, meaning you can concentrate on why they are adjusting and how/if you should respond.
Here's an example of SiteMinder's Prophet pricing intelligence tool doing a rate comparison over time: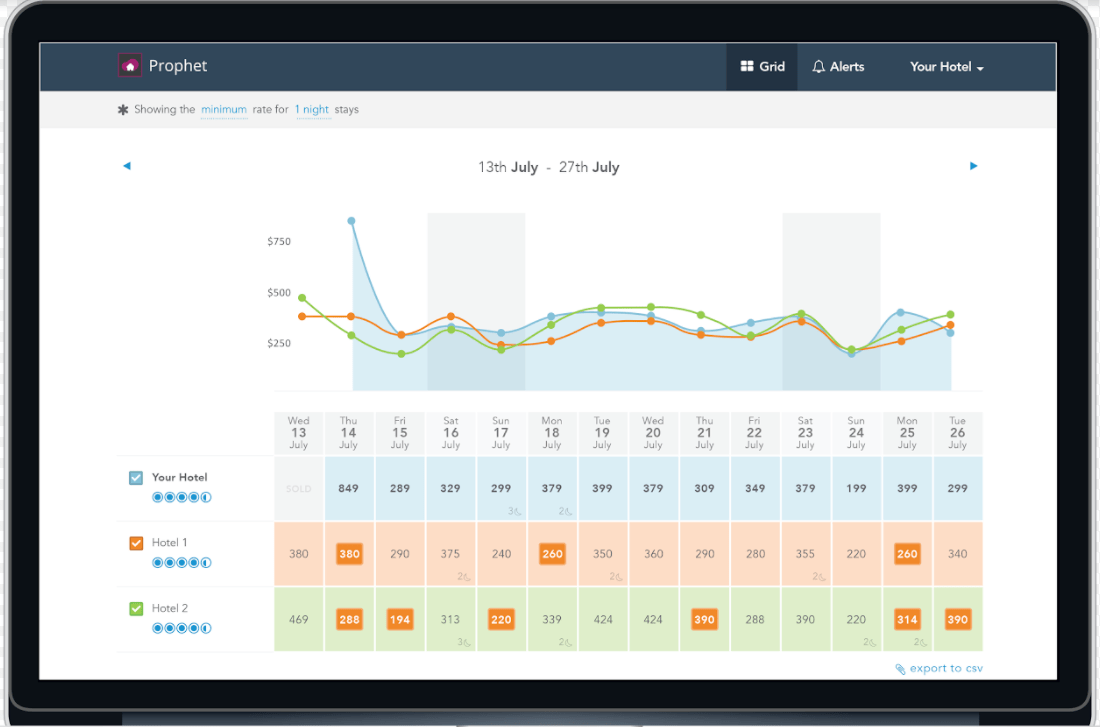 4. It makes your hotel 'bigger'
Branded hotels already have a revenue management system in place – and while independent hotels may not be able to afford a full-fledged solution, pricing intelligence tools are an affordable substitute.
Increasing your data visibility and analysis capabilities gives you more ammunition to compete with large hotel groups who are able to devote full-time staff to revenue management.
5. Manage your time efficiently
Automated market intelligence will allow you to instantly access and act upon pricing data.
Knowing when the market will be an easy sell-out or in a quiet period will not only enable you to optimise rates, but with a dependable forecast, you can organise your staff more effectively and improve the guest experience.
6. You can be proactive
The more data you have access to, the less reactive you'll be.
Rather than reacting to your competitors all the time, you'll better understand demand, make your own projections, and set intelligent rates.
7. Understand your guests better
A revenue management system (RMS) can tell you more about customer behaviour and allow you to attract more bookings.
For example, do guests prefer it when your rate applies to every night of their stay, or will they accept varying rates, or do they prefer a total stay price?
8. Your data will come from a single source
Instead of combing through your own data, and then individually doing the same for competitors, an RMS will collate everything for you in one place.
Depending on your system, you can do this for up to 15 competitors.
If you are a smaller hotel that is new to revenue management strategies, doing everything manually might have you tearing your hair out.
It's highly recommended to look for a simple but smart technology platform that provides accurate and helpful pricing data.