Technology in the hotel industry continues to advance at a rapid pace and hotel management software (HMS) remains essential for hoteliers looking to improve the running of their business. With software, hotel operators can streamline their administrative processes and improve their overall hotel management system.
The key to reaping the benefits of an effective hotel management software system is to select the right one for your property. It's critical that you know exactly what this hotel management technology is, and why it is important for you to implement it at your hotel.
What is hotel management software?
Hotel management software is technology that allows hotel operators and owners to streamline their administrative tasks while also increasing their bookings in both the short- and long-term.
Your hotel management system is not only important for your own day-to-day operations, but it's a vital part of the overall guest experience. From the beginning of your guests' online booking journey until the completion of their stay and their feedback once they return home, it is necessary for your hotel management technology to enhance their experience with your brand.
Finding a hotel management system that offers the features you both need and want is necessary to effectively managing your hotel in a global economic climate.
Hotel management software needs to enhance the guest experience from booking to post-stay.
Click to tweet
The purpose of management systems for hotels
Management systems serve several purposes for both hotel operators who manage large chains as well as independent hoteliers. These include:
1. Managing bookings
Your property management system should help you efficiently and effectively manage your bookings. Neither you, nor your staff, should be tasked with manually inputting bookings and managing those across all your distribution channels. A property management system should automate the booking process for you, allowing you to escape the back office and focus more on interacting with your guests.
In addition, it significantly reduces the risk of overbooking your rooms, which directly improves the guest experience at your property.
2. Direct bookings
It should allow you to actively drive direct bookings to your website. Travellers today are more apt to book online than they are to call to finalise bookings or partner with a travel agent.
Direct bookings allow you to maximise the revenue that you generate per booking. You should only consider software that integrates with an online booking engine.
3. Channel management
Hotel management technology should allow you to easily implement your distribution strategy. Creating partnerships with different types of agents in the industry, such as OTAs and GDSs, is necessary to survive in a competitive, global climate.
Managing hotel with software that offers a channel manager will allow you to create and implement a diverse distribution strategy that continually drives bookings.
4. Hotel website
Your software should help enhance your online presence. Your hotel management system is only effective if your guests can reach your brand.
Choosing a program that offers a web editor or website creator will allow you to create a clean, appealing and user-friendly website that will encourage guests to book a stay at your property.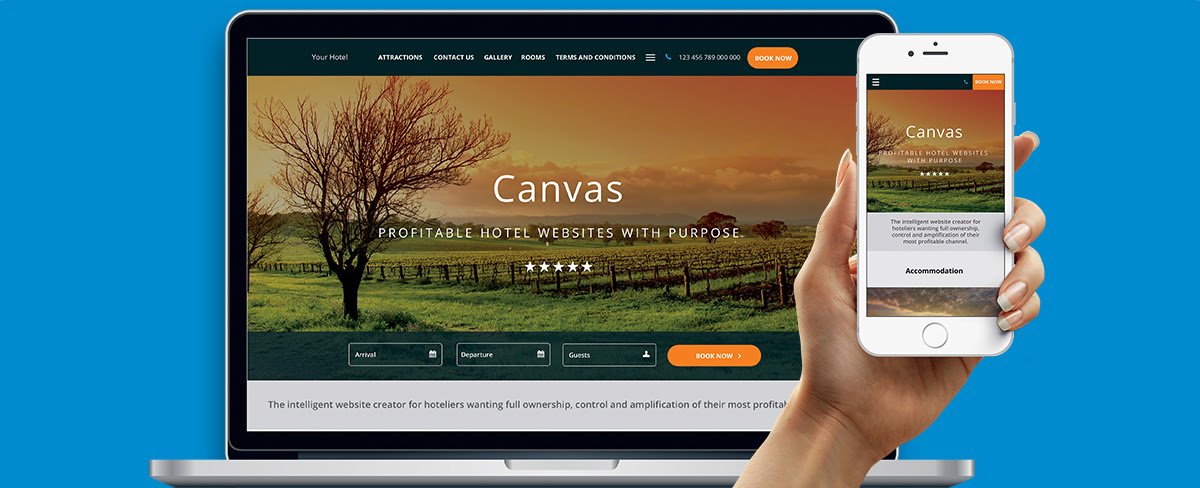 Benefits of hotel management technology
When you are selecting hotel management technology for your property, you should consider the many benefits that this system will offer you, including:
1. Reduce time spent on administrative tasks
You can minimise the amount of time spent on administrative tasks. The right hotel management system will do a lot of the work for you, allowing you to focus your efforts and your energy on the big picture. The technology should also provide you with valuable data on how your employees perform their duties and how this affects employee retention, satisfaction and productivity.
In today's fast-paced travel environment, it's critical that you automate as many tasks as possible. A property management system can help you tremendously with that.
2. Increase your online presence
You can increase your brand presence online. Management software that is integrated with your website builder will allow you to accept direct online bookings and develop a user-friendly website. Naturally, this will increase your relevance in the search engine results and allow more travellers to discover your property during their online booking journey.
3. Build relationships with guests
You will develop a better rapport with your target market segment, while also identifying new markets to tap into. The types of travellers who have always loved staying at your property will appreciate the improved experience. In addition, your new technology will allow you to reach out to new markets that would not have otherwise discovered your brand.
4. Manage your distribution
You will improve your reach throughout the industry. With a property management system in place that integrates with a channel manager, you will be able to advertise across many channels whilst maintaining rate parity. From the large OTAs and GDSs to individual retail travel agents, you can provide real-time booking information to your agents that will drive bookings.
5. Manage your revenue
You can implement a beneficial revenue management strategy. Using innovative pricing tools that allow you to create a flexible room pricing strategy, you can maximise the revenue that you generate per room at any given moment.
Pricing your rooms right is the key to succeeding in this competitive industry, and having these tools available can help you significantly.
6. Increase bookings
You will ultimately increase your bookings. At the end of the day, the point of every feature within your hotel management business solution is to boost the bookings that you get at your hotel.
Whether you want to increase your off-season bookings or you want to expand your offerings to new market segments, you will be successful if you select the right hotel management software for your property.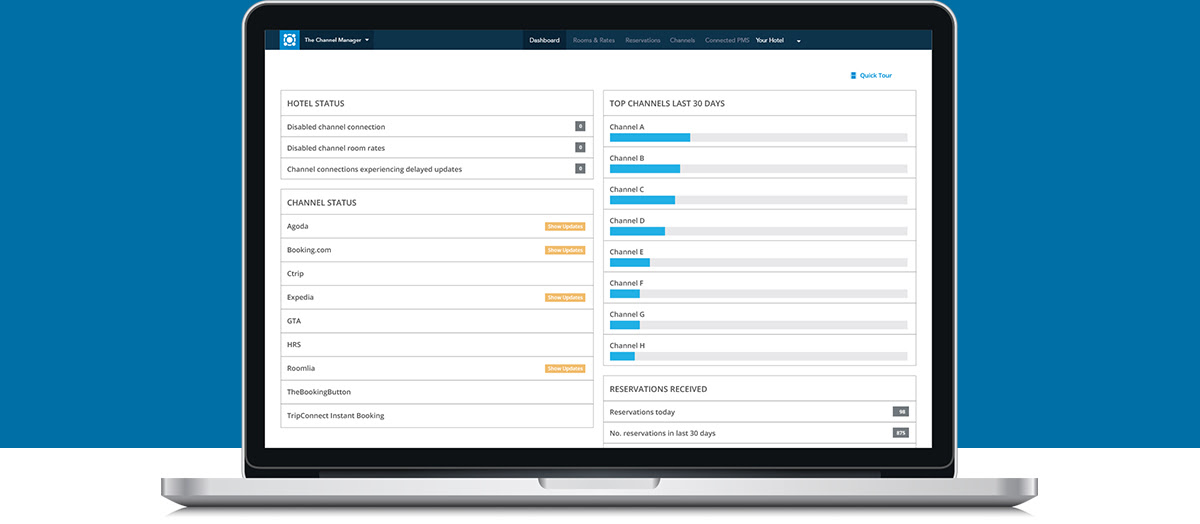 Types of Hotel Management Software
There are various types of hotel management software to consider. These include:
How to Choose the Right Hotel Management Software
Selecting the right hotel management software begins with identifying the features that you want and need. There are many options to choose from, some of which offer one or two of the features listed above and some that integrate with other technology to give you all the features you need. It is most important that you look for a solution that integrates all features, so you can optimise your hotel's efficiency and increase your return on investment.
You also will want to select hotel management technology that is affordable. Your technology needs to work for your business, and not against it. You need to get the features you both need and deserve at a price that makes it worthwhile.
The only way to know that you have found the right technology solution for your hotel is to try it out. With a free demo, you are able to utilise the system and see how it works for yourself. You will discover that the features are simple to use and that they allow you to streamline your daily responsibilities while also giving you the ability to focus on the big picture. You might just decide that managing your hotel with software has never been simpler for you and your staff!
SiteMinder is the leading cloud platform for hotels of all sizes, in all destinations. If you are looking for an all-in-one hotel management technology solution, then this is the hotel management software for you. To find out more about SiteMinder and how it can improve your hotel, begin your free demo today.
Subscribe to the SiteMinder industry newsletter to get updates and insights on the hotel industry sent straight to your inbox.